Allston Christmas happens every year on September 1st, the day where 70% of leases begin in Boston. On this chaotic day, thousands and thousands of students and young professionals shove their belongings into boxes, get stuck in a traffic jam of U-Hauls, and move into a new apartment.
In the days leading up to September 1st, tons of household items, furniture, clothing, and food end up discarded. Trash bins are overflowing, and perfectly-good furniture lines the sidewalks, waiting to be picked up by the city garbage disposal. I always joked that you could literally make a fortune by driving around the city with a truck, collecting all the usable items, and selling and delivering them to locals who just moved in.
If this will be your first Allston Christmas, I'll share what to expect, my tips for finding the best items, and the gems I've found over the years.
What to Expect During Allston Christmas
Allston Christmas is named after the winter holiday because there's an endless amount of free items to pick up from the streets. It's one of the most exciting times of year for thrifty folks and upcyclers.
Allston Christmas is officially on September 1st, but the discarded items start appearing as early as mid-August. You can start going on trash walks then and find great items without the chaos of actual moving day.
"Allston" is in the official name of the holiday, and it's likely called out because of the high concentration of students in the area, leading to more discarded items (students tend to move yearly and have less space to store things).
That said, you can find gems all over the city. I'd particularly recommend the adjacent Brookline, as it's a particularly nice area, and the discarded items also tend to be higher-quality.
Tips for Finding the Best Items
This section contains affiliate links, meaning that I earn a small commission on any purchases through those links, at no extra cost to you. 
1. Go the day before trash pickup day
The day before trash pickup, there are tons of extra items strewn outside of the bins and dumpsters as they're simply too full. This makes dumpster diving much easier—you won't even have to "dive" if you don't want to.
Trash pickup day varies by the neighborhood, so you'll want to scout around in the weeks before and see when the bins are pulled out.
2. Look in nicer neighborhoods and near college campuses
Brookline is one of the best places to go dumpster diving, especially towards Summit Ave and Washington Square. I also frequently saw lots of discarded items in the apartment complex near the Englewood Avenue T stop, which is closer to Boston College.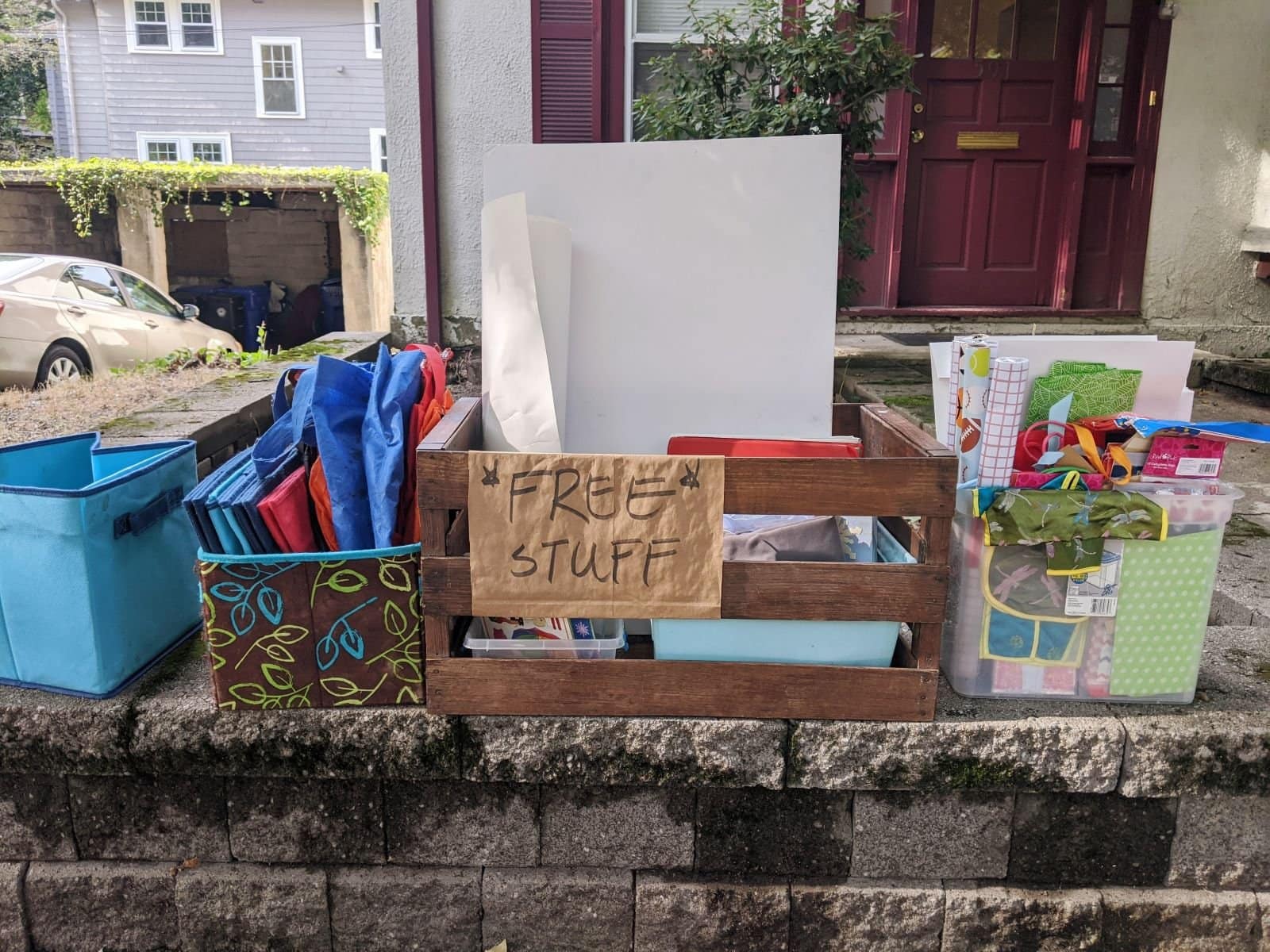 3. Bring gloves and a trash grabber
While many great finds are simply left out next to trash bins, sometimes it's worth looking inside the bins and dumpsters. For that, you'll want to make sure you have gloves—disposable ones are fine, but thicker gardening gloves may be safer in case there's anything sharp in the trash. A trash grabber can also help you reach further and avoid needing to climb inside the dumpster.
4. Wear older clothing
Trash walks aren't the cleanest activity in the world, so make sure you wear clothes you don't mind getting dirty. And when you're back, throw them in the laundry right away.
5. Join your Buy Nothing group
If Allston Christmas isn't your cup of tea, but you want to reduce waste or get household items for free, join your local Buy Nothing group. These are hyper-local Facebook groups that allow you to give and get things for free. These groups are especially active during moving season, and some people even host free stuff events. Another similar group is called Everything is Free—some areas may only have one group or the other.
If you don't have Facebook, they do have an app, but it is a little less active. Otherwise, there's Freecycle.org, which is an online forum with a similar concept.
Pro tip: if you need dumpster diving supplies like gloves and a trash grabber, try asking your Buy Nothing group. If you're feeling hesitant to participate in Allston Christmas alone, you can also try organizing a walk with members of the group.
My Best Allston Christmas Finds
After a few years of living in Boston, I picked up several amazing things from the trash. These are my favorites.
1. Instax mini 8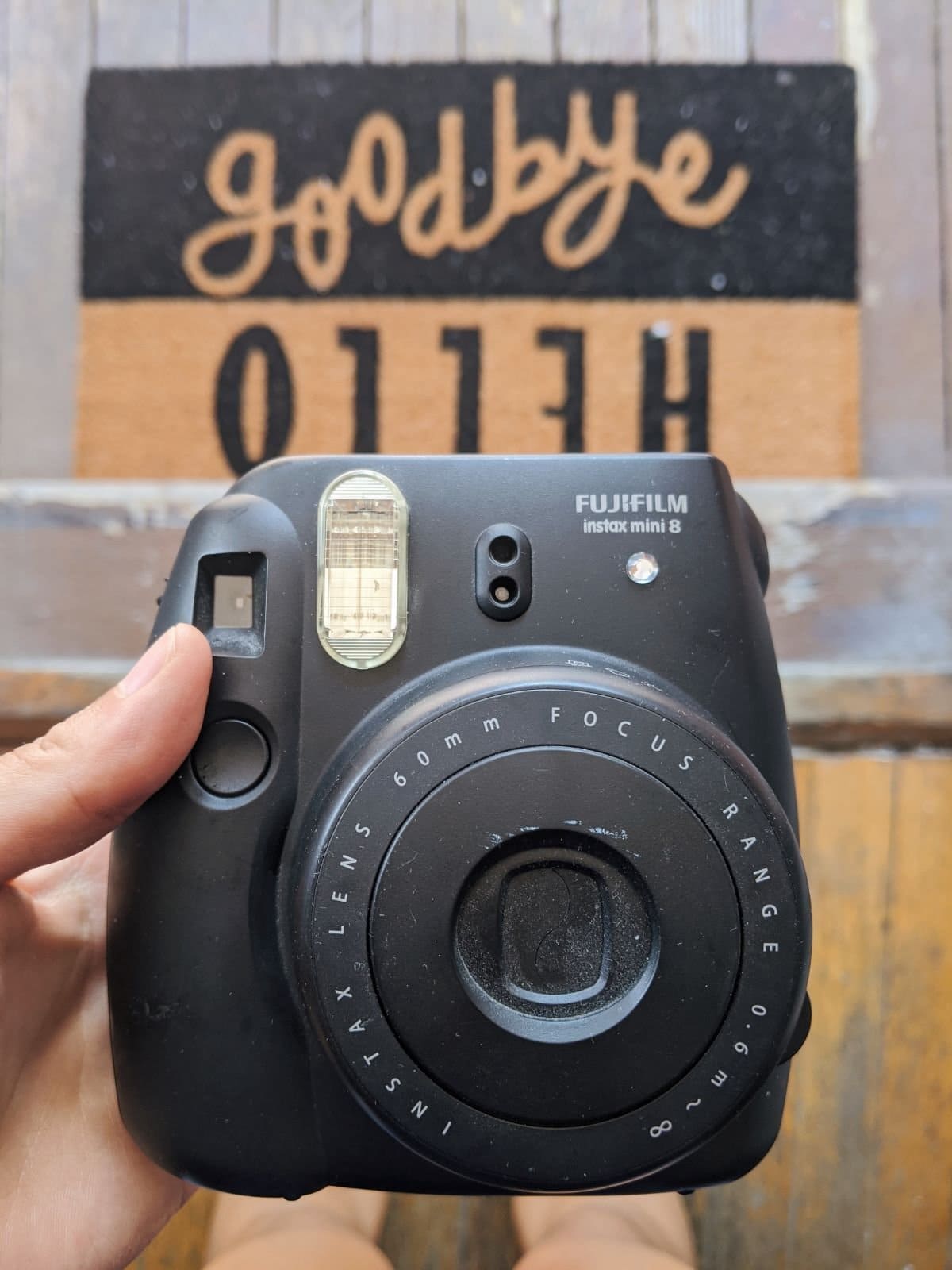 This was by far my best find, and I'm still surprised to this day that someone threw it away. On a walk close to Washington Square, I noticed some discarded furniture and a bag with unwanted household items. In that bag was a polaroid camera that worked perfectly well! I just bought some film for it and have been using it since.
Note: make sure that items left on the curb are actually unwanted and not just someone moving in. You can usually tell by how the items are laid out, and you can always wait a bit and observe to see if anyone comes by.
2. Adidas shoes
I also found these close to Washington Square in an apartment complex trash alley. These no longer had insoles, but were in good condition otherwise. They were even in my size! I also picked up a pair of nearly-new leather oxford heels that I still wear to this day.
3. R-rated Jenga
During a walk near Coolidge Corner, I dug through some trash bags left out on the street and found a game of Jenga. Once I opened it up, I noticed a bunch of funny commands written on the blocks, such as "remove an item of clothing." Turns out that the previous owner wrote something on every block, and these commands are meant to be performed as you remove each block from the Jenga tower. I gave this to a friend to play in grad school.
4. Sterilite drawer
Also found in a trash alleyway in Brookline, this drawer was perfect for storing and moving all my other finds since it had wheels. I ended up giving it to a friend who's still using it.
5. Guitar stand
On a walk in mid-August in Brookline, I found a guitar stand and took it home for my roommate who had been planning to buy one.
---
Please share your own Allston Christmas stories and tips in the comments. Happy trash walking!
You may also like these posts:
Best Vegan Ice Cream Spots in Boston