Boston is the perfect starting point for leaf peeping at truly stunning destinations. While the fall foliage in Boston itself is nothing to sneeze at, you'll want to go to the mountains or seaside towns for those breathtaking views.
After living in Boston for a few years, here are the top destinations I'd recommend for a fall weekend getaway. A few are even accessible by public transport! You can find a free, interactive map at the end to help you plan your trip.
This post contains affiliate links, meaning that I may earn a small commission on any purchases through those links, at no extra cost to you. This income helps keep this site running, and your support is much appreciated!
When Does Fall Foliage Peak Near Boston?
The best fall foliage destinations near Boston are mountain ranges, so their foliage will peak about two weeks before the foliage in city. Peak season depends on the specific location, but it's usually early to mid-October in the mountains. By the end of September most years, you'll already see some pretty nice color.
Outside of the mountains, peak foliage is usually around the third week of October to the end of the month.
Keep in mind that this is all impacted by the weather each year, so make sure to look up conditions as you plan your trip. This New England fall foliage predictor is especially helpful.
Fall Weekend Getaways Near Boston
1. White Mountains, New Hampshire
Driving time: 2-3 hours
The White Mountains in New Hampshire offer fall foliage scenes that look too good to be true. Whether you want to go on challenging hikes or don't want to strain yourself much, you'll find plenty of scenic views in the White Mountains.
When visiting the White Mountains, a must-do is to drive along the Kancamagus Highway. This 35-mile drive is known for its scenic overlooks, rocky gorges, and waterfalls.
If you can make the extra 1-hour drive from the White Mountains, I also highly recommend visiting Vermont's Northeast Kingdom; in particular, Dog Mountain in St. Johnsbury is small but so charming.
See my White Mountains fall itinerary for more info on specific hikes and destinations.
Where to stay: The Inn at Jackson is the former summer home of the Baldwin piano family and is near Mt. Washington, the tallest mountain in the Northeastern US. For a more traditional option, try Comfort Inn & Suites North Conway, a charming town that's a popular starting point for visits to the White Mountains.
2. The Berkshires, Massachusetts
Driving time: 3 hours
The Berkshires in Western Mass are best-known for their mountain views and quaint towns. If you're looking for some more moderate hikes, you may prefer the Berkshires (the White Mountains trails don't have any switchbacks and simply go straight up).
I hiked to Mt. Greylock, the highest point in MA, and there are several routes there of varying difficulty (this trail is quite moderate).
In the Berkshires, there are also more historic small towns with local shopping and museums. Some popular stops include Stockbridge, Lee, and Lenox.
I'd say that the Berkshires is more of a relaxing getaway while the White Mountains are more outdoorsy and adventurous. See my Berkshires weekend itinerary for help planning your trip.
Where to stay: This dog-friendly riverfront condo sleeps up to 8 and has access to a pool, sauna, weight room, and game room. You might also like The Notch Hostel, which has private and shared rooms in a classic New England home.
3. Acadia National Park, Maine
Driving time: 4 hours 20 minutes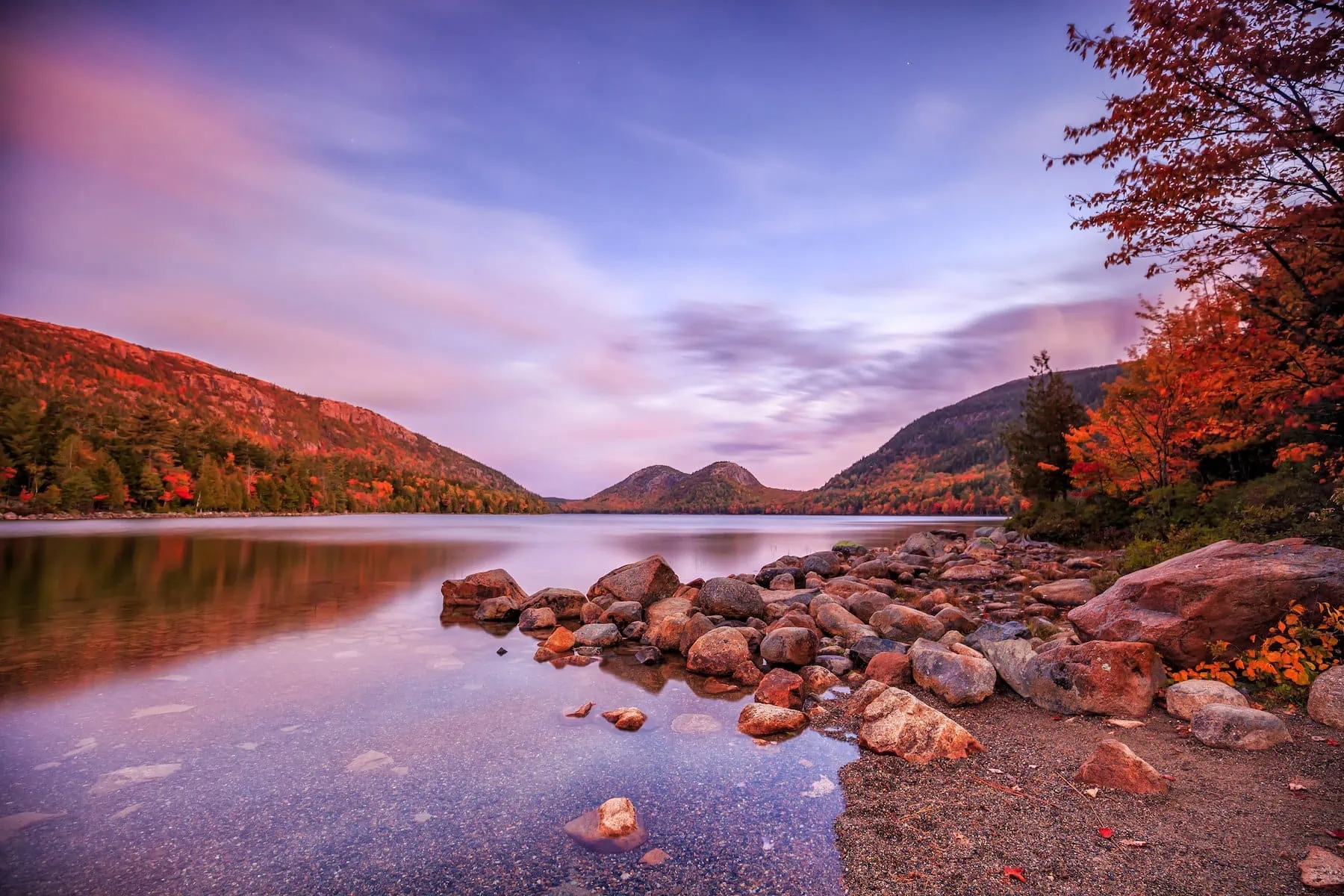 Acadia NP is famous for fall foliage, seafood, and unique hikes ranking from easy to near-vertical.
Some famous but challenging hikes include Beehive Trail and Precipice Trail, which are short but include some scrambling. You'll catch great views of the foliage at the top though!
If you have a fear of heights, you may prefer calmer hikes like Jordan Pond Path or Ocean Path. If you do the Jordan Pond hike, it's worth stopping by Jordan Pond House for a popover, which is fluffy, hollow, and eggy pastry often served with butter and jam.
You'll also want to catch the sunset or sunrise on Cadillac Mountain, which you can drive up to. Just be sure to make a reservation.
Finally, grab some grub in the nearby town Bar Harbor, which has tons of restaurants and cute shops.
Where to stay: Bar Harbor Villager Motel is conveniently located, and you also get a free grab n go breakfast. You may also like The Primrose bed and breakfast, also in Bar Harbor. You get a full English/Irish breakfast in a charming, homey setting.
5. Wachusett Mountain, Massachusetts
Driving time: 1 hour 10 minutes (or take the Commuter Rail to Wachusett and then an Uber)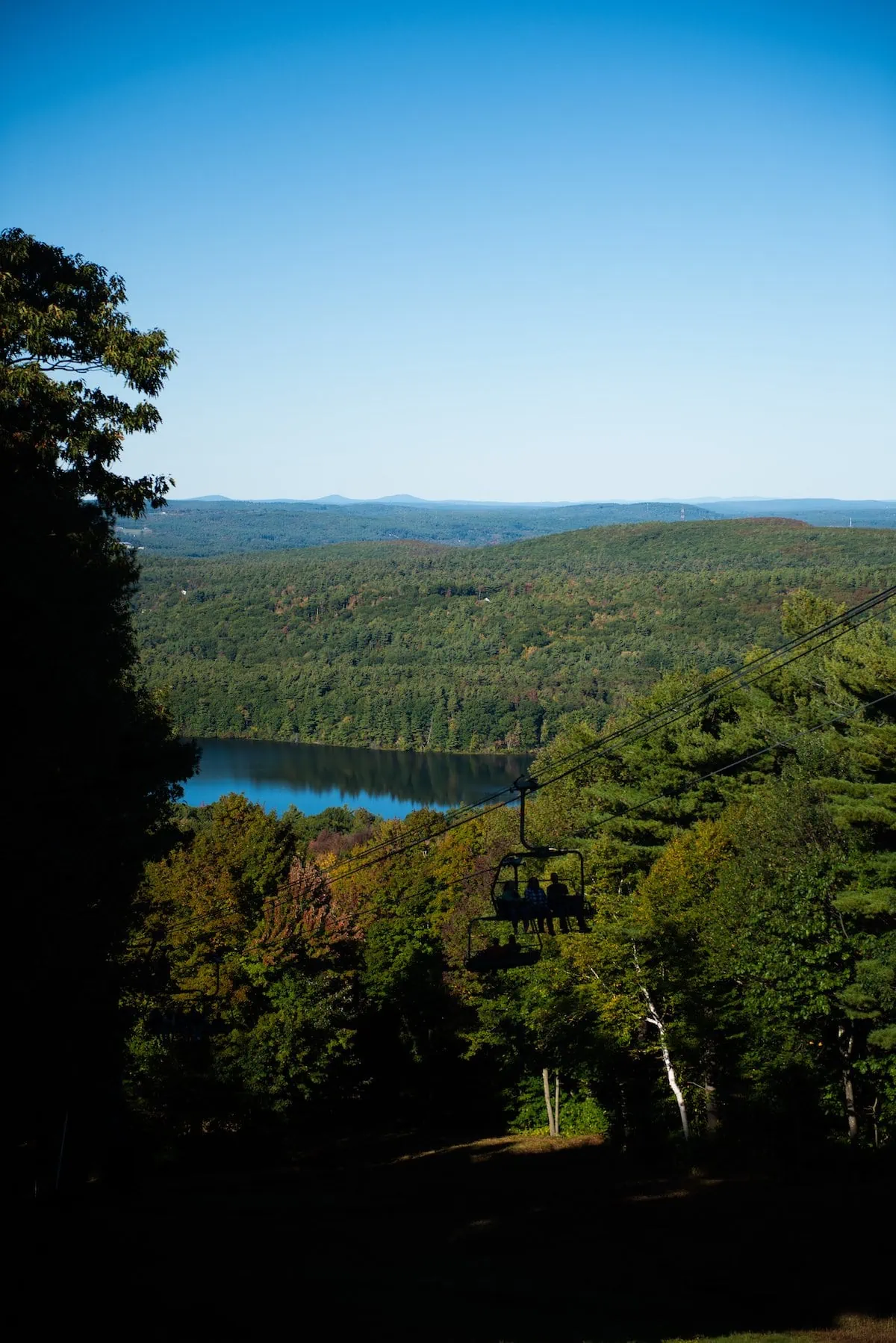 Waschusett Mountain is best-known for its skiing, but the fall foliage is lovely as well. This is a lower-key destination that doesn't have as intense hikes as the White Mountains or Berkshires, but still is far enough away from Boston to feel like a trip.
Even better, there are often festivals at the mountain, including Applefest in mid-October. Sample all kinds of foods with apple in them, local beers, and more. You can also take the ski lift (SkyRide) to the top of the mountain and catch lovely foliage views.
Where to stay: Check out this house near a lake. Or, you might like this large lake house with canoes and a grill.
5. Stowe, Vermont
Driving time: 3 hours
It doesn't get much cuter than Stowe in the fall with its covered bridges, surrounding mountains, and classic white church against the colorful foliage.
There's a covered bridge right in the village called the Giles W. Dewey Memorial Bridge, and it's quite cute. If you want to see bridged with the more classic red color, go on a drive to Brookdale Bridge and the Red Covered Bridge.
Make sure to also stroll down Main Street and admire the fall-themed decorations, shop small, and sample craft beer at a brewery. If you want more of a walk, you can take the Recreation Path from the village and go all the way up to Top Notch Resort.
Finally, for great views, take the scenic Gondola Skyride up Mt. Mansfield.
Where to stay: If you loved The Sound of Music, don't miss the chance to stay in the Trapp Family Lodge, owned by the actual von Trapp family. Featuring Austrian-style architecture, the lodge is nestled in the mountains. Otherwise, enjoy this historic loft in the village, with restaurants and coffee shops right outside your door.
9. Salem, Massachusetts
Driving time: 30 (or 30 min Commuter Rail or 1 hr bus)
Salem is the perfect fall destination for more spooky, Halloween vibes. Because Salem was the location of the 17th century Salem Witch Trials, the small town really plays up this haunted/witchy reputation. There are countless witch museums, haunted houses, ghost tours, dungeons, and witch souvenir shops.
For a perfect fall visit, check out Salem Witch Museum, which is educational and not spooky. The Salem Witch House is another popular stop due to its history (it was the home of a judge in the Witch Trials) and photogenic exterior.
One of my absolute favorite thing to do in Salem is go to the Salem Willows Arcade, and you'll also be able to catch some fall foliage in the park there. The park is on a little peninsula about 1.5 miles from the town center, and true to its name, there are many willows and other trees. You can stroll along the marina, bring a picnic (or buy comfort food at one of the vendors), and watch the sunset.
If you're looking for more activities, check out my guide to non-witchy things to do in Salem.
Looking to stay longer than a day, and need a place to stay? You might like this historic cottage near the town center.
6. Burlington, Vermont
Driving time: 3 hours 15 minutes (or 4 hour bus)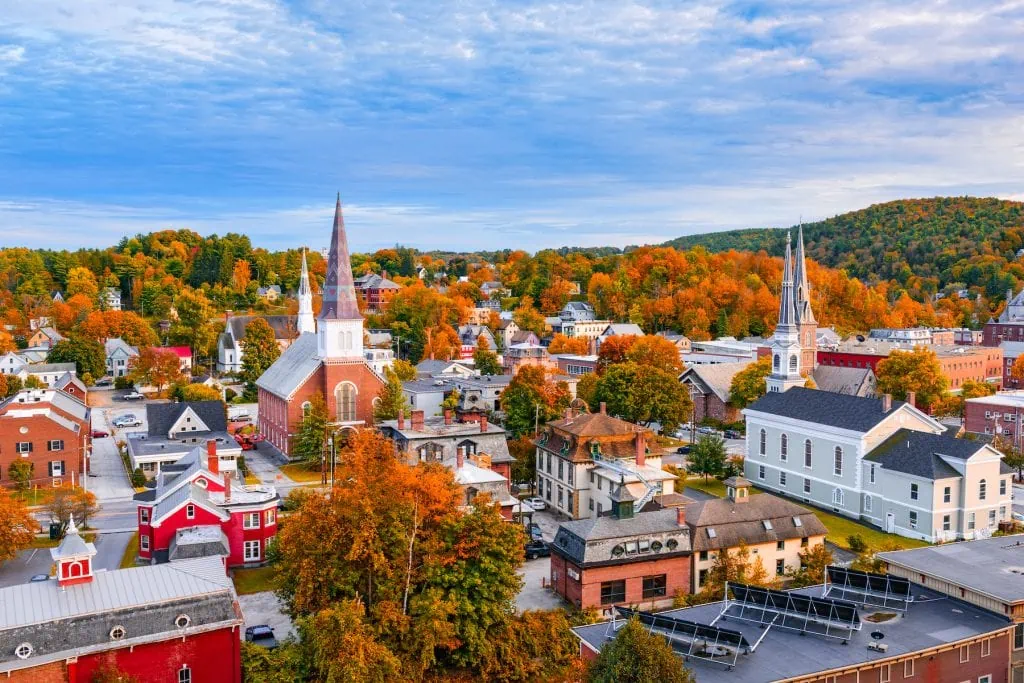 Burlington is a small city is located right on Lake Champlain, making for breathtaking sunsets with the mountains in the distance. Make sure to stop by Battery Park for a great view.
While you won't see a ton of foliage downtown, it's still worth a stop for the restaurants, boutiques, and sporting goods stores. The city was the first to run entirely on renewable energy, and you'll notice an emphasis on sustainability throughout the town, especially with the many thrift stores and even used gear sections in sports stores. Besides that, you'll find the original Ben & Jerry's scoop shop, independent bookstores, breweries, and more.
For foliage views a bit outside the city, visit Shelburne Farms, a nonprofit educational farm with walking trails, animals, and baked goods.
Burlington also has its own Oktoberfest, which has sold out every year since 2015.
Where to stay: This private suite has free parking and is walking distance from the city center, or you might like the modern Hilton Burlington Lake Champlain with a stunning view of the water and mountains.
7. Amherst, Massachusetts
Driving time: 1 hour 45 minutes
Amherst, Massachusetts is a small college town in Western Mass with mountain landscapes and many unique things to do. I'm actually an Amherst College grad, and the fall was my favorite season in the Pioneer Valley.
To be immersed in the foliage, bike or walk along the Norwottuck Rail Trail. I often ran towards Belchertown from the Amherst College campus, which had the most wildlife since it was forested and marshy. You can also go towards Northampton and pass along farms, the shopping mall, and ice cream shops.
Then, fill your belly with cider donuts and other fall goodies at Atkins Farms, a locally-owned and operated country market. You'll find a wide variety of local produce, baked goods, and specialty items.
Another sporty suggestion is to hike Mt. Sugarloaf. Mt. Sugarloaf in South Deerfield has stunning views of the valley and surrounding mountains. The hike is short but steep, so make sure to bring good shoes. At the top, there's an observation deck you can climb to get even better views.
Finally, you can't miss Montague Bookmill, charming used bookstore in an 1842 gristmill. The bookstore is extremely quaint, with several cozy nooks where you can curl up and read. They also have a cafe overlooking the river, where you can order sandwiches and drinks.
Check out my full guide of things to do in Amherst for more tips.
Where to stay: The best walkable hotels are the Inn on Boltwood and Amherst Inn. The Inn on Boltwood is college-owned and operated, and it's has a beautiful, historic, and classic New England setting. Amherst Inn is a Victorian bed and breakfast that's more down-to-earth.
8. Newport, Rhode Island
Driving time: 1 hour 30 minutes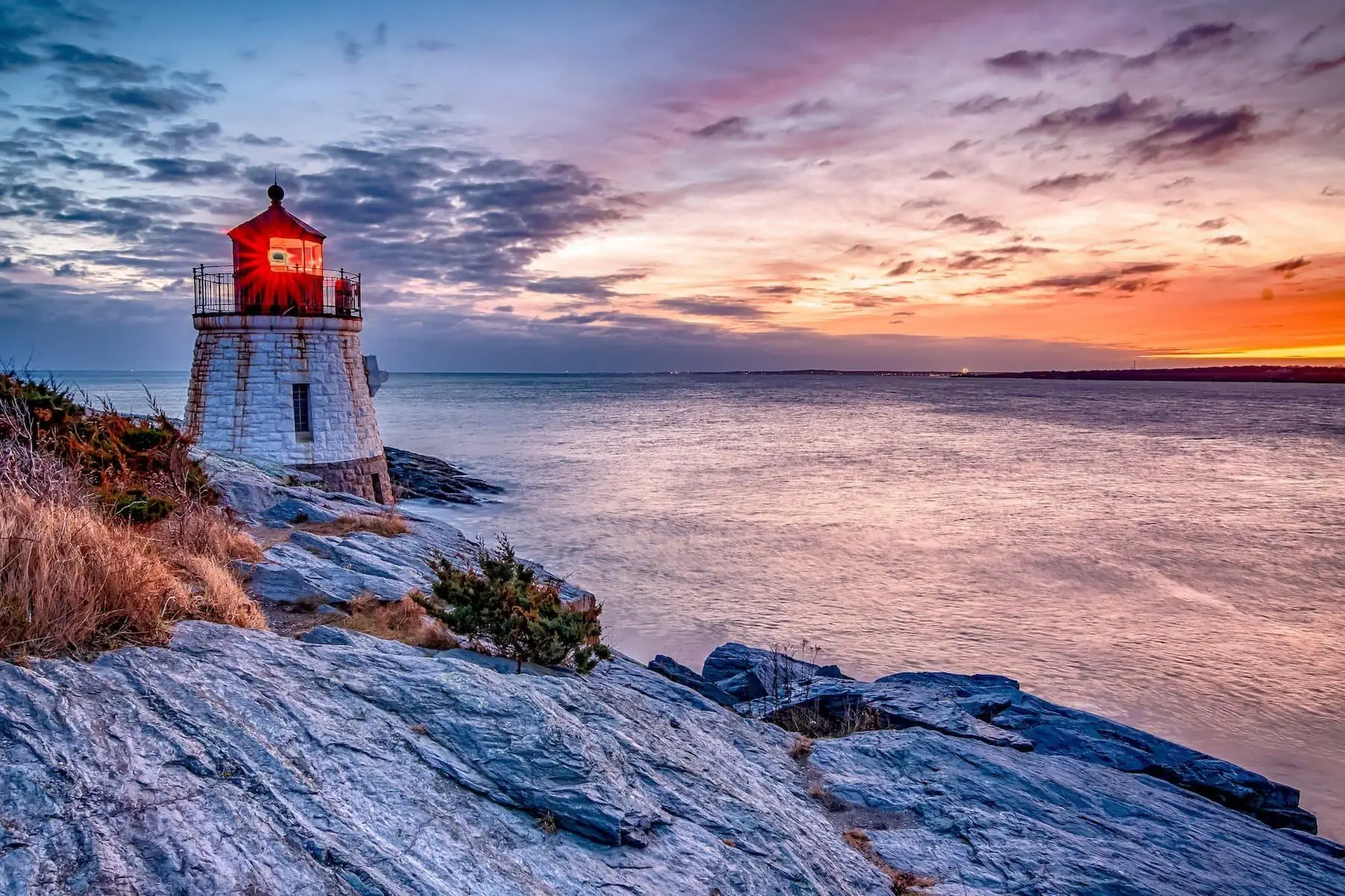 Newport is a bustling seaside town with restaurants, local shops, and historic colorful houses. The town is especially charming during the fall with its many decorations. Walk along Bowen's Wharf and Queen Anne's Square, and make sure to stop by the Trinity Church Pumpkin Patch for perfect New England fall photos.
Just a short drive outside the town, you'll find impressive late 1800s and early 1900s mansions along the coastline. One of the most popular to visit is The Breakers, the Vanderbilt family's former summer residence. The interior feels like a European palace with columns, chandeliers, sculptures, and decorative ceilings.
If you're a more active traveler, you'll enjoy the Cliff Walk, a 3.5-mile path along the ocean with lovely foliage views. The path also passes by famous attractions like The Breakers, Salve Regina University, and Ochre Court (another mansion). Keep in mind that while the trail is partly paved, there are rocky sections and places where you may need to scramble.
Where to stay: This private suite is conveniently-located in the city center, or if you want a traditional hotel experience, try the top-rated Serenity Inn Newport in a Victorian home, also in the city center.
9. Middlesex Fells or Blue Hills Reservation
Driving time: 20 minutes (or take Boston public transport)
These two parks are so close to Boston that they're not much of a getaway. That said, if you're short on time or late in the season, these are still nice options for foliage.
Middlesex Fells Reservation is a state park in Medford. In the fall, the distant Boston skyline is surrounded by colorful trees. Bonus points if you come during the golden hour to catch the pink-blue gradient sky.
You can get the pictured skyline view at Wright's Tower, which is a short .3-mile hike from the South Border Parking lot. Bring good athletic shoes and be ready for a bit of a climb. You can also hike the full Skyline Trail, which is 8 miles with 1000ft of elevation gain.
The Blue Hills Reservation is another state park about a 20-minute drive from the city. You can also get a distant skyline view by walking its Skyline Loop, which is 5.4 miles with 700ft of gain.
This state park may be easier to reach than Middlesex Fells if you're staying on the Boston side of the Charles River rather than the Cambridge side.
Map of These Fall Weekend Getaways from Boston
To help you plan your trip and situate where these places are, here's a Google map of all these fall foliage destinations! You may even be able to combine a couple places into one road trip.
Let me know in the comments if there's any other place you'd add to this list!