Boston is known for its harsh New England winters, from bone-chilling temperature to knee-deep snow. But, the season can also be really magical with the holiday lights, snow sports, markets, and warm drinks.
After living in Boston for three winters, I'm happy to report that it's not all gloom and doom, and there are many things to look forward to. In this post, I'll share some of the best things to do in winter in Boston, organized in two sections by outdoor and indoor activities.
Outdoor Things to do in Winter in Boston
1. Go ice skating
Frog Pond in the Boston Common is perhaps the best-known ice skating option in the city, but did you know that you can go skating indoors for FREE in the city's public rinks? If you don't own skates, many public rinks let you rent them for a low price. Just call ahead to ask, and double-check their online schedules for public skating hours.
Here are Boston's public indoor ice skating rinks. They're located across the city and beyond, so you may even have one in your neighborhood!
The outdoor ice skating rinks in Boston include:
Just keep in mind that non-public rinks charge both an admission and rental fee. Some rinks may also require online reservations.
Frog Pond is the most classic option, and for good reason. You get to skate right in the Boston Common with the city as your backdrop. That said, it's also the most crowded. The ice gets scratched up easily, and it can be hard to get around if you need to hold onto the edge of the rink.
Skate @ Canal District Kendall is right near the Kendal Square T stop, giving you access to lots of great restaurants where you can grab a bit after your skate session. They also offer private and group lessons.
The Rink at 401 Park is hosted by REI and is located between Time Out Market Boston, home to several food vendors, and Trillium Fenway, a brewery. There are also several popular restaurants and bars in the area, and Fenway probably has the most active nightlife of these non-public outdoor rinks.
Kelly Outdoor Rink is close to the Stony Brook T stop, and admission is free, with rental skates costing just a few bucks. There's not as much nearby, but if you take a 15-minute walk to Hyde Square, you'll find some great local restaurants.
2. Enjoy a holiday cruise around the Boston Harbor
Available in December, this holiday cruise is the perfect way to get in the festive mood. Listen to holiday tunes while sipping hot cocoa and admiring the Boston skyline at night. Tickets cost $37-56 per person.
3. Wander in the snow
Boston Public Garden and Louisburg Square in Beacon Hill
There's nothing more magical than walking through downtown Boston in the freshly-fallen snow. Stop by the Boston Common, Public Garden, Beacon Hill, and Back Bay for the best snowscapes.
See my guide to the most Instagrammable places in Boston for more photo spot suggestions.
Home to art studios and boutiques in old warehouses, SoWa is a neighborhood in the South End that's about as hipster as you can get. Every winter, they have a festival that includes an expansive holiday market, live music, art galleries, and food trucks.
The holiday market is indoors in SoWa's Power Station, an old power plant turned event space. The industrial and modern interior is especially charming with the light displays. There are countless vendors, ranging from local foods to upcycled clothing. On the second floor, there's a bar with live music. Tickets cost $10 at the door (paid by card only), and it's certainly worth a visit.
If you stop by the Winter Festival on a Sunday, you should also stop by the SoWa Vintage Market for some unique knickknacks.
5. Visit Snowport
Snowport is another winter festival, but in Seaport, also an up-and-coming neighborhood in Boston. Their holiday market is outdoors and features similar small businesses, but there's a larger emphasis on food and drink that you can buy and enjoy in heated tents.
Outside of the holiday market, there's also a tree market that will deliver your tree to your home, as well as a a place to go curling. Don't forget to take a stroll along the Boston Harbor as well and snap some shots of the skyline!
6. Admire the holiday lights or go to a Christmas tree lighting

Marcio Jose Bastos Silva / Shutterstock
Go on a walk through the city and admire the beautiful light displays. Some popular spots include:
Christopher Columbus Park—the archway is covered in lights and is very romantic
Faneuil Hall—go shopping or grab a bite to eat while admiring the indoor and outdoor decorations
Commonwealth Avenue Mall—the trees with holiday lights frame the Public Garden perfectly
Somerville Illuminations Tour (the locals are known for elaborate lighting displays)
If you're looking for impressive Christmas tree displays and lightings in particular, here are some to look out for:
Light Up Seaport (there is also a Menorah lighting)
USS Constitution tree lighting
Faneuil Hall tree lighting
North End tree lighting
A great bonus is that many of these events come with free food or drink and music!
7. Go skiing
You don't need to drive to the mountains to hit the slopes! The Blue Hills are only a 20-minute drive from the city. If you don't have a car, Wachusett Mountain is accessible by the Commuter Rail in about 2 hours (there's a free shuttle from the Fitchburg station during ski season).
Of course, you'll get better slopes and views if you make it out to bigger mountains. So, if you're looking for extra adventure, check out popular skiing destinations Stowe in Vermont and Bretton Woods in New Hampshire.
8. Eat in an igloo
If you're looking for a special dining experience, you can eat in a cozy igloo with the Boston skyline as your backdrop at the Envoy Lookout Rooftop Bar. They also have igloos along the Boston Harbor. Be ready to stomach a steep price, however—reservations are $400-500 for two hours, and the igloos can sit up to 8-10 people.
For a more affordable, but still special, winter outdoor dining experience, check out Bow Market's firepit tables in Somerville's Union Square. The cost is $5 per person. Make sure to dress extra warm since you won't be in an enclosed space. A great benefit, however, is that you can order from any of the restaurants in Bow Market (I highly recommend the poutine at Saus, and they even have a vegan option).
Speaking of Bow Market, there's no better place to buy local gifts. This up-and-coming shopping and dining space is located in a former storage building. The market is dedicated to small, unique shops including a quirky gift store, vintage shop, clothing boutiques, and more.
10. Go sledding
The thick snow may be the bane of every Bostonian's existence as they walk or drive, but there's no doubt that the snow makes for great sledding. Grab your family or friends and head over to these popular sledding spots:
Corey Hill Park (Brookline)

Arnold Arboretum (Jamaica Plain)

Danehy Pond (Cambridge)

Flagstaff Hill (Boston Common)

Sugar Bowl at Jamaica Pond
11. Visit the New Hampshire Ice Castles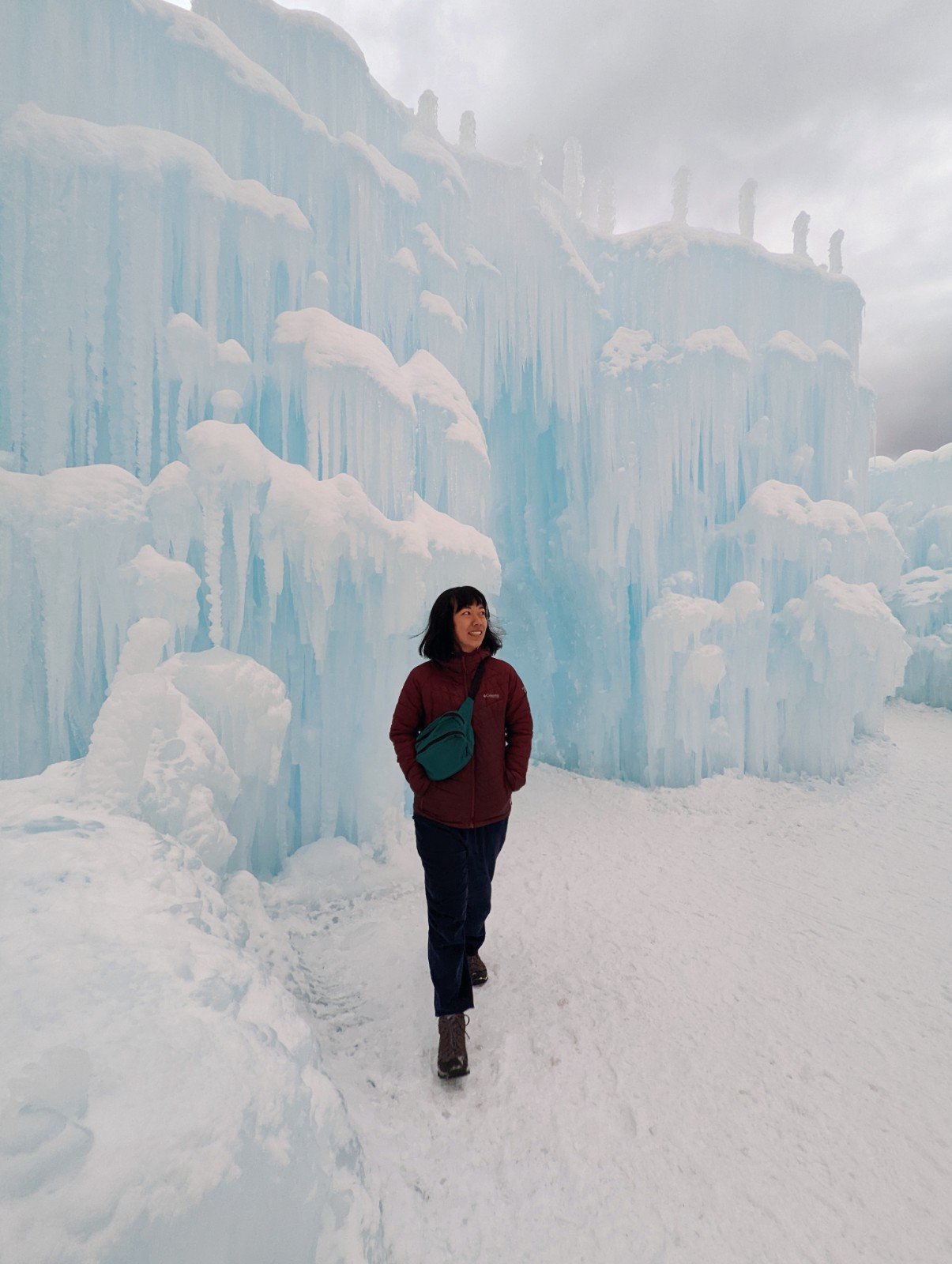 While not in Boston, these awe-inspiring Ice Castles are just a 2-hour drive away in rural New Hampshire. Made entirely of thousands of hand-placed icicles, the Ice Castles are a work of art that you can physically explore through its caverns, tunnels, archways, and slides. If you have kids, they'll certainly be delighted.
Beyond the Ice Castles, there's also an enchanted forest walk and small tubing area that's included in admission, which costs $20-27 per person.
If you can make it out for an entire day and also do a winter hike in the White Mountains, the Ice Castles are worth the trip. See my full review of the New Hampshire Ice Castles for more photos and info.
Indoor Things to Do in Winter in Boston
After you enjoy the outdoor activities, come inside and warm up with these wintery things to do!
12. Have a drink at cozy cafe
Grab a hot cocoa to warm your hands and body. If you're looking for cafe suggestions, Tatte Bakery is one of the prettiest local cafe chains in the city, and they offer a mouth-watering selection of pastries. They can be found all over Boston and the surrounding suburban cities.
Cafe SuSu on Newbury Street is another aesthetic spot, and it's actually located inside a suit store! It's a great place to go after doing some holiday shopping in Back Bay.
13. Enjoy a festive performance
If you want a more classic experience, you could enjoy The Nutcracker or the Holiday Pops by the Boston Symphony Orchestra. If you want something a little different, try The Hip Hop Nutcracker or "A Very Postmodern Christmas" by Postmodern Jukebox.
Check the schedule of winter performances over at Boston Theater.
14. Dig for thrifted gems at The Garment District
The Garment District is a secondhand clothing store in Cambridge known for its $2/pound used clothing selection. If you're looking for adventure (and aren't too afraid of germs), you can sift through mounds of clothing of all sizes and styles.
If you prefer a more curated selection, they also offer vintage styles on your traditional clothing racks, but at a higher price point. They also typically offer a special section for ugly holiday sweaters!
15. See a movie at an indie theatre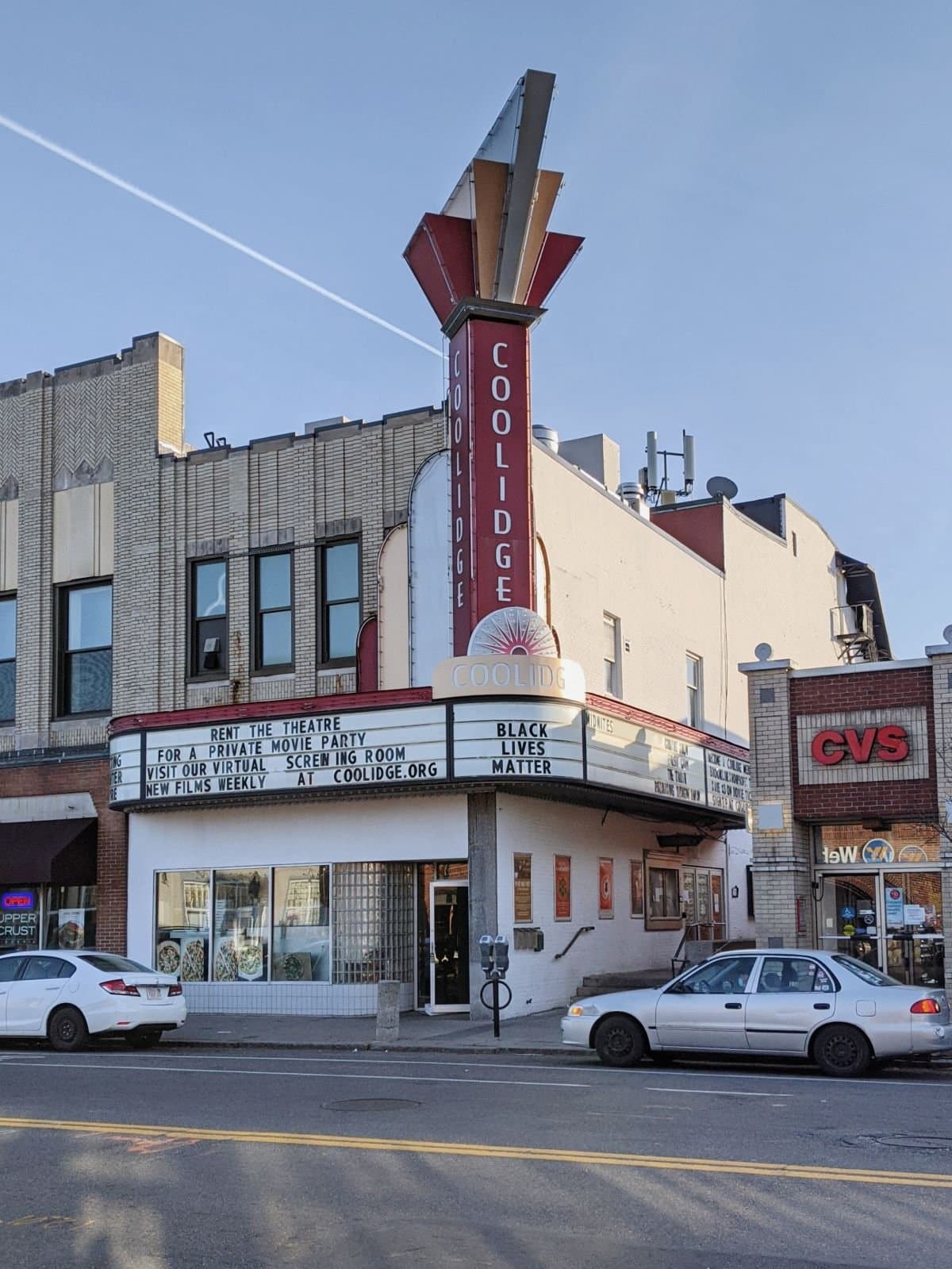 Spice up your typical movie-going experience by going to Coolidge Corner Theatre in Brookline or Somerville Theatre in Davis Square. These independent theatres have beautiful interiors with the classic red curtains.
Both theatres are located close to T stops and have a great selection of nearby restaurants and shops.
16. Make art in a pottery or paint studio
Winter is the perfect time to work on creative pursuits indoors. Whether you're new to art or more experienced, going to a pottery or paint studio lets you make art in a structured environment while spending time with loved ones. In fact, it makes for a great Boston experience gift.
For pottery, Clayroom in Brookline is a studio where you can paint a pre-made piece of pottery, ranging from household items like plates and mugs to decorative figurines. Once you're done painting, the studio will fire the pottery for you, and you'll be able to pick it up later.
For painting, Muse Paintbar in Assembly Row has an instructor guiding everyone step-by-step through a preselected painting. There is food and drink available for purchase, and all ages are welcome at most events (just double-check the listing). Afterwards, grab a bite to eat at the many nearby restaurants, or go shopping at popular retailers.
17. Go rock climbing or bouldering
When it's harder to exercise outside with the winter cold, going rock climbing and bouldering is a fun way to stay active. Here are some gyms in the city:
Many of these places offer day passes with gear rentals for around $30, and there are climbing routes of all difficulty levels.
18. Try an escape room
Another way to work both your body and mind is to tackle an escape room. One of the best options is Boda Borg in Malden, which has over 20 "quests" that are basically mini escape rooms. You can try each room multiple times, with some being more intellectual and others more active.
Some other more traditional escape rooms include:
Keep in mind that most escape rooms require a group of at least 2-3 people. Costs usually range from $30-50 per person.
19. Hunker down in a board game cafe
If you're tired of being stuck inside at home, but still want to stay cozy, venture out to a board game cafe. You can spend all day playing classics or learning new games while sipping hot drinks or snacking on comfort food.
Knight Moves is a homey spot in Brookline that has over 2000 games. The board game cafe is also near Coolidge Corner, a bustling suburban center with several shops and restaurants.
Tavern of Tales is another option, but you must reserve a room, which can be pricey unless you have a large group.
20. Explore a new museum
Boston is known for its many museums, ranging from science to art. When the weather outside is cold and dreary, exploring a new museum is one way to lift your spirits. Some popular options include:
If you have a local library card, you may be able to get free or discounted passes to some of these museums. Check out your library's website for more details on picking up these passes!
21. Eat at an indoor market
As you're wandering around the city in the cold winter weather, you may want to grab a quick drink or bite to eat. Here are some indoor markets where you'll find a wide variety of cuisines.
For more ways to stay warm and entertained in the winter, check out my full post on indoor things to do in Boston.
---
Let us know if you have any other suggestions you'd add to this list. Stay warm and cozy this winter!