There's nothing like a New England fall. After living in a few different states and countries, I'd choose Boston as the best place to be in October. The city itself has some beautiful fall foliage, and it has easy access to more rural destinations with colorful displays. I lived in Boston for three years, and here are some of my favorite places to see the fall foliage in the city.
All spots accessible by the T (subway), other than the final four, where you'll need to drive or take an Uber/Lyft. Stay till the end for a free, interactive map of all these spots!
This post contains affiliate links, meaning that I may earn a small commission on any purchases through those links, at no extra cost to you. This income keeps this site running and it's much appreciated!
When Does Fall Foliage Peak?
Fall foliage in Boston typically begins in early October and peaks in the last two weeks of the month. In previous years, there has still been some nice foliage in the first week of November, but the colors tend to be more muted by that point.
Keep in mind that many factors can impact peak foliage, including the temperature, humidity, and rainfall of that year. The third week of October probably offers the best chance of seeing brilliant fall colors, so plan your trip accordingly.
Best Fall Foliage Spots in Boston
1. Beacon Hill
Beacon Hill is one of the most instagrammable places in Boston with its cobblestone roads, gas lamps, red brick buildings, and tree canopies lining the streets.
The fall vibes in this neighborhood can't be beat. Residents often decorate their doorsteps, with Louisburg Square having particularly picturesque displays. Also make a stop by Rouvalis Flowers & Gardens for their fall florals.
2. Back Bay Fens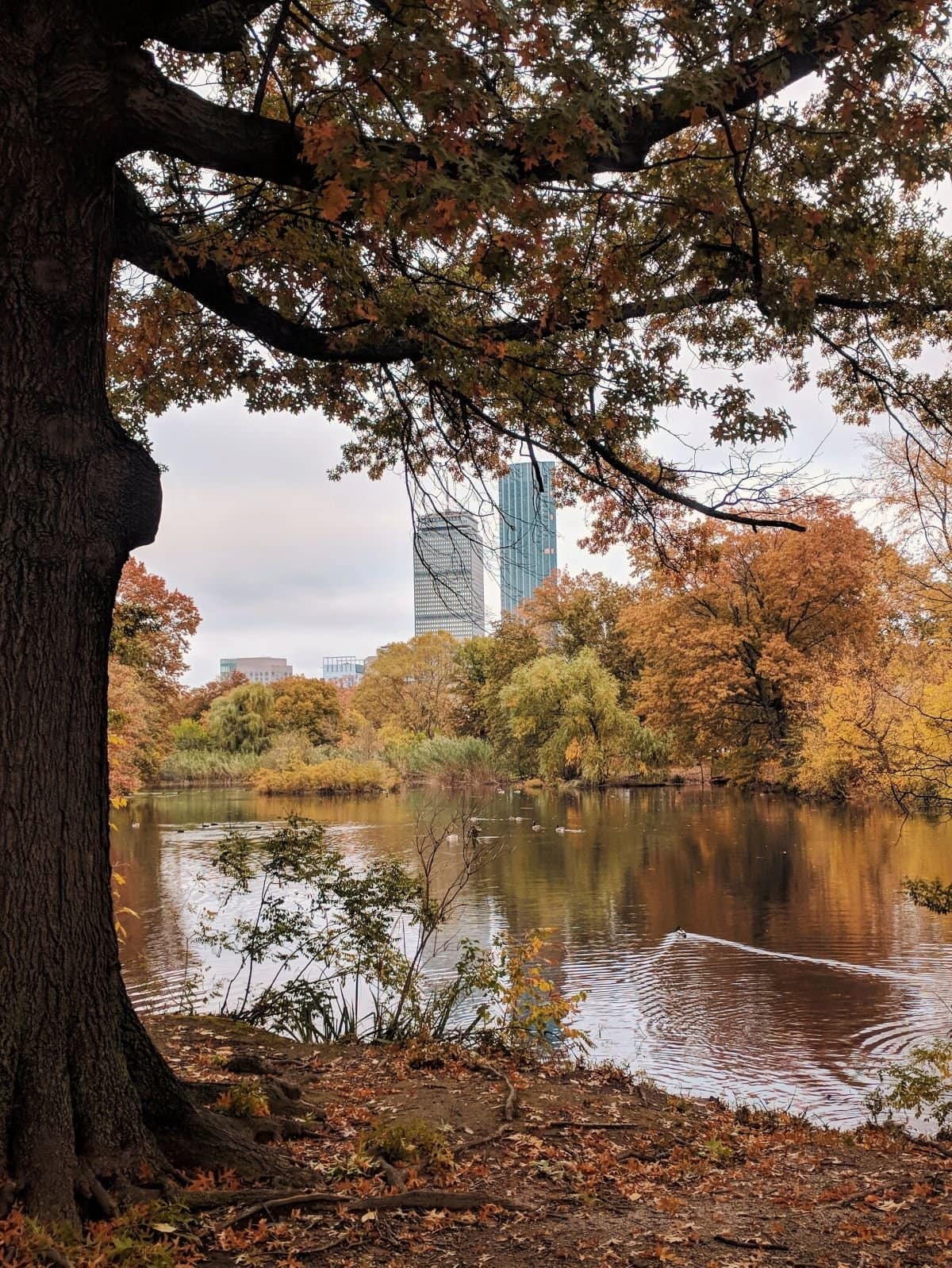 The Back Bay Fens is part of a network of Boston parks known as the Emerald Necklace. The Fens is unique in that it's a peaceful green space right next to the Back Bay and Fenway neighborhoods, as well as the famous Museum of Fine Arts and Isabella Stewart Gardner Museum.
The Fens is home to a community garden, a rose garden, and athletic fields. Walk along the side of the park with the museums for the best foliage views, and make sure to cross the two bridges over the river.
3. Charles River Esplanade
The Esplanade is a special park along the Charlies River with Cambridge skyline views, a tree-lined lagoon, and scenic bridges. Many people come to the park to walk, run, bike, or lounge on the docks.
Walk by the lagoon and across the bridges for the prettiest foliage views.
4. Cambridge side of the Charles River
If you want to get the Boston skyline in your fall foliage photos, you'll need to venture over to the Cambridge side. Some of the best skyline views are near the MIT Sailing Pavilion and Harvard Bridge.
While there aren't a ton of trees in this area, you may be able to catch some brilliant colors here and there, and you'll at least see the foliage in the distance on the Boston side.
5. Commonwealth Avenue Mall
This walkway in Back Bay is lined with a canopy of trees and features statues of famous historical figures such as Alexander Hamilton. While I don't have a photo of this fall foliage spot, it's certainly worth a visit.
Commonwealth Avenue Mall actually caught my eye from the car a few years ago in the fall, and I attempted to drive to it on the way back from a road trip. I somehow ended up on the highway above Back Bay and had to go on a 20-minute detour to make it back. By that point, night had already fallen. I was so frustrated that I actually cried, thought I'm not sure why since I could've easily taken the T into the city another day to visit the park (though I never did during foliage season).
So, if you end up visiting this spot and take pity on me, please email me if you'd like me to potentially share your photo in this post!
6. Boston Common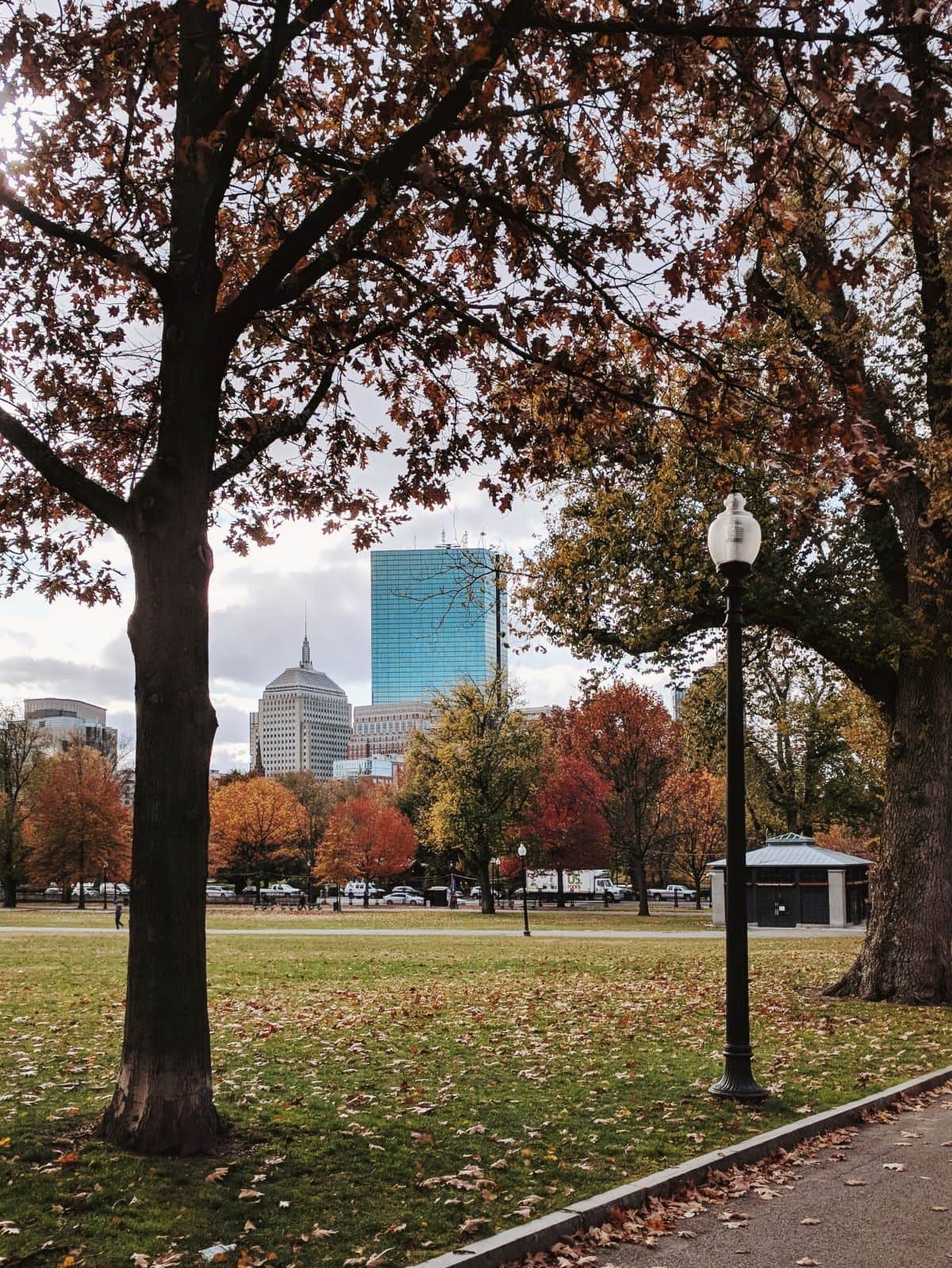 The Boston Common is an expansive park right in the heart of city. The several walking paths are surrounded by beautiful foliage, and you can even see the city buildings peeking through the treeline.
Stop by the fountain near the Park Street T stop for another photo-worthy location.
7. Public Garden
Right next to the Boston Common, the Public Garden offers a setting that's even more peaceful with its weeping willows and iconic footbridge.
You can get some stunning fall foliage photos using the reflection from the pond. From some angles, you'll also be able to capture the city buildings, which provide a cool contrast to the serene gardens.
8. Arnold Arboretum
Arnold Arboretum sprawls nearly 300 acres and is home to thousands of species of trees. It's located on the outskirts of the city in Jamaica Plain but is still accessible via the Forest Hills stop on the Orange Line.
Walk up to Peters Hill for a lovely Boston skyline view surrounded by colorful treetops.
9. Harvard Yard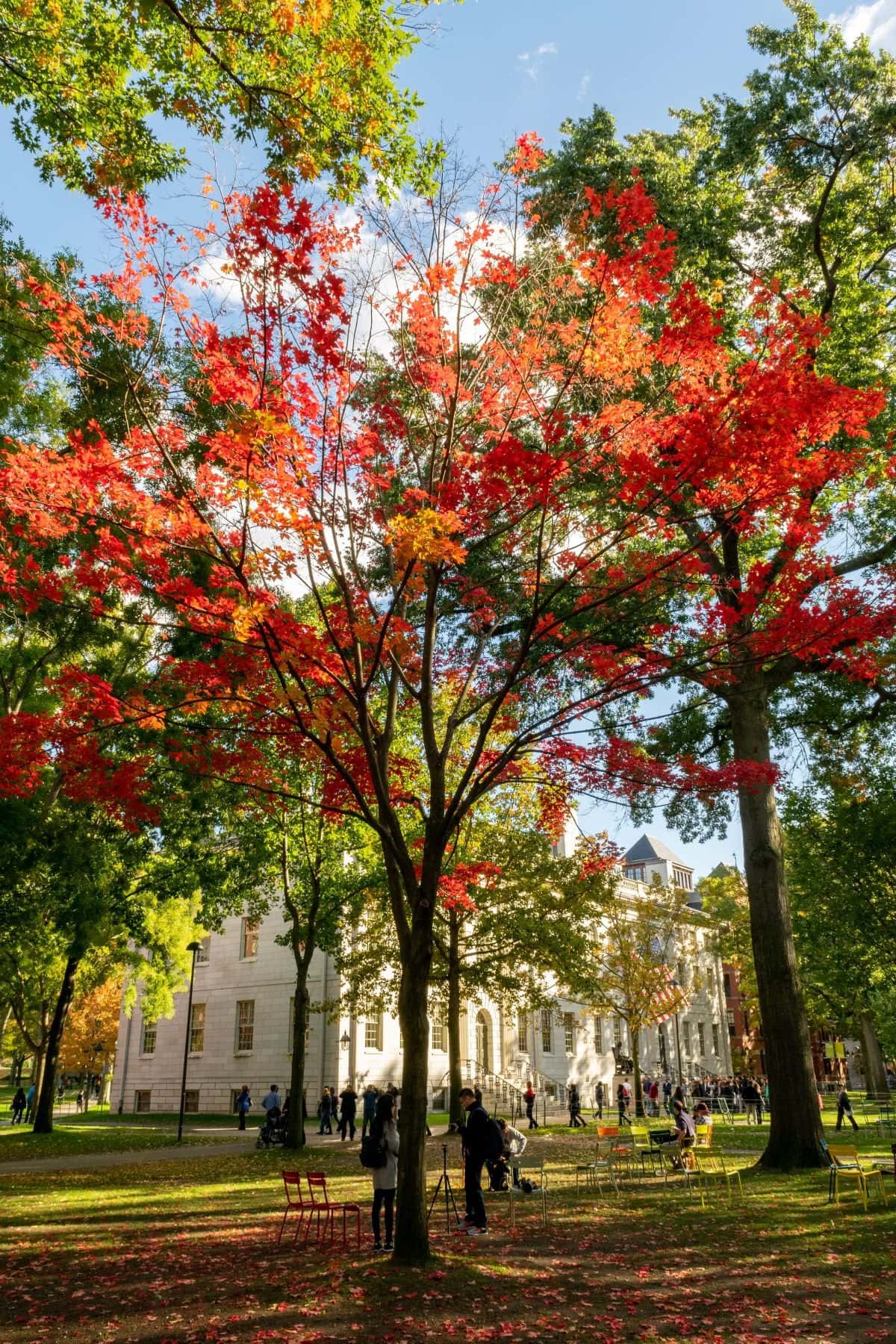 Harvard's campus is quaint in all seasons because of its historic buildings. In the fall, however, Harvard becomes even more beautiful, with the red leaves matching the red brick buildings.
Go to the main quad—Harvard Yard—for the prettiest fall foliage on campus. From there, you can grab a bite to eat at one of the many restaurants in Harvard Square, or take a stroll along the Charles River for more colorful views.
10. Jamaica Pond
Nestled in a residential area between Brookline and Jamaica Plain, Jamaica Pond is another part of the Emerald Necklace park network. Walk the 1.5-mile paved path around the pond while admiring the colorful leaves.
At the boathouse, you can even rent kayaks, paddleboards, rowboats, and sailboats to view the fall colors across the water. The boathouse is open until October 31st and offers rentals during daylight hours. Costs range from $20-45 for a one hour rental.
11. Middlesex Fells
Middlesex Fells Reservation is a state park just outside the city in Medford. In the fall, the distant Boston skyline is surrounded by colorful trees. Bonus points if you come during the golden hour to catch the pink-blue gradient sky.
You can get this skyline view at Wright's Tower, which is a short .3-mile hike from the South Border Parking lot. Bring good athletic shoes and be ready for a bit of a climb. You can also hike the full Skyline Trail, which is 8 miles with 1000ft of elevation gain.
12. Blue Hills
The Blue Hills Reservation is another state park about a 20-minute drive from the city. You can also get a distant skyline view by walking its Skyline Loop, which is 5.4 miles with 700ft of gain.
This state park may be easier to reach than Middlesex Fells if you're staying on the Boston side of the Charles River rather than the Cambridge side.
Fall Foliage Trips from Boston
13. White Mountains
The White Mountains in New Hampshire are only a 2-3 hour drive from Boston, and they offer fall foliage scenes that look like they were ripped straight out of a coffee table book or pulled from your computer screensaver. Whether you want to go on challenging hikes or don't want to strain yourself much, you'll find plenty of scenic views in the White Mountains.
If you can make the extra 1-hour drive from the White Mountains, I also highly recommend visiting Vermont's Northeast Kingdom; in particular, Dog Mountain in St. Johnsbury is small but so charming. When visiting the White Mountains, a must-do is to drive along the Kancamagus Highway. This 35-mile drive is known for its scenic overlooks, rocky gorges, and waterfalls. See my White Mountains fall itinerary for more info.
14. The Berkshires
Also a 2-3 hour drive from Boston, the Berkshires in Western Mass are best-known for their mountain views and quaint towns. If you're looking for some more moderate hikes (the White Mountains trails don't have any switchbacks and simply go straight up), you may prefer the Berkshires.
In the Berkshires, there are also more historic small towns with local shopping and museums. Some popular stops include Stockbridge, Lee, and Lenox.
I'd say that the Berkshires is more of a relaxing getaway while the White Mountains are more outdoorsy and adventurous. See my Berkshires weekend itinerary for help planning your trip.
See my complete guide for more fall foliage getaways from Boston.
Where to Stay in Boston to See the Fall Foliage
Most popular foliages spots are in downtown and Back Bay area, so I'd recommend staying in Back Bay or Beacon Hill for easy access to these fall views.
Back Bay Hotels
Newbury Guest House ($$) is in a bustling location, as Newbury Street is full of popular shops and restaurants. Rooms are clean and modern, and the price is great value for the amenities and convenient location.
No. 284 ($$$) is located right along the Commonwealth Ave Mall. Rooms have a "fancy vintage office" and "private collection" feel, especially as the hotel features a selection of original American art. There is a courtyard, and some rooms even have retractable sunroofs.
Beacon Hill Hotels
Wyndham Hotel ($$) is right across from Beacon Hill. They offer modern rooms, a 24-hour fitness center, and ample event space.
The Whitney Hotel ($$$$) offers posh rooms with large windows overlooking the city. Active explorers will appreciate the free bike rentals and fitness studio. You also receive a "neighborhood passkey" with discounts at local shops and boutiques. The hotel is pet-friendly, offering treats, toys, and beds for your furry companion. You can also search for apartment rentals in Beacon Hill.
Map of the Best Fall Foliage Spots in Boston
Here's the map of all these spots, minus the White Mountains and the Berkshires, which would make the view zoom out too far. Click the icon in the top left to see a list of the spots.
Let us know if there are any other places you'd add to the list, and happy leaf peeping!