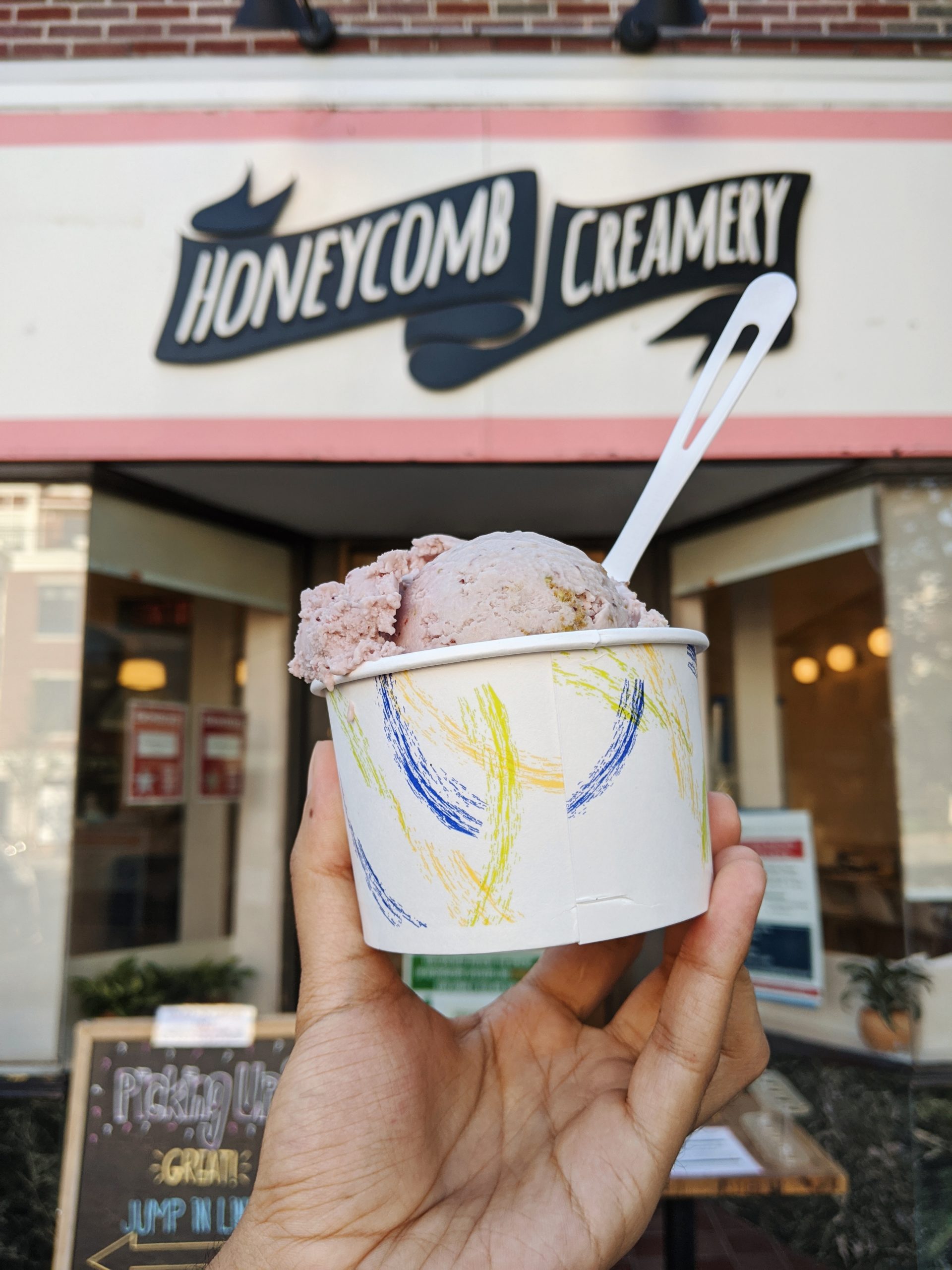 I love ice cream in all seasons (though I will say my consumption picks up significantly in the hot and humid New England months). After living in Boston for a year, I've gotten to try lots of vegan ice cream, and I wanted to share my favorite spots, tips on the best flavors, and places to avoid. I'll also include an interactive Google Map at the end, so you can see which locations are most convenient for you.
So, here's where you can find delicious, creamy, and dairy-free ice cream in Boston—brought to you by your local, mostly plant-based foodie and obsessive restaurant reviewer 🙂
Before You Go
Before you set out to try these places, here are a few tips and things you should know:
The flavors rotate frequently at most places, so be sure to call if you want something specific.
Prices generally range from $4-8 for 1-2 scoops. Expect to spend at least $6 though, as vegan ice cream isn't cheap!
Not all the shops on this list are vegan-only; the large majority are traditional ice cream shops with vegan options. I will note if the store is entirely vegan, though.
I didn't include shops with sorbet options as their only non-dairy "ice cream." My train of thought was that most traditional places will have sorbets, but actual vegan ice cream is harder to find. On a similar note, I'm not including lactose-free spots, as that's not necessarily vegan!
Best Vegan Ice Cream in Boston
1. New City Microcreamery
Location: Central Square, Cambridge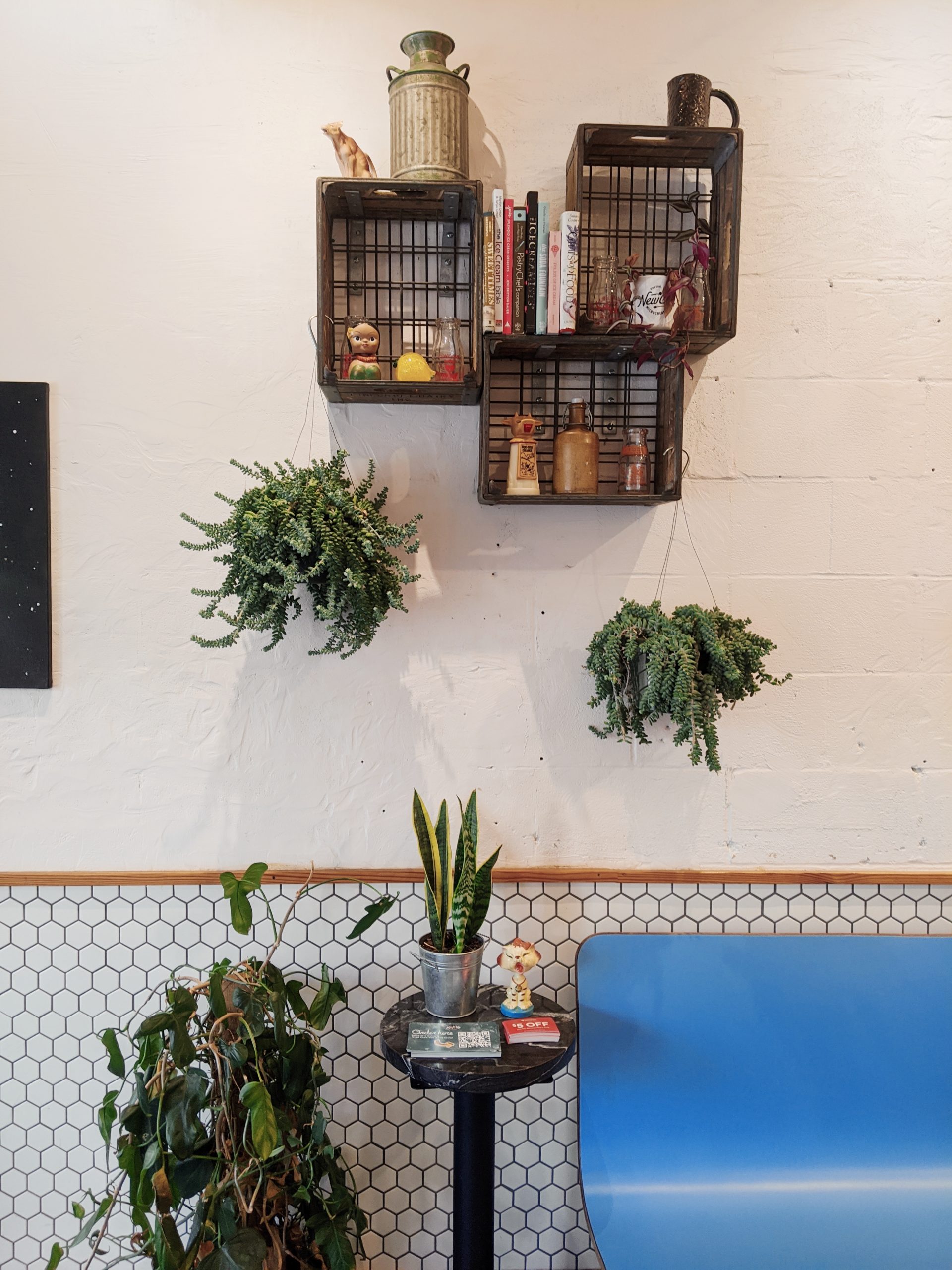 New City Microcreamery in Central Square stole my heart a few weeks ago. For one, the shop is incredibly aesthetic, with its exposed brick walls, hexagon tiling, plants, and vintage decor. Beyond that, the vegan ice cream was some of the best I've ever had.
I got the Chocolate Avocado and the Mounds (coconut base + chocolate bits). The Chocolate Avocado may sound weird, but it actually worked well—thanks to the avocado, the ice cream was super creamy. Since avocado doesn't taste like much, you also don't really notice it, and you can't see it in the ice cream. The Mounds flavor was also yummy, but lighter. There was lots of shredded coconut in the ice cream, adding some texture.
Some other rotating vegan flavors at New City Microcreamery include Vanilla and Cookies & Cream. The Chocolate Avocado and Vanilla seem to be constant, while the third flavor can change. Check the menu before you go, to make sure there'll be something you like. If you want something a little more special, there are also vegan-friendly "milk"shakes and ice cream floats.
2. FoMu (vegan only)
Locations: Fenway, South End, Allston, Jamaica Plain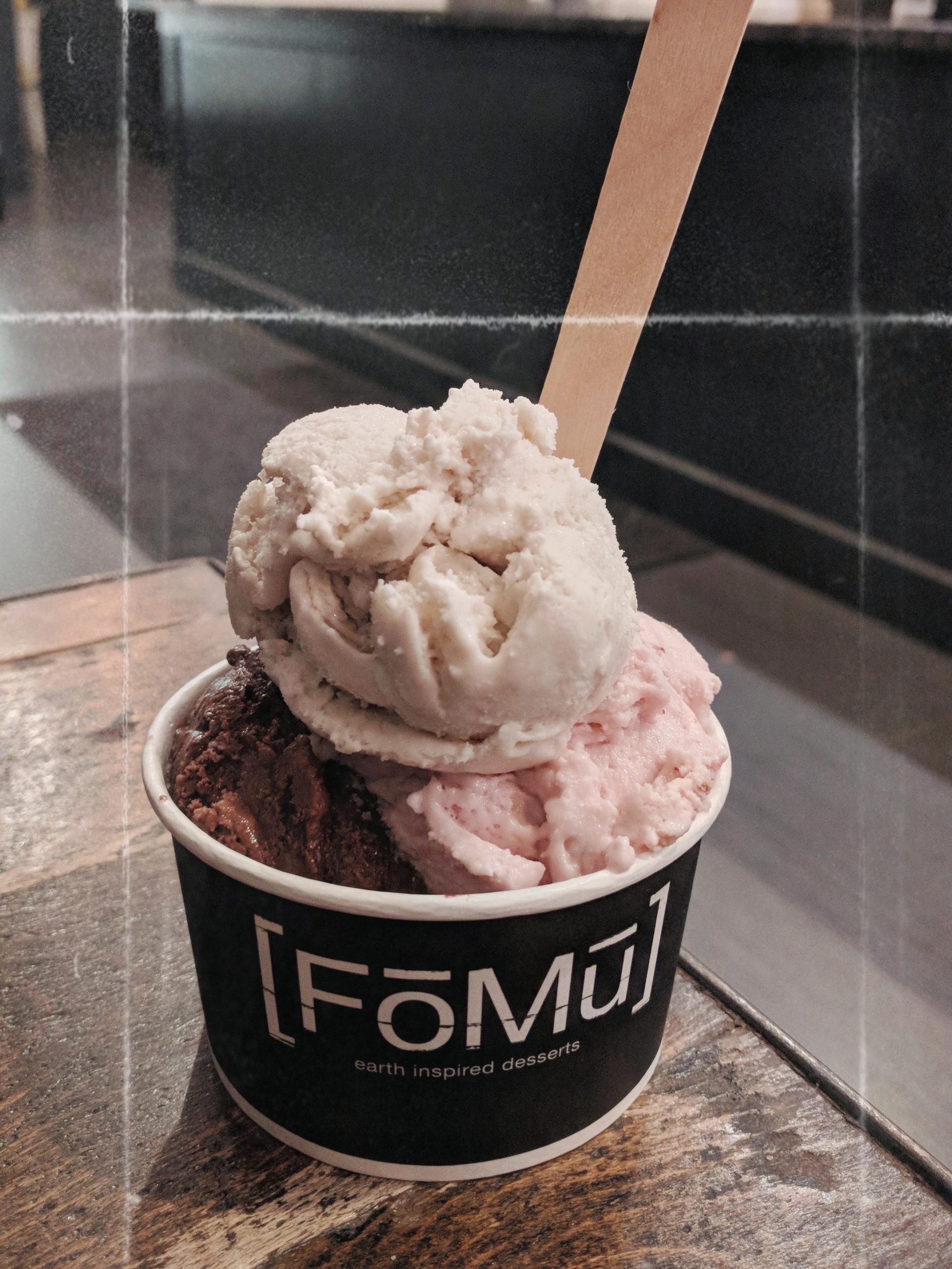 FoMu is the reigning champ of vegan ice cream in Boston. There are four locations in the city, and everything is vegan—including their ice cream flavors, toppings, and baked goods. If you have an upcoming celebration, you might also consider one of their vegan ice cream cakes. Just know that it'll set you back almost $50!
The flavors include classics such as strawberry, chocolate, and vanilla (my favorite combo), and also more unusual seasonal fare, like Grasshopper Pie and Blueberry Shortbread (don't worry, there are no grasshoppers in the first flavor—it's just mint with dark chocolate and chocolate cookie bits). More indulgent options include ice cream cookies and sundaes.
I tried the brownie sundae, and found it a little too heavy and sweet though. Between the whipped marshmallow topping, hot fudge, brownie, candied peanuts, and ice cream, I'd had enough sugar for a week—and I had even split it with someone, and froze the rest for the following day! I was also disappointed that the sundae wasn't very pretty (such an Instagrammer complaint lol). Everything was just piled together in a standard ice cream cup, so you couldn't even see the different parts of the sundae.
I still love FoMu though, and I would heartily recommend it. Just be aware that some flavors can taste really coconut-y, as all of the ice cream is made from a coconut base. For that reason, I'd try to avoid "plainer" flavors (such as Vanilla or the seasonal Lavender) if you don't like the taste of coconut. I'd recommend the Strawberry, as I find that the coconut base actually enhances the strawberry flavor.
Finally, keep in mind that other restaurants may sell FoMu ice cream seasonally, like Veggie Crust and Pure Cold Press. Even if you're not near a FoMu location, you might still be able to try it at a veggie-friendly restaurant.
3. Honeycomb Creamery
Location: Between Harvard Square and Porter Square in Cambridge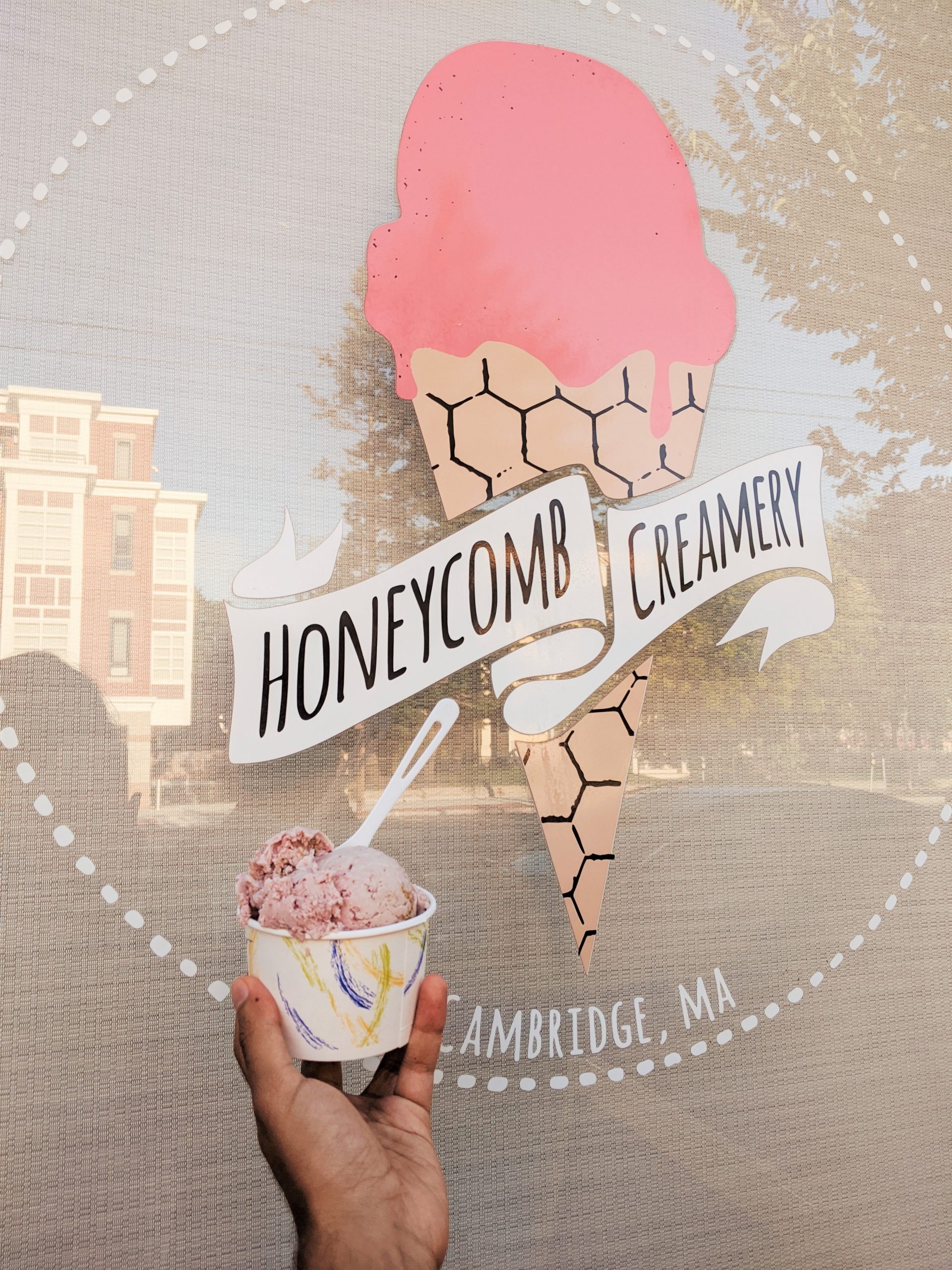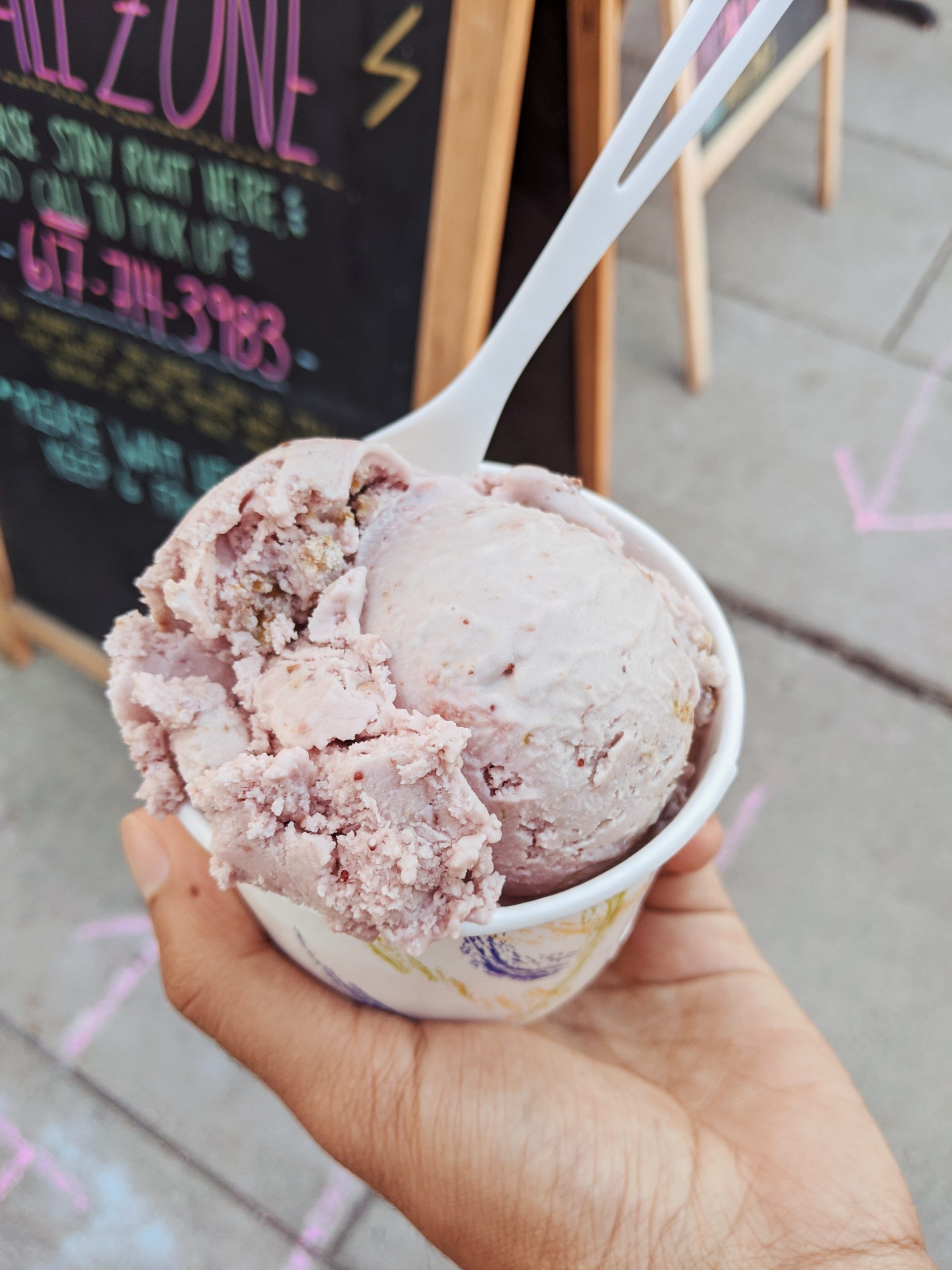 Honeycomb Creamery offers a handful of vegan flavors, and I got the Strawberry Pistachio and Raspberry Coconut. At the time, they also had Horchata and Mint Cookies & Cream.
I liked my flavors, but they also tasted very coconut-y. I found it kind of ironic as my Strawberry Pistachio tasted more coconut-y than my Raspberry Coconut. The Strawberry Pistachio was still good though, and the balance the fruity and nutty flavor was just right. I almost felt like the pistachios tasted like graham crackers. The Raspberry Coconut tasted like it was made from fresh raspberries, and there was also some shredded coconut.
One thing to know is that Honeycomb Creamery has really tempting waffle cones (they even have a matcha flavor!), but they're not vegan. Maybe one day…
4. Ben & Jerry's
Locations: Back Bay, Seaport, Harvard Square, Faneuil Hall
You may have a tub of this household favorite in your fridge, especially since Ben & Jerry's has created more and more vegan flavors. If you're craving Ben & Jerry's while out in Boston, you'll find several locations of unabashedly liberal ice cream brand (they were incredibly vocal about the #BlackLivesMatter movement, and have a history of activism and donating to progressive causes).
Most locations only have 1-2 vegan flavors, so be sure to check the menu, and maybe even call ahead. In Boston, the most commonly-offered dairy-free flavors are Chocolate Chip Cookie Dough and Coconut Almond Fudge Chip.
5. J.P. Licks
Locations: many, many across Boston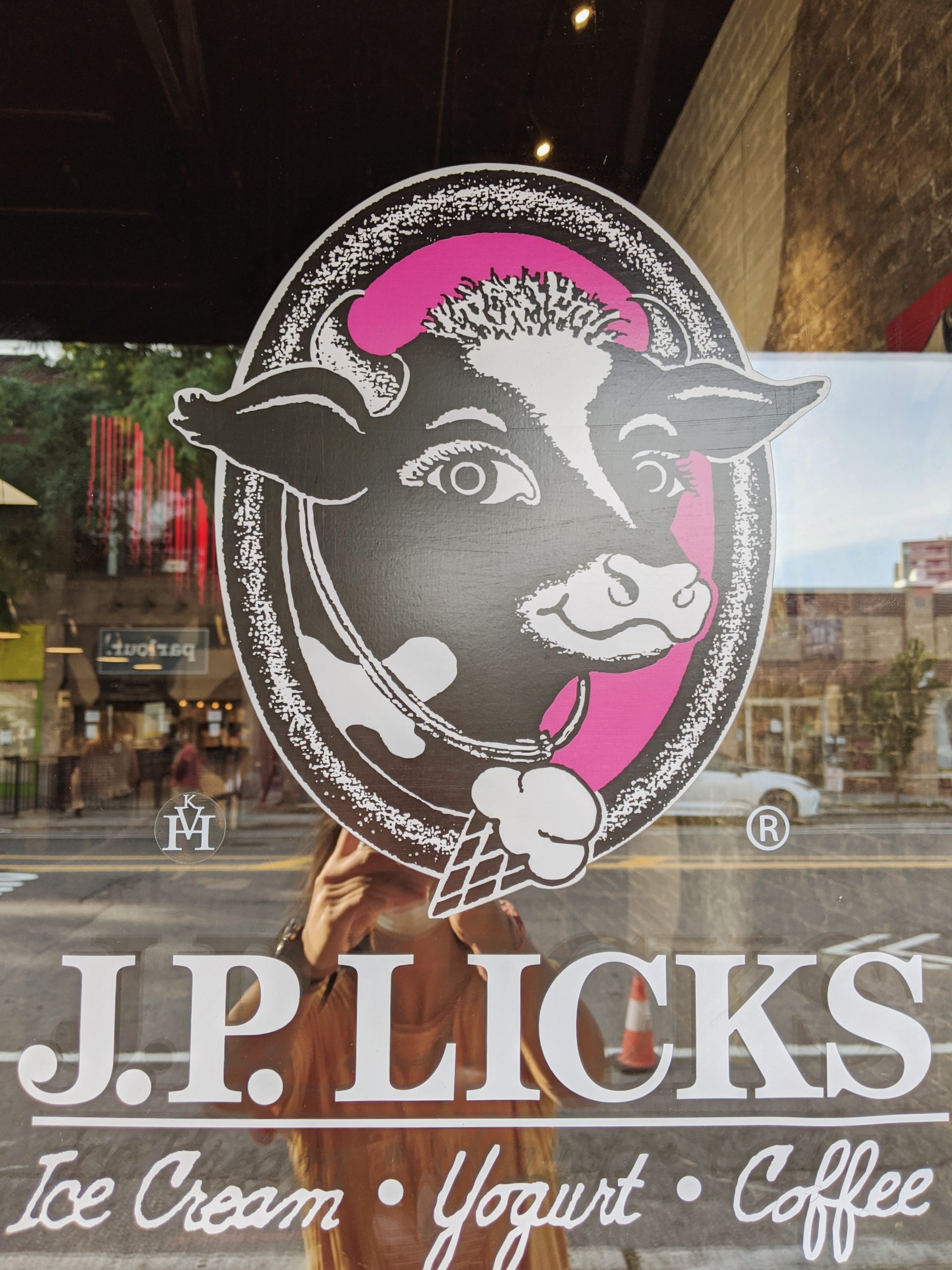 J.P. Licks is a ubiquitous ice cream chain in Boston and Eastern Massachusetts. You'll quickly recognize the store's characteristic cow logo and black-painted storefront.
There are usually 2 vegan flavors on rotation. Currently, you'll find Mint Chip and Orange. I haven't tried the Orange (sounds kind of weird, if you ask me), but I've previously tried their vegan Chocolate and Mint Chip. I preferred the Chocolate since it was creamier—I found the Mint Chip kind of light, even though it's made from an oat milk base, so you'd expect it to be super creamy. It was still good, but not my absolute favorite.
J.P. Licks also offers a dairy-free sorbet, which is currently Raspberry Lime.
6. Pressed Juicery (vegan only)
Locations: Back Bay, Harvard Square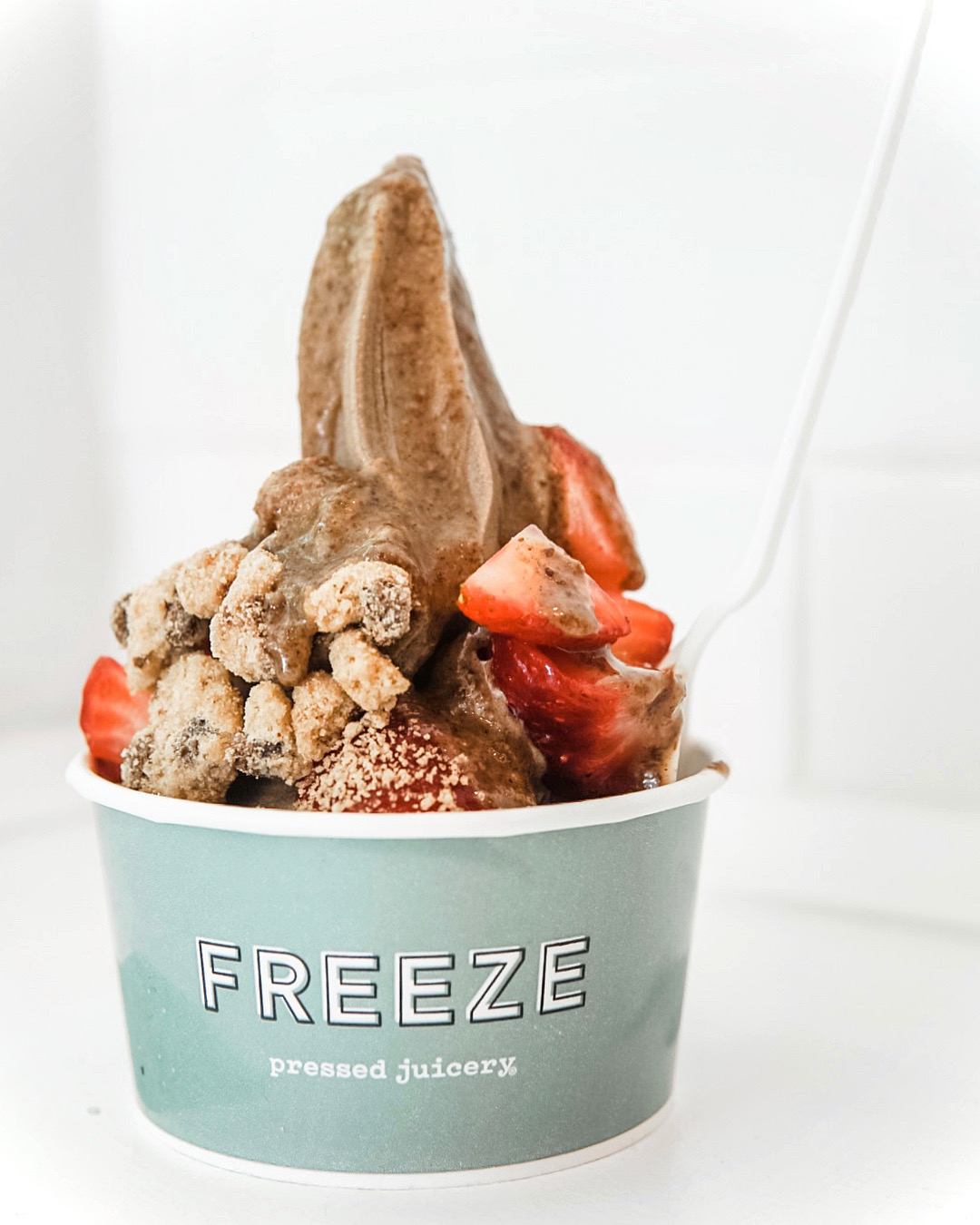 Image courtesy of @iamromel on Instagram, used with permission
Pressed Juicery looks like a vegan's dream, with their juices, acai bowls, and vegan soft serve (called "freezes").
The freezes are made from fruits, nuts, and a coconut base. There are no refined sugars, and the dessert is sweetened with maple syrup. The Chocolate flavor even tasted "healthy" to me, and the texture was a little grainy—it threw me off a little, but I still liked it. My friend's Mango Turmeric tasted more realistic to me, though it was again much lighter than most soft serves. Just don't expect a super decadent dessert, and come here if you want something healthier and lighter.
Unfortunately, I can't recommend the Harvard Square location since my freeze ended up being hollow—the staff swirled the soft serve around the edges of my cup, but left the center empty. I felt ripped off since I'd paid around $7 for the dessert (it's like getting a bag of chips that's half-filled with air 😂). On Google Reviews, I noticed that someone else had the same experience.
I'd still recommend Pressed Juicery as a healthier option, but try to go to the Newbury Street location instead, which has slightly better reviews.
7. Emack & Bolio's
Location: Newbury Street, North Station, Charlestown
Emack & Bolio's has one of the most eye-catching interiors and drool-worthy dipped waffle cones (they're unfortunately not vegan, though). There are 3 locations across Boston, and there are generally at least a couple vegan flavors available. Unfortunately, they ran out the first time I went, so call ahead to avoid disappointment.
The vegan flavors are generally coconut-based and are extremely rich. I got the Chocolate Pudding and Mint Chocolate Speckle, which were creamy and tasty, but a little too sweet for me. I actually felt kind of sick before finishing the ice cream (I'd gotten 3 scoops to share with a friend, and the third was the Mango sorbet, which was well-balanced; weird combo though, I know!).
For that reason, I wouldn't personally go back, but if you like extra-sweet and creamy ice creams, you might like this spot.
8. Lizzy's Ice Cream
Location: Harvard Square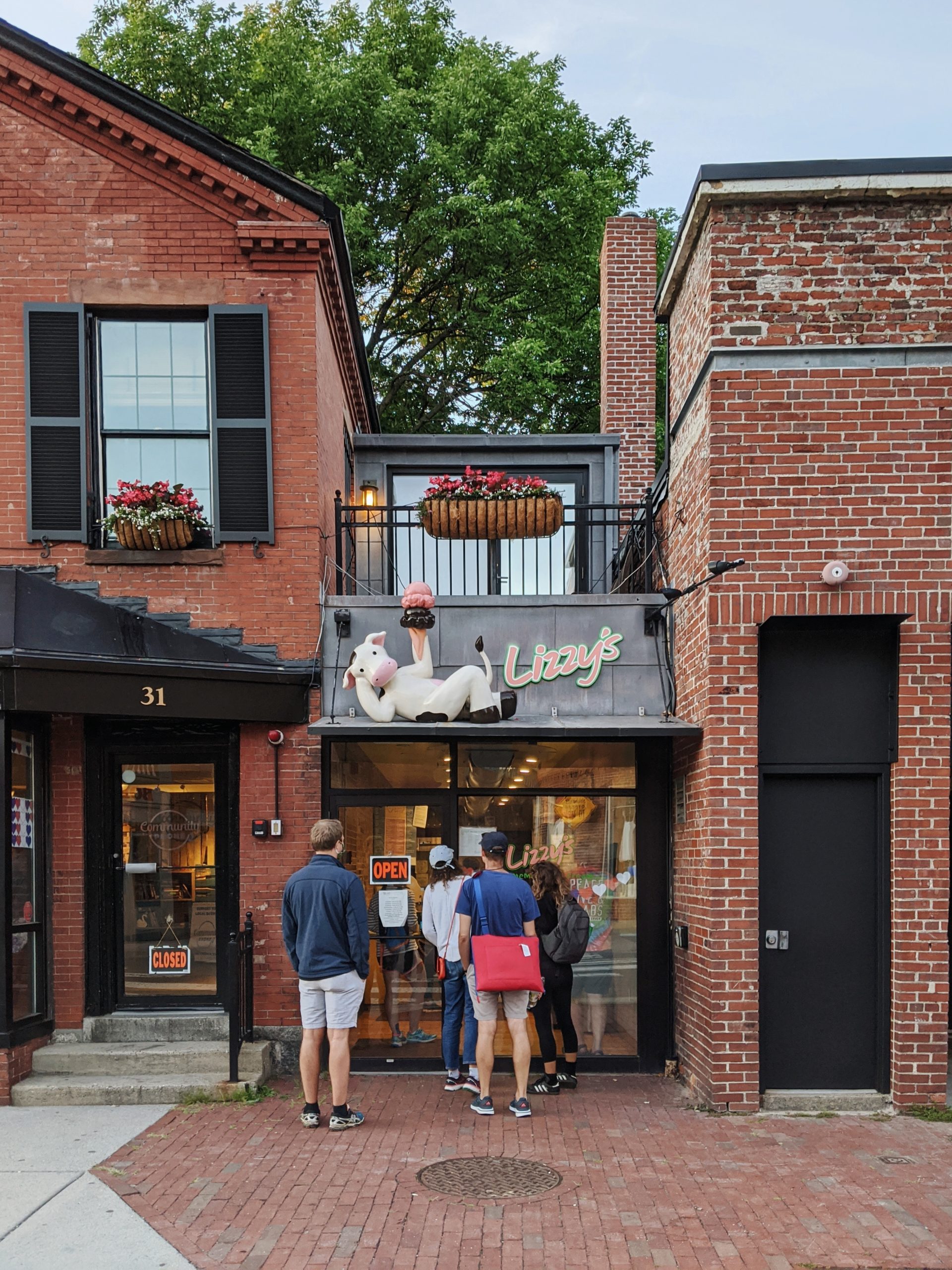 Lizzy's unfortunately doesn't make their own vegan ice cream, but they do have two vegan Tofutti options: Coffee and Dark Chocolate. They're also open relatively late, until 10-10:30pm. If you find yourself in Harvard Square later in the evening and crave non-dairy ice cream, Lizzy's might be one of the only options, as the Ben & Jerry's is currently closed, and Pressed Juicery closes at 7pm.
I certainly don't want to make it seem like this the option "only if you have nowhere else to go." The traditional ice cream at Lizzy's is pretty popular, and the staff is said to be very friendly. It could be a great spot if you're going out with friends who want traditional ice cream, and you're open to getting Tofutti ice cream. I haven't tried those vegan flavors, but my college used to get Tofutti ice cream bars, and they tasted super realistic (I was always really excited when they had them, and was secretly tempted to stuff my backpack and put some in my minifridge freeze haha).
Map of Vegan/Non-Dairy Ice Cream Spots in Boston 
Here's the map I promised you! Click the top left to see the different layers—I color-coded and organized by the different chains.
I hope you discovered some new vegan ice cream spots in Boston, and let me know what you think of them! You may also like my post on my favorite Boston vegan restaurants.
Liked this post? Pin it for later and share it with others!