Boston is fairly quiet in the evenings compared to other major cities, but there are still plenty of ways to stay entertained. Whether you're looking for a relaxing night or a more thrilling one, there's something for you in this list of things to do in Boston at night! Stay until the end for a free, interactive map of these different activities.
This post contains affiliate links, meaning that I may earn a small commission on any purchases through those links, at no extra cost to you. This income keeps this site running and it's much appreciated!
Things to Do in Boston After Dark: Activities, Food, Tours
1. Test your skills at an escape room
Challenge yourself with a group of friends by tackling an escape room. One of the best options is Boda Borg in Malden, which has over 20 "quests" that are basically mini escape rooms. You can try each room multiple times, with some being more intellectual and others more active.
Some other more traditional escape rooms include:
Keep in mind that most escape rooms require a group of at least 2-3 people. Costs usually range from $30-50 per person.
2. Stroll along the Boston Harbor at Fan Pier Park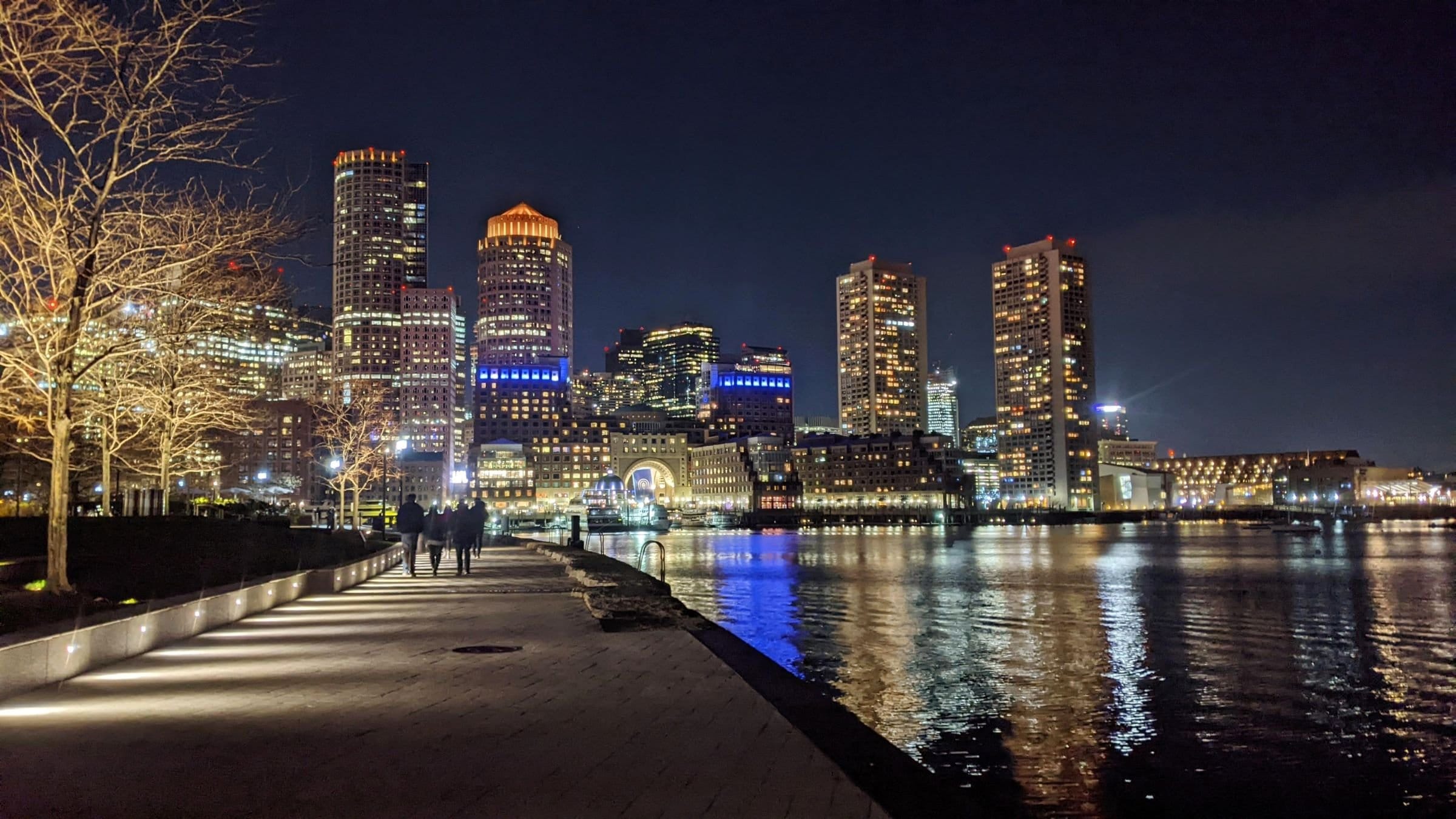 You won't get a better night view of the city skyline than from Fan Pier Park in Seaport. This is a perfect Boston date idea, but it's also a great place to go with friends, family, or by yourself.
There are several benches along the water, and there's also a one-story pavilion roof where you can sit and lounge (it's free and open until 10pm, and looks more like a viewing platform).
3. Shop small at Bow Market
Bow Market in Union Square is an up-and-coming shopping and dining space located in a former storage building. The market is dedicated to local vendors, including dessert shops, a vintage store, florist, quirky gift store, and more.
The outdoor courtyard is open year-round, and there are trendy igloos you can reserve in the winter for your meal.
4. Catch a concert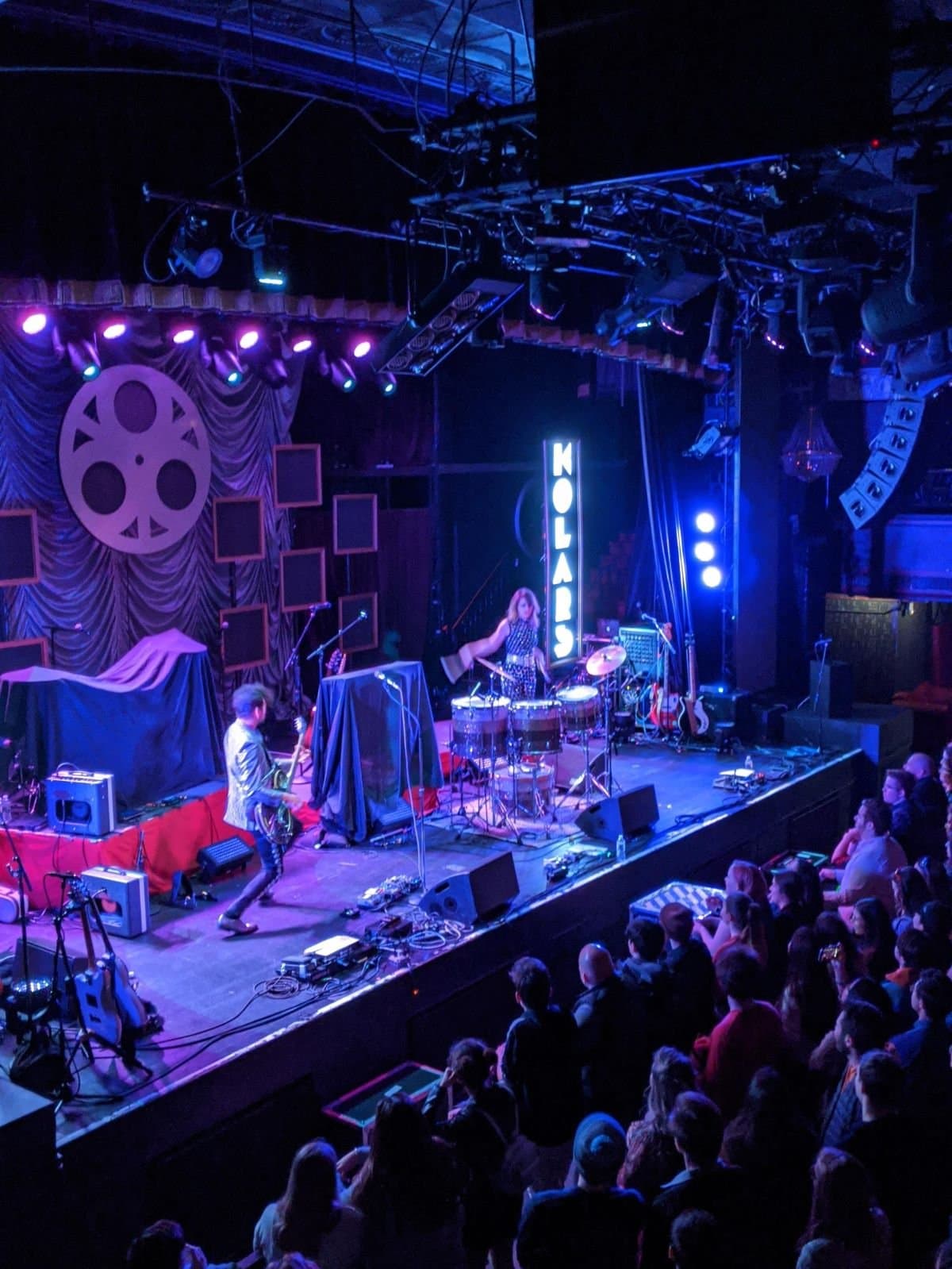 Boston has a vibrant music scene, ranging from classical to rock. Many of your celebrity favorites often stop in the city on their tours.
You can listen to live music at the House of Blues in Fenway while chowing down on classic New Orleans food. Or, support up-and-coming Berklee College of Music students at their free performances.
If you like classic music, Symphony Hall also frequently has talks and concerts.
5. Get creative at Muse Paintbar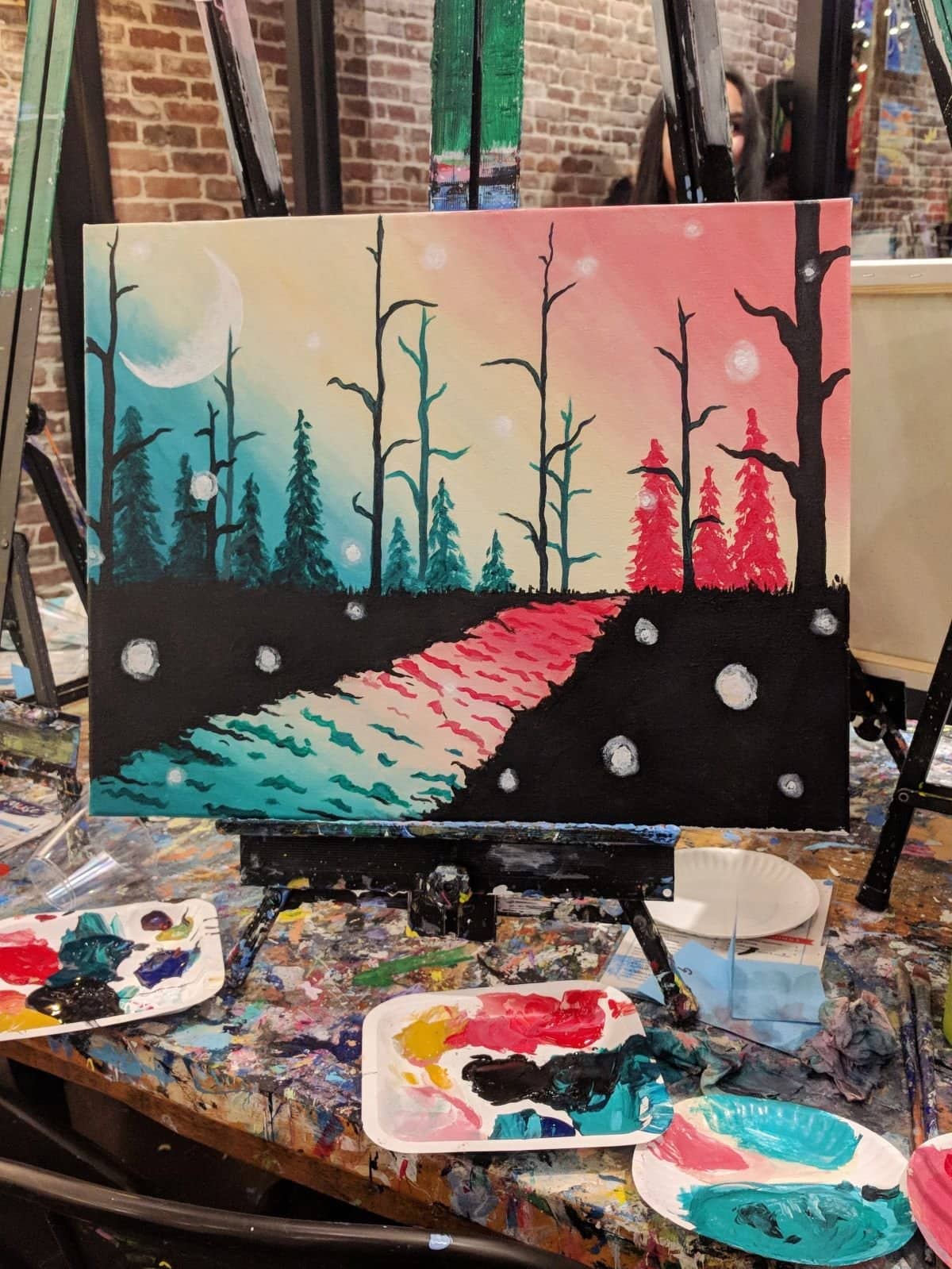 At paintbars, an instructor shows everyone how to paint the same scene, from mixing the colors to the different techniques to use. It's a great date or friends' night activity. Plus, you get to take home a new painting for your walls!
Make sure to register online to save a spot and preselect the painting you want to do. Costs usually range from $30-55 per person.
Muse Paintbar has a great location at Assembly Row in Somerville, so there are plenty of shops and restaurants to check out before or after your paint session.
6. Go on a sunset cruise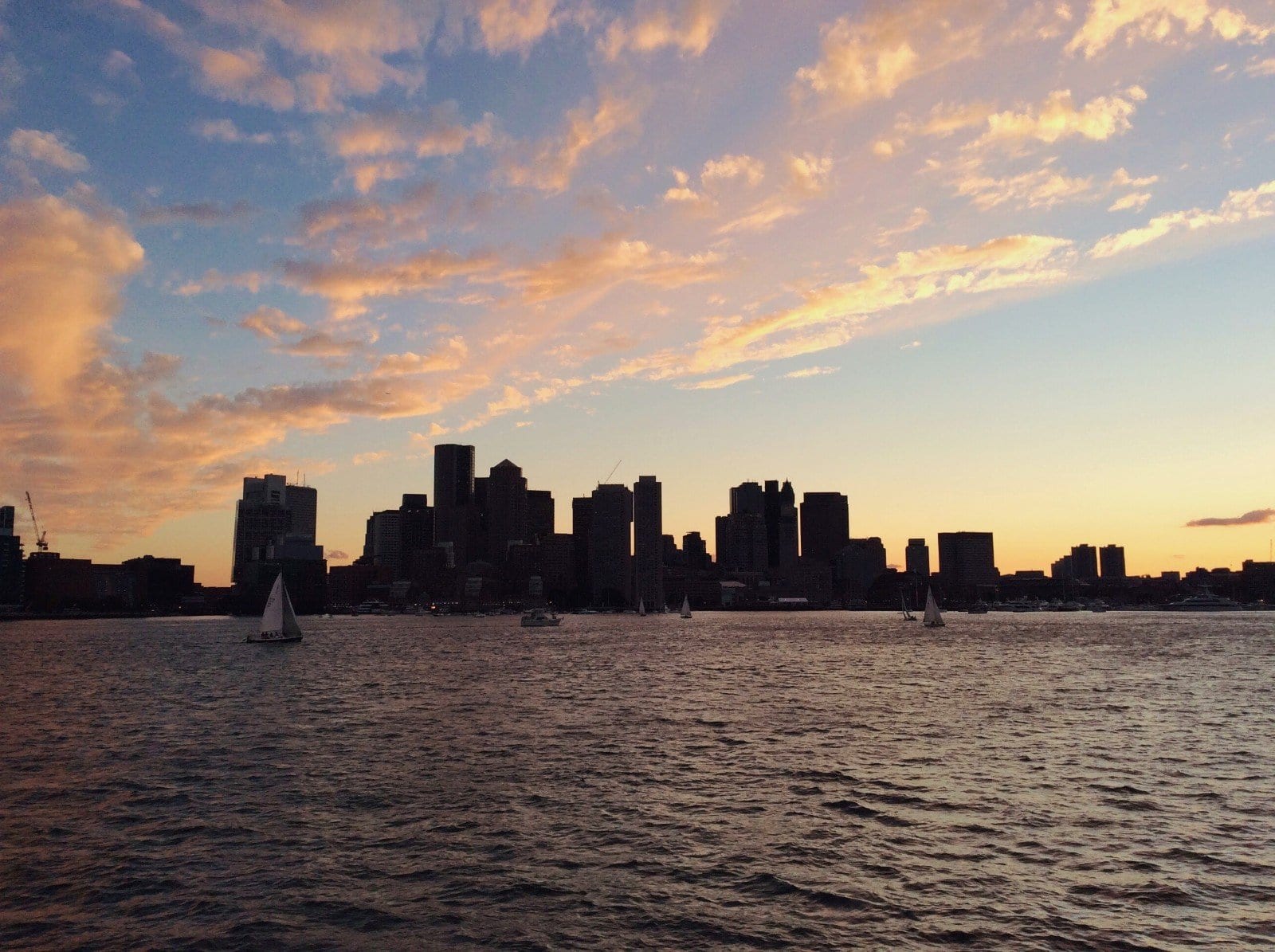 The Boston skyline is especially dreamy at sunset, and you can get the best views over the water in the harbor. Some cruises also include dinner, and you can always buy snacks and drinks on board.
7. Walk around the North End
The North End is Boston's Little Italy, and it's full of quaint, historic buildings and mouthwatering restaurants. Even if you've already eaten, the area is bustling in the evenings and worth a stroll through just for the ambiance.
If you're looking for a dessert, some popular places are Modern Pastry, Mike's Pastry, and Bova's Bakery. The cannolis are always a hit, but be prepared to wait in a line out the door, especially on the weekends!
8. See a comedy show
Spend the night laughing until your stomach hurts! Check Laugh Boston for their calendar of events and EventBrite for low-cost or even free shows.
9. Visit a museum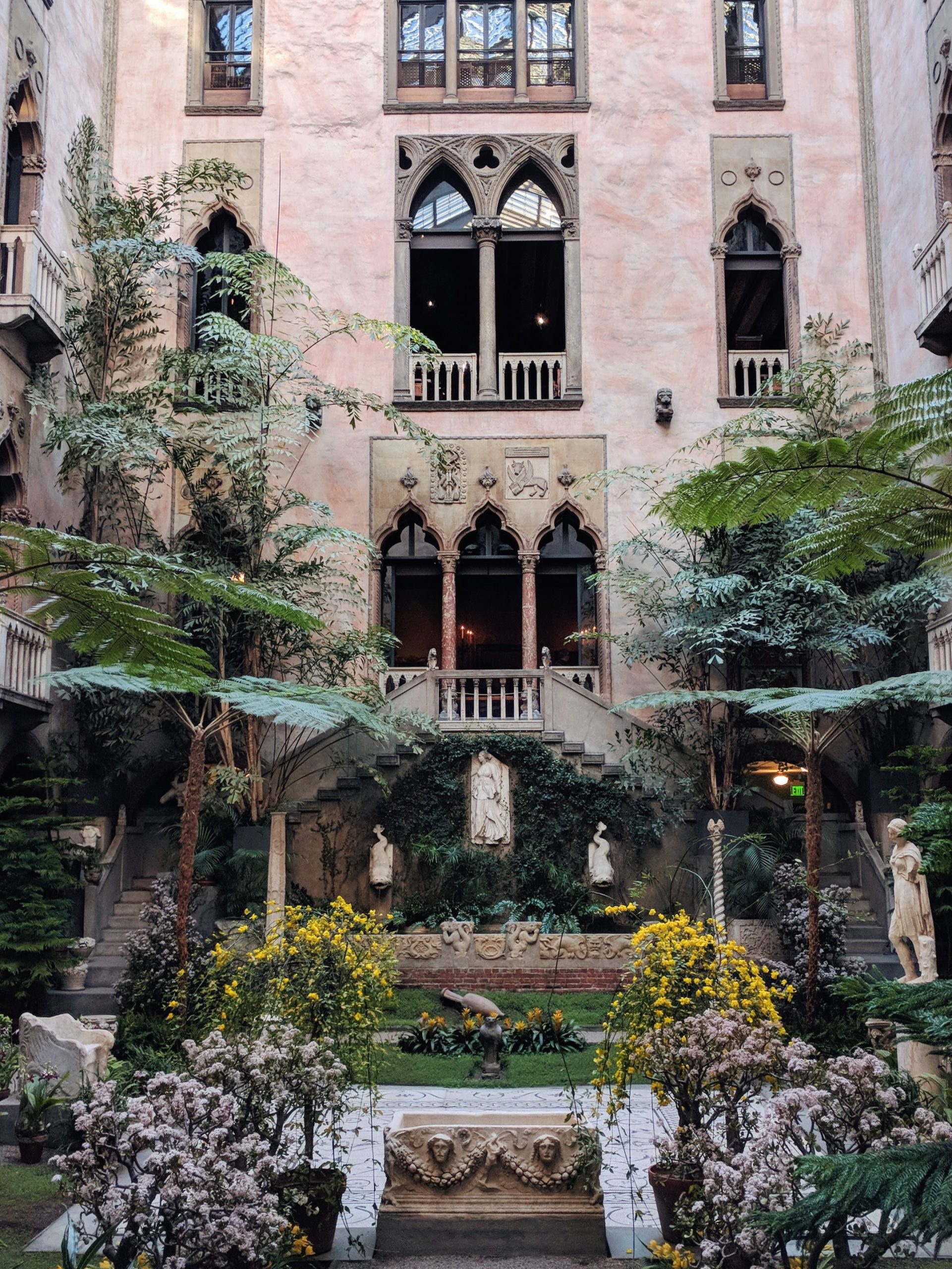 Boston is known for its many museums, and several are even open in the evenings. Here are some popular options:
Isabella Stewart Gardner Museum (open until 9pm on Thursdays)—This art museum in Fenway-Kenmore has a stunning courtyard with architecture in the style of a Venetian palace. The museum feels like a private collection in a mansion, and it has an air of mystery being the target of an unsolved art heist worth hundreds of millions of dollars.
Institute of Contemporary Art (open until 9pm on Thursdays and Fridays)—Located in trendy Seaport right along the water, the ICA has contemporary art and multimedia exhibits. In the warmer months, they have a separate gallery in East Boston called the Watershed, and you can take a free water taxi over with your ticket. The back of the museum has free, public seating overlooking the harbor (and it's shaded!).
Museum of Fine Arts (open until 10pm on Thursdays and Fridays)—A Boston classic, the MFA has collections of art from all over the world and spanning several time periods. It's the 20th largest art museum in the world and is well worth a visit.
Museum of Science (open until 9pm on Fridays)—The Museum of Science is full of interactive exhibits teaching you about nature, animals, the human body, and more. This is a great place to go with kids.
10. Go rock climbing or bouldering
If you want to work up a sweat, spend the evening at a climbing gym. There are several around the city and in the surrounding suburbs:
Many of these places offer day passes with gear rentals for around $30, and there are climbing routes of all difficulty levels.
11. Sample tasty eats at Faneuil Hall
Faneuil Hall (pronounced "fan-yull") is a historic marketplace square in downtown Boston. There, you'll find the famous Quincy Market, which offers variety of food vendors from ethnic cuisines to your classic lobster rolls. There are also several souvenir shops and popular clothing stores.
12. Stroll along the Esplanade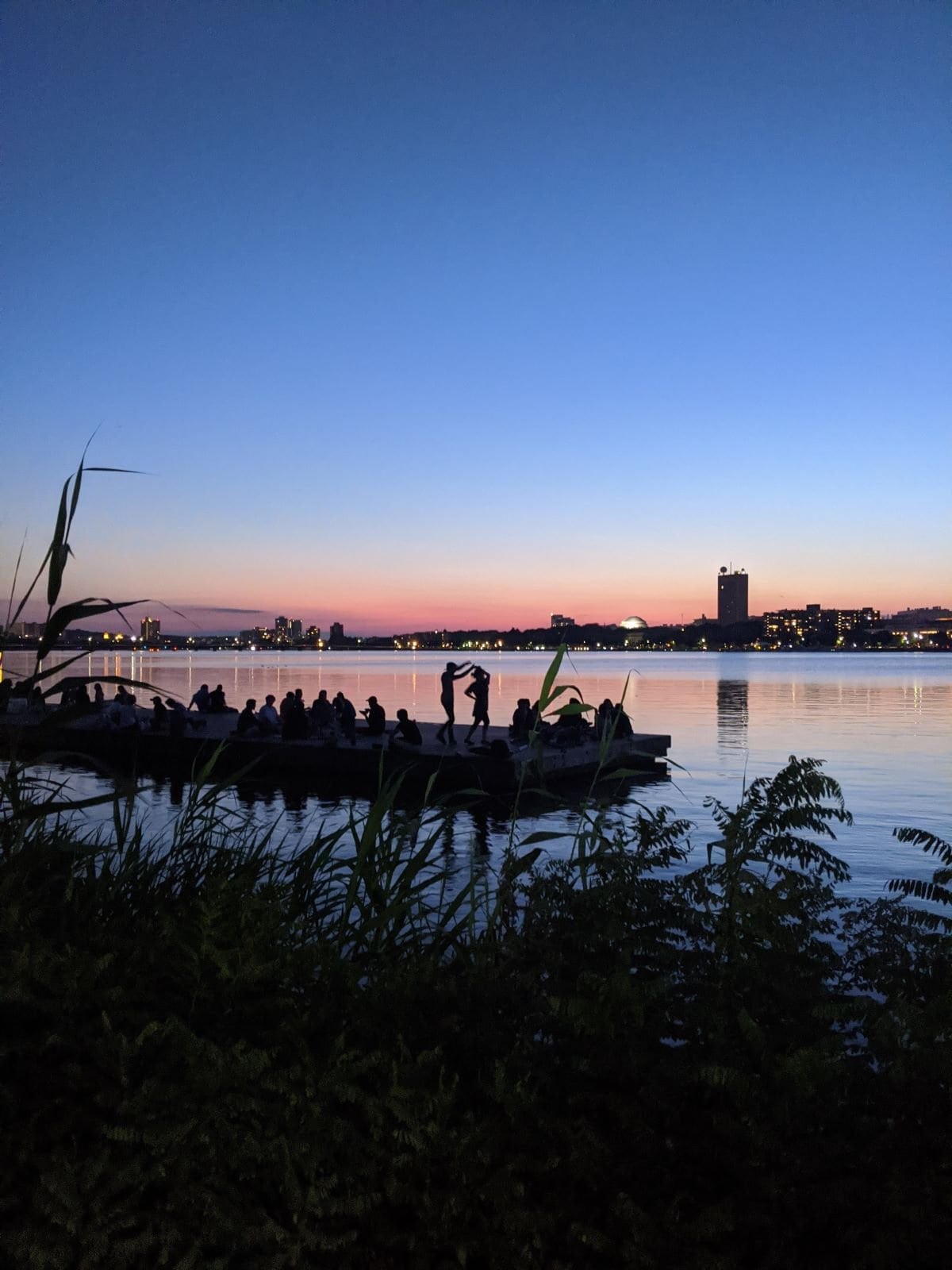 The Charles River Esplanade is a waterfront park stretched along the Back Bay side of the river. In the evening, you'll find many people walking or along the bike path, picnicking in the grass, or hanging out along the docks. In the summer, there's even a beer garden.
13. Play games at a board game cafe
If you'd prefer a low-key night playing your favorite board games and learning new ones, stop by one of Boston's board game cafes.
Knight Moves is a cozy classic in Brookline near Coolidge Corner, a bustling suburban center with several shops and restaurants. Tavern of Tales in Mission Hill is another option, though it's more catered to larger groups who want to reserve a room.
14. Go on a sunset hike at Middlesex Fells
Middlesex Fells is a popular hiking and trail running spot about a 20-minute drive from the city. The Skyline Trail is the most popular route, and it's moderately challenging route at 8 miles with 1,000 ft of elevation gain. During this hike, you can get a lovely view of the Boston skyline, especially at sunset.
If you're looking for something less strenuous, you can still get the view by taking a short hike (~.3mi) from the South Border Parking Lot. Just put Wright's Tower into your GPS, and you'll reach this rocky overlook. Just keep in mind that the park is only open from sunrise to sunset.
15. Test your knowledge at Trivia Night
If you have a competitive spirit and are always saving little tidbits of knowledge, trivia night is perfect for you. There are several throughout Boston, but some of the most popular include:
16. Get spooked on a ghost tour
As a historic city, Boston is home to many ghost stories. You can experience these tales throughout the centuries on a ghost tour, where a trolley will take you around the city to haunted graveyards.
17. Paint your own pottery
Some studios in Boston have premade pottery pieces that you can decorate exactly how you like. Once you're done painting, the studio then fires the pieces, and you can come pick up the finished product a few days later. The pottery pieces often range from mugs to figurines.
Clayroom in Brookline is a popular option, and you can expect to pay around $30 per person/piece, including a studio reservation fee.
Rainbows Pottery Studio is located conveniently in Beacon Hill, but is much pricier than Clayroom (more than double).
18. See a movie at an indie theatre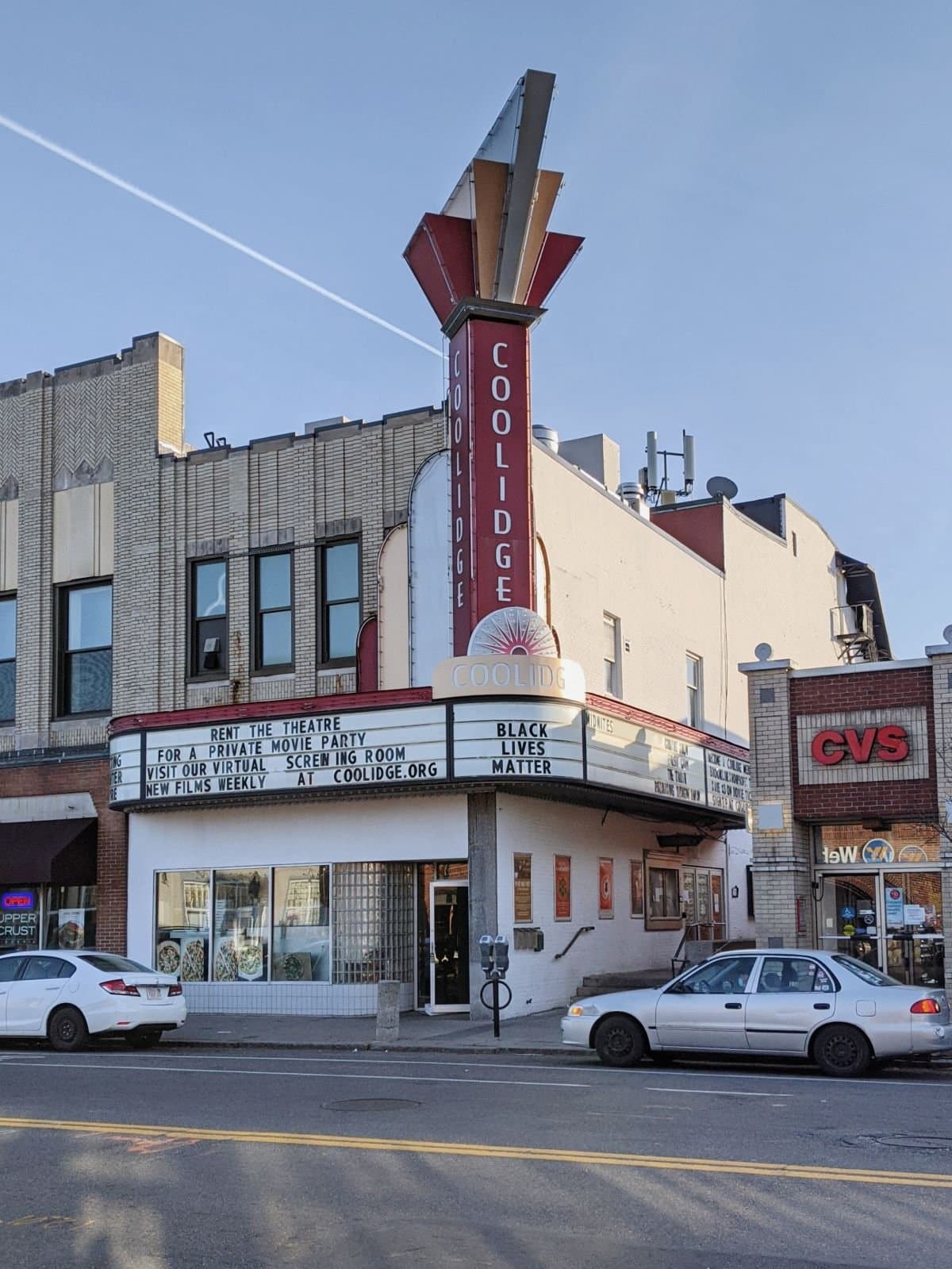 You can always see the latest blockbuster at a traditional theater, but if you want a more classic experience, consider going to Coolidge Corner Theatre or Somerville Theatre.
These are both historic theatres in bustling residential squares, so you'll have plenty of places to grab dinner or a late bite to eat. Both theatres also play both mainstream and indie films.
19. Go axe throwing
Test your aim and blow off some steam by throwing some axes at Urban Axes in Somerville or Revolution Axe Throwing in Everett. You can also buy drinks on-site, and at Urban Axes, you can buy food or bring your own.
20. Window shop at Assembly Row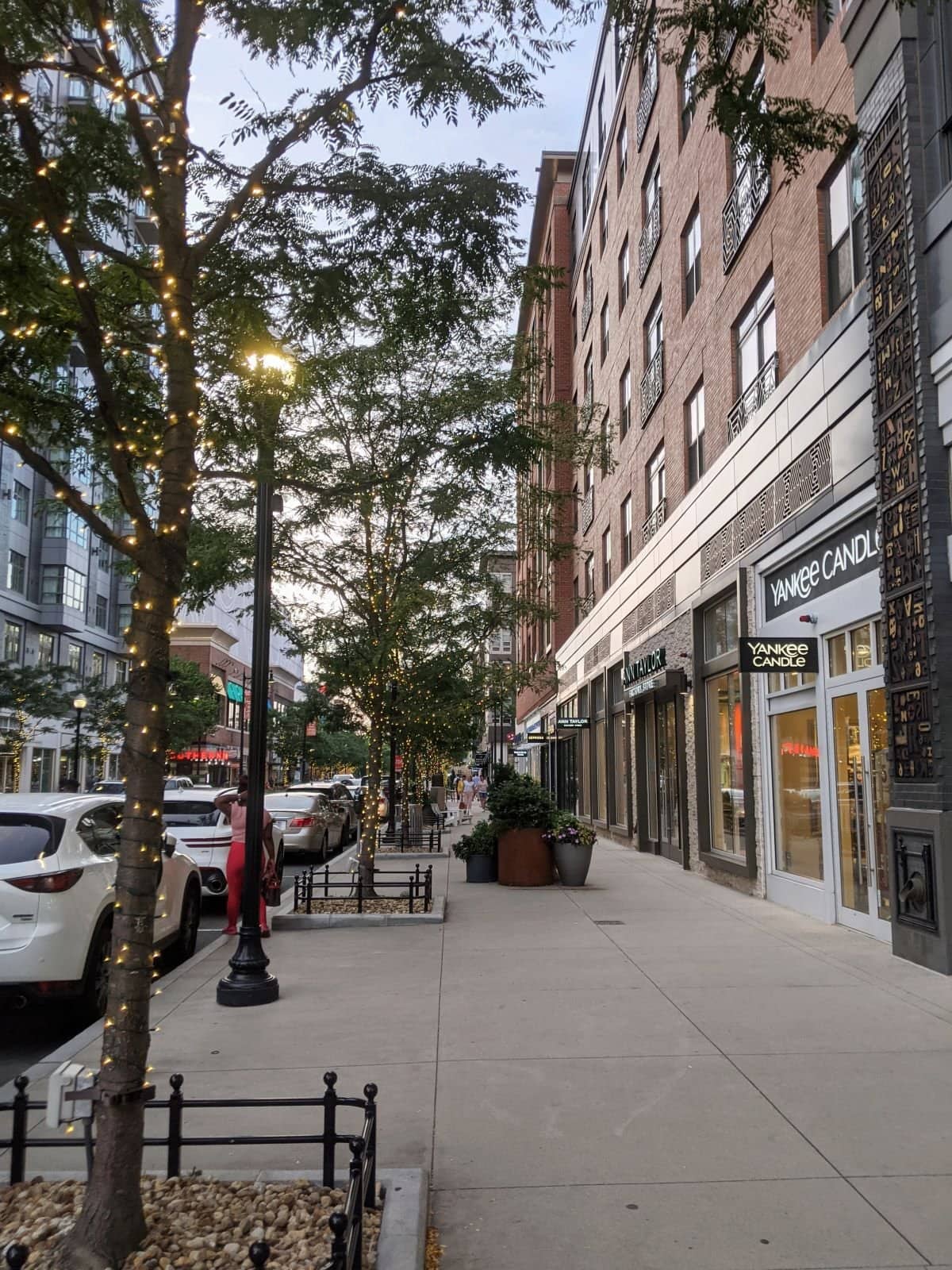 Assembly Row is an outdoor mall with trendy shops and diverse restaurants. There, you'll find a movie theater and LEGO store, as well as Trader Joe's and popular clothing chains.
There's also riverfront park where many families and couples like to walk or relax. In the summer, there's a beer garden, and in the colder months, you can head over to Lucky Strike Social, an arcade and bar.
21. Play games at an arcade bar
Sure, you could go to a regular bar, but you could also spice things up by going to a bar with arcade games. Some popular options are:
22. See a Red Sox game
Even if you know nothing about baseball, going to see a Red Sox game in Fenway Park is the quintessential Boston experience. Some of the best parts are hanging out with friends and sharing snacks, anyways.
23. Walk down Newbury Street
Newbury Street features beautiful brownstones and high-end retail stores. The street stretches one mile long in Boston's historic Back Bay, and is home to stores like Allbirds, Reformation, Longchamp, Chanel, and Madewell.
You'll also find many local restaurants, including some Boston vegan favorites like Red White Ramen, and Emack & Bolio's for ice cream.
24. Go bowling
See how many strikes and spares you can get at one of these bowling alleys in the Boston area:
25. Wander through Prudential Center
Prudential Center is a mall in the heart of Back Bay with your classic retail stores. The mall is in Prudential Tower, which always stands out against the city skyline as the second-tallest building in Boston.
If you don't need to shop for anything material, you may still enjoy stopping by Eataly in Prudential Center, which has quality Italian food and products. The atmosphere is always bustling and makes you feel like you're inside a covered market.
Map of Things to Do in Boston at Night
Click the icon in the top left to see a full list of these activities (minus the tours in this post).


Let us know if there's anything else you'd add to the list!