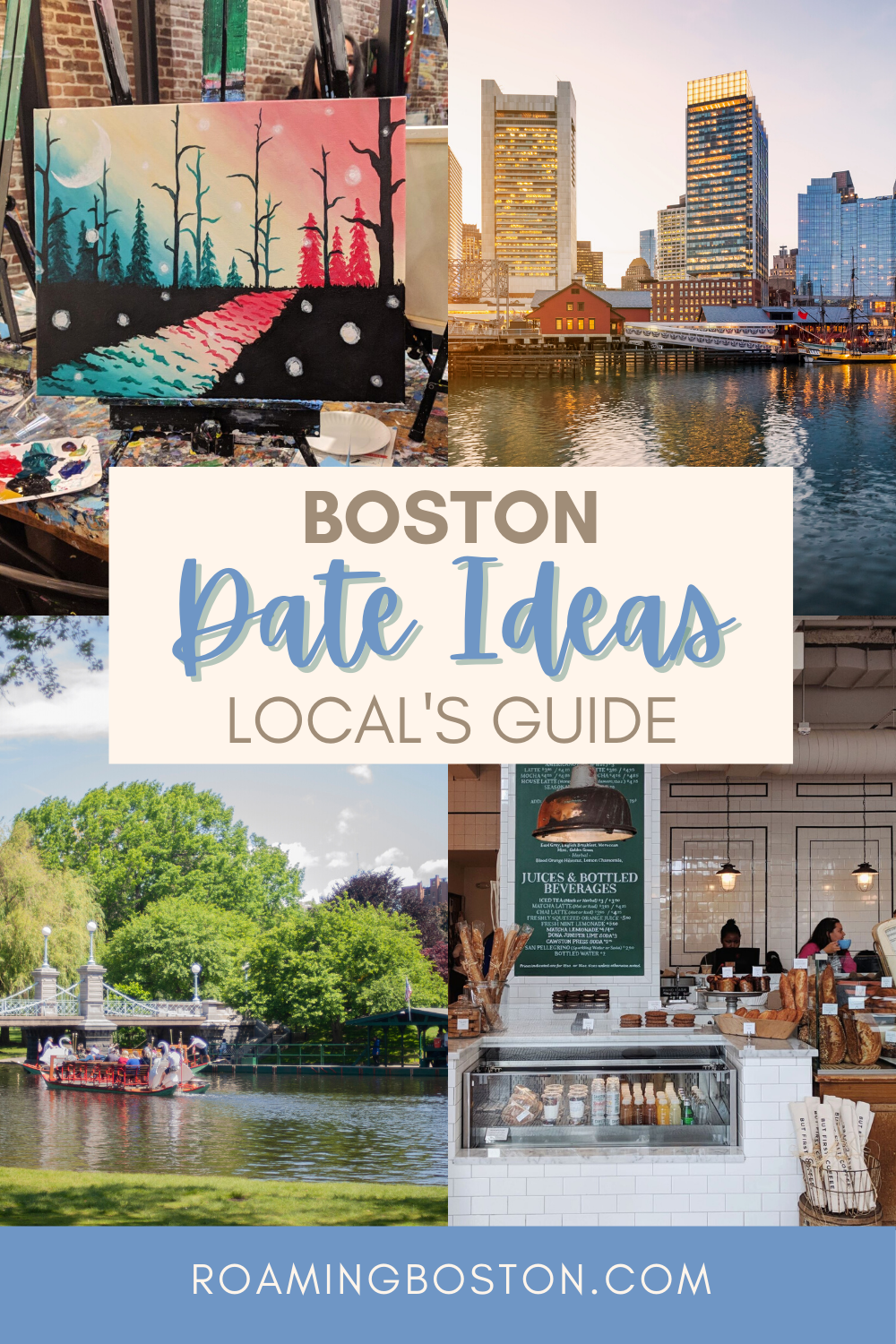 Whether you're going on a first date or looking for a new activity in your long-term relationship, there are plenty of romantic things to do in Boston. And I can speak from personal experience as someone who's lived in the city for three years and done many of these date ideas with my partner.
I've included dates that range from active to relaxing, and they're split into year-round options and seasonal ones. There are also several free options!
This post contains affiliate links, meaning that I may earn a small commission on any purchases through those links, at no extra cost to you. This income help keeps this blog running and is much appreciated!
Year-Round Boston Date Ideas
1. Go on a sunset hike at Middlesex Fells
At Middlesex Fells, you can watch the sun set over the Boston skyline with your partner. The Fells are a popular spot in Medford for hiking and trail running, and there are trails of all difficulties. The Skyline Trail is perhaps the best-known, and it's moderately challenging route at 8 miles with 1,000 ft of elevation gain.
If you're not looking to break a sweat, you can still get this view of the Boston skyline by taking a short hike (~.3mi) from the South Border Parking Lot. Just put Wright's Tower into your GPS, and you'll reach this rocky overlook.
2. Try new restaurants on a food tour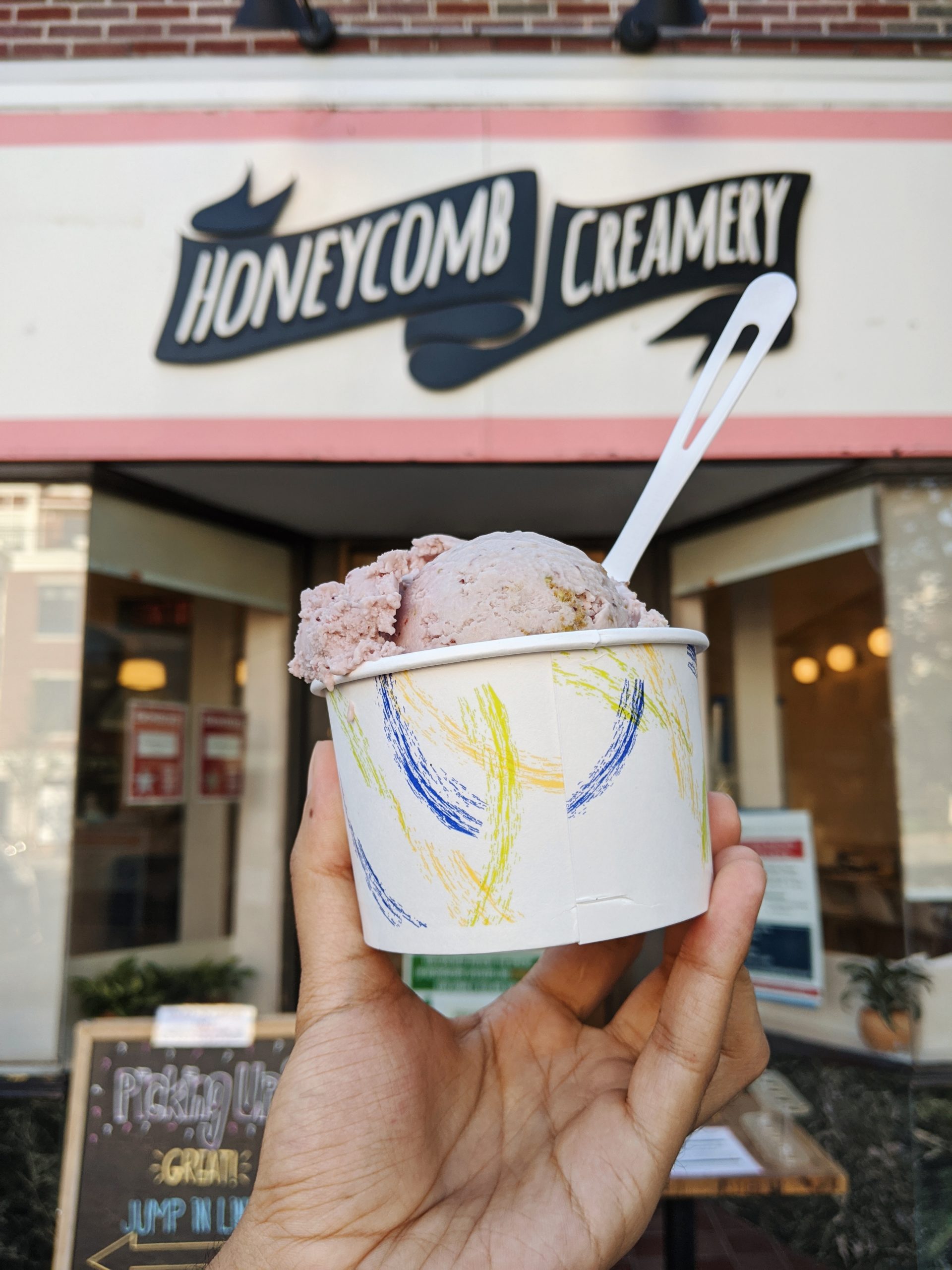 Sharing food is one of the more romantic things you can do, and you can spice things up by going on a food tour—whether informal or formal. If you and your loved one have a sweet tooth, you'll like this underground donut tour. For plant-based eaters, you may enjoy these vegan ice cream spots.
Or, if you want a more comprehensive experience with pizza, pasta, and craft beer, check out this secret North End food tour.
3. Paint and sip at Muse Paintbar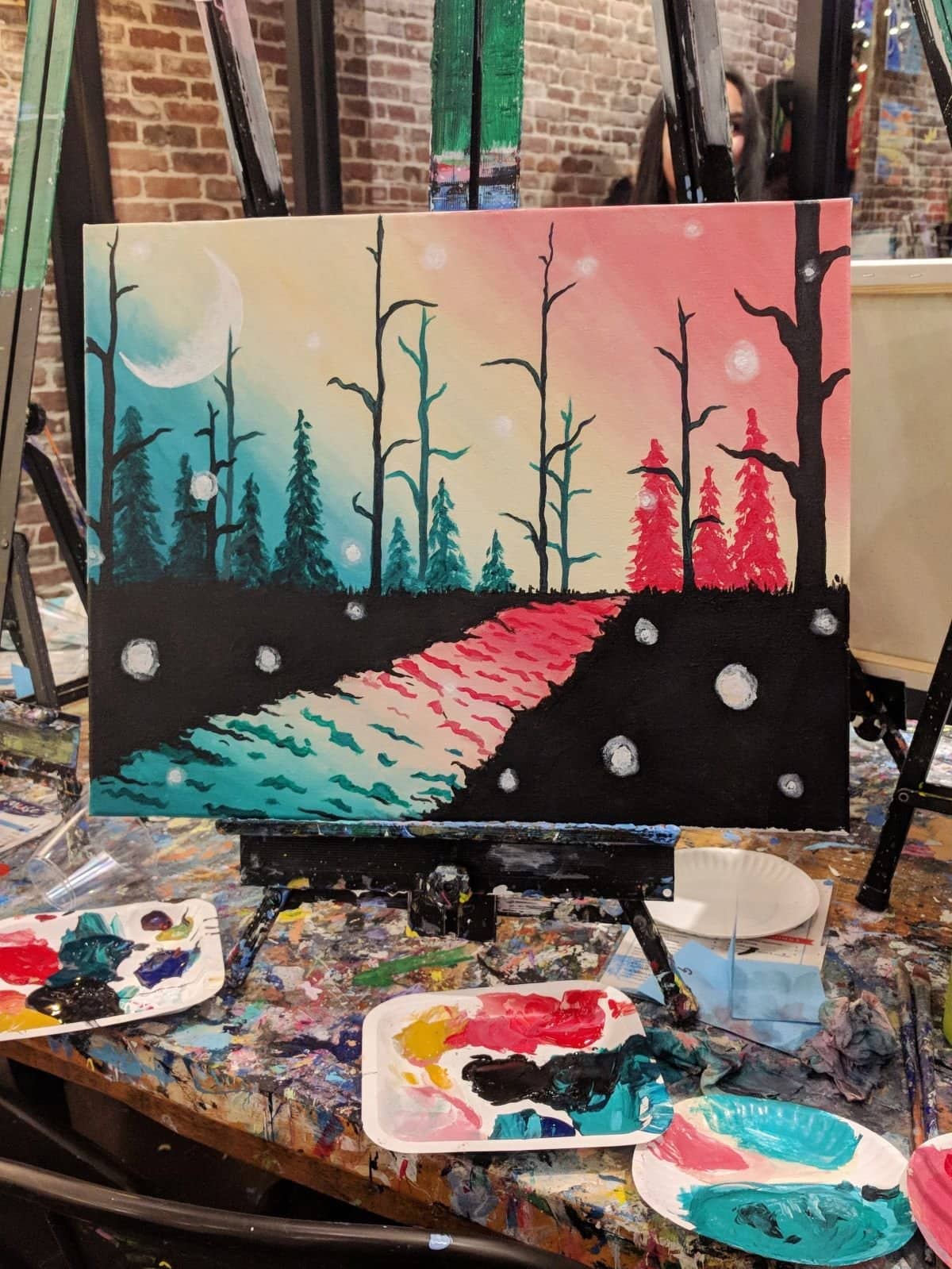 Whether you're a skilled artist or have never held a paintbrush before, going to a paintbar is a relaxing way to spend the evening together. At Muse Paintbar, you preselect the scene you want to paint beforehand, and the instructor walks you through the process step-by-step.
Prices usually range from $30-50 per person, and all supplies are included. There are also drinks and snacks available for purchase, or you can grab dinner beforehand at one of the many restaurants in Assembly Row.
4. Picnic or stroll along the Charles River Esplanade
You'll spot many couples walking along the Charles River Esplanade. The riverfront park is especially romantic at sunset, when the sky turns pink and it's reflected upon the water.
After your walk, take a picnic to share in the grass, or dance along the docks.
5. Stroll along Fan Pier Park at night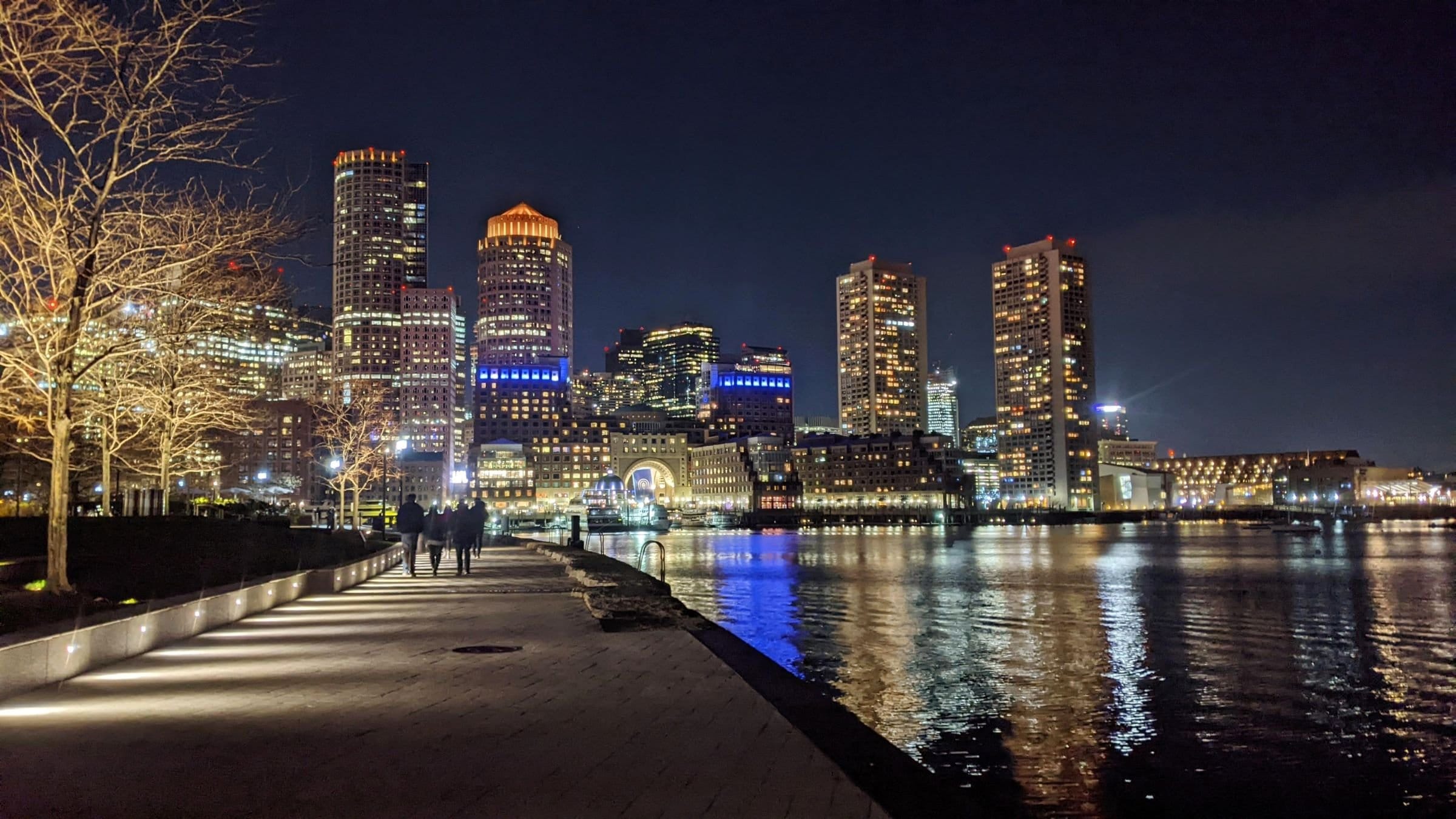 Seaport is a fantastic neighborhood for dates, as it's home to trendy shops, fancy restaurants, and the Institute of Contemporary Art. But, if you want to get one of the best skyline views in Boston, you'll need to wait until the evening.
After dinner, take a stroll through Fan Pier Park along the water. The twinkling city lights and their reflection are the perfect backdrop for a date.
6. Go rock climbing or bouldering
Active couples will love the thrill of bouldering and rock climbing. Plus, you'll be able to cheer each other on!
Central Rock Gym has locations in downtown Boston, Fenway, Cambridge, and neighboring towns. Rock Spot Gym is accessible from South Boston, and those in Somerville won't have to travel far to Boston Bouldering Project.
Day passes usually cost around $30, including rental shoes.
7. Enjoy afternoon tea in the Boston Public Library
The BPL is a romantic setting in itself with marble staircases and a classic courtyard. If you're looking to elevate your visit to the BPL, consider having afternoon tea in the Courtyard Tea Room. This is your classic English experience, with a tiered platter of small sandwiches and pastries.
Tea is offered Wednesday through Saturday, with the weekdays being $12 cheaper. Be sure to make a reservation online before going.
8. Wander through the Isabella Stewart Gardener Museum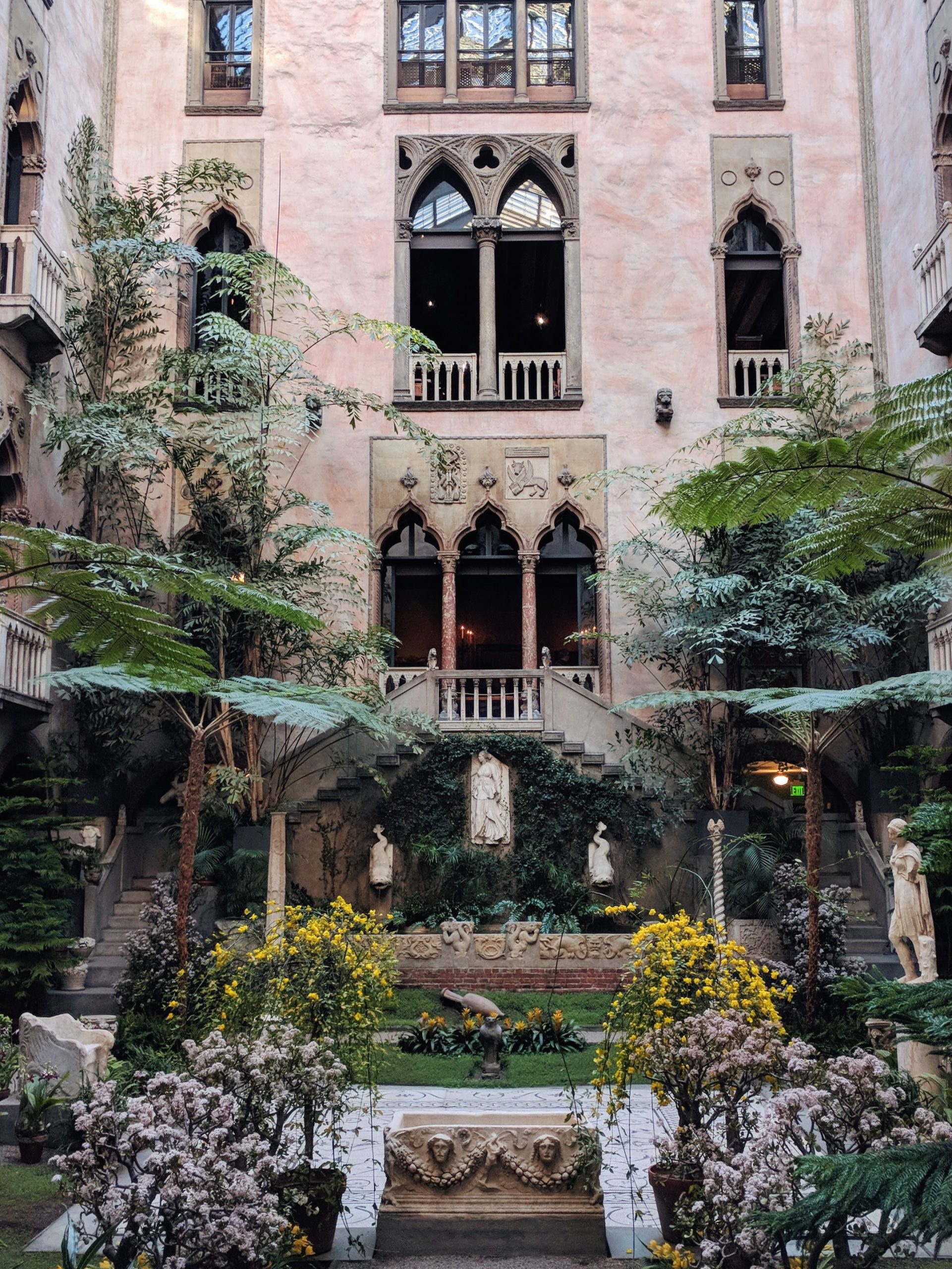 There are countless museums in Boston, but the best one for a date has to be the Isabella Stewart Gardner Museum. This museum has a courtyard in the style of a Venetian palace, making it one of the most instagrammable places in Boston.
Beyond the lush plants in the courtyard, you'll also find rare artwork, furniture, and other collectibles. Wandering around the Isabella Stewart Gardner Museum is is a unique experience that feels like exploring a private collection in someone's home.
To make things even more interesting, the museum was the target of a decades-old, unsolved heist where millions of dollars of art was stolen. A $10 million reward is still being offered for anyone who provides information leading to the recovery of the art.
9. Try a new restaurant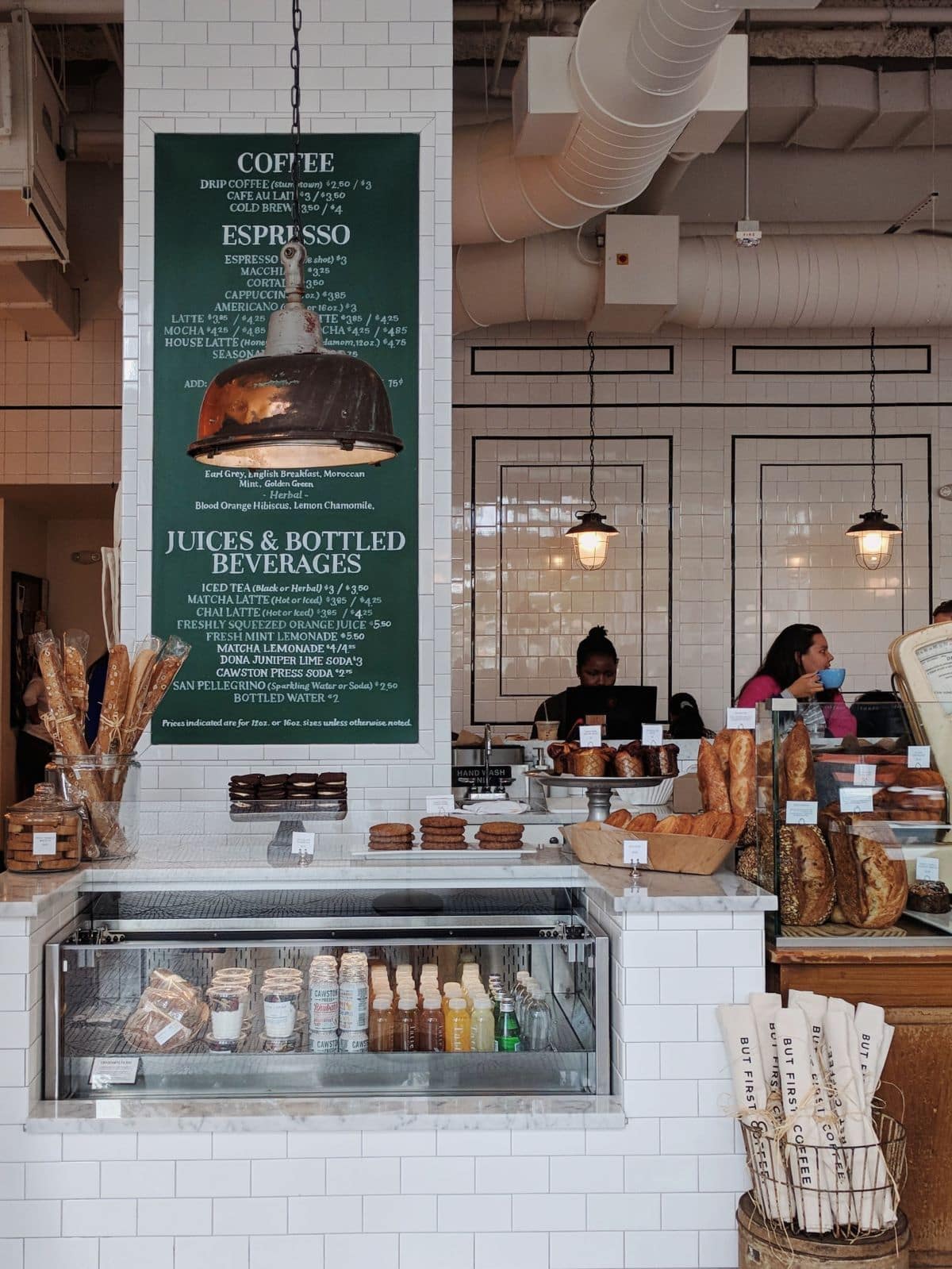 If you've been together for a while, you likely already have your favorite date night restaurants. If you're looking for something new and are plant-based, consider these vegan restaurants in Boston. In particular, I like My Thai Vegan Cafe in Chinatown. While it's not the fanciest place, the setting is decorated with lights and plants, and the food is savory and fairly-priced, making it a lovely date location.
If you're not plant-based, I recommend checking out restaurants at Back Bay, Seaport, or Assembly Row for a more romantic setting. For cafes, Tatte Bakery & Cafe is picturesque and has great pastries.
10. Paint pottery at Clayroom
Get creative by painting a piece of pottery that you can then take home and use. Clayroom in Brookline has a wide assortment of premade pottery, from mugs to figurines. After you paint the pottery, the studio will fire it for you, and you can then pick it up.
11. Try axe throwing
Give this trendy activity a try at Urban Axes in Somerville or Revolution Axe Throwing in Everett. When you're not throwing, you can talk over drinks or a snack.
The cost is usually around $30 for per person for a 1-hour session.
12. Walk around Beacon Hill
Beacon Hill is a beautiful historic neighborhood in downtown Boston. There, you'll find cobblestone streets, gas lamps, and red brick houses.
You can wander around the area and then make your way over to the Public Garden or Boston Common. Or, stop by Tatte Bakery & Cafe for a meal or pastries.
13. Catch a movie at an indie theatre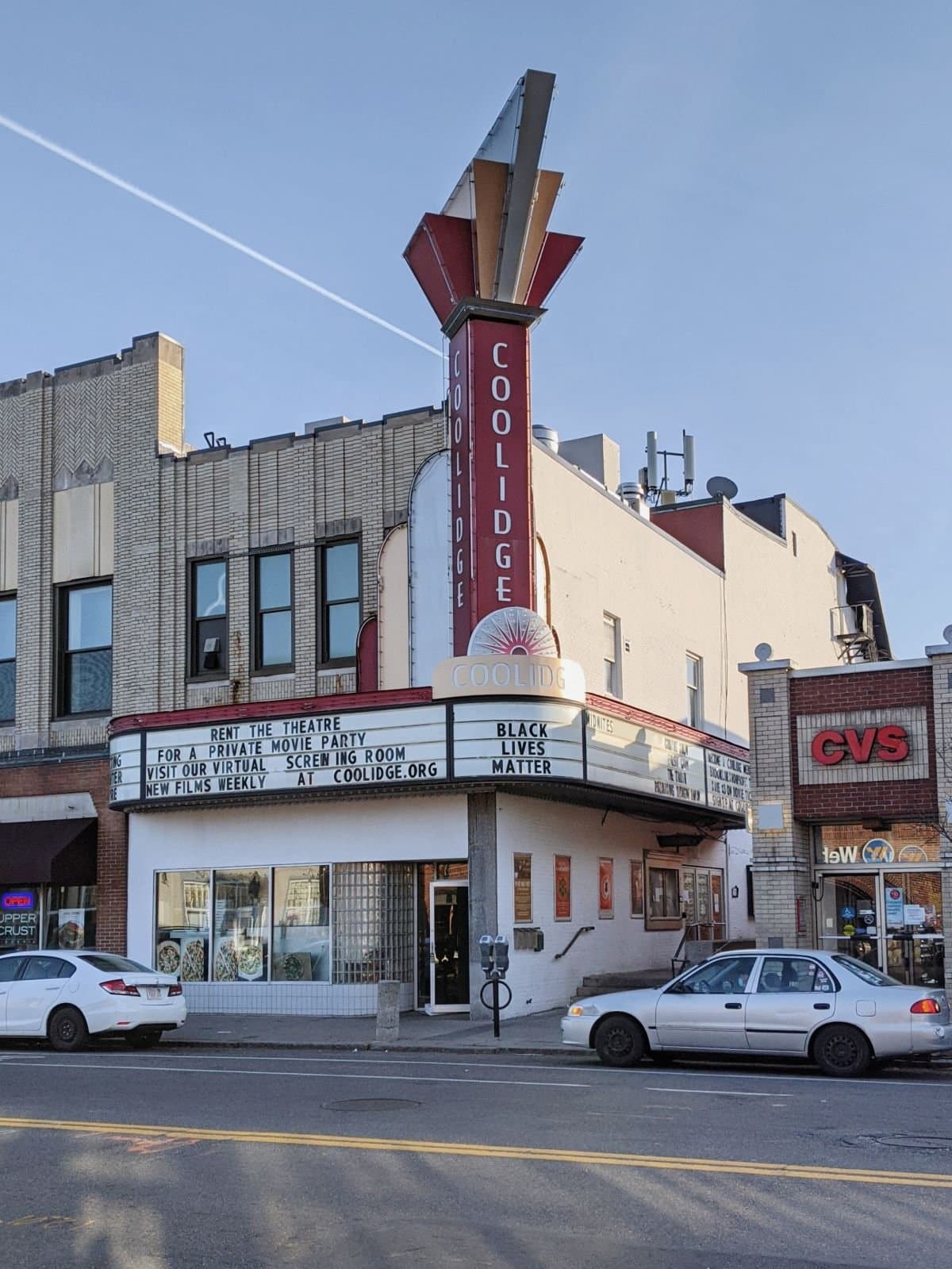 Coolidge Corner Theatre in Brookline and Somerville Theatre in Davis Square are more romantic movie-watching settings than your typical theatre. These theatres show indie and mainstream films in their beautiful interiors with the classic red curtains.
Make it an evening and eat at a nearby restaurant, or browse the local shops. Both theatres are conveniently-located near T stops and in bustling squares.
14. Go whale watching
Spend the day cruising on the water and spotting these majestic creatures in their natural habitat. The Boston Harbor Cruises offer a whale watching tour with naturalists on board to teach you about the animals and make sure the boat isn't disturbing the whales (the tour is Whale SENSE certified for responsible practices).
According to reviews, tours can take 4 hours, with a lot of that time spent traveling to feeding sites—so make sure to plan for a long day!
15. Window shop at Assembly Row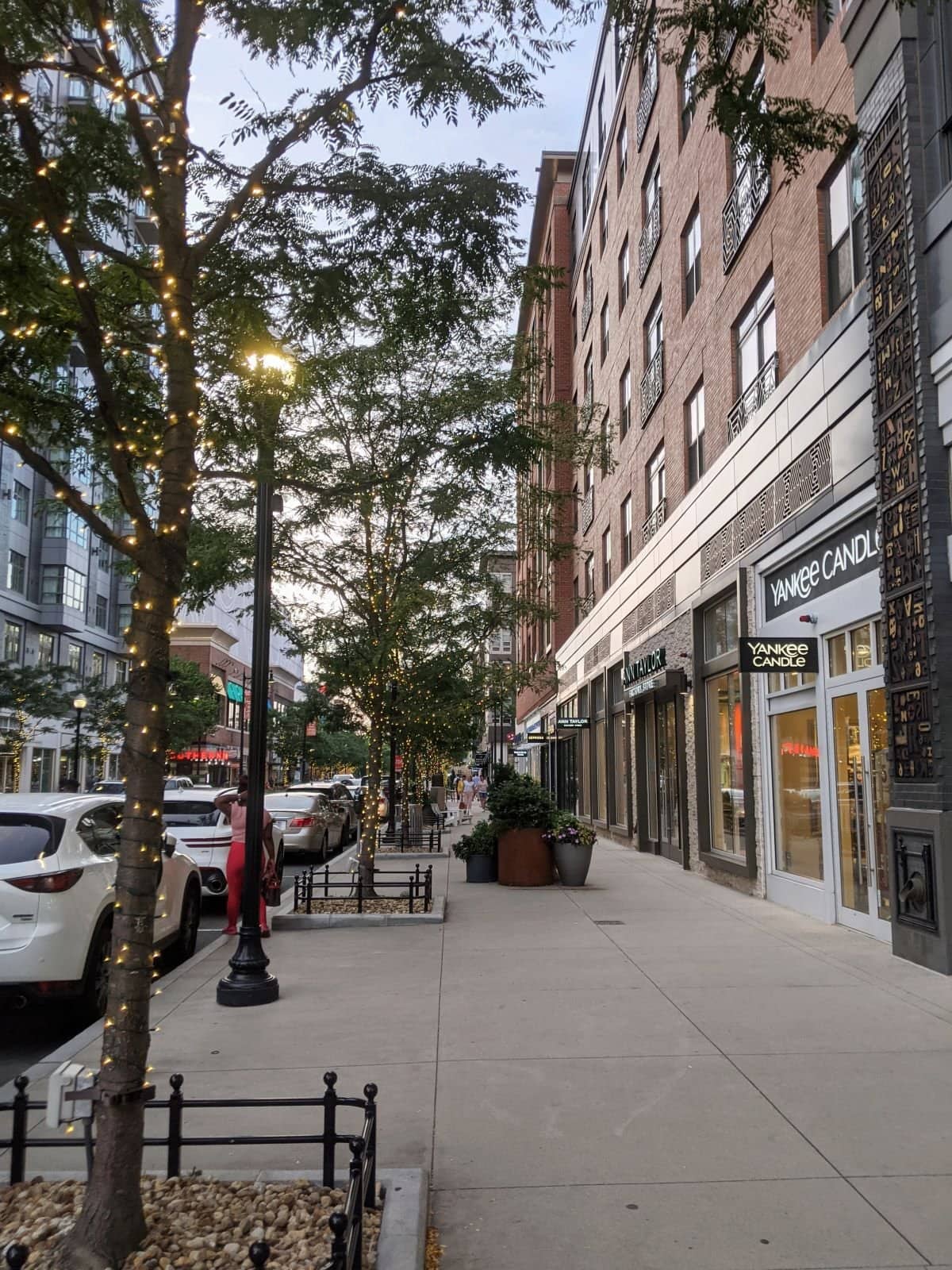 Assembly Row is an up-and-coming outdoor mall in Somerville. There, you'll find Trader Joe's, a movie theatre, popular stores, and modern restaurants.
Assembly Row is right along the Mystic River and even has a waterfront park, so you can also enjoy a takeout meal there or take a stroll.
16. Go on a day trip
Because of the Commuter Rail, you can reach some lovely destinations within a couple hours of the city. For a date, I recommend visiting Providence, Gloucester, or Salem. Here are some attractions that you might like in these places:
Providence: the Providence Athenaeum, a photo-worthy historic library, and WaterFire, a river lighting festival
Gloucester: beaches and whale watching
Salem: Salem Willows Park, a classic arcade and waterfront boardwalk, and your classic spooky things
Get more ideas in my guide to day trips from Boston by train.
Seasonal Boston Date Ideas
There are some romantic things to do that unfortunately can't happen year-round, but are still definitely worth doing on a date. Here are these seasonal date ideas, organized from spring to winter.
17. See the magnolias on Commonwealth Avenue
Typically blooming in early April, the spring magnolias are one of the prettiest sights in the city. They line the streets along Commonwealth Avenue Mall and make for the perfect backdrop to a romantic outing.
See my guide on where to find the magnolias in Boston for other locations in the city.
18. Visit the Kelleher Rose Garden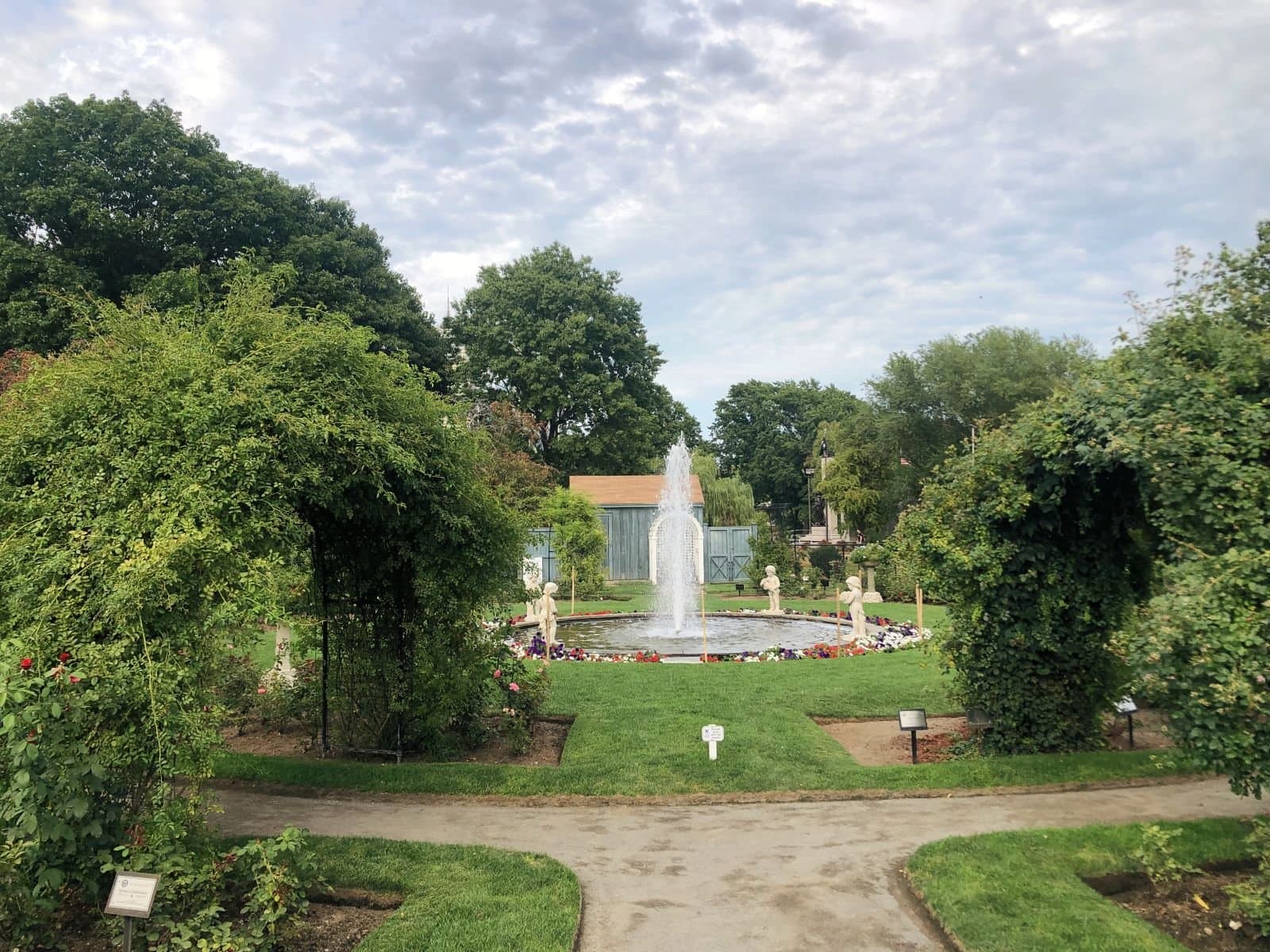 The Kelleher Rose Garden is in the Back Bay Fens, a sprawling park just steps from the heart of Boston. Hold hands as you walk under the rose-covered archways and snap photos by the flower-lined fountain.
The rose garden is open from 7am-5pm on weekdays and 10am-5pm on weekends, though some reviews have mentioned them closing closer to 4pm.
19. Take a dip at a swimming hole
There are several freshwater swimming holes near Boston, with one of the nicest being Crystal Lake in Newton. Spend the afternoon soaking up the sun and floating on the water.
Crystal Lake is accessible by the T on the D Line, and there are several entry points, including Cronin's Cove, Levingston Cove, and the beach house (you have to pay for entry at the beach house, but it's free otherwise).
20. Watch the sunset from a Boston Harbor cruise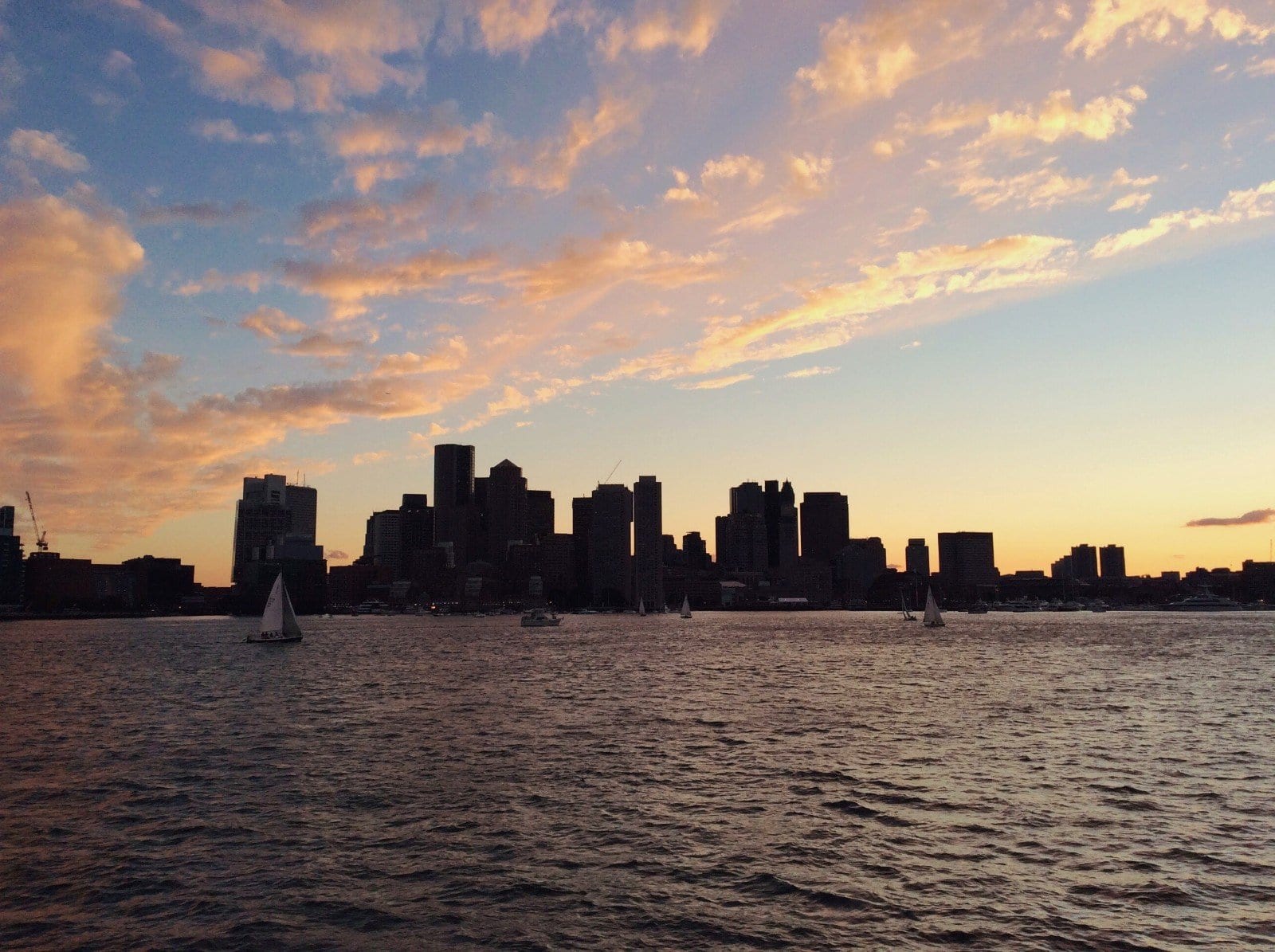 Watching the sunset together is extra special when it's on a boat in the Boston Harbor. There are several options for sunset cruises on GetYourGuide, including a yacht or a schooner.
Prices range from $22-70+ per person. Many cruises sell food and drink on board, and some may allow you to bring your own picnic.
21. Explore Spectacle Island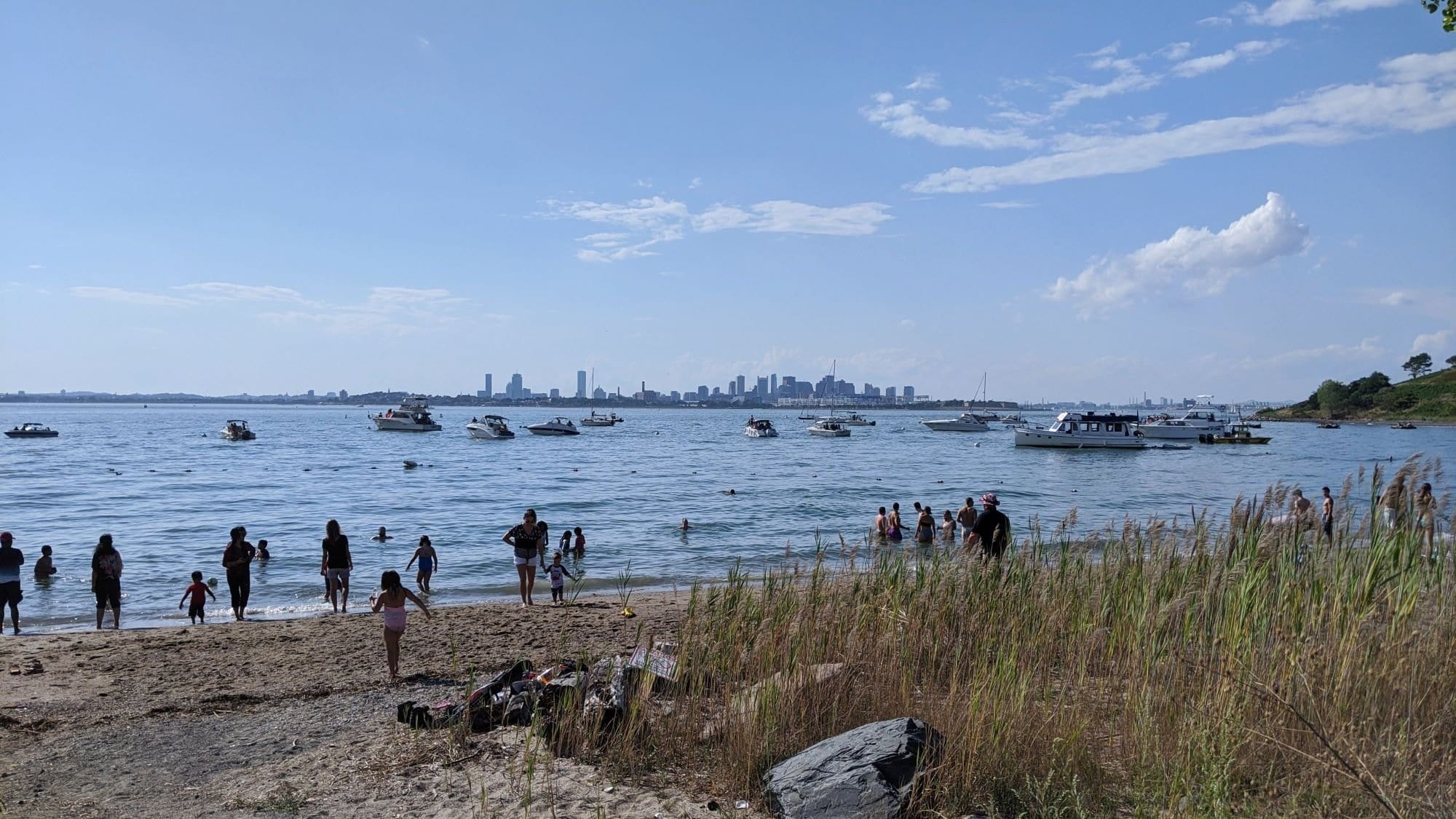 Spectacle Island is a lovely summer getaway that's just a 20-minute ferry ride from the city. The island has a small beach, easy hiking trails, and grassy fields for lying out or picnicking.
Learn more in my guide to visiting Spectacle Island.
22. Go ice skating at Frog Pond or another outdoor rink
In the winter months, you can go ice skating right in the Boston Common at Frog Pond. The rink is open until the evening every day but Monday, and the evening time is especially nice for a date since you'll be surrounded by holiday lights. Admission is $6 and skate rental is $12.
The other outdoor ice skating rinks in Boston include:
23. Go skiing at the Blue Hills
The Blue Hills Reservation is a popular hiking destination just 20 minutes outside the city, and in the winter, you can hit the ski trails.
Keep in mind that lines can be long since it's a smaller area near a large city, so plan ahead. Check conditions online before going as well, as certain trails may be closed.
If skiing isn't your thing, you can hike year-round. In fact, like Middlesex Fells, the Blue Hills also has a Skyline Trail that's a challenge at 15 miles and 3,500 ft of gain! Or, you can take on the more moderate Skyline Loop that's 5.4 miles with just under 700 ft of gain.
---
Let us know in the comments how you end up liking these activities, and share your own favorite date ideas with us!