There's nothing more magical than a castle made entirely of ice. While winter in New England isn't always pleasant, it's works of art like the New Hampshire Ice Castles that make the season a little brighter.
But since the Ice Castles are located in a more rural area, they may be a bit of a drive from you, and the tickets aren't exactly cheap either, ranging from $20-27 depending on the day of the week. If you're wondering if the Ice Castles are worth your time and money, here's my honest review after visiting in 2022.
This post contains affiliate links, meaning I may earn a small commission on any purchases through those links, at no extra cost to you. This income keeps this blog running and it's much appreciated!
Overview of the New Hampshire Ice Castles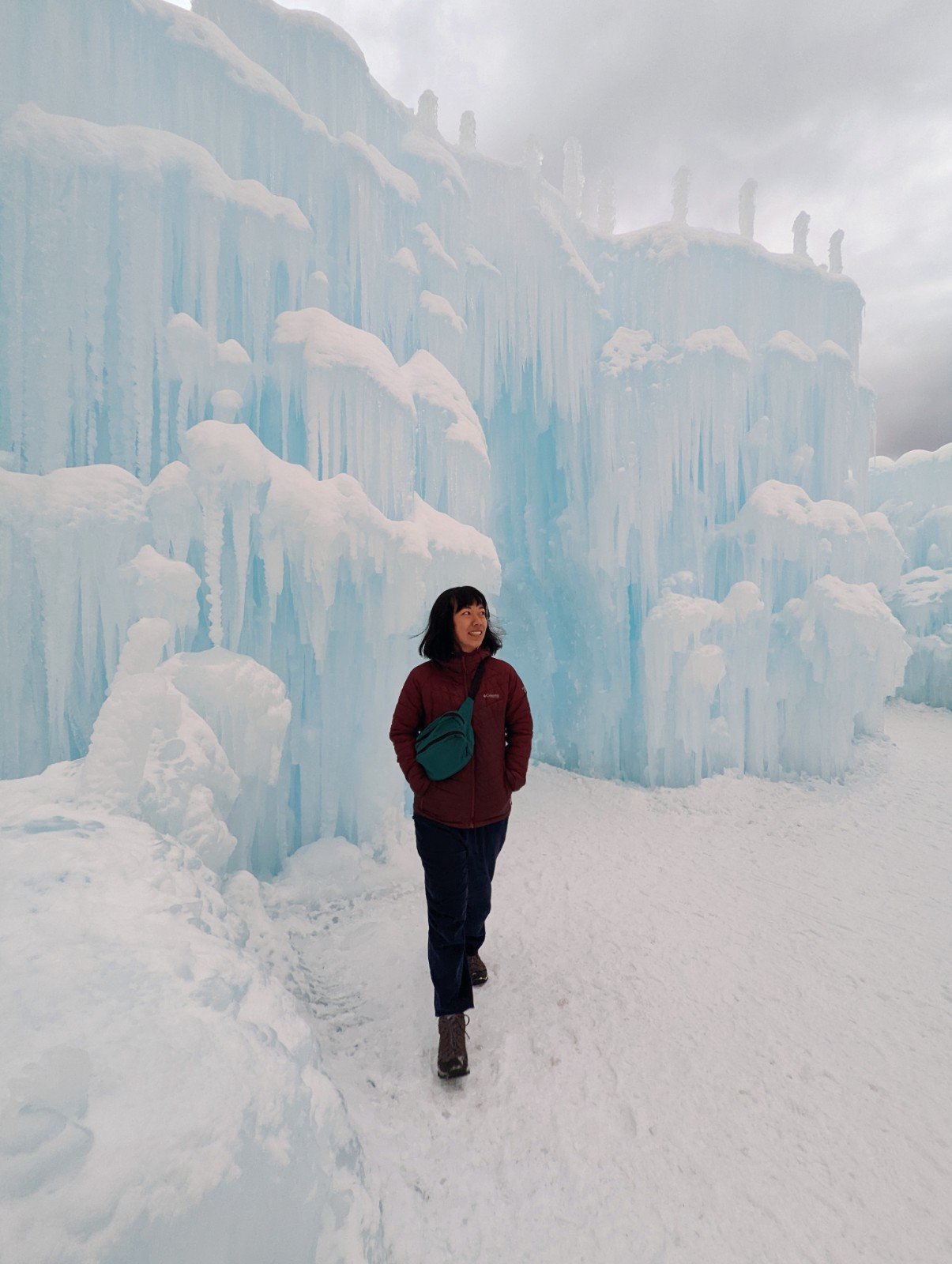 Made of thousands of hand-placed icicles, the Ice Castles are quite the Instagram sensation. You'll find these dreamy castles in Woodstock, New Hampshire, which is a small town right in the White Mountains. If you're coming from Boston, expect around a 2-hour drive. (There are also locations in New York, Utah, Wisconsin, and Minnesota).
Opening times vary depending on the weather, but you'll typically be able to visit the Ice Castles from January to late February or early March. I would recommend going earlier in the season if possible, as they did have to close earlier in the 2022 season due to warmer weather.
Tickets cost $20 for adults and $15 for kids on weekdays, and $29 for adults and $22 for kids on weekends. There may be preseason sales where you can get tickets at a discount and later book your specific date. You can always buy tickets on-site, though there may be a line.
Tickets are valid the entire day, so I'd recommend arriving 30 minutes to an hour before sunset to see both day and night, and not be too cold waiting for the dark to settle. There isn't much seating or heated areas, so it's not really a good place to wait around.
The Ice Castles aren't the only attraction during your visit; there's also a small tubing area and enchanted forest walk, which are free with your ticket, and sleigh rides for an extra fee.
Make sure to warm wear boots, as the ground is snowy/icy and can make your feet very cold! Bundling up in general is a good idea with your standard gloves, hats, scarves, and warm winter coat.
Are the New Hampsire Ice Castles Worth Visiting?
To be completely honest, I was kind of disappointed by the Ice Castles. The structure is a lot smaller in-person (though I suppose it's all about perspective; a kid exclaimed that they were so big right as I remarked that they were smaller than I expected). You can walk through the entire Ice Castle area at a leisurely pace and take a few quality shots in 15-20 minutes.
Don't get me wrong—the Ice Castles are definitely a work of art, and the icy tunnels and archways make for an ethereal atmosphere. The LED lights add a whole new dimension at night.
Beyond the castle area, we also went down the free tubing slope after a wait of about 15 minutes. It was nice, but not particularly thrilling since it wasn't a very steep slope. Next to the tubing area were the sleigh rides, which we opted out of because it cost around $20 extra per person.
We did really enjoy the enchanted forest walk, which was maybe half a mile. The woods were lined with fairy lights, and elf doors adorned a section of trees. It did feel kind of magical to see the colorful lights and hear the soothing music, especially at night.
In the woods, there was also a section with some ice sculptures, as well as a concession stand that looked like a cabin.
Overall, I just felt that the 2-hour drive from Boston didn't justify the experience, especially since I had to pay around $100 to rent a Zipcar for the day. Since we got there about 2 hours before sunset, we also waited around for an hour or so in the cold so we could get the full night experience.
If I could go back, I would still visit the Ice Castles but also make it an entire day trip and also do a hike in the area, such as Lonesome Lake or Flume Gorge. You could also make it an entire winter getaway, as there's the Loon Mountain Ski Resort nearby.
If you have kids, I think the Ice Castles alone could be more worth it because they'll certainly be delighted. In the Ice Castle, there's a longer slide as well as some tiny ones for toddlers. The tubing would also probably seem more thrilling to them, and the castle will look larger and more impressive to them.
Where to Stay Near the Ice Castles
I highly recommend extending your trip in the area since the White Mountains are renowned for hiking and skiing. If you're looking for a place to stay, here are some good options:
Riverfront condo with mountain view: This condo sleeps up to 4 and is homey and comfortable. Located in Lincoln, you'll get a view of the Loon Mountain ski slopes. The complex also has an indoor and outdoor swimming pool, hot tub, and arcade room.
Dog-friendly riverfront condo: This peaceful condo sleeps up to 8 and has access to a pool, sauna, weight room, and game room. It's in North Woodstock, which is extremely close to the Ice Castles.
The Notch Hostel: No-frills, friendly hostel with private and shared rooms in a classic New England home. There are two full kitchens that guests can share. The hostel is just down the road from the Ice Castles.
InnSeason Resorts Pollard Brook: This resort in Lincoln is near the Ice Castles and is a starting point to explore the White Mountains or go skiing. Even better, it has a gym, indoor pool, and arcade room.
I hope this review of the New Hampshire Ice Castles was helpful. Let us know in the comments if you've visited and felt it was worth it or not!
You may also like these seasonal posts:
21 Fun + Meaningful Experience Gift Ideas in Boston
18 Awesome Indoor Things to Do in Boston