While Boston is a major US city, it still features plenty of parks, lakes, and trails. You could be walking in the heart of downtown at one moment and reach an expanse of nature just a few blocks later. In this post, you'll find a variety of outdoor activities in Boston, from paddle boarding to picnicking.
Roaming Boston contains affiliate links, so we may earn a small commission on any purchases or bookings at no extra cost to you. This helps us keep this site running and allows us to offer more free guides like this one.
14 Outdoorsy Activities in Boston
1. Kayak or Paddle Board on the Charles River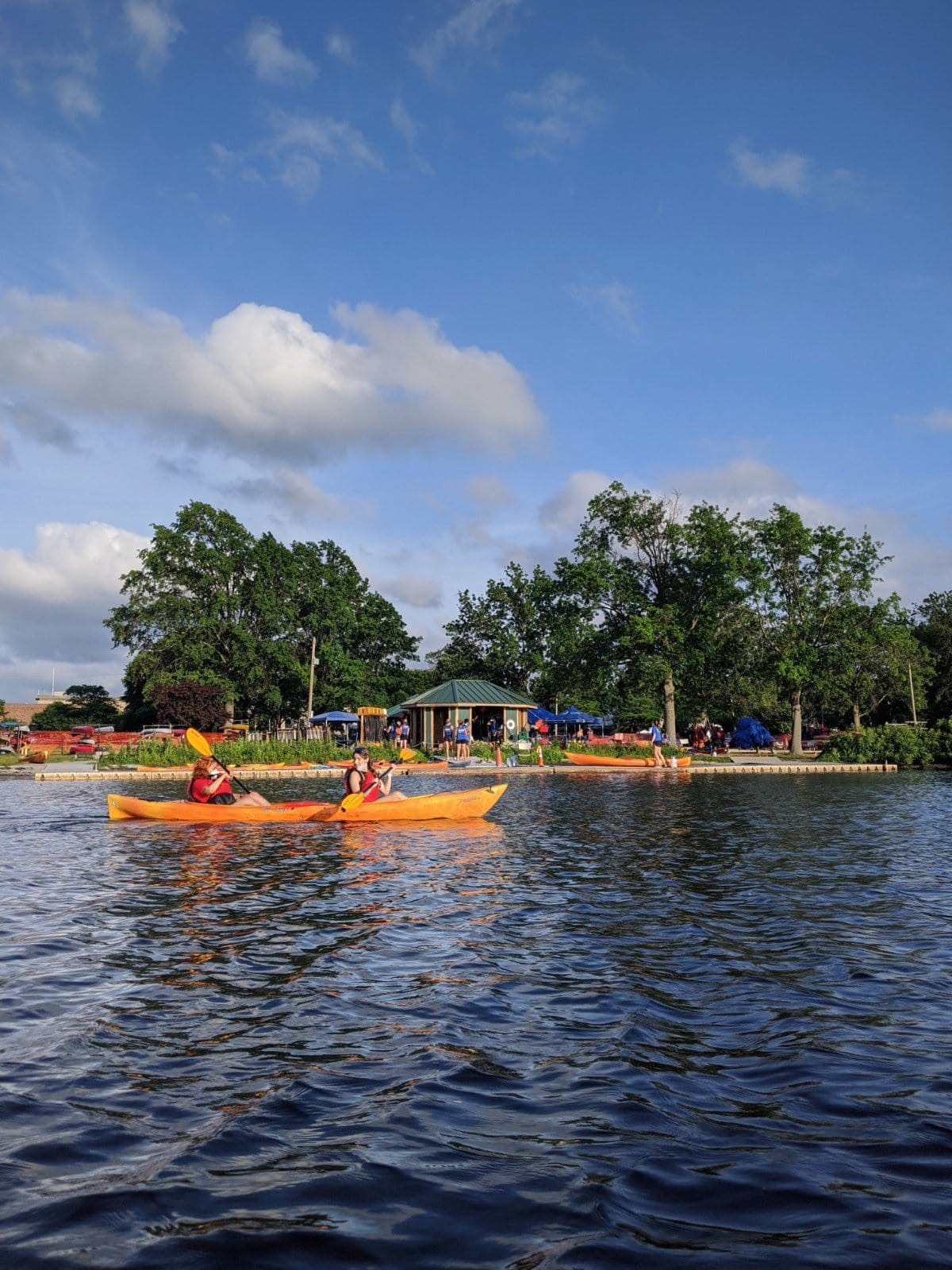 The Allston/Brighton location
The season for Charles River kayaking typically runs from summer to early fall. There are 2 locations near Boston: Cambridge, at Kendall Square, and Allston/Brighton at Christian A. Herter Park. The Cambridge location is the most accessible by public transport and offers the best views of the city.
A double kayak costs around $50, while a single is around $40. Paddleboarding is $40. If you have a larger group, you can rent a canoe, rowboat, or paddleboat for $50-70. Evening rates are a bit cheaper.
During Covid, you will likely need to reserve online in advance for a time slot of 3 hours.
If there's any chance of rain, bring a rain jacket and some snacks—you may get stuck waiting out the storm under a tunnel, like I did.
2. Take a dip at a swimming hole or beach

Crystal Lake
Boston is near the ocean, after all! Some popular beaches are Carson Beach, Constitution Beach, and Revere Beach. Keep in mind that these are city beaches, so don't expect anything too fancy or pristine. The water can also be quite cold since it's the ocean!
Otherwise, you might consider going to a swimming hole near Boston. The closest to the city are Crystal Lake in Newton and the Mystic Lakes in Arlington/Medford/Winchester. The iconic Walden Pond is a bit further out, but also a local favorite.
Learn more about swimming holes near Boston.
3. Have a Picnic at the Boston Common or Public Garden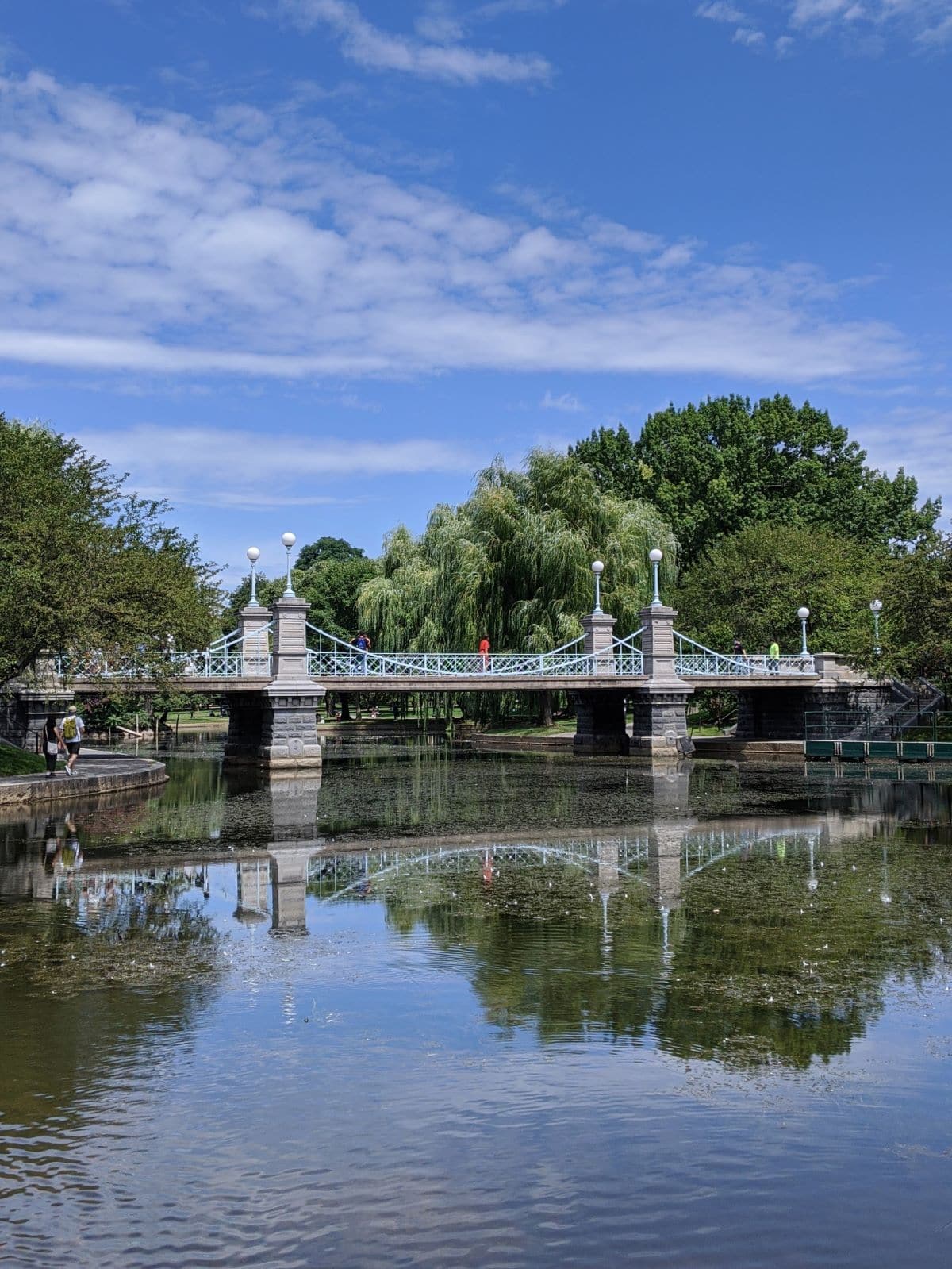 Public Garden footbridge
The Boston Common and Public Garden are in the heart of the city and are surrounded by tons of restaurants. Grab a bite to eat nearby and have a picnic on the grassy lawns. If you need a couple nearby vegan restaurant recs, I love My Thai Vegan Cafe in Chinatown and Beatnic in Back Bay.
In the Public Garden, you can take classic swan boat rides in the warmer months. In the wintertime, you can go ice skating on Frog Pond in the Boston Common.
4. Visit Spectacle Island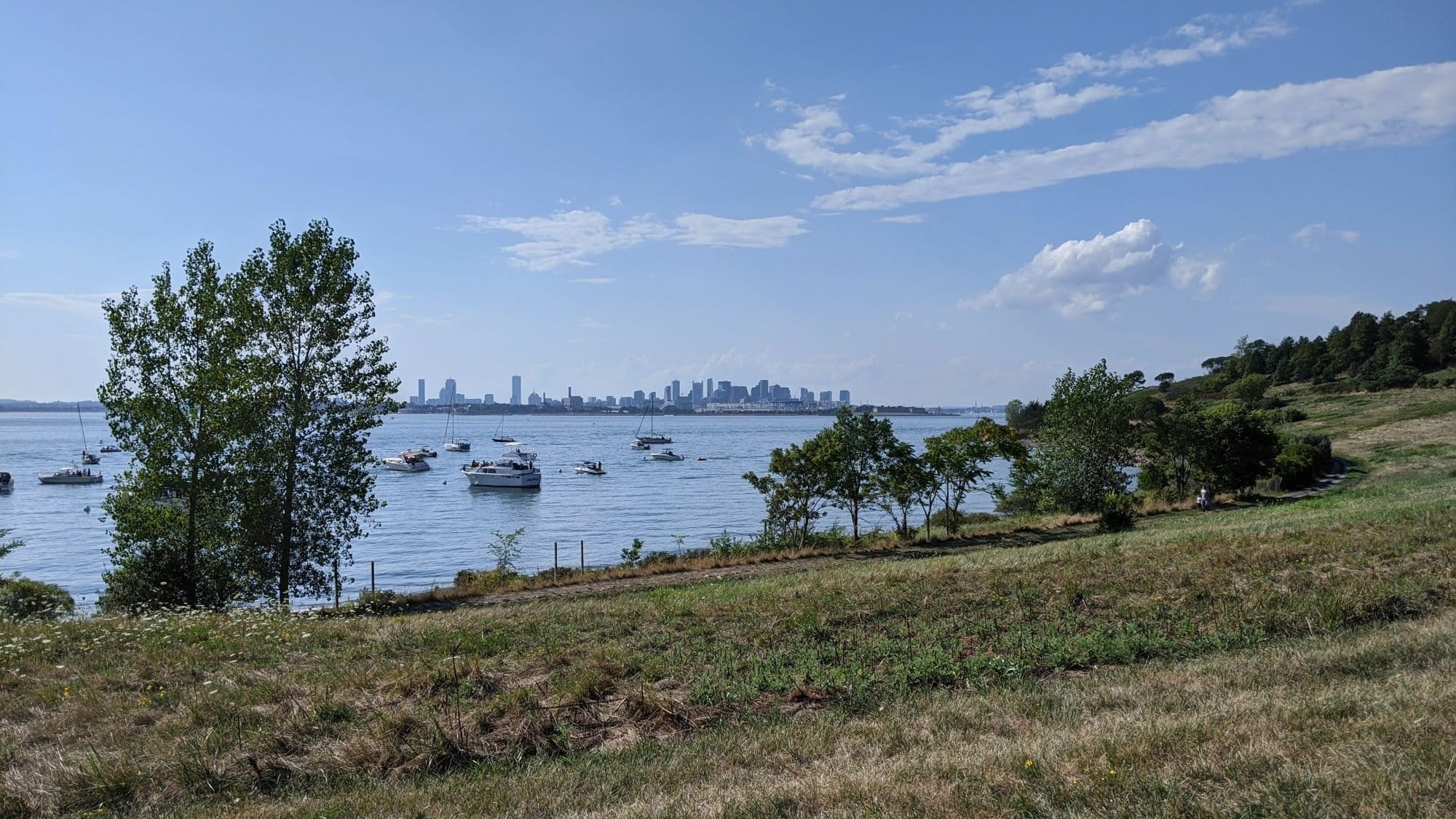 Boston is surrounded by tiny natural islands, the closest and most popular being Spectacle Island. In the warmer months, you can take a ferry to spend the day hiking, swimming, foraging for wild blackberries, and admiring the Boston skyline.
Spectacle Island doesn't offer camping, but Peddocks, Bumpkin, Grape, and Lovells Island do. Ferry service didn't go beyond Spectacle in 2020, however, and camping was also canceled for the season. When it is offered, camping is extremely popular and you need book at least a few months in advance (or watch for last-minute cancelations).
5. Take a Sunset Cruise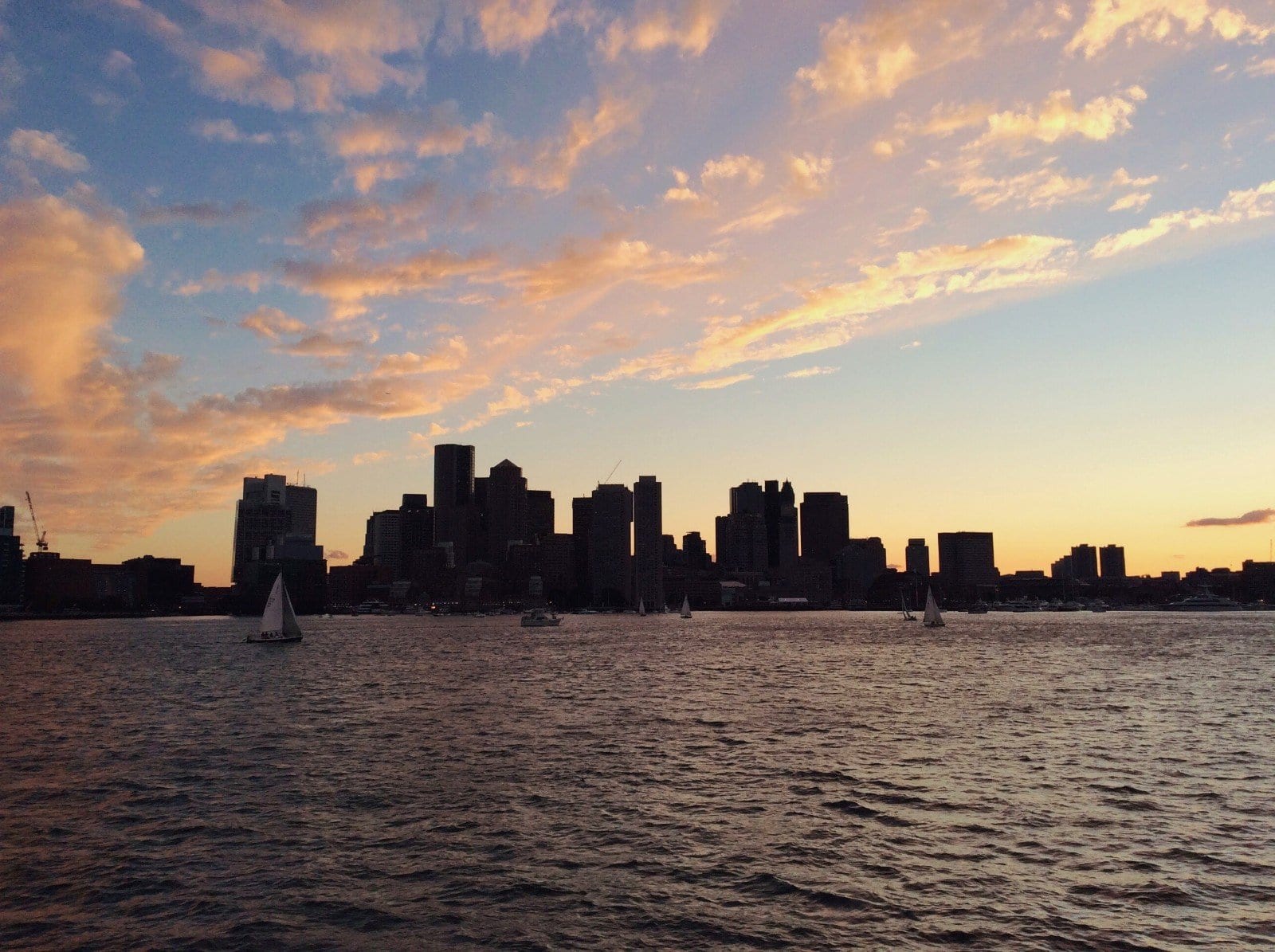 There's nothing like a city skyline at sunset. There are many operators offering sunset cruises for a variety of budgets, and you can check them out below. Some may offer food and drinks in the package too, while others are focused on the ride itself.
5. Discover the Freedom Trail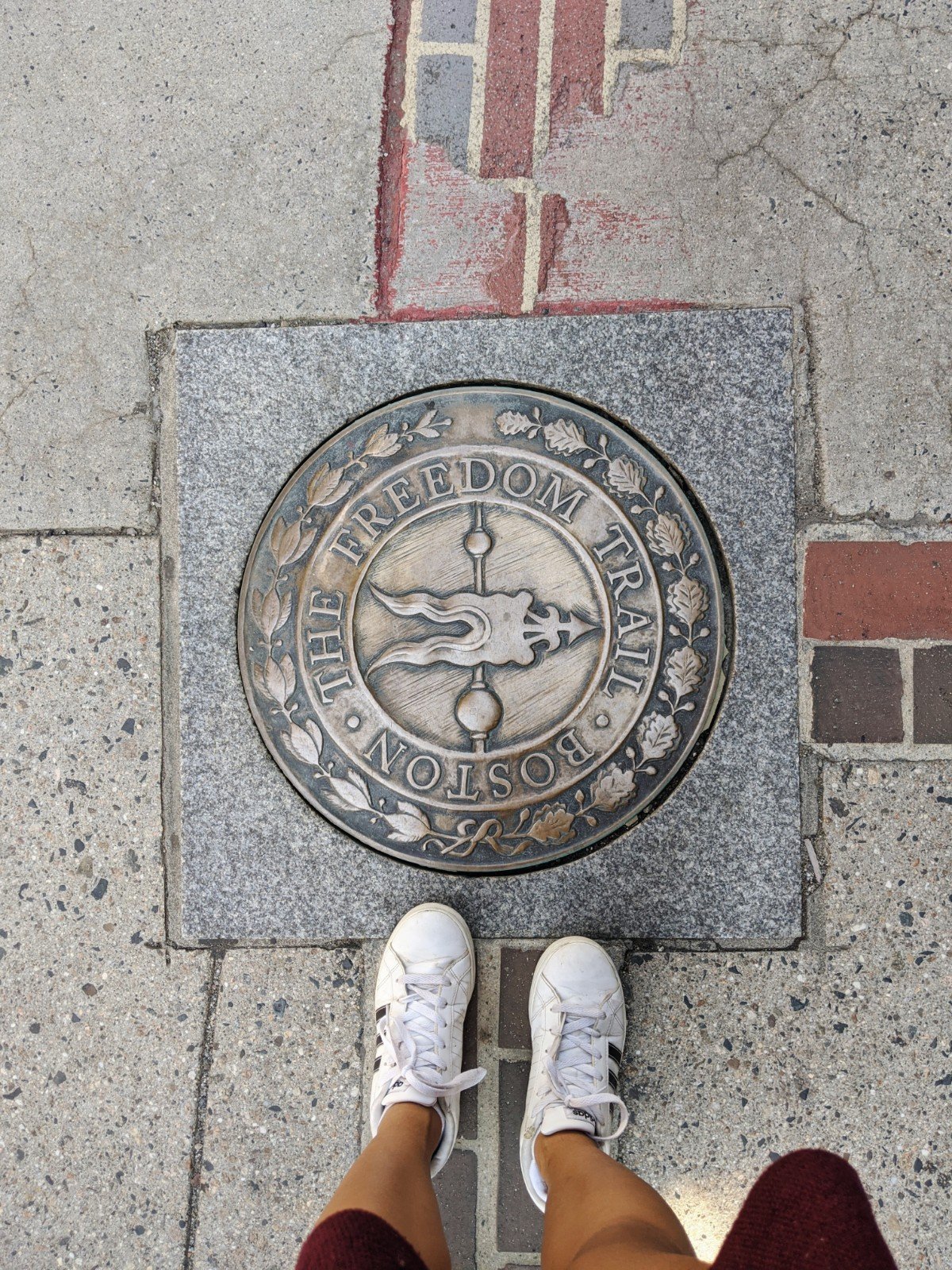 If you love American history, the Freedom Trail will take you along 16 historic sites in 2.5 miles. These sites include burying grounds, churches, meeting houses, Paul Revere's house, Faneuil Hall, and the USS Constitution. Even if you're not a history buff, you may still enjoy the walk through Boston's most iconic sites. Faneuil Hall, for instance, was a town meeting place and is now a modern-day food court and shopping center.
You can walk along the trail for free, though some sites have entry fees. You can also take an inexpensive self-guided tour using an app or a highly-rated guided food and history tour.
6. Climb at the Quincy Quarries
The Quincy Quarries were the sourcing location for the Bunker Hill Monument (a stop along the Freedom Trail). Nowadays, the area is a park with slabs of granite covered in art and graffiti.
People come here to rock climb and walk along the nearby trails in the Blue Hills Reservation. Just be careful, as there is often broken glass in the area.
7. Ski, Snowshoe, or Hike at the Blue Hills
Speaking of the Blue Hills, this park is full of trails and nice views of the city. In the winter, you can rent skis or snowshoes. Year-round, you can go hiking or trail running.
The Skyline Loop is perhaps the most popular trail, and it's a moderate challenge at 5.4 miles and nearly 700ft of elevation gain.
8. Hike or Trail Run at the Middlesex Fells
Another popular hiking destination is Middlesex Fells, which has another network of trails, ponds, and lakes. The Skyline Trail at Middlesex is also heavily trafficked, but is a bit more challenging at 8 miles and 1,000 ft of gain.
Most of the trail is in the woods and doesn't offer great views, but the there is a section towards the end of the trail with a clear view of the city. If you only want the views but not the workout, park at the South Border Road Parking Lot and take a short hike to Wright's Tower. Parking here does fill up fast, so go earlier on the weekends. The trail can get icy in the winter as well, so bring some traction!
9. Watch the Sunset at the Esplanade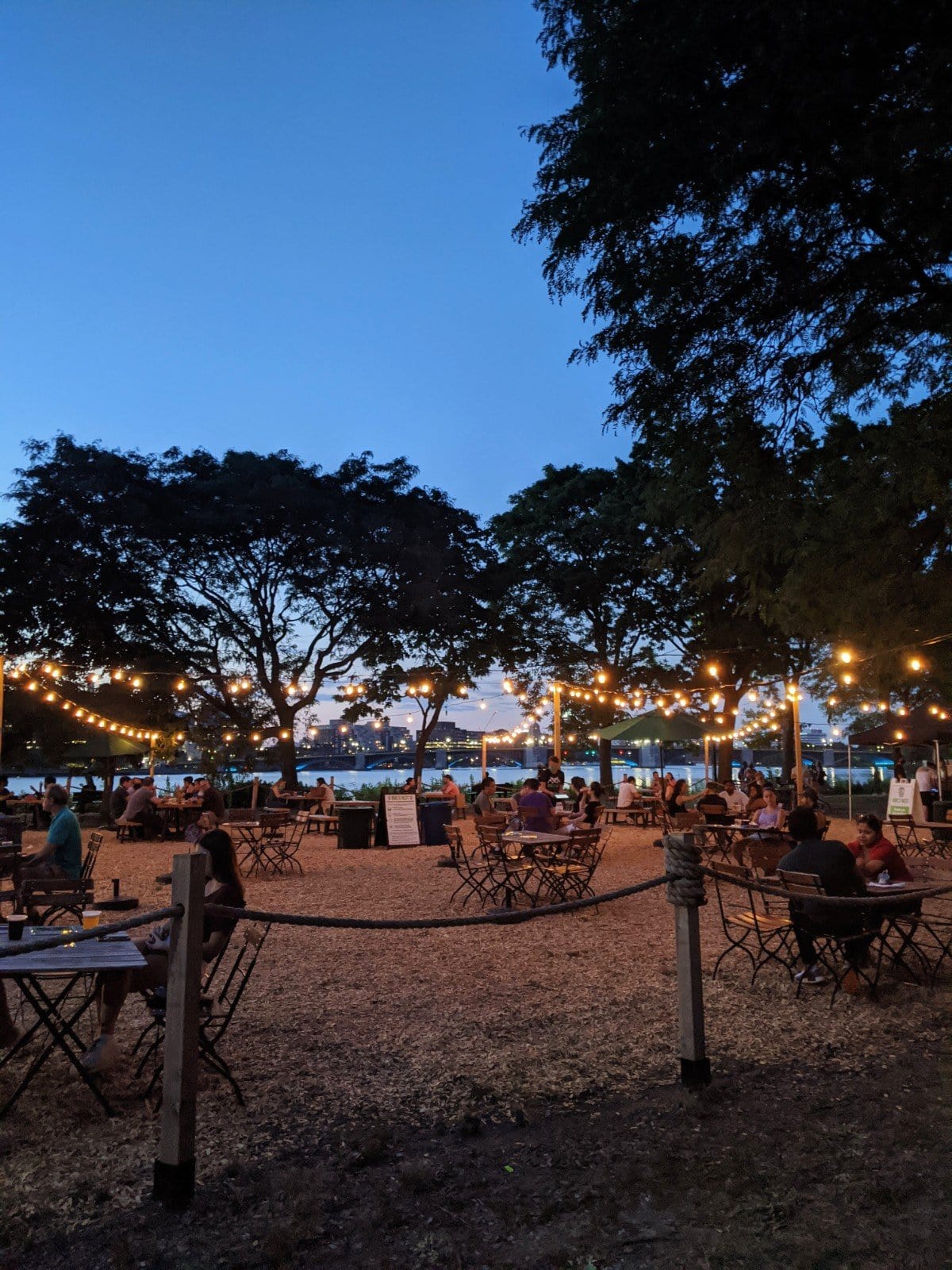 The Esplanade is a stretch of land along the Charles River near Back Bay. There's plenty of grass for picnics and a bike path for long walks. It's a perfect place to people watch and watch the sunset.
In the summer, there's a beer garden at Fiedler Field on the Esplanade by Night Shift Brewing, which looks really romantic with its string lights and bustling atmosphere. There are also other locations around the city, particularly in Allston, Cambridge, and Somerville.
10. Walk/Bike/Roller Blade along the Charles River
On both sides of the Charles, you'll find miles and miles of bike paths, stretching even through different towns. There are also patches of grass and benches where you can read, relax, or hang out with friends. Go on a long-distance adventure, or stay local and make stops along the way.
11. Stroll along the Emerald Necklace
The Emerald Necklace connects 1,1000 acres of parks and ponds, running from Fenway and Back Bay all the way to Franklin Park. One of my favorite spots along the Emerald Necklace is Jamaica Pond, which has a 1.5-mile trail around it.
In the summer, you can rent rowboats and kayaks for $15-20 per hour. You can also take private sailing lessons for cruises for $45 per hour.
Jamaica Pond is perfect for runs, walks, picnics, and fishing (the lake is stocked with rainbow trout each spring).
Other popular stops are Leverett Pond, the Arnold Arboretum, Franklin Park, and the Back Bay Fens.
12. Go Whale Watching

via Depositphotos
There's something unique about seeing such a massive creature in its natural habitat. The Boston Harbor Cruises offer a whale watching tour with naturalists on board to teach you about the animals and make sure the boat isn't disturbing the whales (the tour is Whale SENSE certified for responsible practices).
According to reviews, tours can take 4 hours, with a lot of that time spent traveling to feeding sites—so make sure to plan for a long day!
13. Visit Castle Island
Castle Island is a peninsula in South Boston with beaches, a playground, and a historic fort. Families and friends often come here to picnic, fly kites on the beach, or take a walk along the harbor.
If you enjoy fishing, locals often catch striped bass along the pier.
14. Shop at Assembly Row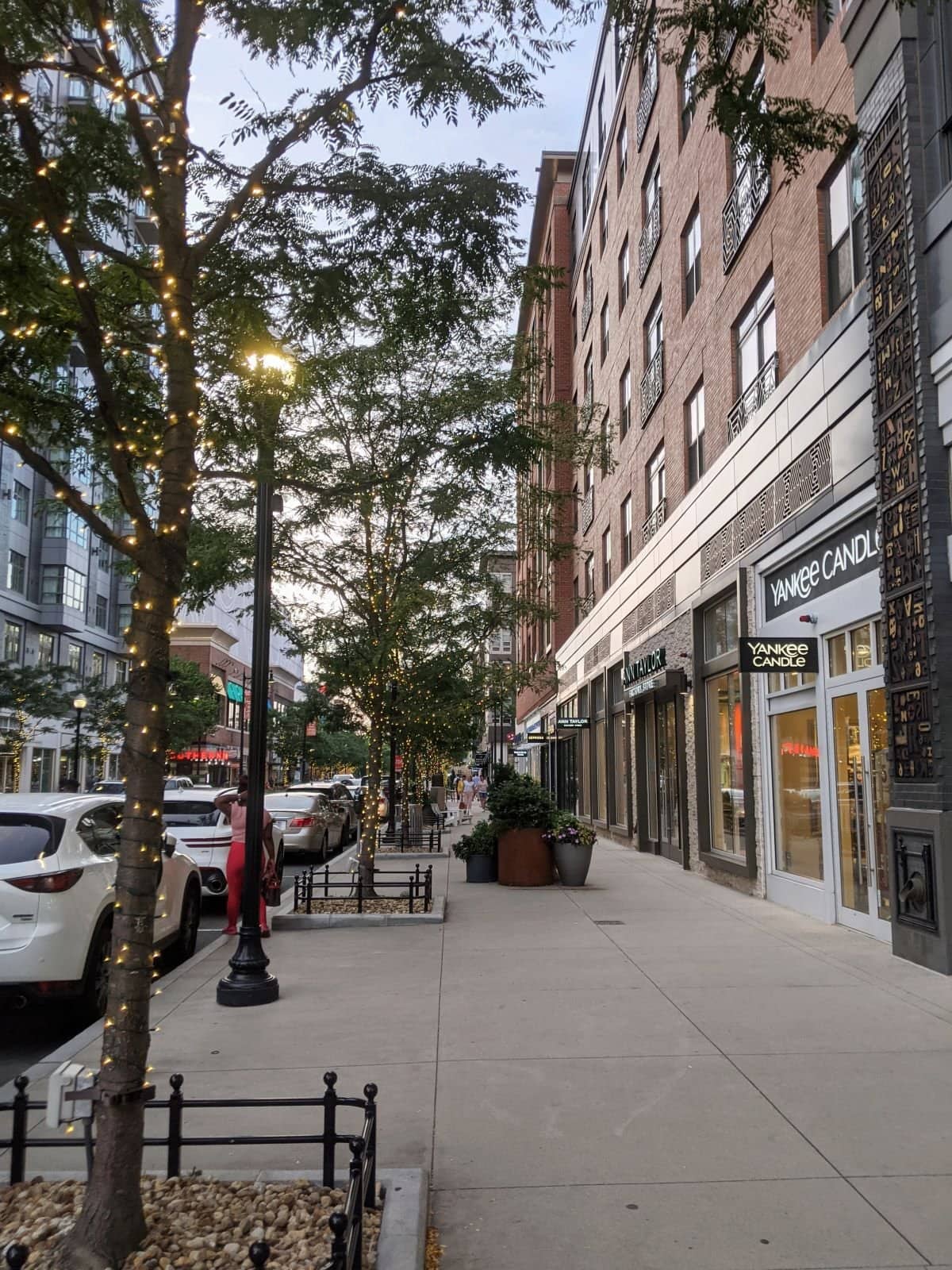 Assembly Row is an outdoor shopping center in Somerville that is easily accessed on the Orange Line. There, you'll find several trendy shops, diverse restaurants, and a movie theater. Some highlights include the LEGO store and Trader Joe's.
There's also riverfront park where many families and couples like to walk, relax, or fish.