Acadia National Park is located along the Maine seaboard and is the seventh-most visited national park in the US. The park is especially known for its many hiking trails and fall foliage. In Acadia, you'll also find popovers—the famous and elusive New England puffy pastry made from egg batter—in Jordan Pond House, a restaurant with a panoramic view of the nearby pond and mountains.
In early May 2018, I took a 3-day trip to Acadia National Park in Maine with a couple friends. We researched and did many hikes, and here were our favorites (and also the favorites of many other visitors).
This post contains affiliate links, meaning I earn a small commission on any purchases you complete through these links. This doesn't cost you any extra, and this income helps me continue to run this website.
Best Time to Go to Acadia National Park
Acadia National Park attracts millions of visitors each year, mostly from June through September. The trails can get especially crowded during these months, and parking may be difficult to find.
The park is open year-round, but many hotels, shops, visitor centers, and attractions are closed in the winter. To take better advantage of the park's offerings while beating the crowds, aim to visit in the late spring, from Mid-April through May. Our trip to Acadia was in the beginning of May—it was the tail end of off-season, so while the town (Bar Harbor) was pretty dead, the trails weren't crowded at all (and since it was warm, there was no risk of slipping on ice). If you're looking for fall foliage, consider visiting in early to mid October, when the leaves are at peak color.
Before you go, it's important to know that visiting the park isn't free. You have to buy a $30 week-long vehicle pass at a visitor center or campground—you can find more info about fees and free days on the official Acadia website. The park is also planning to test a reservation system for highly-trafficked spots in October 2020, to be potentially rolled out officially in Summer 2021. This reservation system will only affect popular areas like Cadillac Mountain, Jordan Pond, and Ocean Drive.
You should also know that some trails can be off-limits during certain seasons. During our visit, one of the most well-known strenuous hikes, Precipice Trail, was closed for peregrine falcon nesting. The trail is often closed from mid-March to mid-August, so if you want to add another tough hike to your list, consider coming later in the summer.
Luckily, we were still able to take advantage of some pretty cool hikes, and they were definitely a workout! Here are my favorite challenging hikes:
Best Acadia National Park Hikes
Pemetic Northwest Trail
Distance: 1.2 miles total (out and back)
Difficulty: Hard (roots, ravine, steep rocks)
Time: 1.5 hours
My friends and I actually took Pemetic North Ridge Trail up to Pemetic Mountain, which is 2-2.5 times longer than Pemetic Northwest Trail, but a lot more moderate. It's still not the easiest hike because of all the roots, so I found it a nice way to ease into tougher hikes. I don't know that I would recommend coming up this way, however—it wasn't exceptionally interesting, and I've heard that the views aren't nearly as nice as the other trails.
The view at the top was something else though:
There were also some interesting plants—these are called fiddleheads (since they look like the scroll of a violin), and are actually baby ferns before they mature and unfold. Some varieties are edible when cooked (not these though), and they apparently taste like a cross between spinach and asparagus. I'm seen these in grocery stores before, and they're quite expensive!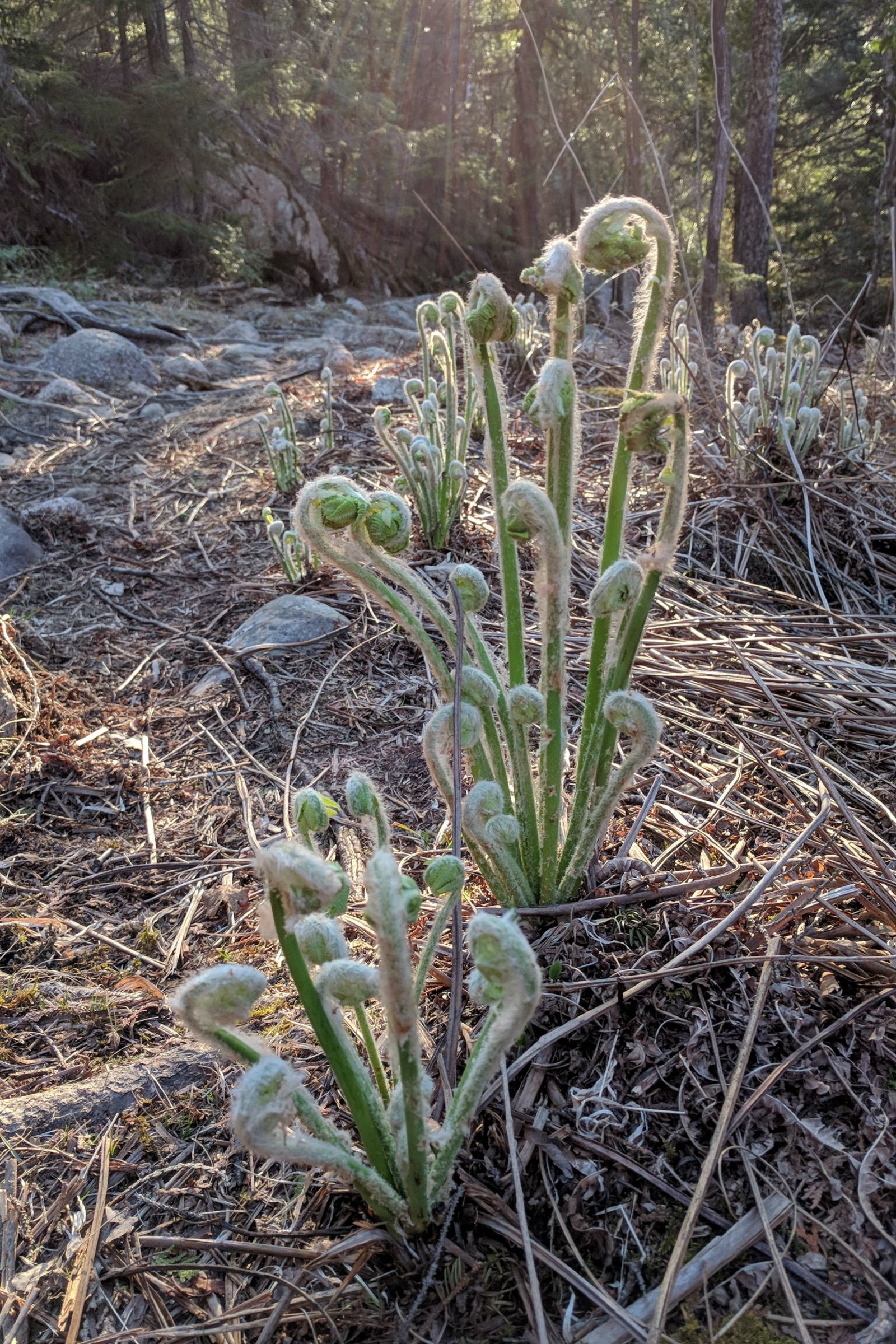 We decided to go down Pemetic Northwest Trail since we were short on time and daylight. I'd read online about the trail, and so I knew to take the "ravine" option when it split off into "ravine" and "ledge." The ledge side is supposed to be harder and not as fun as climbing down ladders in a ravine.

I think the avocado and coconut stickers are a little distracting haha (always want to protect the identity of my friends!), but I thought this photo nicely illustrated how steep some parts were.

So the reason we were in a rush was that we wanted to catch the sunset on Cadillac Mountain. It's actually a trail itself, but we just drove up since it was already getting dark. Cadillac is a pretty comfortable paved hike anyways, and we were looking for more adrenaline-inducing trails.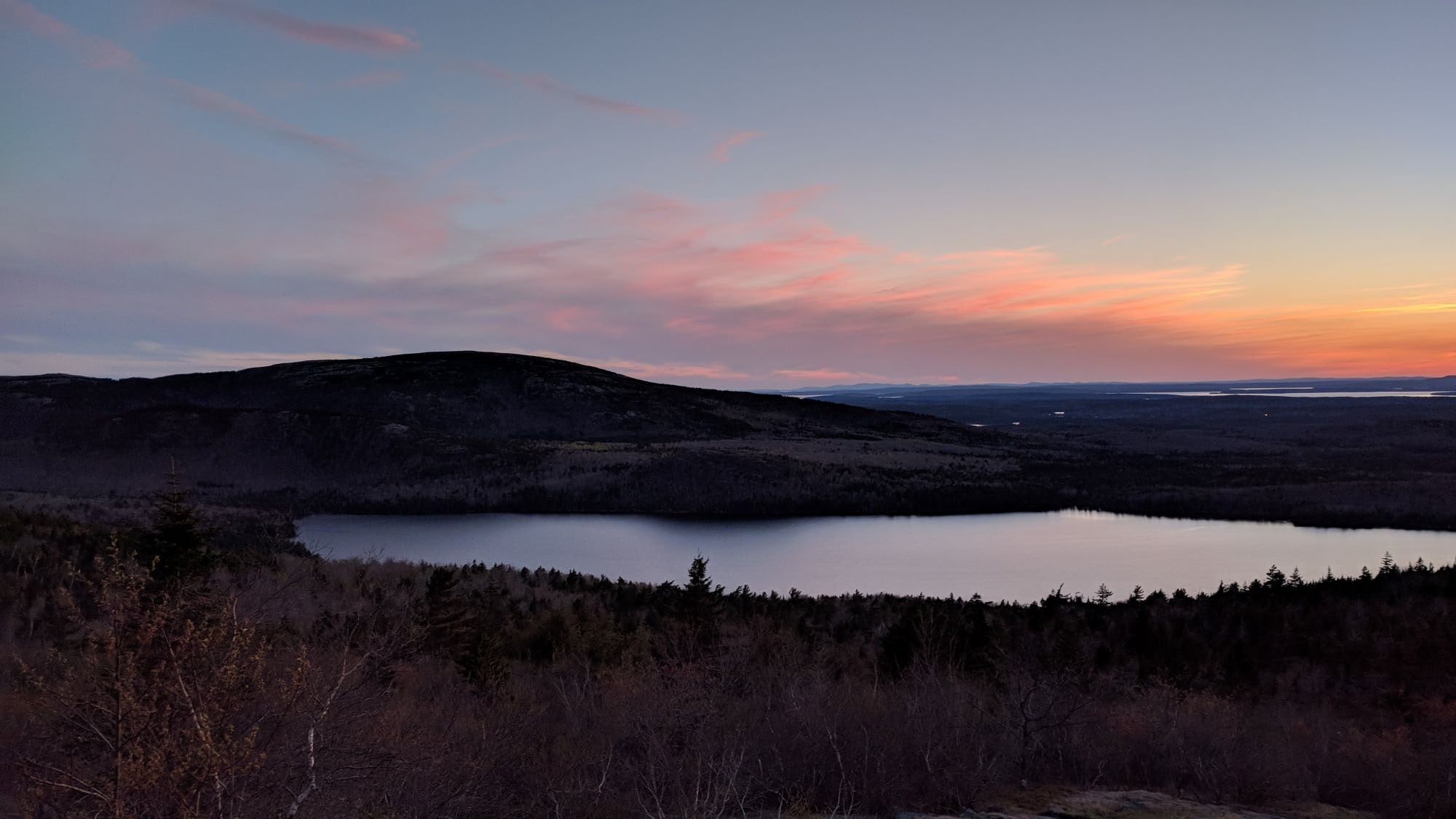 Beehive Trail
Distance: 2 miles, including the return via Bowl Trail
Difficulty: hard and scary going up (the trail is narrow and near-vertical)
Time: 2 hours
The sign that greets you at the trail head is a little ominous, but our friends had raved so much about the hike that we figured we'd go for it and just be careful. I really don't have good photos that show just how scary the trail can be (maybe I was too busy being scared to take photos), but this is definitely the hike for adrenaline junkies.
A perk: the lovely view of the beach. There's also a nice spot to rest at the top, and the descent is a lot easier (though a little rocky).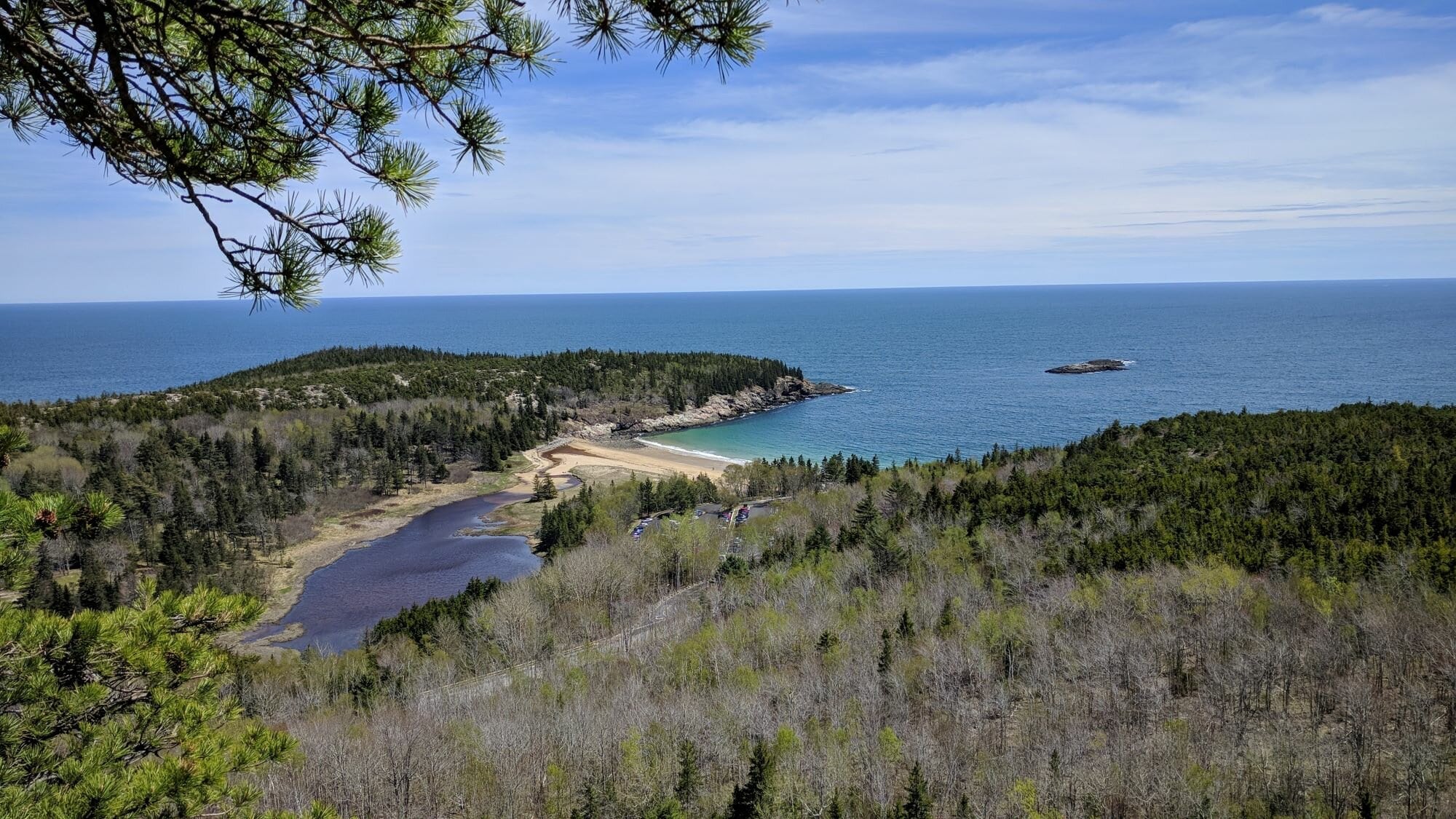 I HIGHLY recommend Beehive—it's really quite an adventure since it's precarious, and it's conveniently located by the beach (so you get nice views during the hike and a relaxing walk along the coast afterwards).
Pemetic Northwest is also an experience to have—it feels kind of rugged and exotic since most trails don't take you through ravines (at least that I know of).
Other Popular Acadia National Park Hikes
There are a handful of other hikes we did that are also lovely, but not as thrilling as Pemetic Northwest or Beehive.
Ocean Path
Distance: 4.5 miles total (out and back)
Difficulty: easy
Ocean Path is a leisurely stroll compared to the aforementioned hikes. Hugging the coastline, you pass by Thunder Hole, a major Acadia attraction where the waves hitting the rocks on the shore create the sound of thunder. The trail is basically flat, with less than 400ft elevation gain total. It can be a little rocky, and can get crowded, so plan ahead.

Ocean Path
Jordan Pond Path
Distance: 3.4 mile loop
Difficulty: easy
Jordan Pond Path is another easy walk with less than 100ft gain total, with gorgeous views of the iconic Jordan Pond. This trail is said to be especially beautiful in the fall, with colorful foliage surrounding the pond. Take care if it's rained recently, as places can get very slippery and muddy.
North Bubble Trail
Distance: 1 mile total (out and back)
Difficulty: easy-moderate
North Bubble Trail gives you another view of Jordan Pond, but from above. Expect some moderate climbing with 375ft gain in half a mile.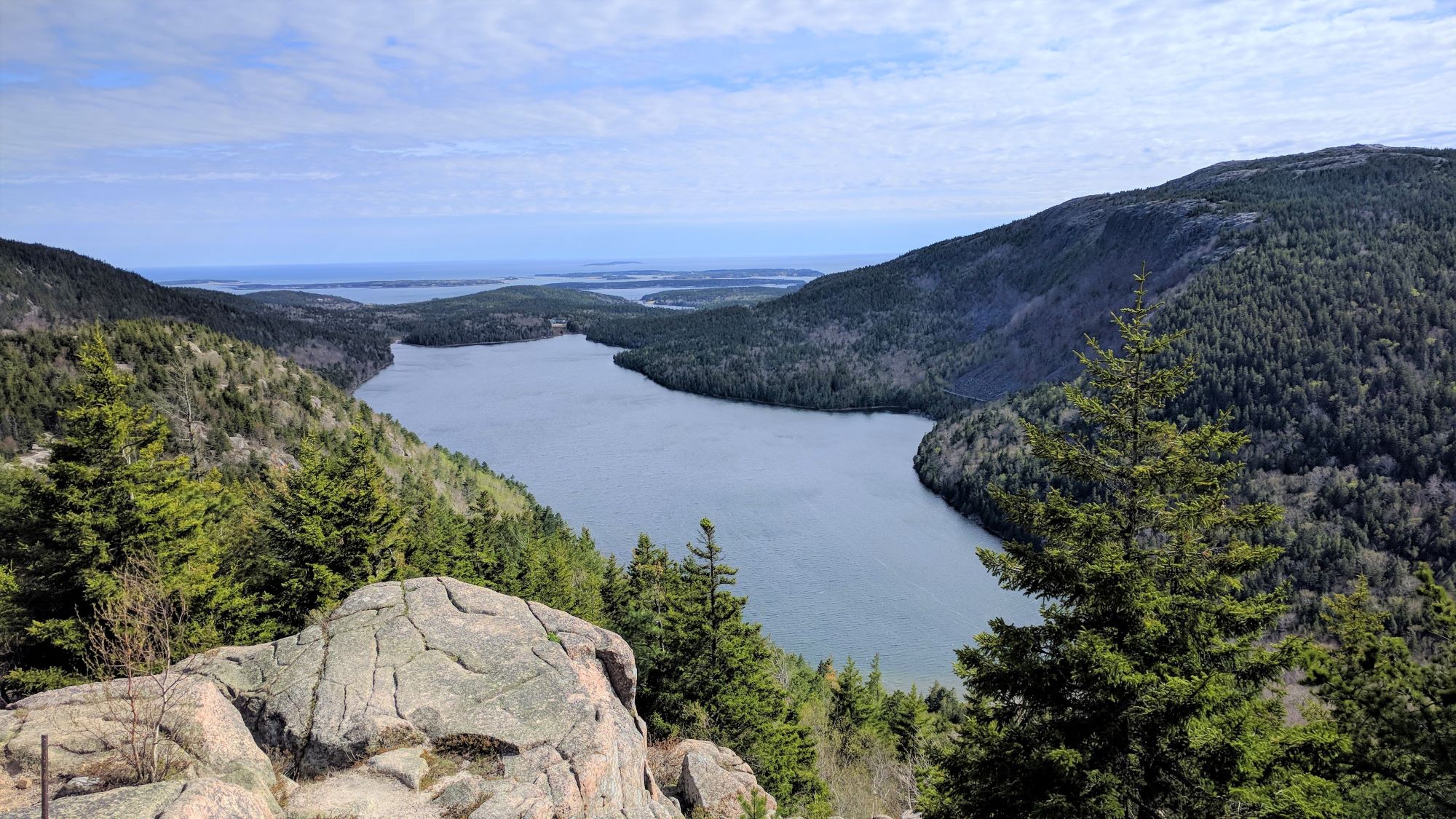 North Bubble Trail
Flying Mountain Trail
Distance: 1.5 mile loop
Difficulty: easy-moderate
Flying mountain is a lovely hike through the forest, which I remember being filled with red squirrels. At the halfway point, you'll reach Valley Cove, which has beautiful clear water. The trail is relatively manageable with 321 feet of elevation gain.
Hiking Gear I Recommend
If you're planning to shop on Amazon, I have some affiliate links for products that I use and love. If you want to avoid Amazon, consider shopping instead at
REI
or
Dick's Sporting Goods
or buying from a small, local shop.
Trekking poles—I use Black Diamond Distance Carbon Z poles. They're pricey, but I really wanted high-quality, lightweight Z-fold poles since I was hoping to use them for trail races. If Black Diamond is out of your budget, these Foxelli poles and Paria poles are well-reviewed. Remember that hiking poles aren't always accepted in carry-on luggage, so plan ahead if you're flying! Full disclosure: I didn't use trekking poles on my Acadia trip, as I didn't have any yet, and I got by just fine. They would've been helpful for the steeper inclines and descents, but they're not necessary.
Hiking boots—I purchased Clorts boots a few years ago since they were the most affordable hiking boots I saw on Amazon. The model I got back then is now unavailable, but this pair looks similar and has more ankle support than mine. My friends only wore tennis shoes on this trip, and were okay as well, but I would definitely recommend actual hiking boots because they have better grip and protect you better from rocks and roots.
Backpack—my favorite hiking/travel backpack is the Burton Fathom. It holds a TON of stuff at 44L. It doesn't offer much back support since it doesn't have panels you can secure around your waist, but it works fine for day hikes, if you don't have tons of gear. It's currently unavailable, so check out the Annex or Tinder instead.
Hydration pack—I didn't bring my hydration vest on these hikes, but I use this Triwonder one for my trail runs and shorter hikes. I like that it doubles as a small backpack at 10L, has a phone pocket on the left chest, and lets me secure my poles on the back with the adjustable elastic. You also get a free emergency blanket and whistle with the pack.
Where to Stay in Acadia National Park
We stayed at Belle Isle Motel, which is a no-frills motel about 10 miles from the park. We paid around $90/night after taxes for a room that slept up to 4 people, though prices definitely go up during high season. The place was a great budget option, and I have no complaints about the room. If you're a TV watcher, they only had those super old and chunky TVs in the rooms back in 2018, but it's possible they've updated them.
An option that's closer to Bar Harbor (the closest town to Acadia) is Bar Harbor Villager Motel. This place is definitely nicer, and also costs a bit more at $120 or more per night for a double room (though there's an extra $9 charge for each additional person after 2 guests, up to 4 people). The extra cost might be worth it for the convenient location though, and you also get a free grab n go breakfast.
Another mid-tier place is The Primrose bed and breakfast, also in Bar Harbor. A double room costs $130+, but you get a full English/Irish breakfast. If there are more than 2 people in your group, you'll also have to upgrade to a Queen Suite, which is $180+. The place does look charming though, and is homier than a normal hotel.
Finally, for a luxury stay, consider BlueNose Inn in Bar Harbor. This hotel is known for its balcony views over the water, and it also offers a gym, hot tub, steam room, flat-screen TV in each room, live piano music, and many other amenities. Prices start at $175 for a double room, with an extra $20 charge for each additional person after 2 people, up to 4 total.
You can also search for private apartment rentals in Bar Harbor.
---
You might also like these New England travel posts:
Berkshires Travel Guide: An Outdoorsy Weekend Itinerary
Hidden Gems in Salem, MA
6 Day Trips from Boston by Train
Liked this post? Pin it for later and share it with others!