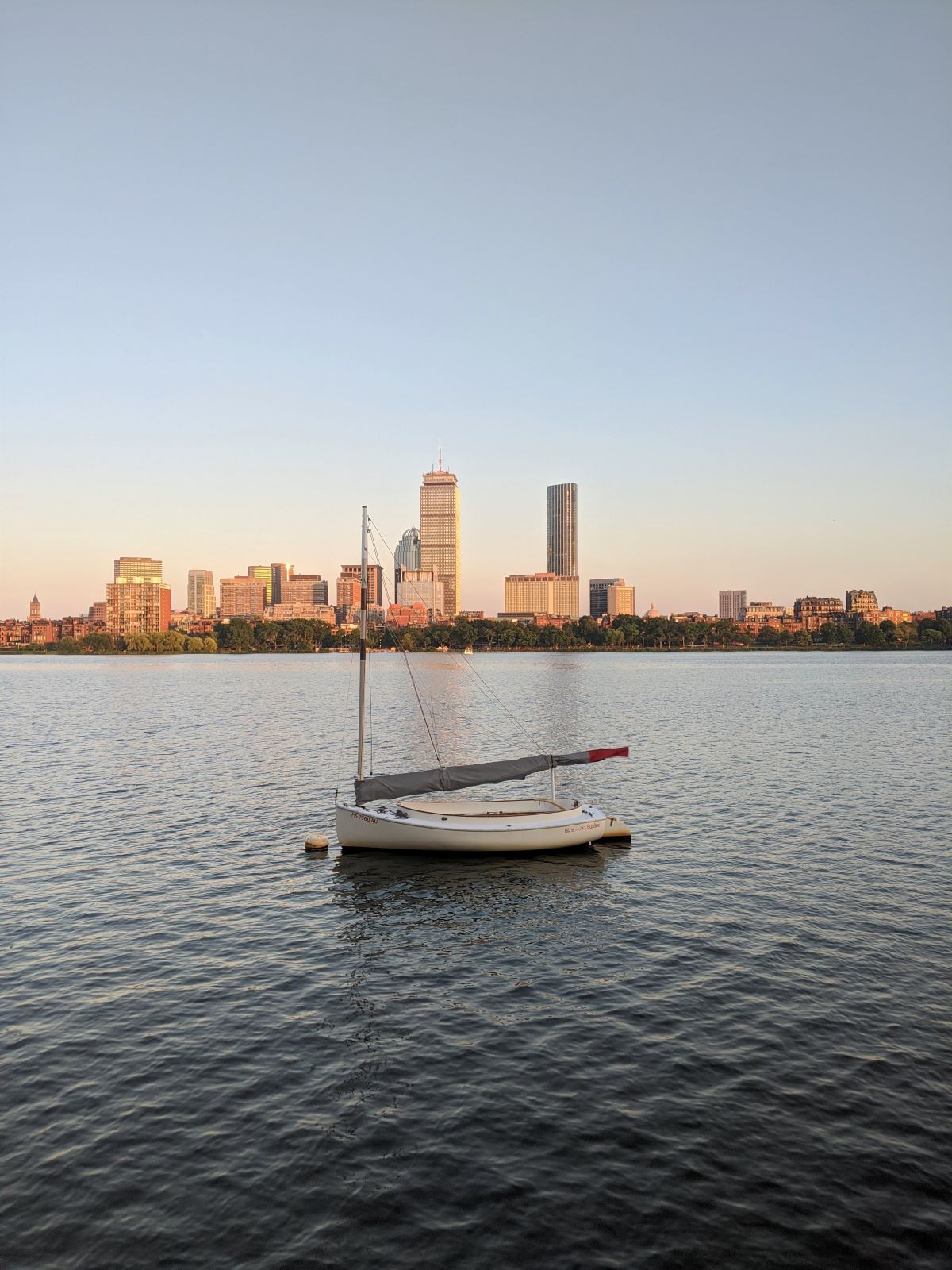 The nice thing about Boston is that you don't need a car to go to some pretty cool places. This is all thanks to the Commuter Rail, which will take you to many towns within a couple hours of the city. As the name suggests, the train is mainly for commuters, but it also runs on the weekends.
After living in Boston for a few years, I've done some decent exploring of the area and want to share my favorite day trips for those looking for a short getaway.
These day trips range from cities to seaside villages to the countryside. They're fitting for really any traveler—solo travelers, couples, friends, and families.
This post was written in 2019 and has been updated for 2023.
How to Get to These Boston Day/Weekend Trips
All of these trips are accessible by the Commuter Rail, on different lines. I'll be sure to specify which line and direction to take, and which station to leave from. You can always check up-to-date schedules on the Commuter Rail site.
I highly recommend going on the weekend, as you can use the $10 unlimited Weekend Pass, cutting your transportation costs in half. Otherwise, most of these tickets cost around $20 roundtrip. With the Weekend Pass, you can take as many trips as you want for $10. You could even do one day trip on Saturday, and one on Sunday, if you're feeling especially motivated 🙂
To be extra prepared, you can download the MBTA mTicket app, where you can purchase your tickets on your phone. You can also buy tickets on the train, but you'll need to pay cash, and it may be more expensive (it's unclear if Weekend Passes can be purchased on board). I've always used the app, and it's super convenient.
Day Trips from Boston Without a Car
Note that this post contains affiliate links, meaning that I earn a small commission on any bookings you complete. This doesn't cost you any extra, and it's a great way to support my blog.
1. Providence, RI
How to get there: take the Providence/Stoughton line towards Wickford Junction
Train station in Boston: South Station, Back Bay, Ruggles
Distance: 1 hour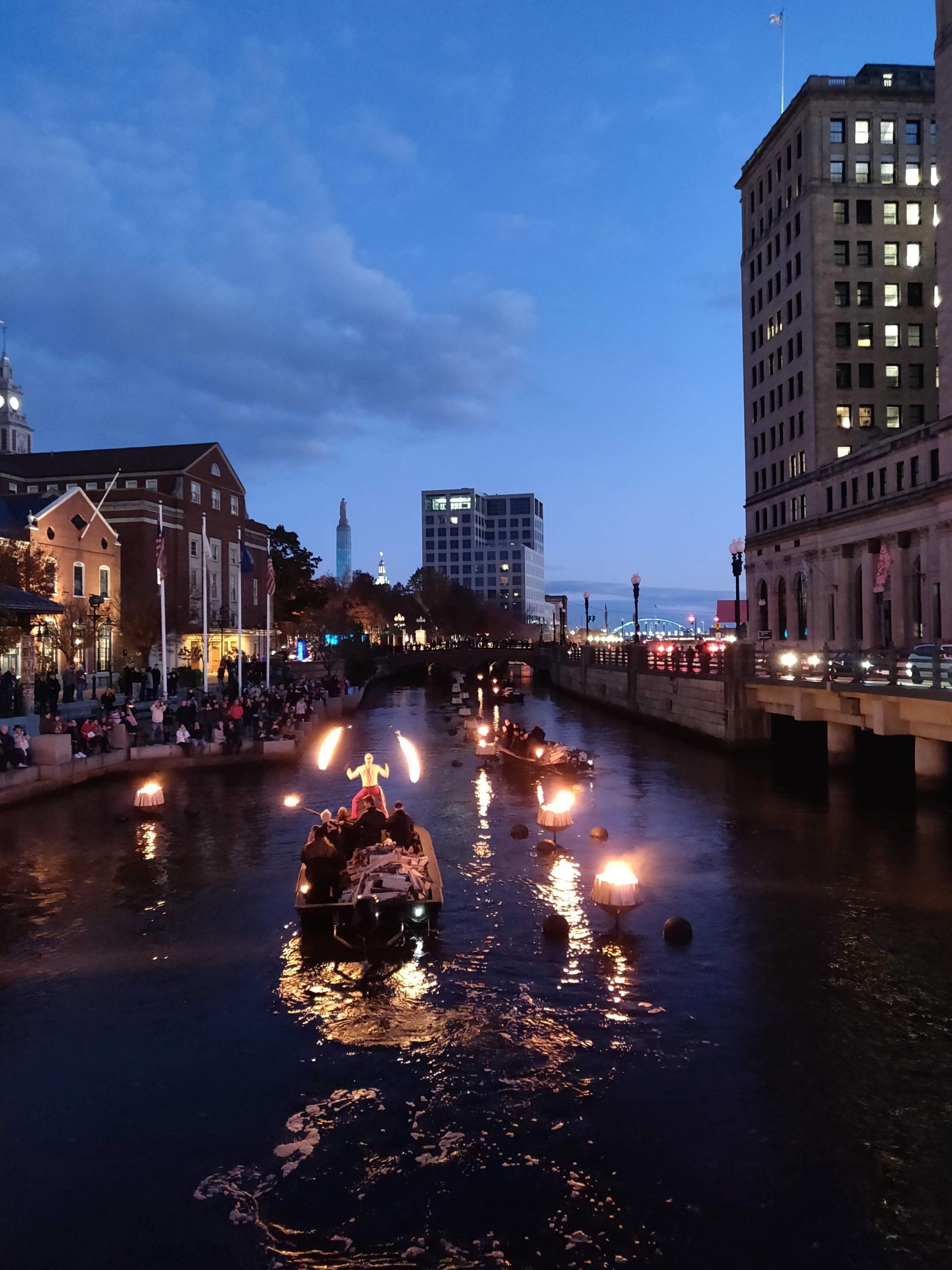 While the rest of these destinations are in Massachusetts, one of my favorite day trips is actually in Rhode Island. Being from the Midwest, I always found it mind-boggling that you could drive an hour in the Northeast, and end up in a different state!
Providence is just an hour from Boston by train, and it's a charming riverfront city. With a population of under 180,000, Providence is highly-walkable, but be prepared for some hills!
Here are some top things to do in Providence:
Wander through the prettiest little library, the Providence Athenaeum. This library basically screams "insta-worthy." It's full of cozy reading corners and study spaces; you'll probably spot some Brown University students, who are known for frequenting the Athenaeum. The best part is that visiting is free to the public—you even can bring dogs inside!
After visiting the Athenaeum, take a stroll along Benefit Street (right in front of the Athenaeum). This street is known for its lovely houses. You can also walk around the campus grounds of Ivy League school Brown, which is just up the hill.
One of the most famous Providence attractions is WaterFire. There are many braziers along the river, which are basically metal containers used to burn firewood. WaterFire is an evening event where all these braziers are lit up. It's a bit of a strange experience, and feels kind of creepy at times (almost like a satanic ritual haha). The music was spooky, and the people lighting the fires are often dressed in all black. Regardless, the riverfront is especially beautiful with the light of the fire. The event also brings together community vendors, residents, and tourists. In typical years, WaterFire is scheduled about every other Saturday from late May to early November.
Active travelers will appreciate the East Bay Bike Path, which also offers views of the city and riverfront. You could rent a bike, or go on a run.
Finally, if you're looking for a delicious vegan meal, check out Veggie Fun. It sounds like a sketchy restaurant, but the food is well-balanced, it's conveniently located downtown, and the setting is modern. The seitan spareribs are so savory and filling, and I highly recommend them!
Looking to stay longer than a day, and need a place to stay? You might like this historic apartment near Brown and RISD, or if you're feeling extra adventurous, this yacht in a private marina.
2. Salem
How to get there: take the Newburyport/Rockport line towards Newburyport or Rockport
Train station in Boston: North Station
Distance: 30 minutes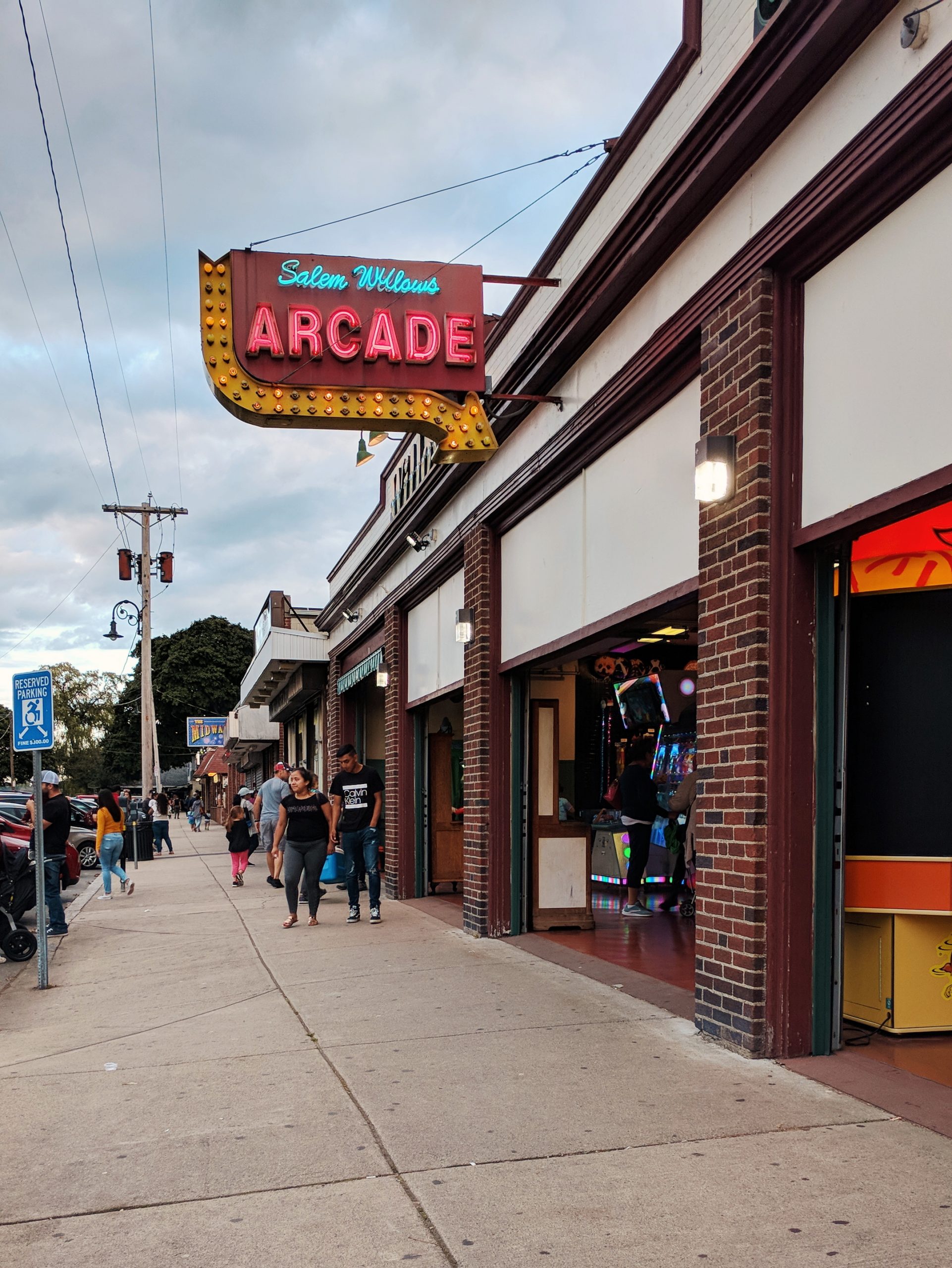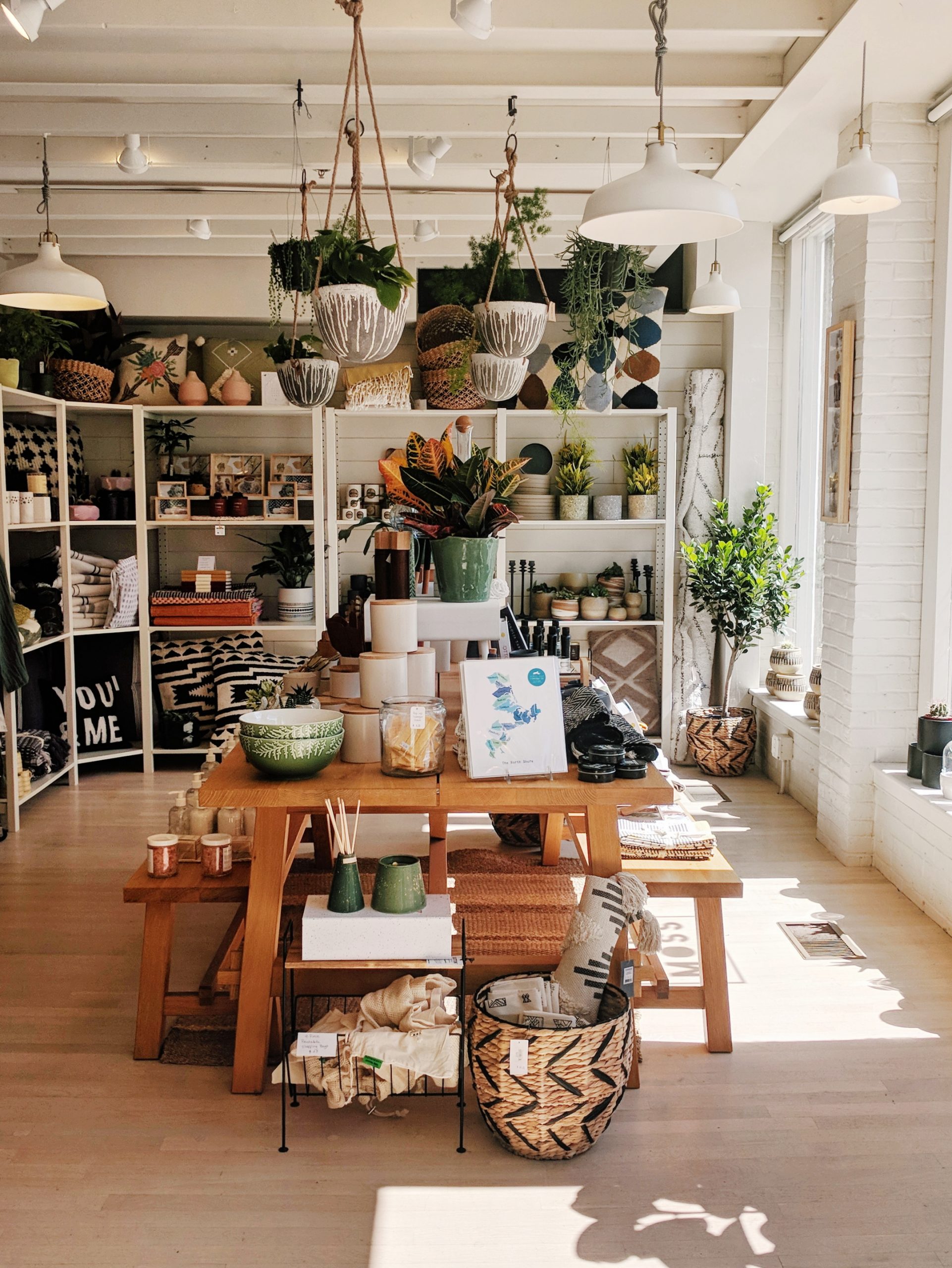 Salem is notorious as the location of the 17th century Salem Witch Trials. Nowadays, the small town really plays up this haunted/witchy reputation, and there are countless witch museums, haunted houses, dungeons, and witch souvenir shops. You can even take a ghost tour. I'm not a huge fan of "haunted" things, so I have a whole guide on non-witchy things to do in Salem.
I do think the history of the witch trials is important to learn and understand, so if you haven't been to the Salem Witch Museum, you might want to visit. The exhibits are educational, rather than spooky.
My absolute favorite thing to do in Salem is go to the Salem Willows Park and Arcade, which is on a little peninsula about 1.5 miles from the town center. You can play classic games like Skee ball, coin pusher, air hockey, and Deal or No Deal.
At the park, you'll also find plenty of vendors selling comfort food, like ice cream, pizza, fries, and Chinese takeout. You can stroll along the marina, have a picnic, and watch the sunset.
In the town center, there's no shortage of cute shops and restaurants though. I personally love the stores Oak + Moss (pictured above) and Mark Your Spot—they're incredibly aesthetic. For vegan-friendly pizza in a fun, retro setting, I recommend Flying Saucer Pizza Company. It's a little pricey, but the portions are massive!
Looking to stay longer than a day, and need a place to stay? You might like this historic cottage near the town center.
3. Gloucester
How to get there: take the Newburyport/Rockport line towards Rockport
Train station in Boston: North Station
Distance: 1 hour 15 minutes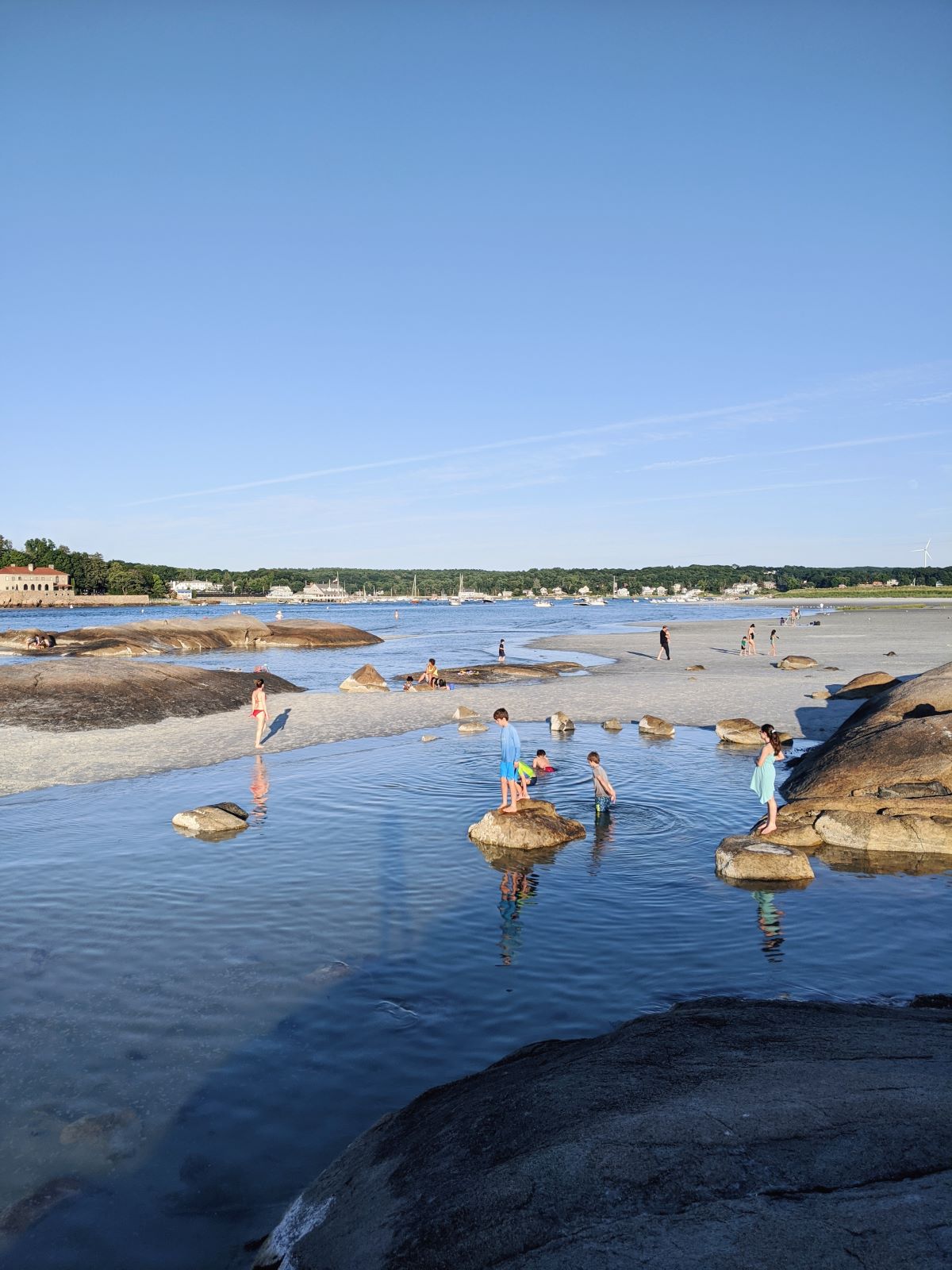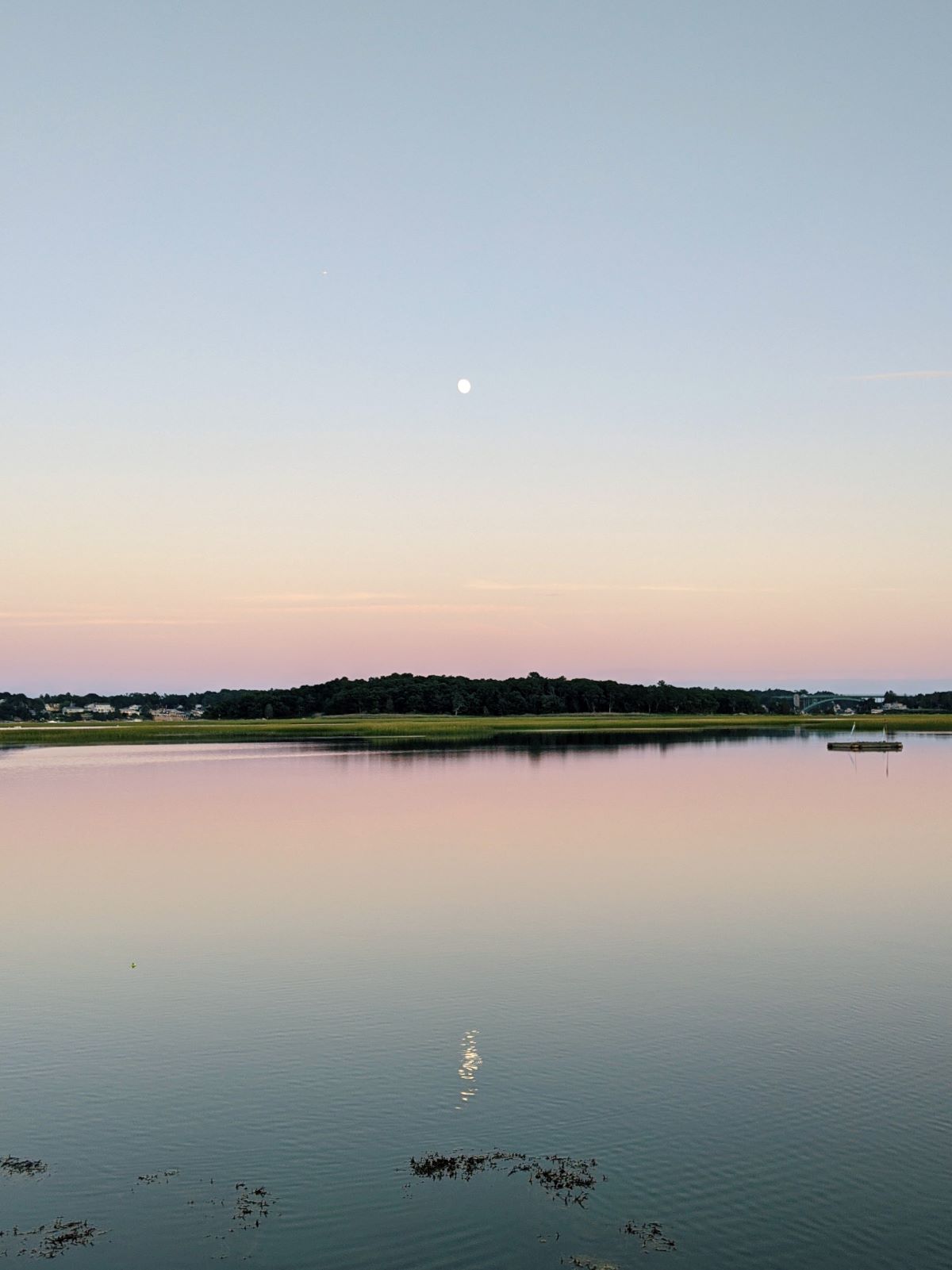 Gloucester is a small seaside town best known for its beaches, whale watching expeditions, fishing, and seafood.
Some popular beaches include:
Wingaersheek Beach
Good Harbor Beach
Half Moon Beach
Niles Beach
All of these beaches are at least couple miles from the town center, so expect a longer walk, or be ready to take an Uber/Lyft. Some, like Wingaersheek and Niles, offer residents-only parking on certain days—if you're driving, be sure to double-check. Even if there is public parking, you may have to pay $30+ per car!
I've only been to Wingaersheek, and I especially liked it for its exposed rocks at low tide. The rocks would create little pockets of water which were fun to wade in, and you could also spy the minnows darting around. The tide changes daily, so check tide reports if you want to visit at low tide.
After swimming and wading at Wingaersheek, we walked to Jones Salt Marsh, which was about a mile away. The marsh is a popular boating and fishing destination, but it's also just a lovely place to watch the sunset.
Many people come to Gloucester to whale watch, as it's conveniently located between two feeding grounds. I went on a trip a couple years ago, and it was really cool to see the whales in their natural habitat. If you do go, be sure to choose a responsible operator with a naturalist on board, such as 7 Seas Whale Watch.
Looking to stay longer than a day, and need a place to stay? You might like this beach house that's only a short walk to Good Harbor or this apartment with a great porch view of the harbor.
4. Newburyport
How to get there: take the Newburyport/Rockport line towards Newburyport
Train station in Boston: North Station
Distance: 1 hour 10 minutes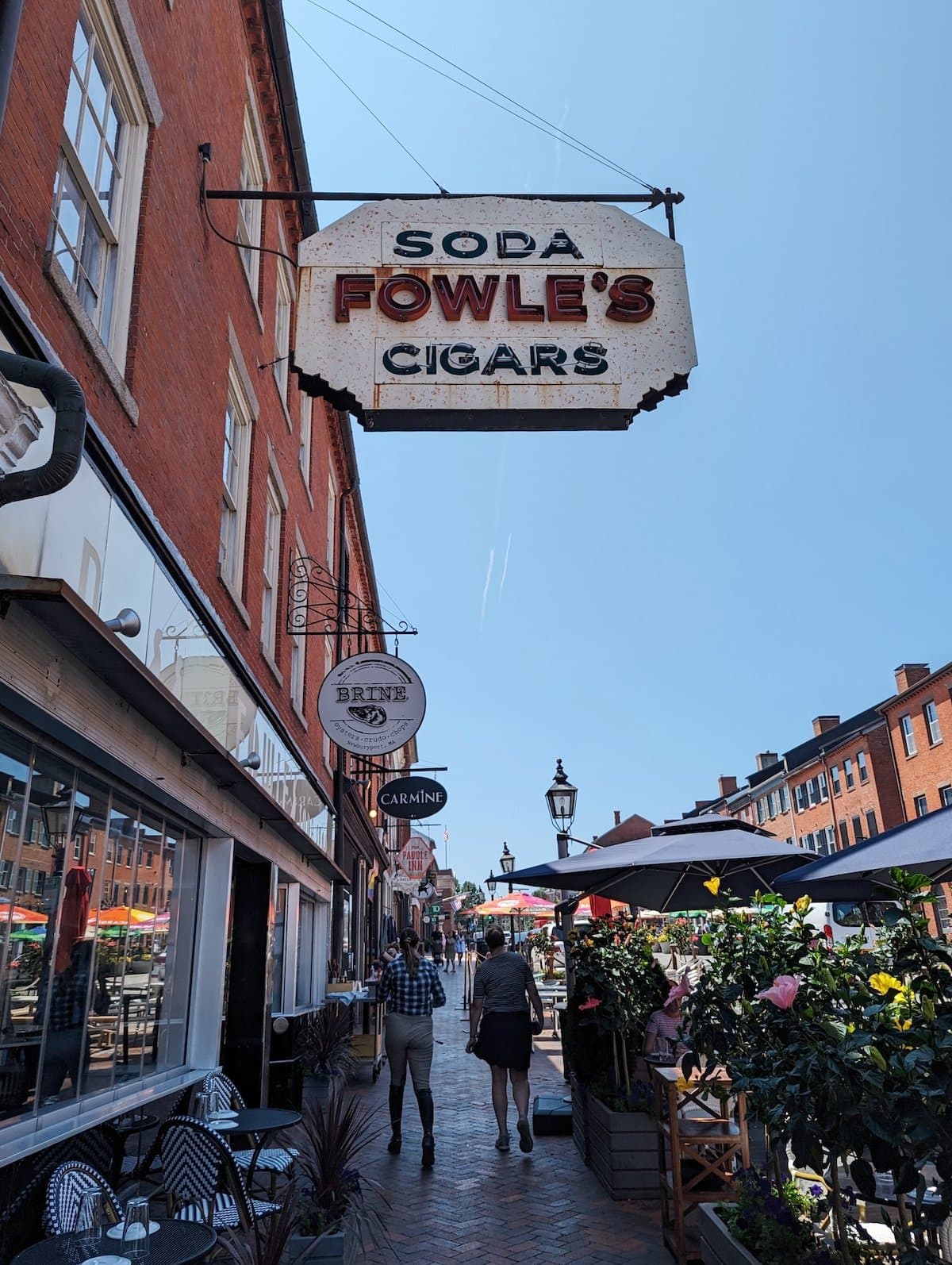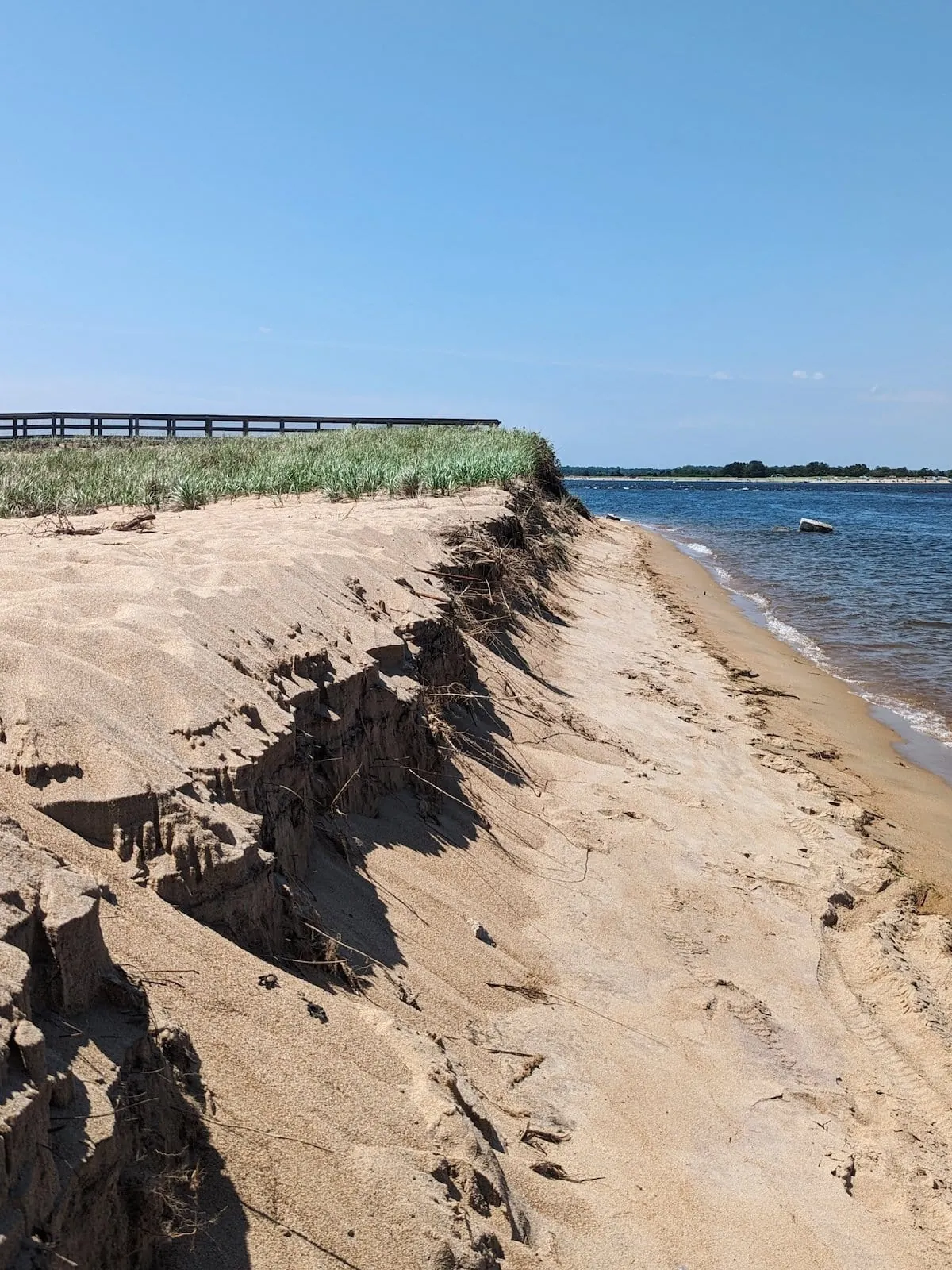 Newburyport is a charming, historic city right next to the ocean. The cobblestone streets and colonial architecture take you back to another era.
You can walk and relax along the Waterfront Park, which has benches and shade. After that, walk down State Street and Water Street for local shops and cafes.
Newburyport seemed to be committed to sustainability, as there were many low-waste, Fair Trade, and vegan-friendly places.
I really liked Green House Goods, which was full of zero waste goodies. There was also Sea Bags, which had totes made from used sails.
For food, I had a vegan bowl and cookie at NU Kitchen. The bowl was good and filling, but the cookie was gluten-free so it wasn't as chewy as I wanted. If you like coffee, Plum Island Coffee has Fair Trade roasts.
For some beautiful colonial architecture, make sure to stroll down Inn Street.
Finally, Plum Island is a popular beach destination. I didn't find the beach particularly impressive (the water was also super cold and brown), but the area seemed quite lovely and it might be worth going to a different part of the beach (I went to the northernmost point). There's no public transport here, so you'll have to take an Uber or rent a bike.
Looking to stay longer than a day, and need a place to stay? Check out this charming 1789 home.
5. Ipswich
How to get there: take the Newburyport/Rockport line towards Newburyport
Train station in Boston: North Station
Distance: 50 minutes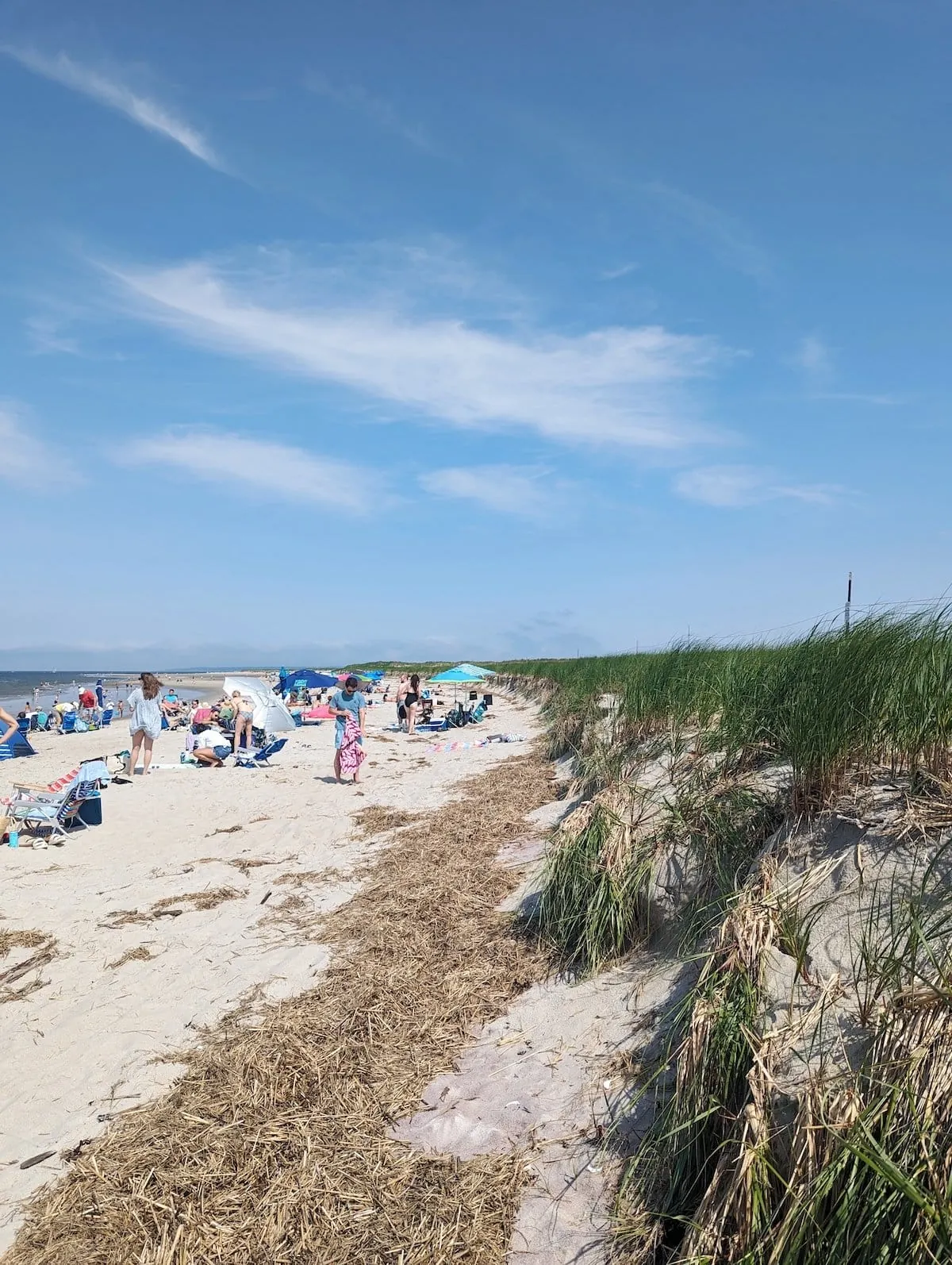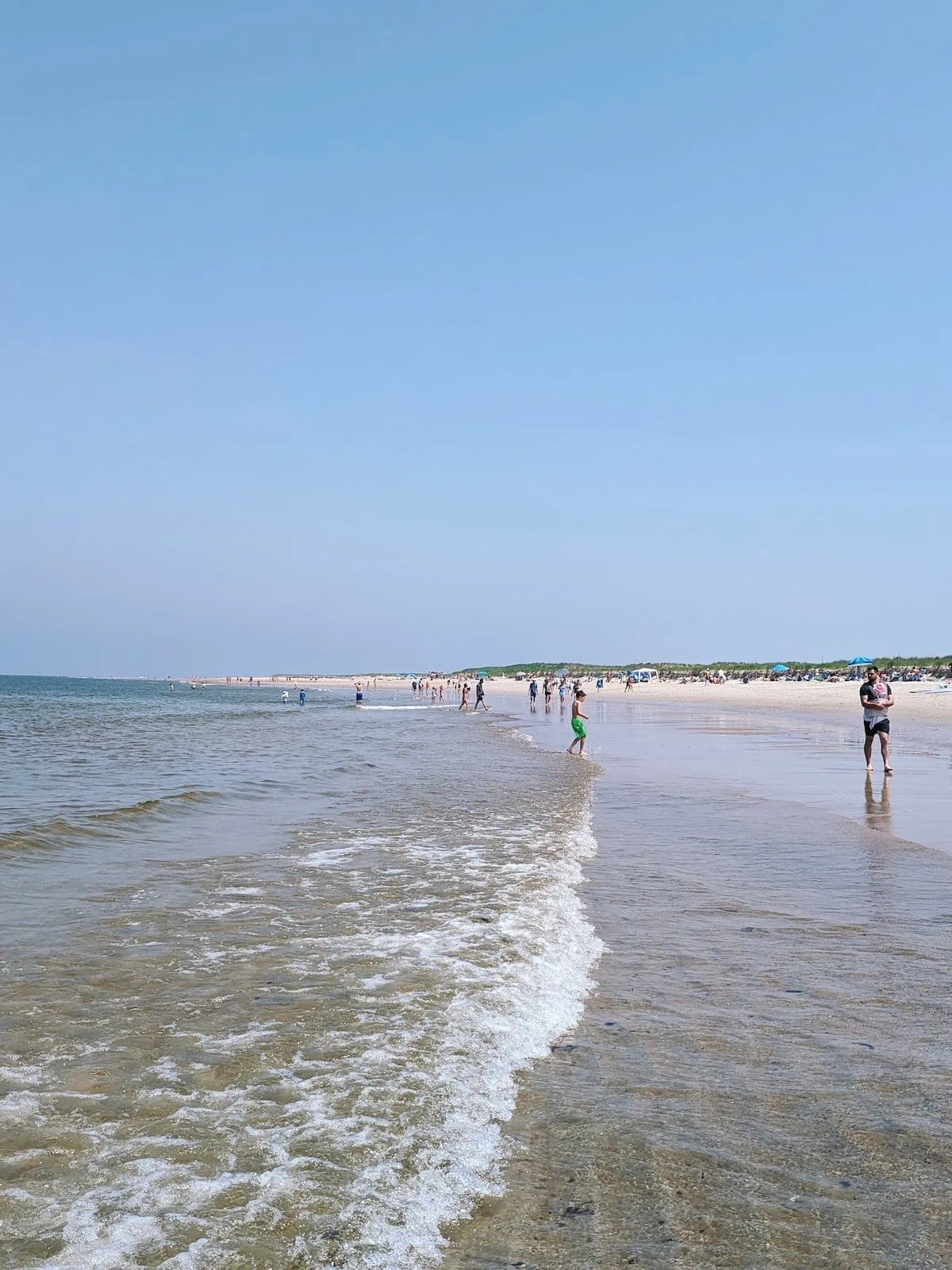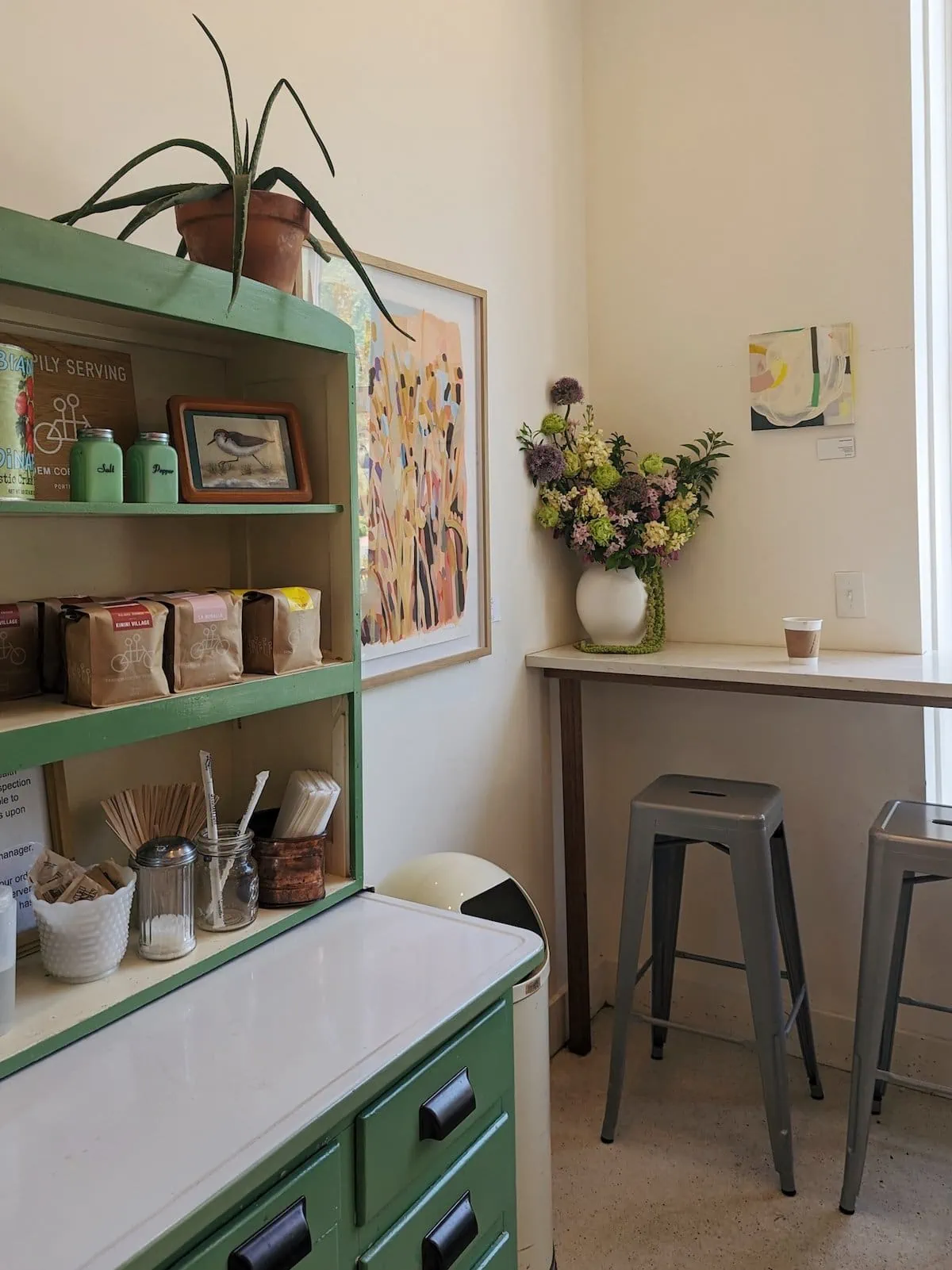 Ipswich is another seaside town best-known for its beaches, farms, and history. The Commuter Rail takes you to the town, and from there, you can explore on foot or take the Ipswich Explorer shuttle.
The Ipswich Explorer costs $1.50 one-way and you can pay via your CharlieCard or in exact change.
The Crane Beach route of the shuttle takes you to to the following places:
Crane Beach—beautiful, white-sand beach with a concession stand and bathrooms. The walk-on fee is $2 (which is much better than the $40 parking fee).
Russell Orchards—farm with seasonal fruit picking, animals, and local goals for sale.
Wolf Hollow—gray wolf sanctuary
There is also an Essex route that will take you to:
Essex Shipbuilding Museum
Famous seafood restaurants like Woodman's
River cruises and antique shops
The town itself is also quaint and has lovely restaurants and shops. In particular, I liked Sandpiper Bakery, which had a refreshing tofu sandwich and tempting pastries.
Looking to stay longer than a day, and need a place to stay? Stay in this modern home near the beach.
6. Rockport
How to get there: take the Newburyport/Rockport line towards Rockport
Train station in Boston: North Station
Distance: 1 hour 30 minutes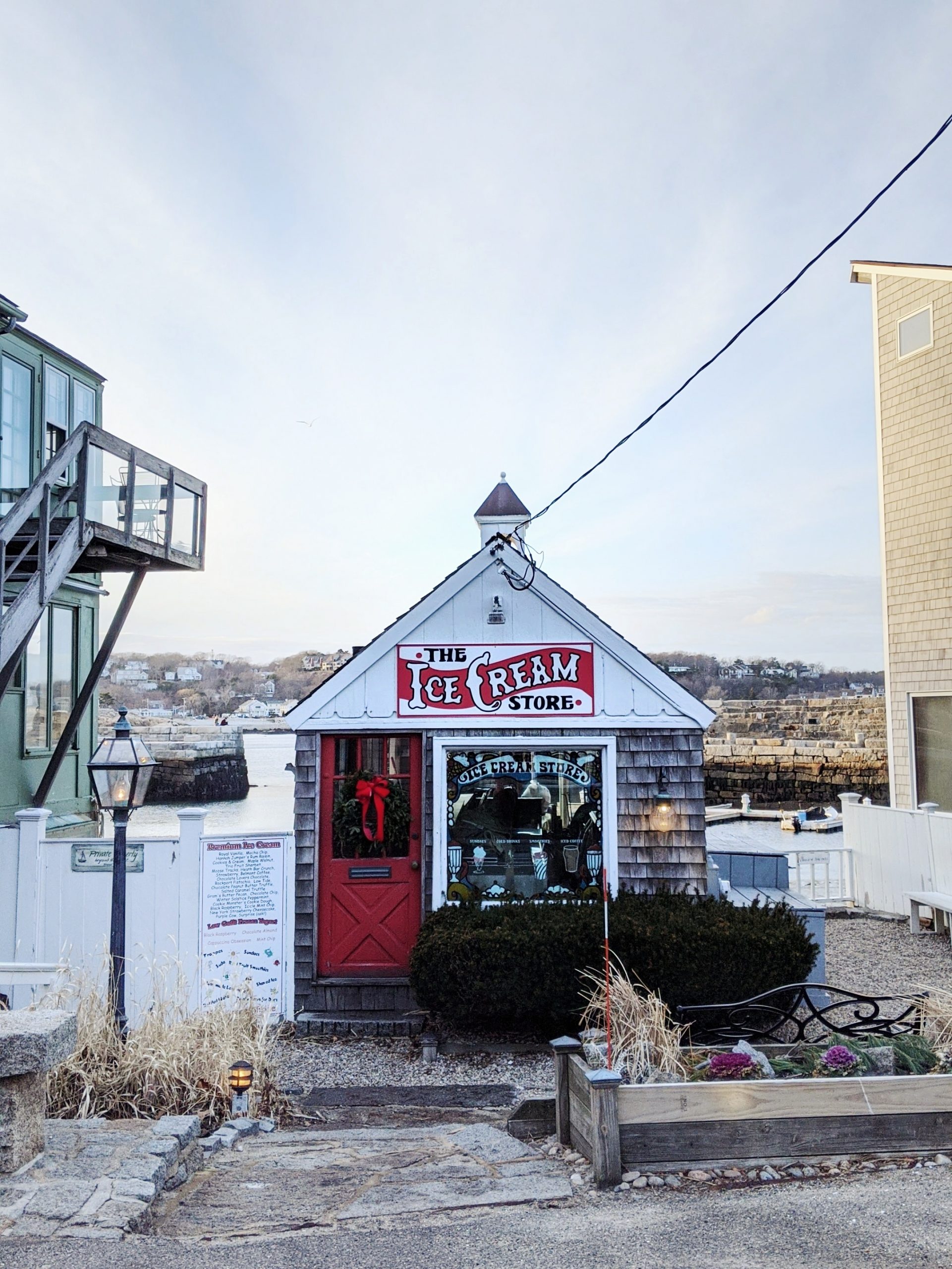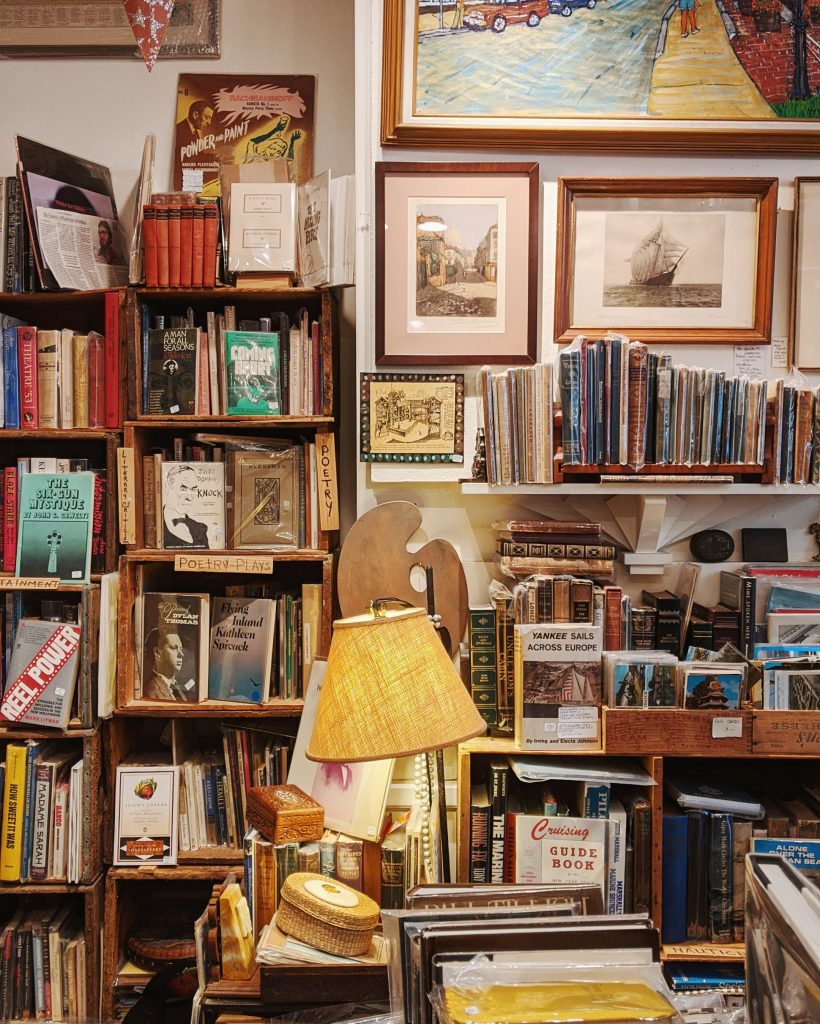 Rockport is another seaside village, and it's just a hop away from Gloucester. You get a totally different vibe from this town though—it feels like more of an artisan's community. Rockport is perhaps best known for its independent art galleries and local goods. One of the most famous shops is The Pewter Shop, which offers products made by artists in Boston. The exterior of the shop is a popular photo op, with its red siding and bright blue door.
If you like sweets, you'll want to stop by The Ice Cream Store, which has another Instagram-famous façade. There are unfortunately no vegan flavors, but there is shaved ice that should be dairy-free (there are plenty of vegan ice cream spots in Boston anyways). There's also the Rockport Fudgery, with a lovely pastel storefront.
After walking past all the adorable shops, you'll find yourself at Bearskin Neck, a rock-covered peninsula. There's not much to do there, but there are a couple cafes overlooking the water.
Unlike Gloucester, Rockport isn't known for its beaches, but there is Front Beach just a short walk from the shopping district. On the way there, you might stop by Bullseye Books—Flyboys, which offers vintage books; along with the old-time music, you'll feel like you're back in the 70s.
Finally, it's not a trip to Rockport without taking a photo of Motif No. 1, a red fishing shack that is reportedly the most-painted building in the world. With the ships in the marina, the fishing shack makes for a lovely seaside scene.
I also want to add that the best time to visit Rockport is in the summer, followed by the spring and fall. In the winter, many shops and restaurants are closed, though you can still find some things to do (I went in January). Just a heads up for y'all!
Looking to stay longer than a day, and need a place to stay? You might like this cottage near the town center or this quaint beach cottage.
7. Plymouth
How to get there: take the Kingston line towards Kingston (NOTE: the Plymouth stop was unfortunately suspended in April 2021 and may not be reinstated. You can, however, take an Uber/Lyft from Kingston for the remaining 5 miles).
Train station in Boston: South Station
Distance: 1 hour 30 minutes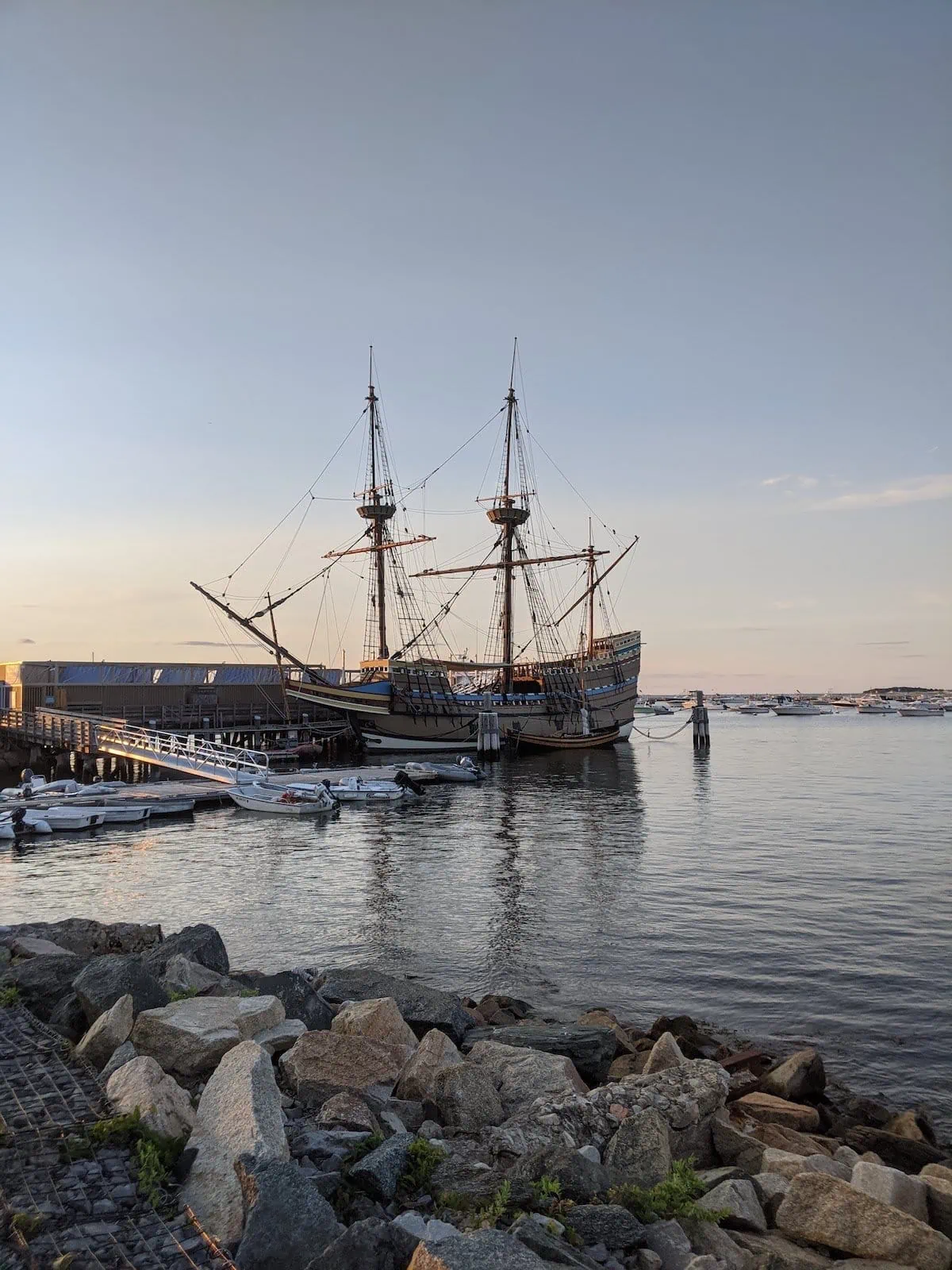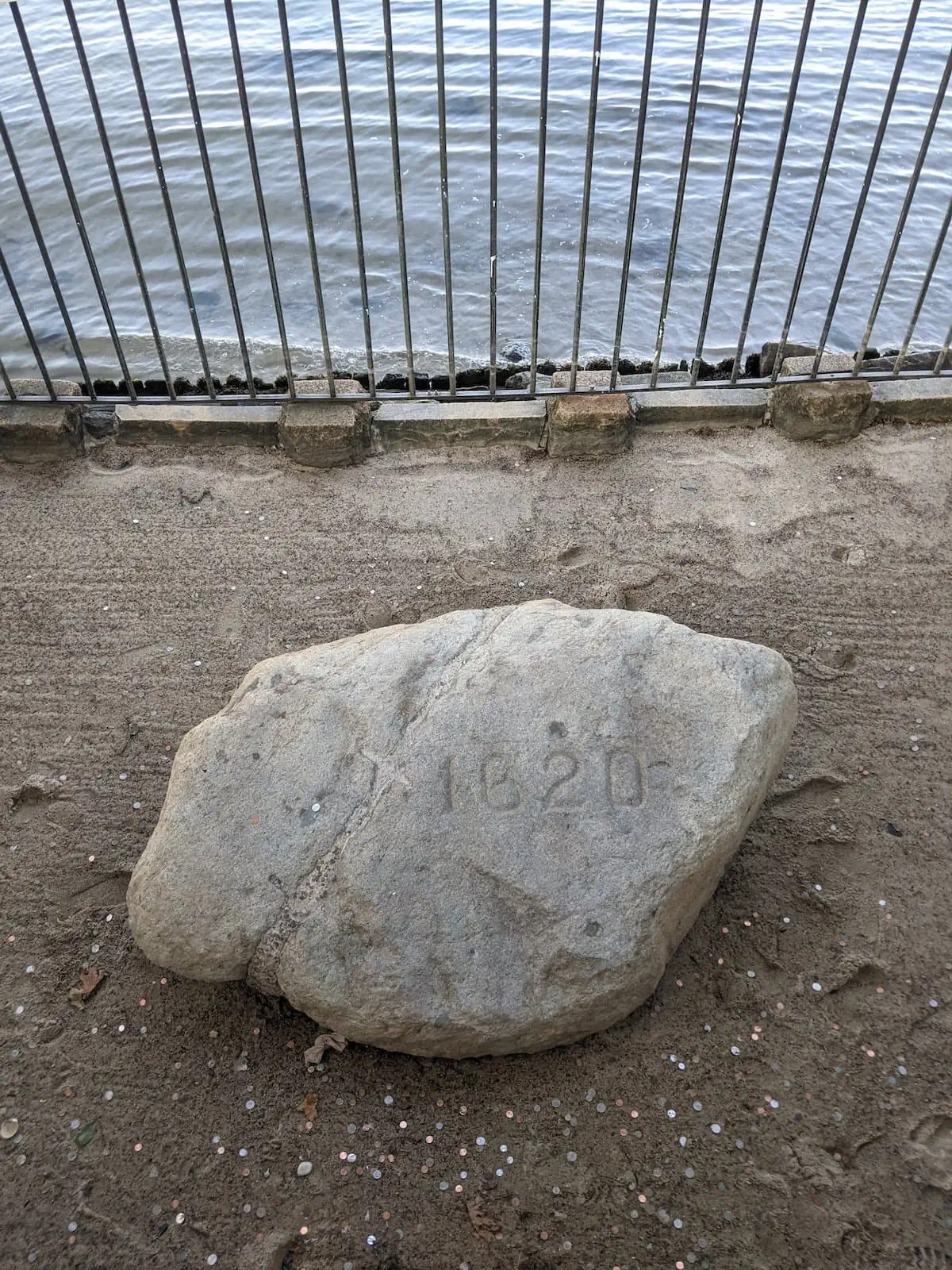 You've probably heard of Plymouth (also spelled "Plimouth") from your elementary school history lessons on the Pilgrims. This town is known as being the first landing spot of these English settlers.
For your local history fix, visit the Plimouth Plantation. There, you'll find a living history exhibit—the Wampanoag Homesite. There, you'll be able to see typical 17th-century Wampanoag homes, and Native employees practicing traditional skills like belt weaving. The Plimouth Plantation website has a section for how to interact with the Native People in a culturally respectful way.
In a similar vein, you'll be able to visit a 17th-century living history English settlement. There will be "Pilgrims" going about their daily lives in historical costumes, and you can speak to these employees to learn more about life as a settler.
Tickets to Plimouth Plantation are a little pricey, but you can also buy a combination ticket that will grant you entry to the Mayflower II and Plimouth Grist Mill. The Mayflower II is a replica of the original Pilgrims' ship, and the Grist Mill is a reproduction of a 17th-century, water-powered mill.
Before leaving town, take a gander at the original Plymouth Rock. It's nothing special—it's literally a small rock with 1620 engraved on it—but it's kind of cool to see the landing site of the Pilgrims.
Looking to stay longer than a day, and need a place to stay? Search for available hotels in Plymouth.
8. Manchester-by-the-Sea
How to get there: take the Newbury/Rockport line towards Rockport
Train station in Boston: North Station
Distance: 50 minutes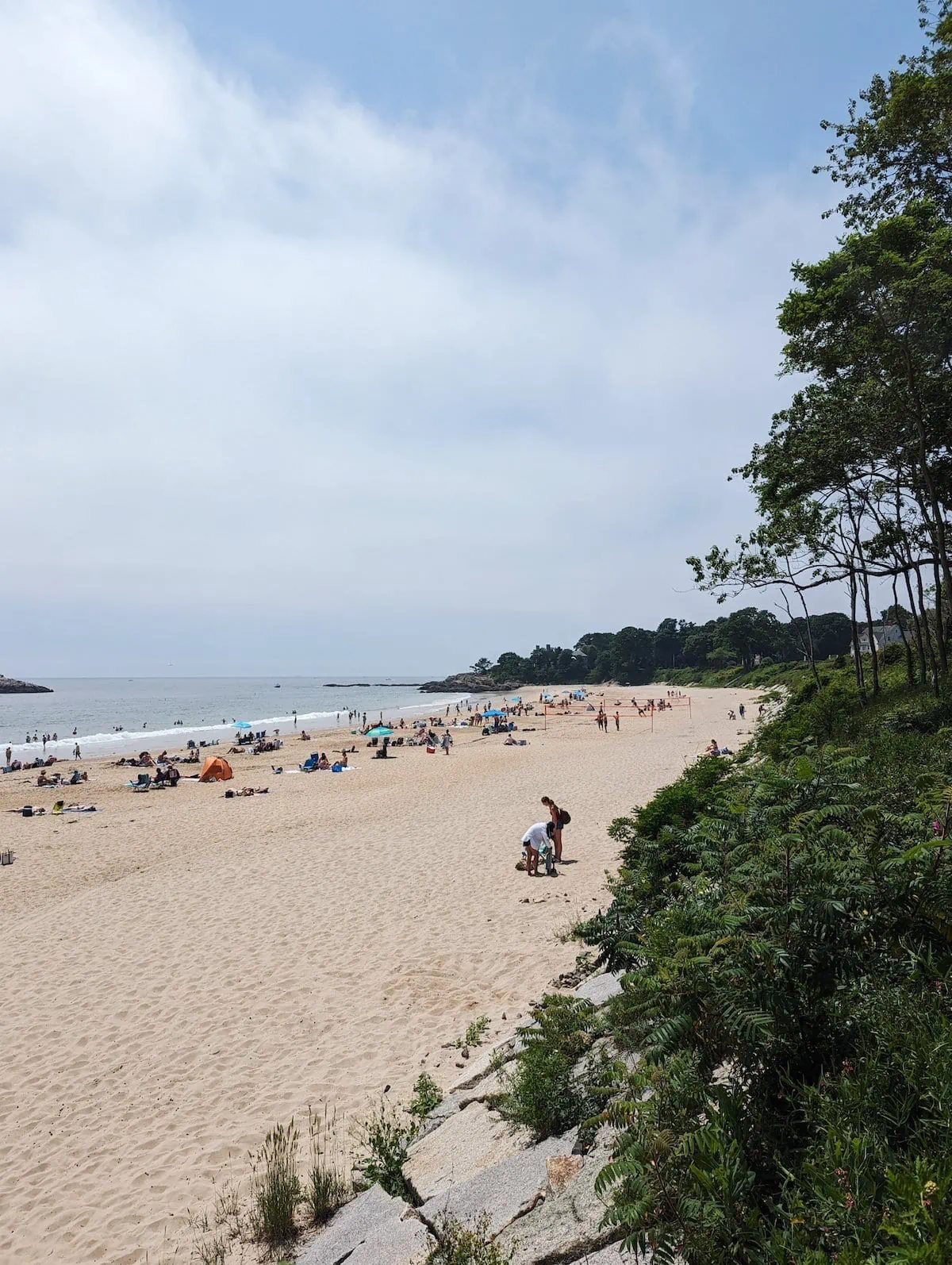 Manchester-by-the-Sea is a small, seaside town that was the filming location of the eponymous movie.
The biggest draw of Manchester-by-the-Sea is Singing Beach, a beach that gets its name from the unique sand that creates squeaking sounds when you step on it with enough force (you kind of have to give it a kick while stepping). The beach is unique not only for its sand, but its otherworldly feel. The rocks and trees that line the beach aren't typical of New England shorelines; in fact, the rocks reminded me of a beach in Montenegro.
The beach is a 20-minute walk from the Commuter Rail station, and the walk-on fee is $10 per person. It's actually much more convenient to take the Commuter Rail into Manchester-by-the-Sea to go to the beach, as beach parking is expensive and sometimes only open to residents.
The town itself doesn't have much to offer, besides a few restaurants and a grocery store, but it's charming. Plus, it's convenient to grab some snacks on your way to the beach.
Looking to stay longer than a day, and need a place to stay? Stay in this historic apartment in the town center.

9. Wachusett Mountain
How to get there: take the Fitchburg line towards Wachusett; requires a 10ish minute Uber ride from the Wachusett stop, though there are free weekend morning shuttles during ski season (also some Wednesday afternoons)
Train station in Boston: North Station
Distance: 1 hour 40 minutes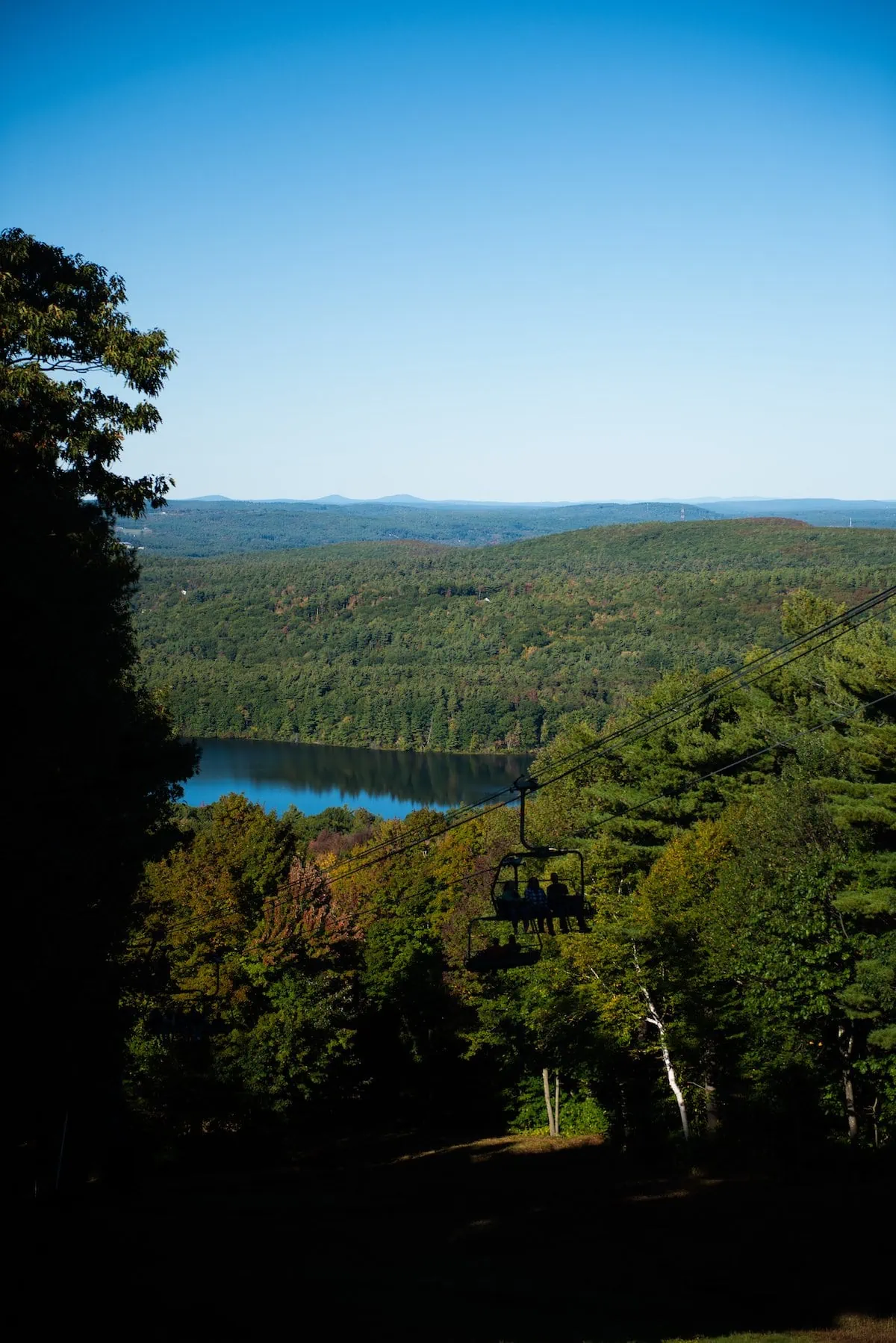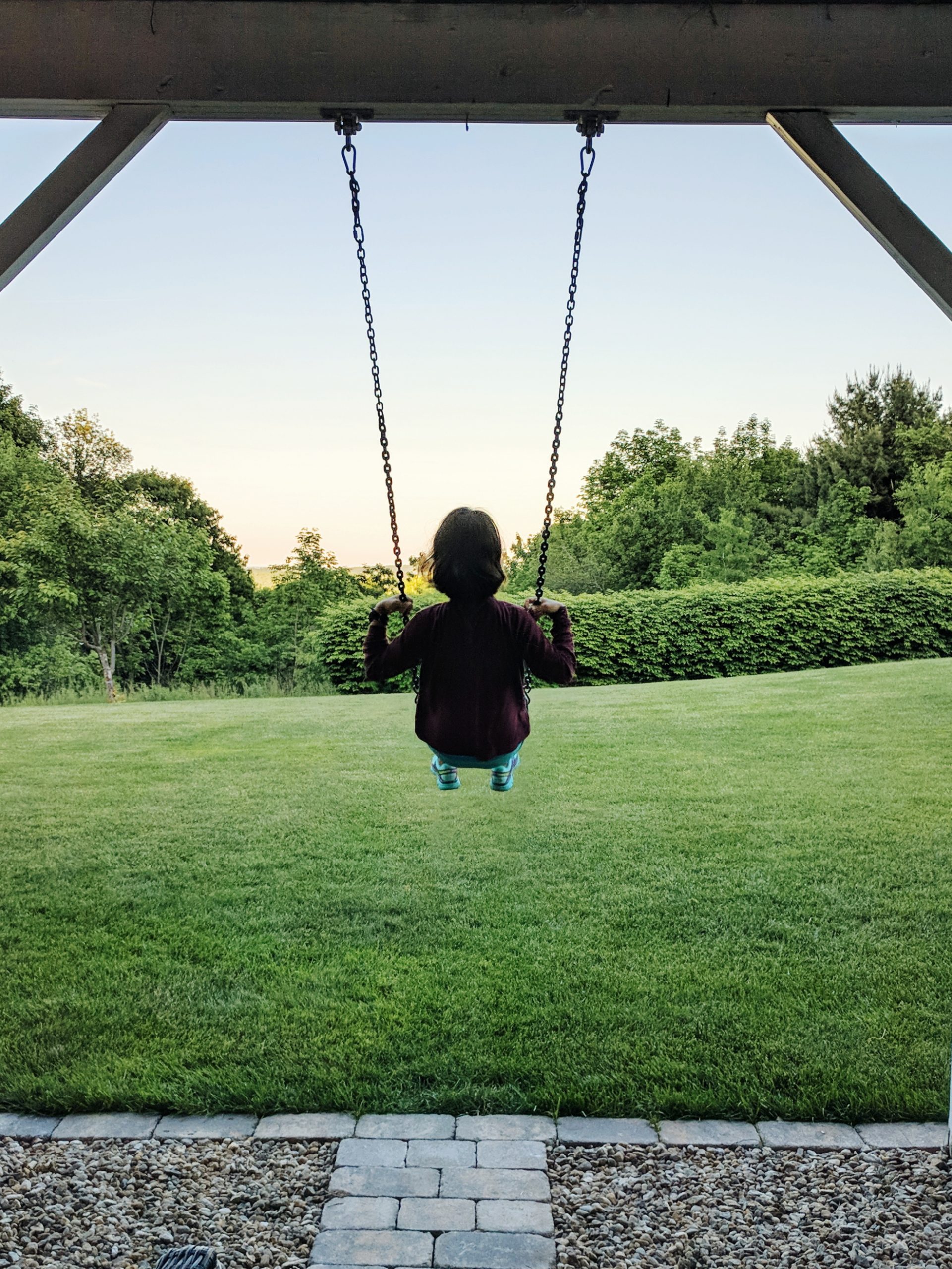 Waschusett Mountain is probably best-known for its skiing, but the area offers outdoor activities in all seasons. In warmer months, you can go hiking on the mountain, or go kayaking in the nearby lakes.
The area is quite rural, so getting around without a car is a little trickier. I'd recommend taking an Uber/Lyft to the mountain from the train station, and then walking around the countryside the rest of the day.
If you time your trip right, you might also be able to catch one of the many festivals on the mountain, featuring great eats and live music. Some popular events include Oktoberfest, Applefest, and Boofest.
I think Wachusett Mountain is probably more fitting for a weekend getaway than a day trip; there's not a lot to do outside of the mountain, so it's really a place to unwind. There are also so many cute apartment rentals!
If you're looking for more places to stay, you might check out this house near a lake. Or, you might like this large lake house with canoes and a grill.
10. Lowell
How to get there: take Lowell line
Train station in Boston: North Station
Distance: 40 minutes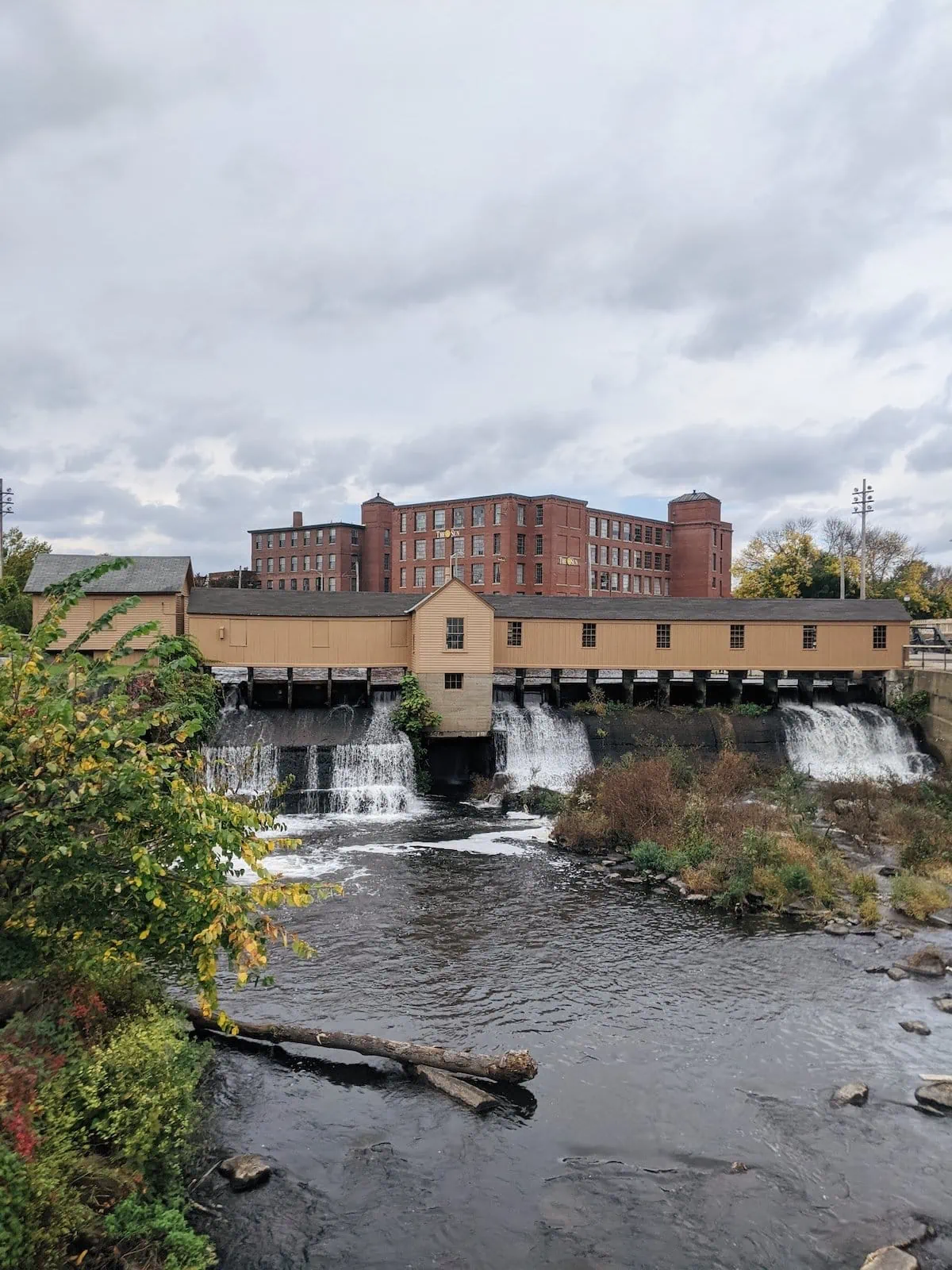 Lowell is a sleepy former industrial town. Its old manufacturing sites were actually turned into the Lowell National Historical Park. You can walk along the canals (or take a boat ride) and visit the water-powered mills and learn about the Industrial Revolution.
Another way Lowell is distinctive is its high Cambodian population, which is the second-largest in the US. In some parts of town, it feels like you're walking through a different country, thanks to the Southeast Asian grocery shops and locals playing traditional Cambodian games in the parks. If you like Southeast Asian food, you won't be disappointed. I ate at Simply Khmer and found it good.
Other popular attractions include Mill No. 5, which is an indoor streetscape with historic storefronts; nowadays the stores range from sweets shops to art stores. In a similar vein, if you like record shops, there are three within a few blocks of each other.
Finally, if you're a distance runner, you may want to check out the Baystate Marathon and Half Marathon in October. It's known as a fast and flat course, and I did the half in 2021 and found it well-organized.
Looking to stay longer than a day, and need a place to stay? The UMass Lowell Inn and Conference Center is well-located.
Map of These Boston Day Trips by Train
Here's a map of these day trips so you can situate where they are and potentially plan a couple stops in one day.
I hope you learned about some new places to check out! If you know of other Boston day trips by train, I'd love to hear from you in the comments!
You might also like these posts:
Berkshires Travel Guide: An Outdoorsy Weekend Itinerary
Best Hikes in Maine's Acadia National Park