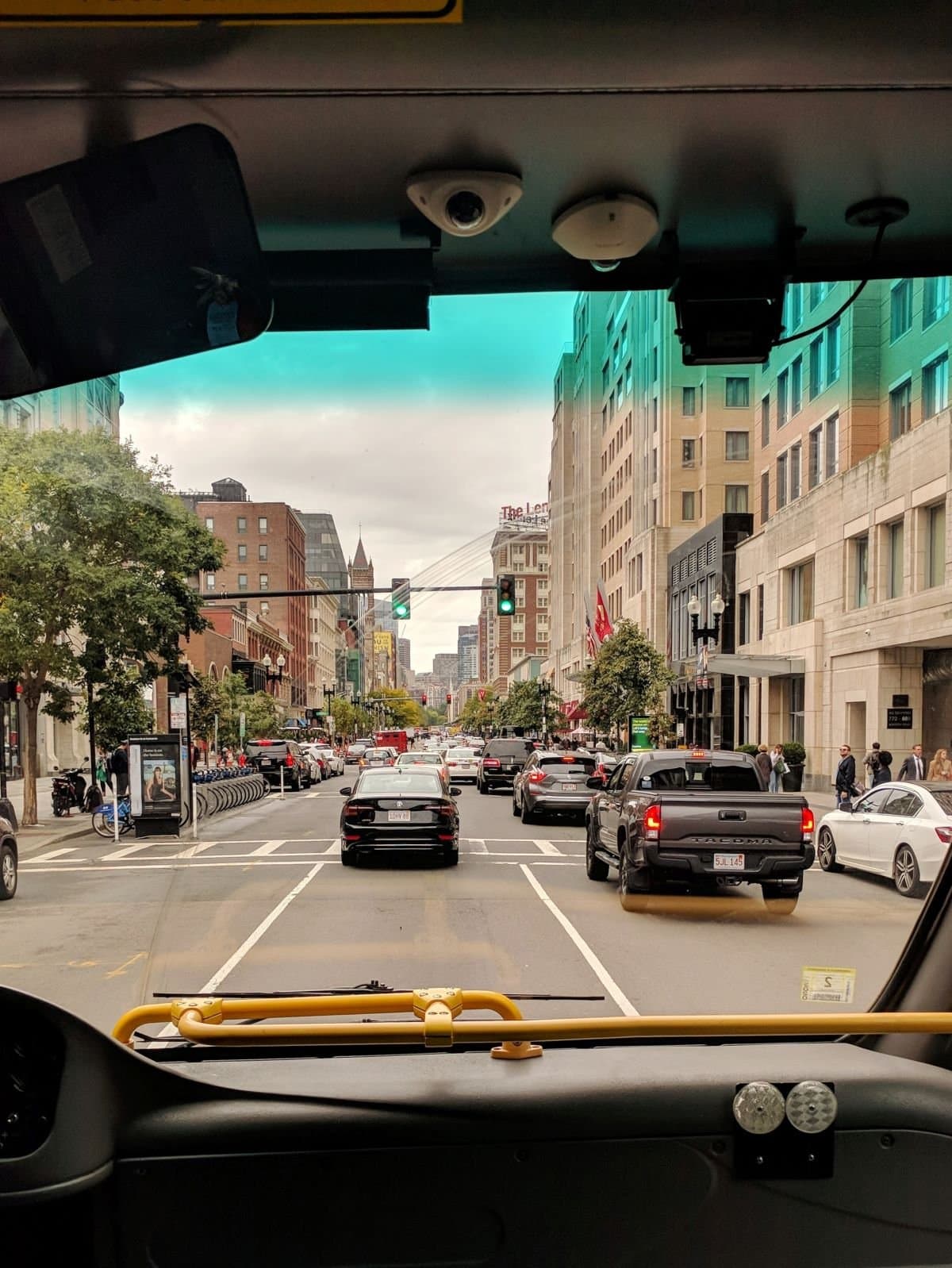 Whether you're visiting Boston or planning to move there long-term, you probably don't need a car. Between city driving and the high costs of parking, having a car in the city can be a huge headache.
That said, there are some circumstances where a car would be extremely useful. Here's my take on this classic Boston question as someone who's lived in the city for three years.
This post contains affiliate links, meaning that I may earn a small commission on any purchases, at no extra cost to you.
Public Transport Will Cover Most of Your Needs
Boston has a solid public transportation system called the MBTA (Massachusetts Bay Transportation Authority) that can take you even a couple hours outside the city.
Here's how to get around in these common situations:
Getting Around the City
Within Boston, you can take the T (the subway/trolleys) or buses. (Local tip: don't call it the metro or subway; it's simply known as "the T"). A one-way ticket costs $2.40 for the T and $1.70 for the bus.
If you get the free CharlieCard, a contactless card, you get up to two transfers for free. These can be picked up at select T stops, any Boston public library, and certain retail stores (see the full list).
If you're planning to take public transport often, you may want to get the one-day unlimited pass for $11, a week pass for $22.50, or a month pass for $90.
The T has five different color lines (Red, Orange, Green, Blue, and Silver) with the Green Line being split into lines B, C, D, and E. Here's a map of the T and bus lines, but you can always just input your destination into Google Maps, and it'll tell you which one to take.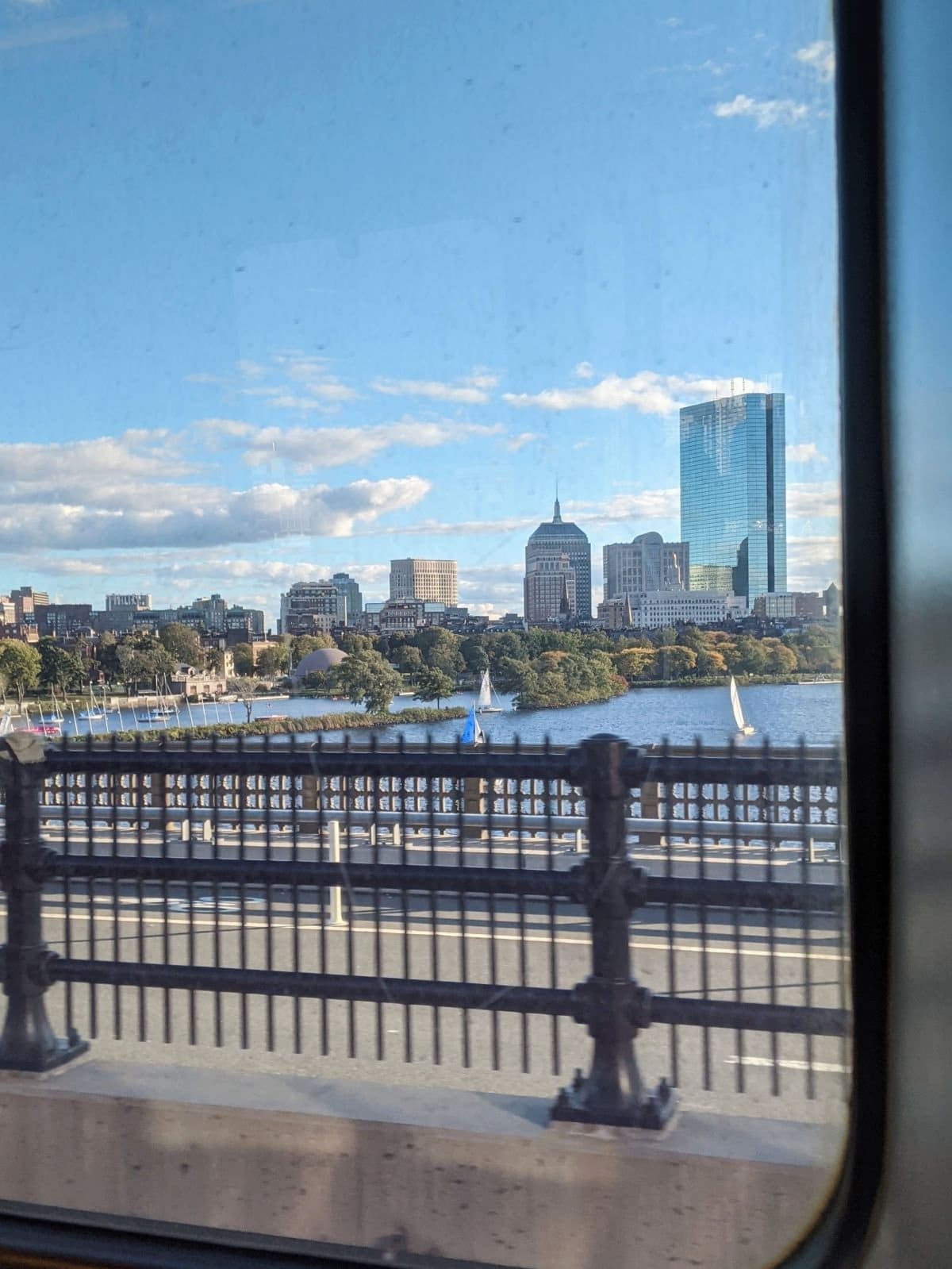 the view from the Red Line as it crosses Longfellow Bridge from Cambridge to downtown Boston
Getting to/from the Airport
You have four options: the Silver Line, Blue Line, Logan Express, and Uber/Lyft.
The Silver Line is a bus that will take you between the airport and South Station. It stops at every terminal, and from the airport, the fare is free. You'll also get a free transfer to the Red Line at South Station. The ride usually takes around 15-30 minutes due to traffic and stops along the way.
The Blue Line doesn't stop at each terminal; instead you'll need to take a free Massport shuttle (Route 22, 33 or 55) to the Blue Line Airport stop. From there, it will take you to downtown Boston, where you can then transfer to the Orange or Green Lines.
The Logan Express is a bus that runs between Boston Logan to Back Bay (as well as some Greater Boston cities). It tends to be a quicker and more comfortable ride than the Silver Line. Tickets cost $3 one way from Back Bay ($9 for the other locations), and you can pay on board with your credit card, or buy them online. When going to the airport, your Logan Express ticket gets you priority in airport security. (Fun fact: the feature image of this post was actually taken aboard the Logan Express).
Finally, Uber/Lyft is always an option, and it usually costs around $20-50, depending on traffic and distance. The rideshare pickup area is in the airport parking garage, which is a bit of a walk from the terminal, so keep that in mind. If you have a lot of luggage, you may want to take a traditional taxi from the terminal.
Going Outside the City
There are plenty of places outside Boston that you can go without a car. For day trips, you can take the Commuter Rail to Salem, Providence, or Gloucester. (See my full guide on day trips from Boston by train). The $10 unlimited Weekend Pass is the best deal, but regular tickets are usually around $16-25 round-trip.
If you want to explore other major cities in the Northeast, Amtrak can also take you to NYC, Philly, and Washington, DC.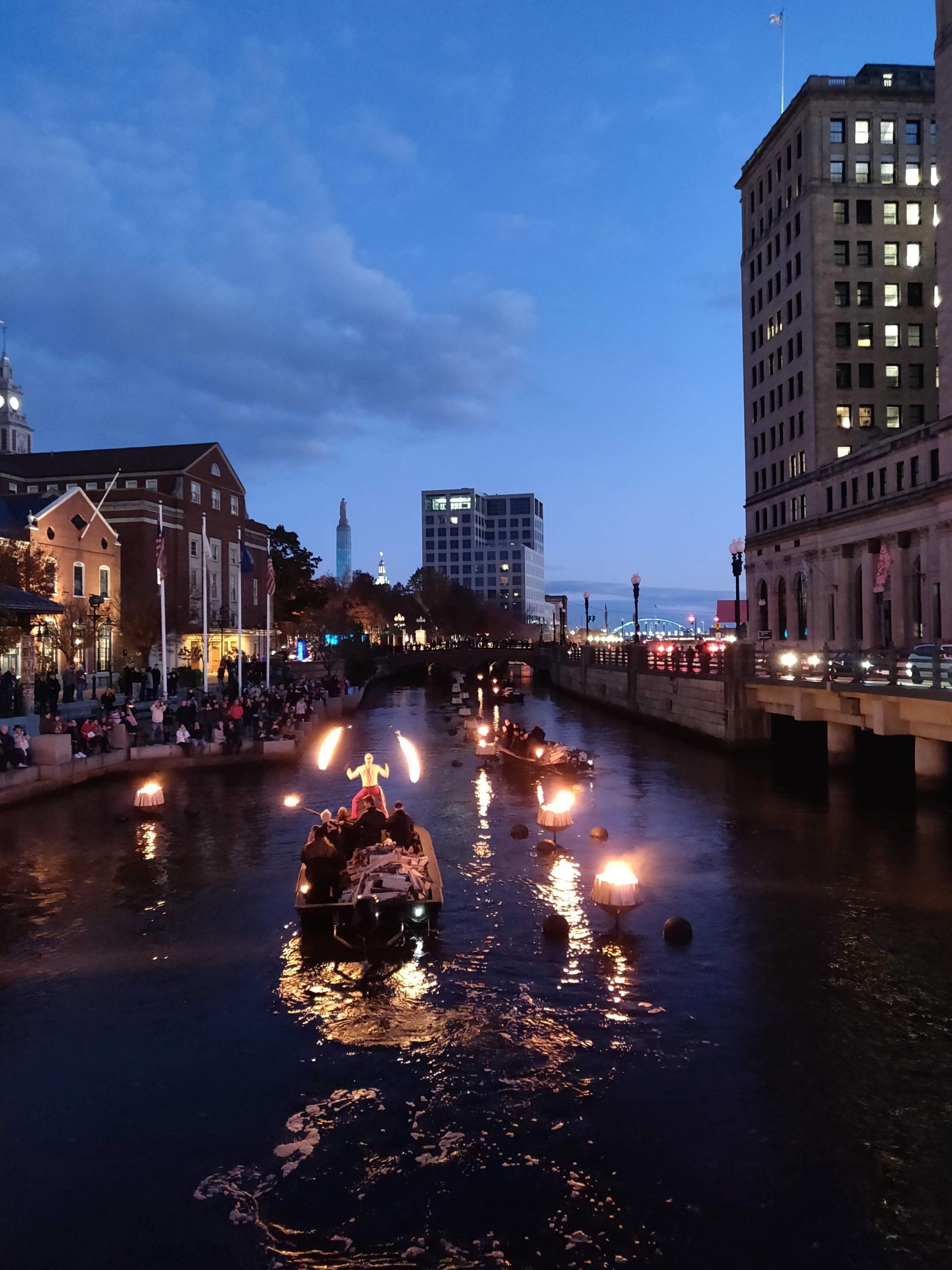 Providence is a popular day trip from Boston that's only an hour away by train
Visitors Probably Don't Need a Car
Because Boston's public transport system does the job, you probably won't need to rent a car for your stay in the city. Just make sure to pick a hotel or apartment rental in a convenient location. See my guide on where to stay in Boston for my local advice!
That said, if you plan to explore beyond Boston, Amtrak and the Commuter Rail won't take you everywhere. Prime examples include more remote places like the Berkshires in Western Mass, White Mountains in New Hampshire, and Acadia National Park in Maine. These are beautiful destinations that are well worth the trip.
In that case, you might want to get a car for those trips specifically, rather than your whole stay. There are plenty of traditional rental agencies in the city, as well as Zipcars and peer-to-peer rental through Turo (more about those in the "Alternatives" section).

The White Mountains aren't accessible without a car, but they're sure worth the visit!
You Might Want to Consider a Car for Living in Boston
I lived in Boston for three years without a car, and I didn't feel limited in where I could go. There are, however, some major benefits to owning a car in the city.
1. You can live further outside the city.
Keep in mind that the T only runs through Boston and its surrounding neighborhoods/cities. If you want to save money on rent and live towards the end of the T lines or even beyond that, you'll probably want a car.
Some areas that aren't super accessible via the T include:
Medford
Chelsea
Dorchester
Newton
Quincy
Arlington
Malden
Waltham
Watertown
Roslindale
Some of these areas do have T stops, but it can take you half an hour or more to get into the city, and driving would cut your transportation time in about half.
If you need to go into the city regularly though, I wouldn't recommend living too far out, as time is money. (Need to find an apartment? See my guide to finding affordable housing in Boston).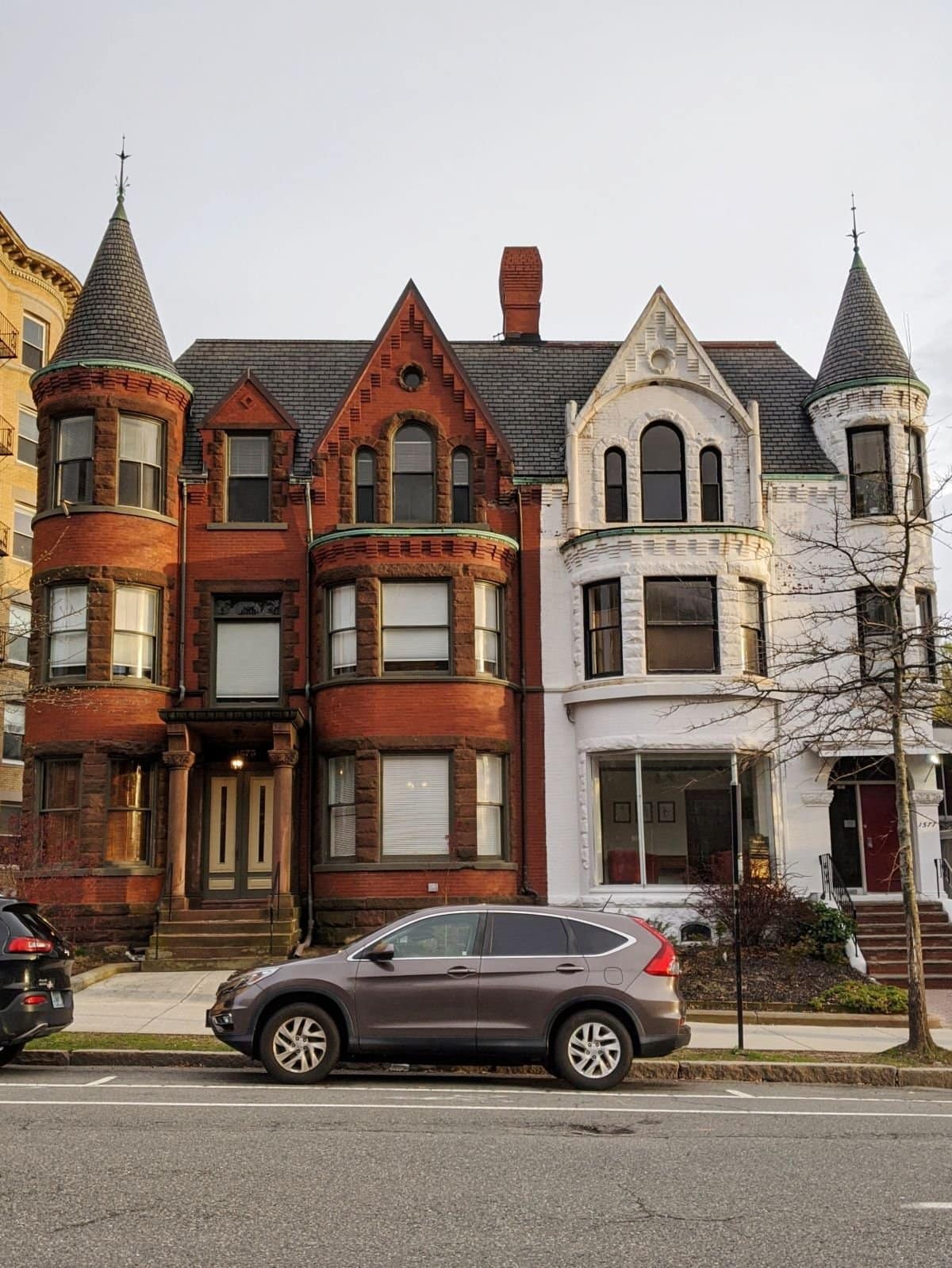 Brookline was my favorite place to live near Boston; it's picturesque, clean, and safe. It also has easy access to the city via the T.
2. It's much easier to go grocery shopping.
When you go grocery shopping without a car, it can be quite a struggle to lug home heavy tote bags or a backpack. Luckily, an easy fix is to get a foldable shopping cart (also known as a "granny cart," though young and old people use them in Boston!).
That said, you need to ensure that you live a reasonable distance from a grocery store. This isn't a problem in most parts of the city, but grocery store access can be spottier in parts of Medford and Somerville. I'd recommend Brookline and Cambridge for easier access to shops and rent that isn't quite as high as that in downtown Boston.
Keep in mind that you also won't be able to get to most big box stores like Walmart without a car, though there is a Target in Fenway that's accessible by the T. If you only need groceries though, you should find what you need in the city's Trader Joe's, Stop & Shops, Star Markets, farmer's markets, and corner stores.
3. You're not at the mercy of the train or bus schedules.
The T lines run pretty frequently, so you probably won't be too late if you miss your train by a hair. The buses can be more infrequent though, and they're not always on-time. So, if your commute involves multiple transfers and a bus ride, you may benefit from having a car.
Still, Owning a Car in Boston Can Be a Pain
While there are pros of having a car in the city, there are also some major cons.
1. You'll probably need to shell out a lot of money
Parking can be difficult to find in Boston. While there are free resident parking permits, you'll need to find an empty street spot each time, and you may need to move your car for street cleaning once per week.
Some apartments have parking lots, spaces, or garages, and you can expect to pay $150-500 monthly for those. The closer you are to the city center, the higher the cost. In residential cities like Brookline and Cambridge, you should be able to find spots for $150-250.
Add the cost of parking to your insurance and maintenance fees, and you may be looking at a total bill of $500+ per month just to have your car.
2. Winter = back-breaking snow shoveling
New England winters are brutal, with blizzards bringing in knee-deep snow at least a few times per year. If you park on the street, you'll need to shovel out your car only for someone else to potentially take the spot. In fact, some people become so defensive of their shoveled parking spots that they'll set out chairs, cones, and booby traps to "reserve" the space.
If you park in a reserved spot, you'll still need to shovel out your car in most cases, unless your lease says the landlord is responsible for snow removal. This can easily take an hour or more, depending on how much snow has fallen.
Alternatives to Owning a Car in Boston
There were cases where I did need a car while living in Boston, but I was able to get access to one easily through these platforms:
Zipcar lets you rent a car for as little as one hour or as long as two weeks. It's a membership-based app with cars located across Boston; chances are, there's a lot within half a mile of you.
Membership is $8/month or $80/year, and there is a student discount. You'll also need to pay a one-time $25 application fee. Your membership then lets you rent the car for about $10-20/hour or $100-200/day. Gas is included, as is basic insurance, though you can pay extra for more coverage.
Zipcar is great for running errands or taking day and weekend trips. If you're renting for a day or more though, it may be more cost-effective to go with a traditional rental company.
2. Traditional car rental
There are several rental agencies throughout Boston, including at the airport. Costs vary, but you can find a rental for under $100/day if you look in advance and are flexible on the location of the rental. Just remember to factor in the cost of gas, which is often not included. You may have traditional rental car insurance under the credit card you paid with, so this can also save some extra fees.
Turo is a peer-to-peer car rental app (think Airbnb for cars). Gas and insurance aren't included in the rental cost, though you can add insurance for an additional fee. It can be pretty pricey, but it may be a better deal than Zipcar or traditional car rental in some cases, as the car owner sets the fees.
I've used Turo three times and had a good experience each time; just make sure to pick a well-rated car/owner.
---
Let me know if you have any questions in the comments, and enjoy your time in Boston!