The magnolias are arguably the best part of spring in Boston (though the wisteria is probably a close second). Here's when you can expect these gorgeous blooms, and where to find them.
When do the Magnolias Bloom?
You'll be able to see the magnolias from early to late April, with the peak being mid-April most years. Climate change is has pushed flower blooming up in many places, however, and it's possible that the magnolias will peak earlier and earlier each year.
April can also bring some pretty rough storms, so keep in mind that really high winds could cause the magnolias to disappear earlier than usual. Keep an eye on the weather reports!
Best Places to See the Magnolias in Boston
You can find the magnolias in many parts of the city, but here are the couple spots that are especially beautiful. Read until the end for a free, interactive map.
It's worth noting that the most popular magnolia spots are in residential areas, and they often have decent volume of pedestrian traffic. Please respect the residents, don't invade their doorsteps, and take your shots in a timely manner. The magnolias should be something for all of us to enjoy.
Commonwealth Avenue Mall, Back Bay
Nearest T Stop: Hynes Convention Center or Arlington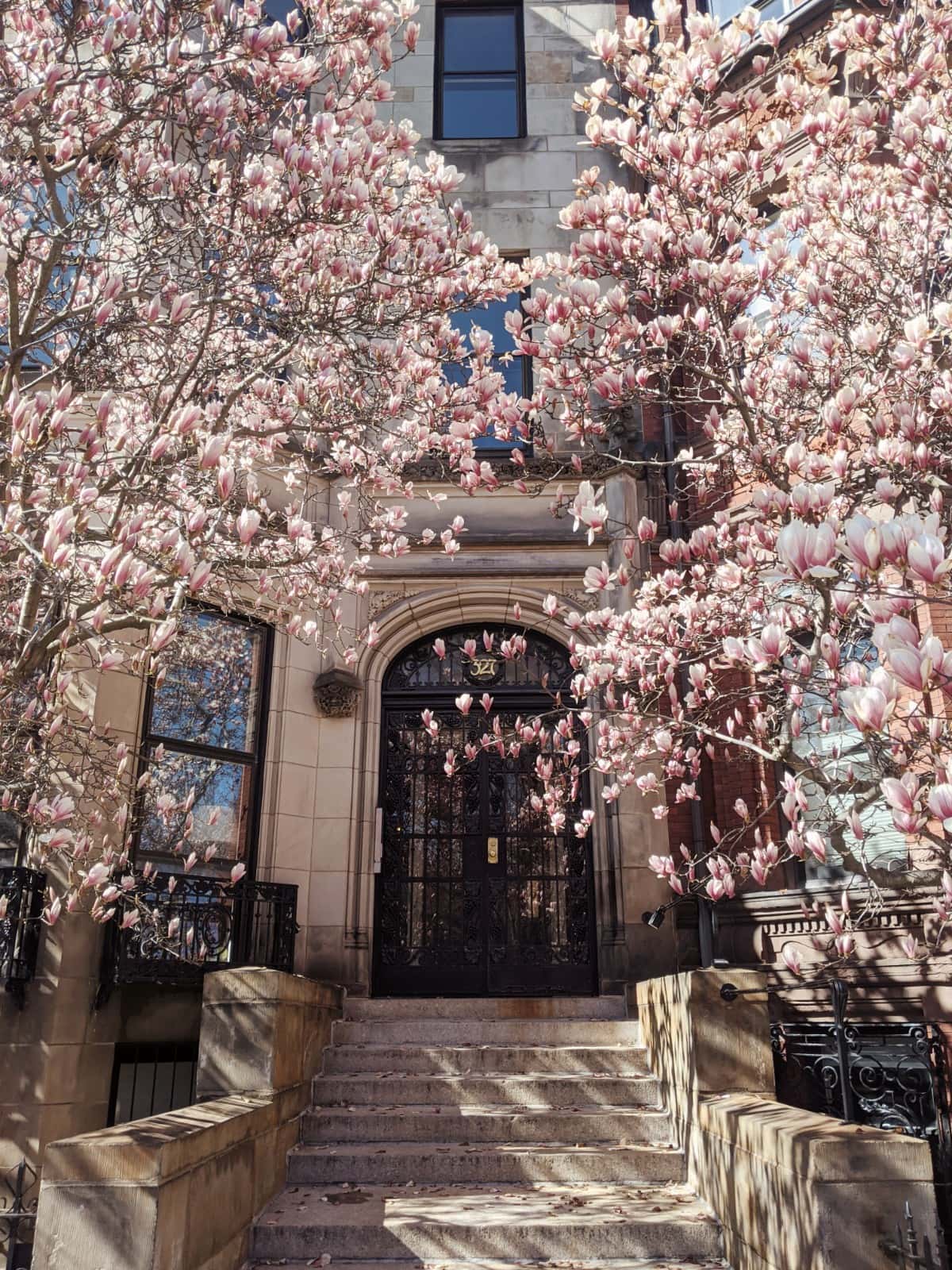 If you've seen the Boston magnolias on Instagram, chances are, they were the ones along Commonwealth Avenue in Back Bay. The Commonwealth Avenue Mall is a strip of greenery separating the two sides of the street. Magnolia trees frame the historic apartment buildings on both sides, offering tons of photo ops.
The Mall is several blocks long, spanning from the Public Garden (Arlington T Stop) to Massachusetts Avenue (Hynes Convention Center T Stop). I'd recommend starting at either end and making your way down.
Marlborough Street, Back Bay
Nearest T Stop: Hynes Convention Center or Arlington
Back Bay is really the hot spot for magnolias, and you can find many more trees along Marlborough Street, just a couple blocks down from Commonwealth Ave. Along this street, you'll find more brick buildings and brownstones.
Beacon Street, Back Bay and Brookline
Nearest T Stop: Hynes Convention Center or Arlington (Back Bay); Tappan Street (Brookline)
Just another couple streets down is Beacon Street, which is also lined with magnolia trees. Beacon Street actually runs from downtown Boston to Newton, and there are magnolias up until Brookline (as far as I know–there may be more further out).
Brookline is a bit out of the way from the city, but it's easily accessible via the Green line, and is just a bus ride away from Cambridge. You'll find a high concentration of magnolias along Beacon Street, shortly after Washington Square and across from the Stop n Shop. If you keep walking down this street on the right side, away from downtown Boston, you'll find a few more gorgeous blooms just a few blocks down.
Map of the Best Magnolia Spots in Boston
Where to Stay in Boston for the Magnolias
This section contains affiliate links, meaning that we may earn a small commission on any bookings completed, at no extra cost to you. This income helps keep this blog running, allowing us to provide free guides like this one.
If you're coming from out of town and don't want to miss the magnolias, you may want to find a place to stay near Back Bay. Here are some hotels you might like:
Newbury Guest House is in a bustling location, as Newbury Street is full of popular shops and restaurants. Rooms are clean and modern, and the price is great value for the amenities and convenient location.
No. 284 is located right along the Commonwealth Ave Mall. Rooms have a "fancy vintage office" and "private collection" feel, especially as the hotel features a selection of original American art. There is a courtyard, and some rooms even have retractable sunroofs.
The Lenox is one of the top-recommended hotels in Boston. It's right next to the Boston Public Library, and features palace-like architecture in the common spaces, and elegant rooms with panoramic views of Back Bay.
The Eliot Suite Hotel is also along Commonwealth Avenue. Rooms are a synthesis of both "old world" and modern decor, and light sleepers will appreciate the soundproof windows. Guests also have access to the Boston Sports Club.
See my guide of places to stay in Boston for more recommendations.
Liked this post? Pin it to save for later and share with others!