Experience gifts are some of the best gifts to receive, and to give—whether you need a last-minute gift idea, are looking to reduce waste from physical gifts, or want to spend time with your loved one. Lucky for you, there are several experience gift options in Boston for people of all ages.
This post contains affiliate links, meaning that I may earn a small commission at no extra cost to you. This income allows me to keep this site running, and your support is much appreciated!
1. Find adventure at an escape room ($24-36)
Escape rooms are a great way to bond and test your critical thinking skills. Boda Borg in Malden is a unique option, as they offer a variety of escape rooms, or "quests," ranging from physical to mental challenges. You must go in groups of at least 3, making this a great gift for a group of friends or a family. You can purchase a 2-hour or 4-hour pass, and you can try as many rooms as you want during that time.
Some other more traditional escape rooms include:
Keep in mind that most escape rooms require a group of at least 2-3 people. Costs usually range from $30-50 per person.
2. Go off-grid in Getaway House's tiny cabins ($170+)
If you want to escape from the city and disconnect for the weekend, Getaway House has cozy cabins 1-2 hours outside of Boston, with the closest outpost at Bear Brook State Park in New Hampshire. Each cabin has 1-2 beds, a lockbox for your phones, running water, and a small kitchen.
The cabins have a large window next to the bed, where you can awaken to a stunning winter view.
3. Get creative at Muse Paintbar ($35+)
Whether you're new to painting or more experienced, going to a painting studio is a relaxing way to spend the evening. At these paint nights, an instructor guides everyone step-by-step through a preselected painting. There is food and drink available for purchase.
Muse Paintbar is an especially good location as it's in Assembly Row, an outdoor mall. Grab a bite to eat at the many restaurants, or go shopping once you're done painting.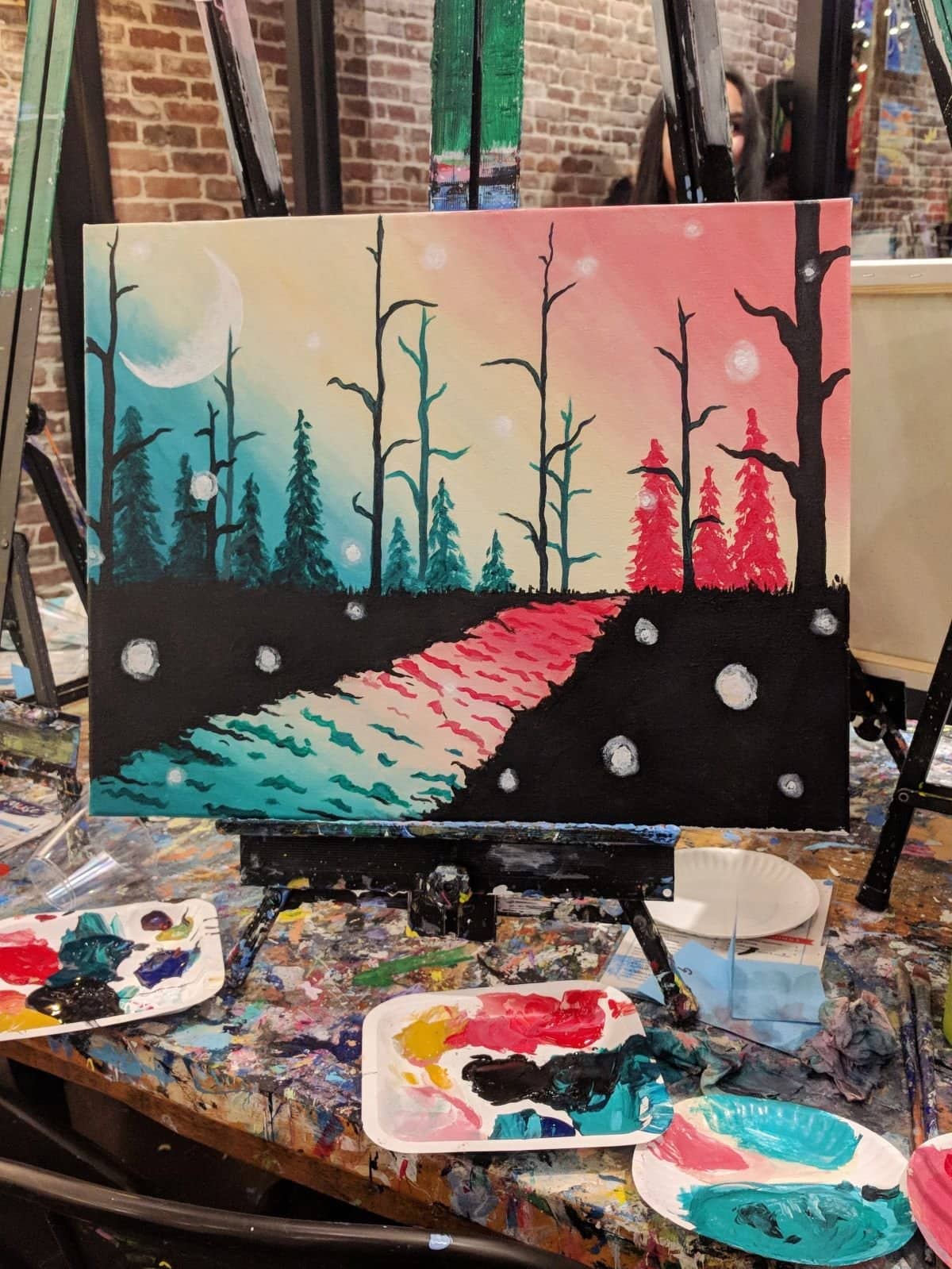 4. Go skiing at the Blue Hills or Wachusett Mountain ($70-100+)
You don't have to go far from the city to go skiing! The Blue Hills are only a 20-minute drive, while Wachusett Mountain is accessible by the Commuter Rail in about 2 hours (there's a free shuttle from the Fitchburg station during ski season).
5. Skate at the iconic Frog Pond or the public indoor rinks ($6-18)
From December through March, you can go skating at Frog Pond at the Boston Common. If you want to feel especially festive, go in the evening to skate against the backdrop of holiday lights.
You can also skate at several locations across the city run by the Department of Conservation & Recreation. Skating itself is usually free, but rentals are a small fee.
6. Find thrifted gems at the Garment District
The Garment District is known for its $2/pound used clothing selection. If you're looking for adventure (and aren't too afraid of germs), you can sift through mounds of clothing of all sizes and styles. If you prefer a more curated selection, they also offer vintage styles on your traditional clothing racks, but at a higher price point.
7. Visit the Mapparium ($0-6)
Located in the Christian Science Center, the Mapparium is 3-story-tall globe built in 1935. You can enter the globe on a guided tour and see how much the world/map has changed after all these years. Even if you aren't a history buff, the globe itself is beautiful and worth a visit. Tickets for kids under 17 are free, while they cost $6 adults; you must reserve in advance during this time. While you can't take photos of the actual globe, there is a backdrop in the lobby that you can use.
8. Go on a sunset cruise ($23+)
While you'll have to wait until the warmer months, the anticipation is worth it! There's nothing like seeing the city skyline at the golden hour from the water. This would make for a lovely gift for couples or friends.
If you'd rather do your cruise in the winter, you still can. This holiday cruise is available in December, and you'll be able to listen to festive tunes while sipping hot cocoa and admiring the Boston skyline at night.
9. Spend the afternoon at a board game cafe ($10+)
Hunker down with your friends or family and see who can win the most rounds of your favorite board games. Knight Moves Cafe in Brookline is a cozy classic. Choose from hundreds of games and treat yourself to some comfort food.
Tavern of Tales in Mission Hill has a more modern feel, though it's more catered to larger groups who want to reserve a room.
10. Visit the New Hampshire Ice Castles ($20+)
While you'll have to go on a road trip, the New Hampshire Ice Castles are a magical winter experience. The castles are made of thousands of hand-placed icicles and are quite the Instagram sensation. You'll find these dreamy castles in Woodstock, New Hampshire, which is a small town right in the White Mountains, and about a 2-hour drive from Boston.
Opening times vary depending on the weather, but you'll typically be able to visit the Ice Castles from January to late February or early March. Tickets range from $20-29 for adults depending on whether you visit on a weekday or weekend.
Read my full review of the Ice Castles for more details and help planning your trip. If you make the drive, I recommending also doing something else in the local area since the Ice Castles aren't too large and won't take more than an hour to visit.
11. Go bouldering or rock climbing ($30+)
Bouldering and climbing are exhilarating full-body workouts. There are several gyms spread across the city:
Many of these places offer day passes with gear rentals for around $30, and there are climbing routes of all difficulty levels, including beginner-friendly ones.
12. Try a new or old restaurant (or a food tour!)
Going to an old favorite can allow you to celebrate a special milestone or memory, but trying something new is always exciting too. For some plant-based recs, check out my post on my favorite vegan restaurants in Boston.
If you and your loved one have a sweet tooth, you'll like this underground donut tour. Or, if you want a more comprehensive experience with pizza, pasta, and craft beer, check out this secret North End food tour.
13. Go on a staycation
If you want to stay in the city but need a change of pace, consider doing a staycation. You can browse Boston's top-rated hotels or even stay in a houseboat on the harbor.
14. Paint pottery at Clayroom ($20+)
Whether you want a hands-on activity for kids, a group outing, or a relaxing evening, Clayroom allows you to get creative and paint a piece of premade pottery.
Once you're done painting, the studio then fires the pieces, and you can come pick up the finished product a few days later. The pottery pieces range from useful household items like mugs and plates to decorative figurines.
15. See a concert
Being a major city, Boston has concerts by big names throughout the year. See if your loved one's favorite group will be in town, and surprise them with tickets.
If you need some ideas, you can listen to live music at the House of Blues in Fenway while chowing down on classic New Orleans food. Or, support up-and-coming Berklee College of Music students at their free performances.
If you like classic music, Symphony Hall also frequently has talks and concerts.
16. Go on a day trip
Because of the Commuter Rail, there are several nearby cities that you can access without a car. And, on the weekends, you can take unlimited train rides for $10! Popular destinations include Salem, Providence, Rockport, and Gloucester. You can plan your trip easily with my guide to day trips from Boston by train.
17. Go hiking at Middlesex Fells or Blue Hills
Get a great view of the city skyline and challenge yourself at these popular parks just outside the city. Both the Fells and the Blue Hills have a skyline hike, with distances of 8 miles and 5.4 miles, respectively. Bring good shoes and be ready for some elevation gain.
18. Try axe throwing ($30+)
Axe throwing has become a trendy activity over the past few years, with gyms popping up in major cities. Boston is no different, and you have the choice between two locations: Urban Axes in Somerville and Revolution Axe in Everett.
You can also buy drinks on-site, and at Urban Axes, you can buy food or bring your own.
19. See a movie at an indie theatre ($12-14)
Watch a unique film at Coolidge Corner Theatre in Brookline or Somerville Theatre in Davis Square. These independent theatres have beautiful interiors with the classic red curtains.
Since these theatres are located in bustling squares, they have a great selection of nearby restaurants and shops, and you can make it an entire outing.
20. Visit one of the many museums in the city
Whether you like science or art, there's a museum for you in Boston. Some popular options include:
If you have a local library card, you may be able to get free or discounted passes to some of these museums. Check out your library's website for more details on picking up these passes!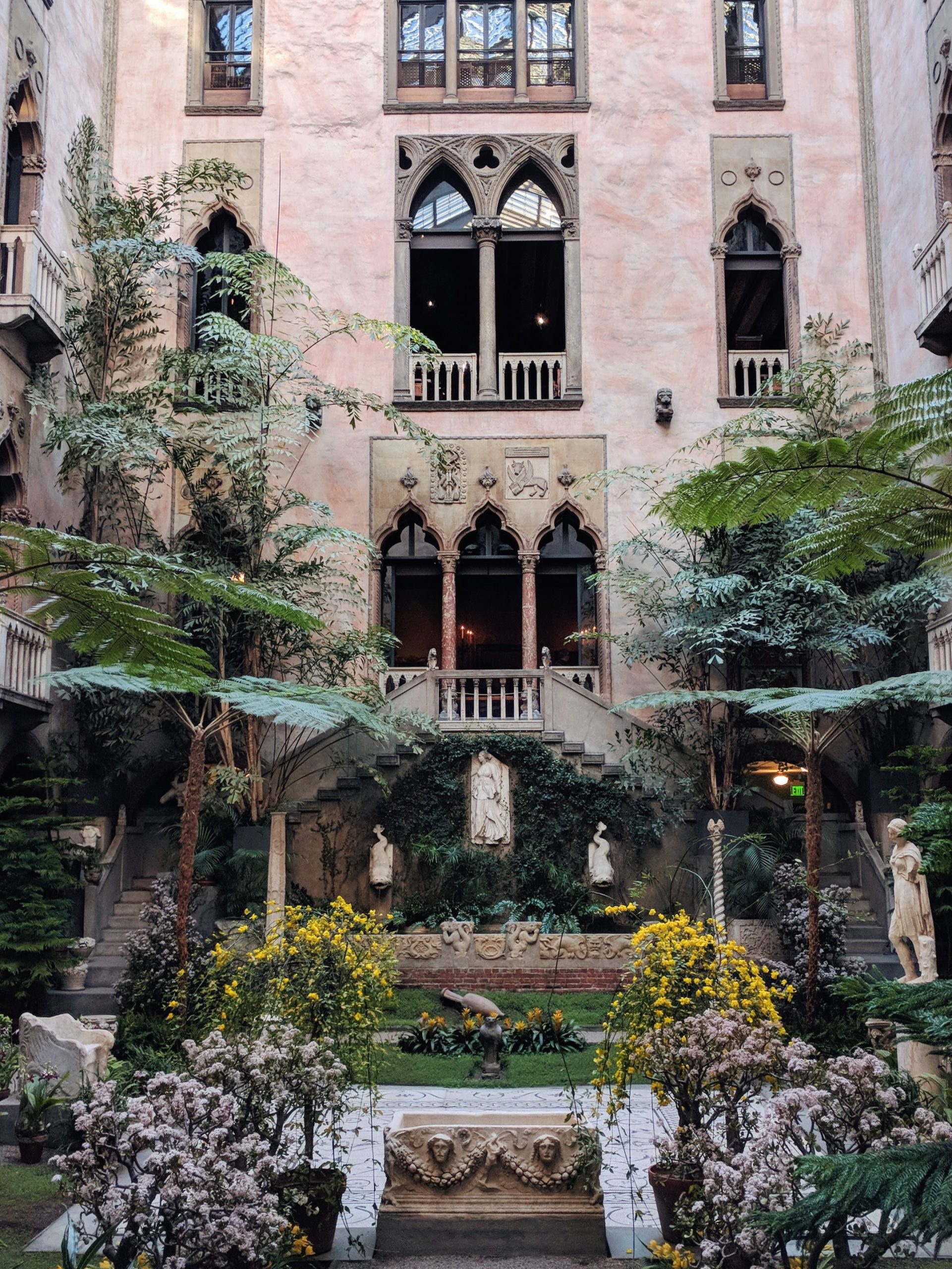 21. Go whale watching
This gift will help you feel closer to nature. Spend the day cruising on the water and spotting these majestic creatures in their natural habitat. The Boston Harbor Cruises offer a whale watching tour with naturalists on board to teach you about the animals and make sure the boat isn't disturbing the whales (the tour is Whale SENSE certified for responsible practices).
According to reviews, tours can take 4 hours, with a lot of that time spent traveling to feeding sites—so make sure to plan for a long day!
---
If you have any more ideas, drop them in the comments for other readers. Have a lovely holiday season or celebration!