When you ask your partner to marry you, you want the moment to be as memorable as possible. While not the most important part of a proposal, a beautiful location can certainly make the big question feel more special.
As a local, I've wandered through many parts of Boston, and here are the places that I think would set the scene for this major life event. Stay till the end for more of a hidden gem spot, plus a free, interactive map of these proposal spots in Boston.
This post contains affiliate links, meaning I may earn a small commission on any purchases through those links, at no extra cost to you. 
The Best Place to Propose? One That's Special to You
Before diving into this list of places to propose, I want to remind you that the best proposal location is one that's special to you as a couple. It doesn't have to be the most photo-worthy place (unless you know your partner would want that).
Think of the places where you have special memories, such as where you met, a place you go together often, or somewhere you've been planning to go for ages. If none of those seem fitting to you, then go ahead and consider these romantic and picturesque spots in Boston.
Beautiful Places to Propose in Boston
Most of these spots are free, unless otherwise noted. Some are also more public than others, so be sure to keep your partner's comfort levels with a public proposal in mind.
1. Kelleher Rose Garden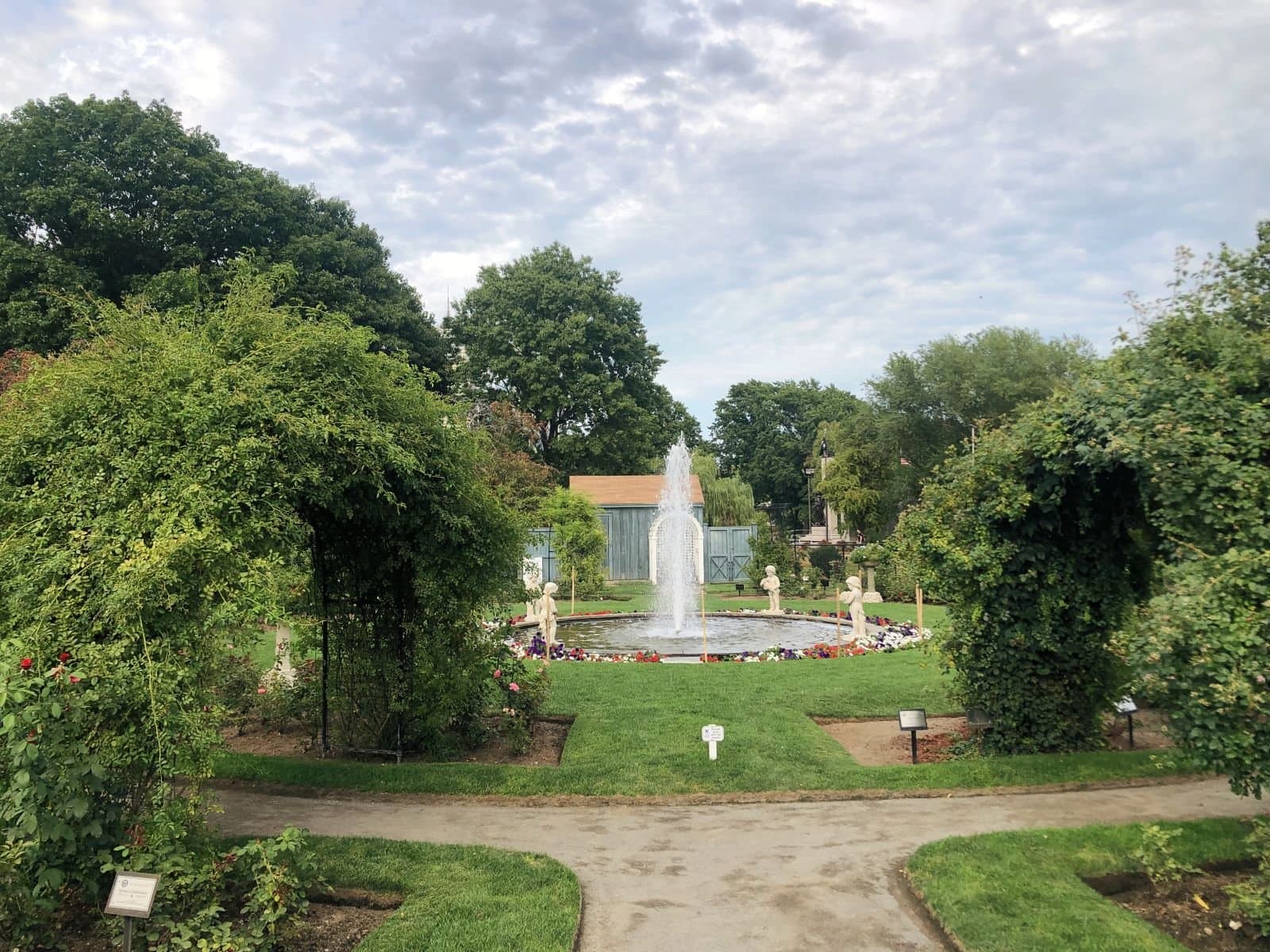 Photo by Henry Wu
There's nothing more romantic than an archway of roses. The Kelleher Rose Garden is in the Back Bay Fens and offers the perfect backdrop for a Boston proposal.
The rose garden is open from 7am-5pm on weekdays and 10am-5pm on weekends, though some reviews have mentioned them closing closer to 4pm.
2. Charles River bike path, Cambridge side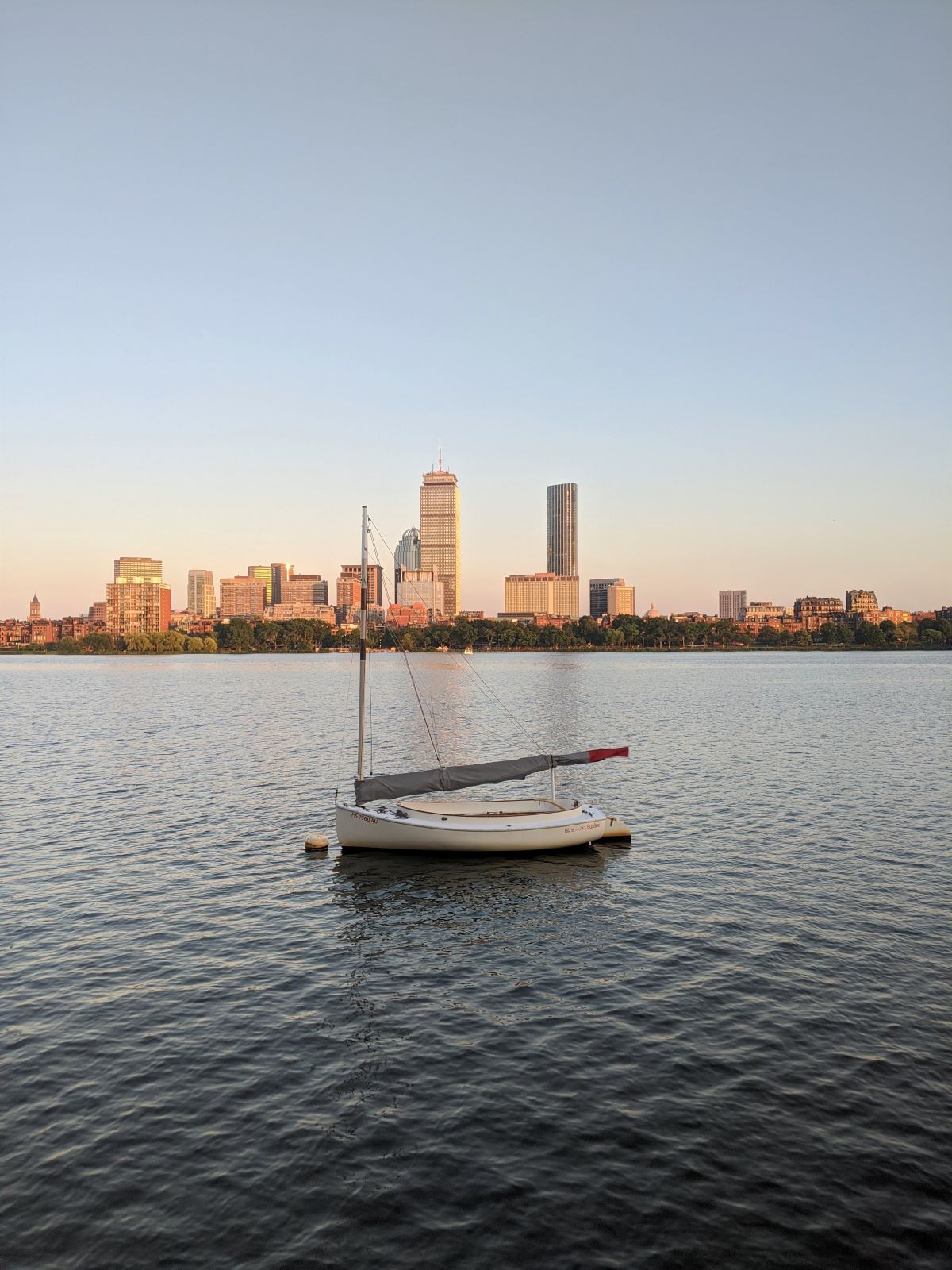 The Boston skyline at the golden hour is especially lovely, and some of the best views are near Harvard Bridge and the MIT Sailing Pavilion. You can go on a walk or picnic along the Charles River before popping the question.
If you want the city as your backdrop, check out my post for more Boston skyline views.
3. Wright's Tower at Middlesex Fells
Active couples will appreciate the hike to get to this scenic view. Park in the South Border Parking lot, and either take the short way (.3 miles) or the long way, the full Skyline Trail which is 8 miles with about 1000 ft of elevation gain.
While the tower itself is often closed, there's a rocky overlook nearby that makes for a fairly intimate setting (though you should expect at least 1-2 other groups of hikers at most times).
4. Fan Pier Park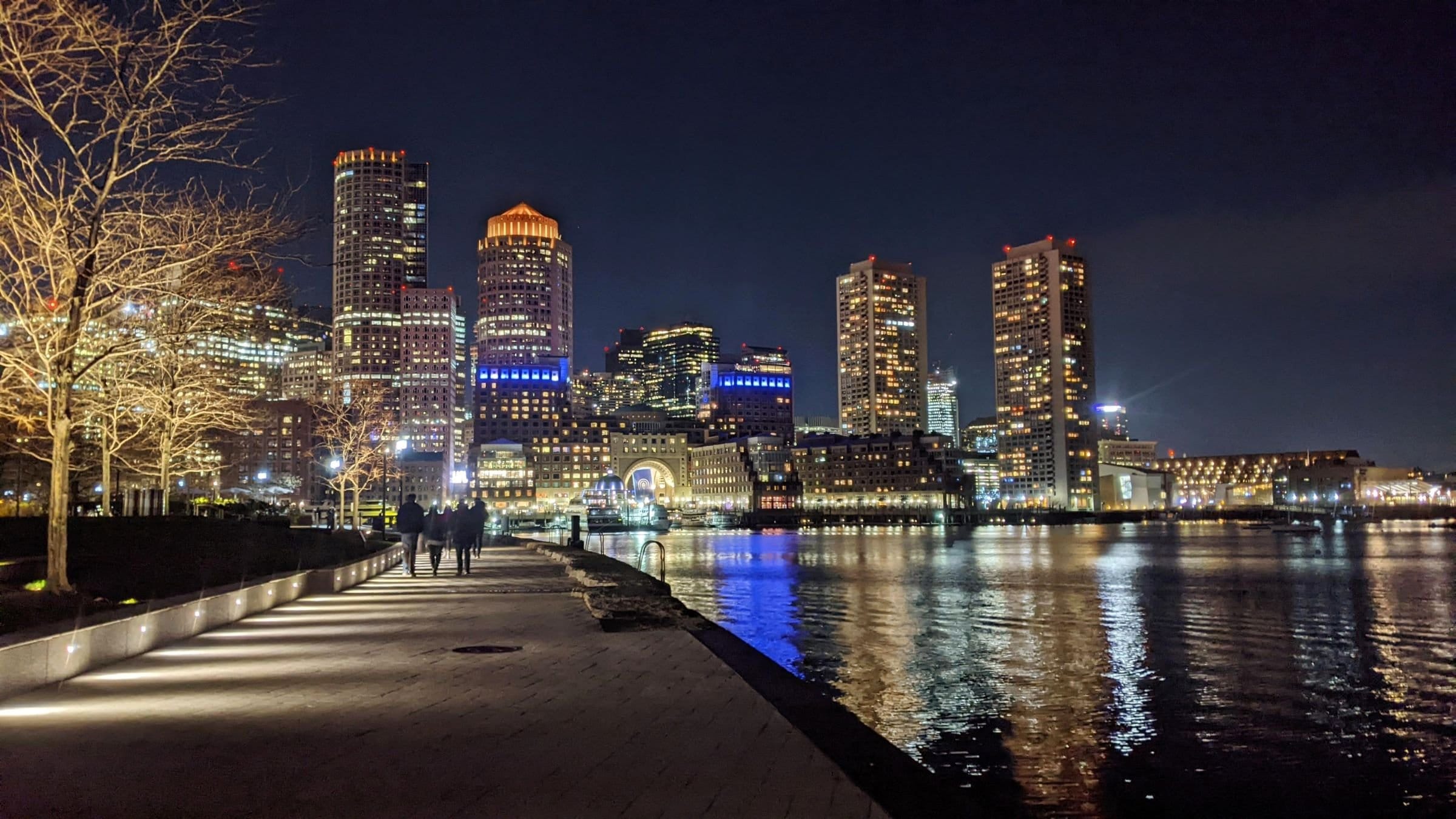 Seaport is arguably Boston's trendiest and most modern neighborhood, with upscale restaurants and popular clothing stores. It also happens to have one of the loveliest nighttime settings for a proposal.
Make it a outing and grab a meal at a nearby restaurant before going for a walk along the water at Fan Pier Park, where you can pop the question.
5. On a Sunset Cruise in the Boston Harbor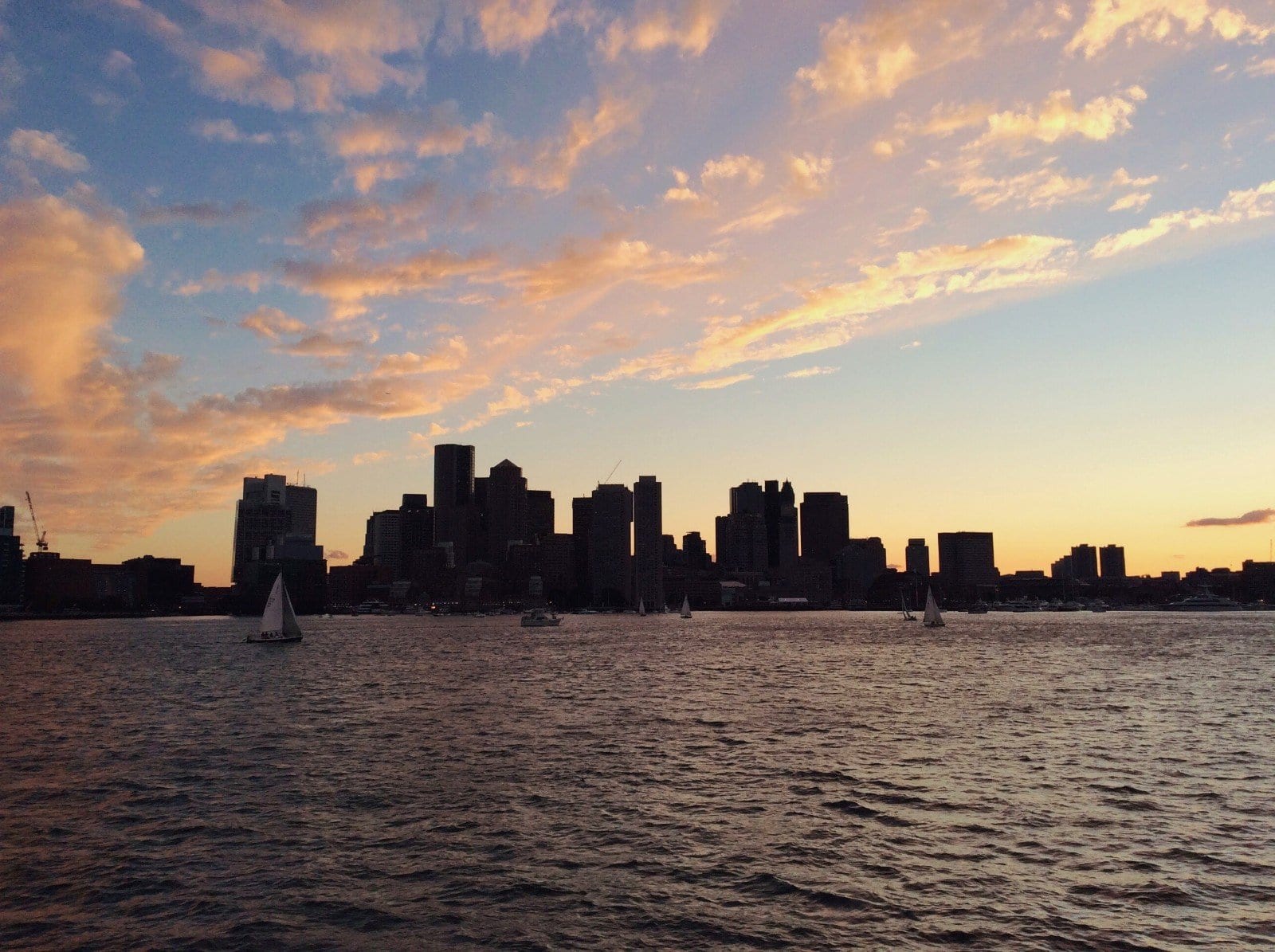 Watching the sunset together is romantic, but it's even more special on a boat in the Boston Harbor. There are several options for sunset cruises on GetYourGuide, including a yacht or a schooner.
Prices range from $22-70+ per person. You may be able to bring your own picnic and then buy drinks on board (or bring your own water).
6. Chestnut Hill Reservoir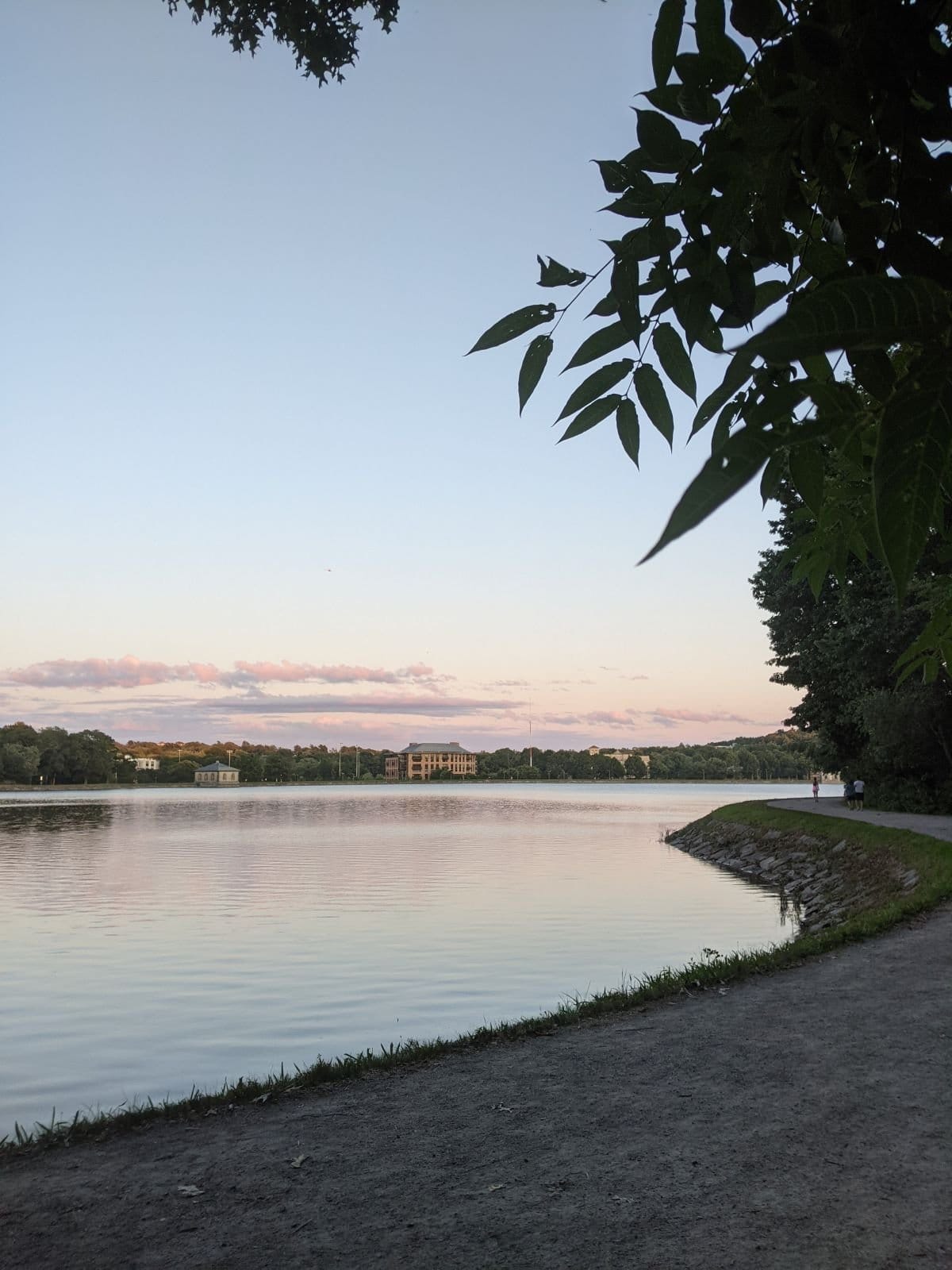 For a peaceful proposal, go to Chestnut Hill Reservoir in Brighton, near Boston College. There's a 1.5-mile loop around the reservoir where you can go for a stroll. The park is especially lovely at sunset.
To make it a romantic evening, stop by a nearby restaurant at Cleveland Circle and Washington Square.
7. Isabella Stewart Gardner Museum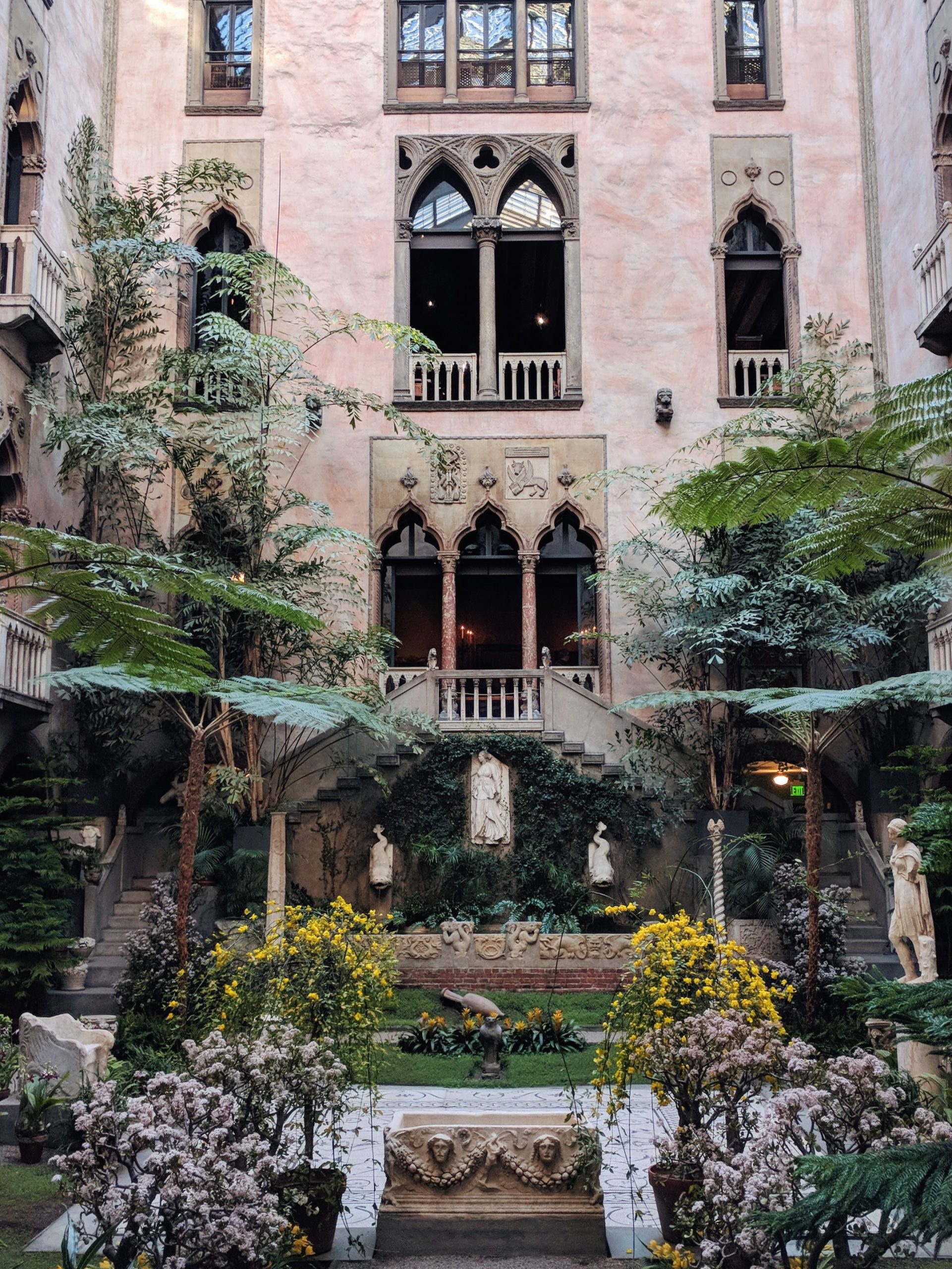 The Isabella Stewart Gardner Museum is one of the most instagrammable places in Boston, featuring Venetian-style architecture and a lush indoor courtyard.
You can walk around the homey interior and admire the art, furniture, and collectibles before proposing in the counrtyard, surrounded by flowers. Tickets cost $20.
8. Louisburg Square in Beacon Hill
Wandering around Beacon Hill almost takes you back in time with its cobblestone streets, brick buildings, and gas lamps. There are several iconic spots, including the famous Acorn Street (but you'll need a permit for a professional photoshoot there).
I personally think that Louisburg Square is a more charming setting, with its vine-covered houses. It's also close to Rouvalis Flowers, where you can pick up a bouquet.
9. Boston Athenaeum
The Boston Athenaeum is the oldest library in Boston. Its rows of white bookshelves and arched ceilings are awe-inspiring, and its balcony view of the city is nothing to sniff at either.
Since the library is private, you need to pay $40 for a day pass if you're not a member. While it is pricey, it could be worth it if you spend the day browsing the shelves and relaxing on the balcony.
10. Corey Hill Park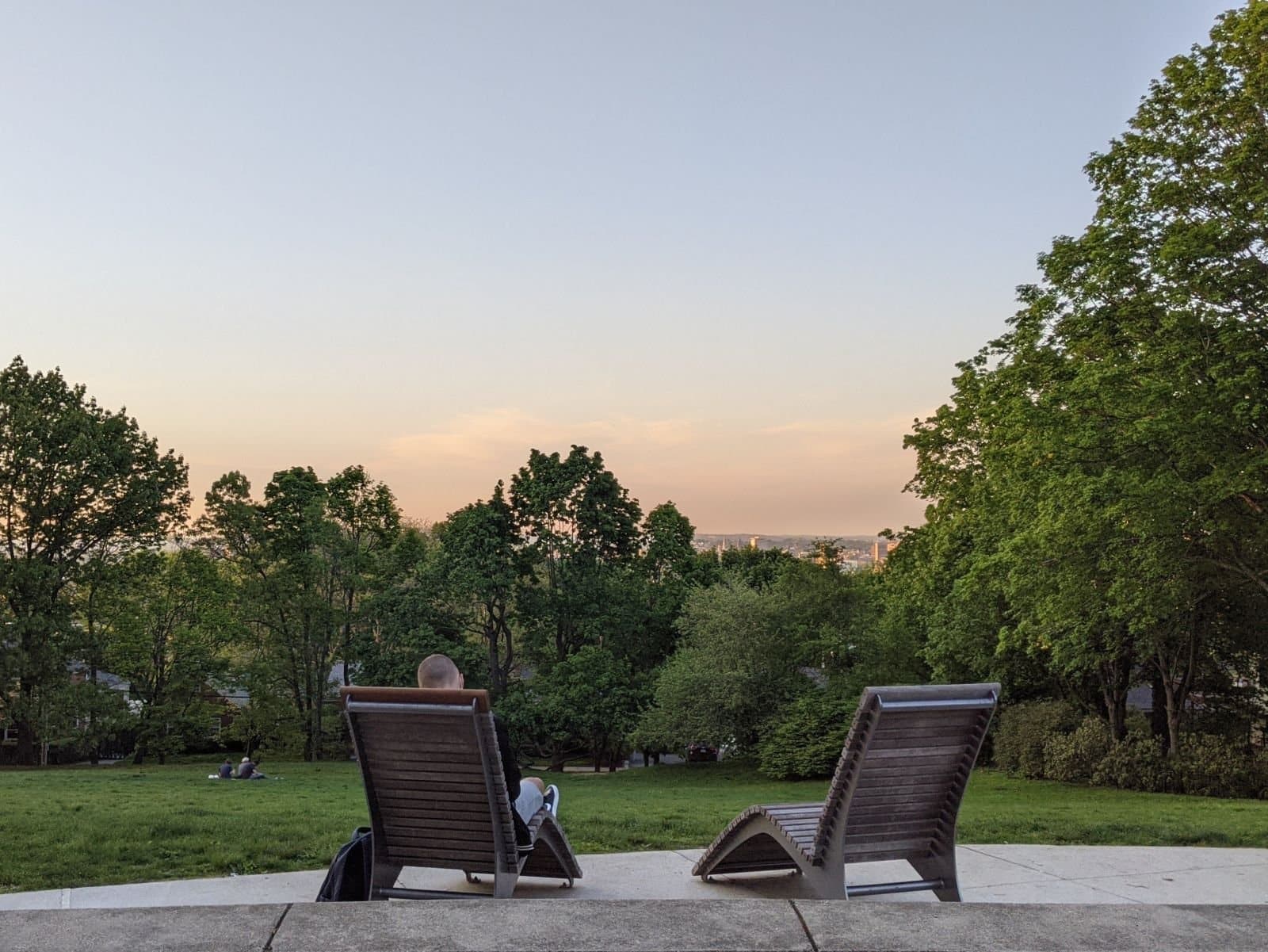 One of the hidden gems in Boston, this hilltop park in Brookline offers lounge chairs, hammocks, picnic tables, and sprawling grassy fields. If you have kids, they'll love the playground.
Corey Hill Park is charming at all times, but it's especially pretty at the golden hour, when the sky starts to turn pink right before sunset.
11. Charles River Esplanade
Go for a walk or bike ride along the Charles River before sitting down for a picnic. You can then propose along the docks as the sun sets.
The Esplanade has a decent amount of foot traffic, but most people are doing their own thing, so you're unlikely to draw a ton of attention.
12. Commonwealth Ave Mall
Commonwealth Avenue Mall is in the heart of Back Bay, one of the popular residential and shopping districts in the city. In the springtime, the magnolias make for a beautiful proposal backdrop. In the fall, you'll love the colorful leaves, and in the winter, the twinkling holiday lights will set the scene for your important question.
13. Peters Hill at Arnold Arboretum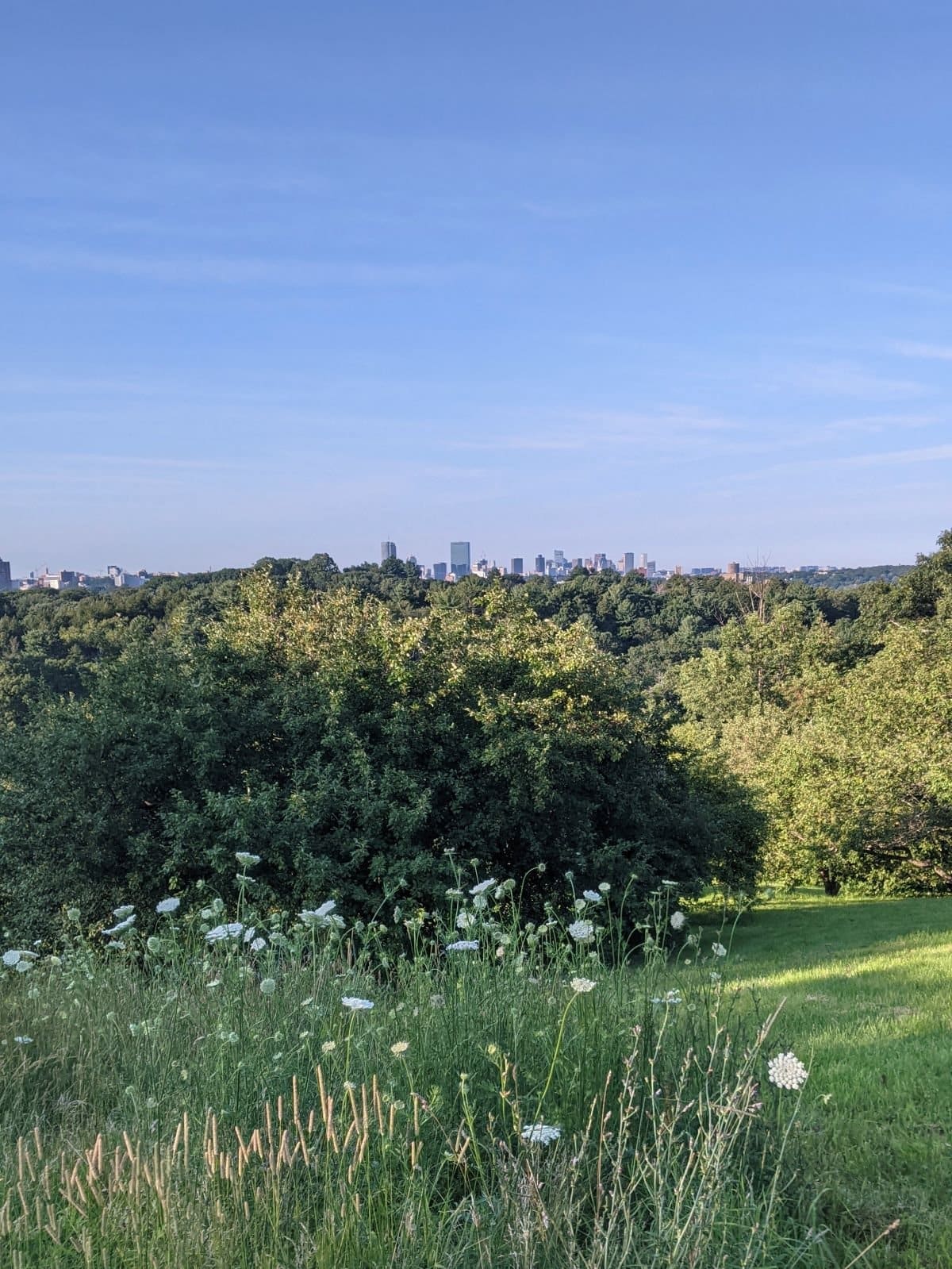 The Arnold Arboretum feels like it's a world away from Boston, but it's still easily accessible by public transport on the Orange Line.
The arboretum is about 1.5 miles from the long side to the other, so be prepared to walk a bit. The time should pass by quickly when you're surrounded by all the interesting plants and trees, which are even labeled.
Peters Hill is on the far side of the park, but it's worth the views. Stay until sunset if you can!
14. Boston Public Library
The BPL is beautiful and grand, so if your partner doesn't mind a more public proposal, this could be your spot. The main stairwell and the courtyard are some top options for places to propose in the library.
There's also a Courtyard Tea Room with afternoon tea, which could complement the occasion.
15. Christopher Columbus Park
The archway in this central Boston park is a beautiful spot for engagement photos. In the warmer months, it's covered in ivy, and in the winter, it's decorated with holiday lights.
Even better, it's right next to the harbor, Faneuil Hall, and the North End, where you can spend some time before meandering over.
Christopher Columbus Park is often busy near the archway, so keep that in mind.
16. Boston Public Garden
The Public Garden is a classic proposal spot, and for good reason. The swan boats, weeping willows, and charming footbridge make for a picturesque background to your important question.
17. Hall's Pond Wildlife Sanctuary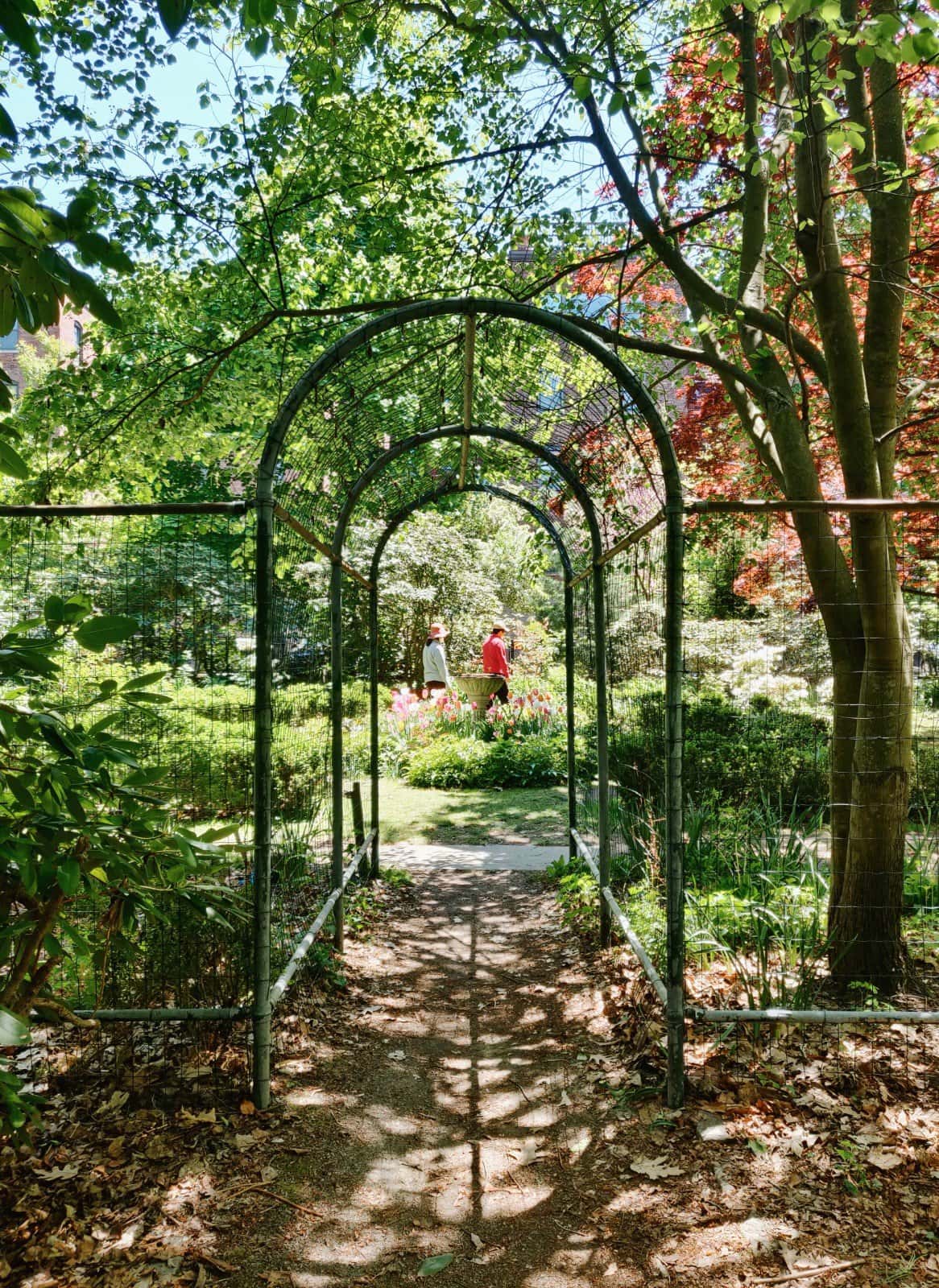 Hall's Pond is a quaint and serene spot in residential Brookline. Families, friends, and couples often come to walk their dogs, play tennis, or sit on the lawn. The gardens are especially pretty in the spring, and you can spend some time exploring Coolidge Corner before or after the proposal.
To find this spot, enter the park and then find the gate towards the Beacon Street side. The garden area will be to your right.
Map of the Best Proposal Spots in Boston
Here's a map of all these picturesque places for your life milestone. Click on the icon in the top left to see a full list of the spots on this map.
Best of luck with your proposal! We're rooting for you over here.