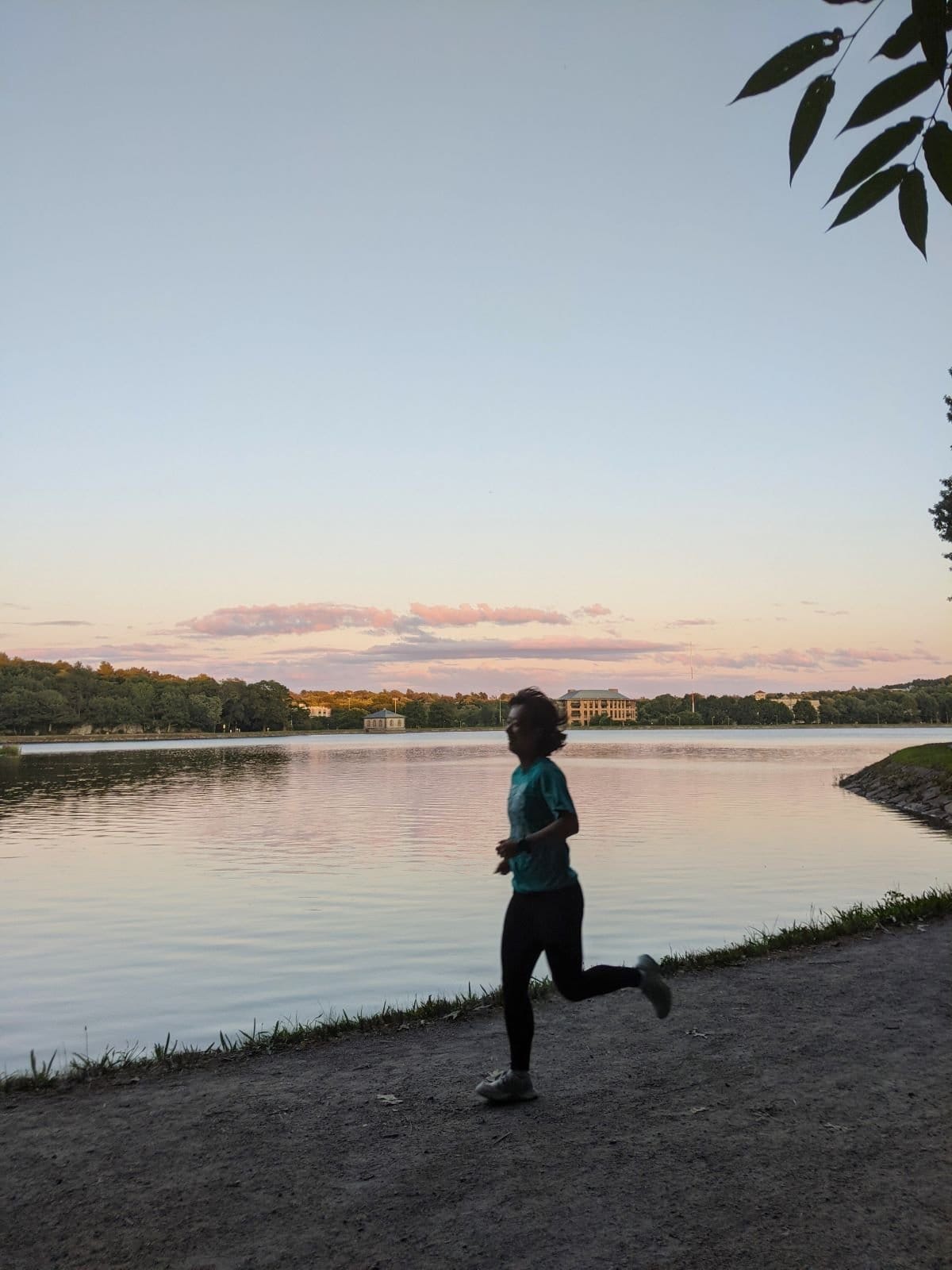 Running in cities can be challenging, between the crosswalks forcing you to pause your run and the tall buildings interfering with your watch's GPS signal. After living in Boston for 3 years and training for a couple marathons during that time, here are some of the best places I've run in the city.
Since different types of runs are better suited for different environments, this post is split up into five parts: long runs, steady states, track/interval workouts, trail runs, and hill workouts. Stay till the end for a free, interactive map of these spots!
A note about parking: I didn't have a car in Boston, so I'm not sure about the parking situation at most of these places (other than the trail running spots, which I know have free parking). I tried to include a variety of spots across the city so that you're hopefully able to run to some of them and not have to worry about parking.
Best for Long Runs
1. Charles River Bike Path (25 miles)
Accessible from: Boston, Cambridge, Brookline, Allston, Brighton, Newton, Watertown, Waltham
There's no better place for marathon training long runs than the Charles River Bike Path. You can easily access the bike path from several Boston neighborhoods and even cities slightly beyond Boston. I trained here when I lived in Brookline and in Medford.
The path starts at the Museum of Science in Boston and ends in Waltham just a bit before Brandeis University, for a total of 25 miles. The path runs on both sides of the river for most of the way, but there is an out-and-back section starting between Watertown and Waltham.
I usually ran along the Cambridge/Watertown side of the bike path and did a completely out-and-back route, rather than doing the whole loop. This was because it usually took me a couple miles to get to the bike path, so I didn't need the extra mileage.
The path is pretty flat, but there are some noticeable hills in the Watertown area. There are some points where you may have to cross a bridge or run on some streets to connect back onto the path, but the path is pretty well-marked. There also are some street crossings, but you can run more continuously the further you get out from the city.
Much of the path is shaded, though you'll be exposed to more sun closer to the city, and depending on the side of the river you're on plus the time of day.

(If the mobile version of this is not showing a trail, click the "layers" button in bottom right and toggle between a couple options. The trail should then appear. You can also click the map to be brought to AllTrails, or view this in desktop).
2. Emerald Necklace (7 miles)
Accessible from: Back Bay, Brookline, Jamaica Plain
The Emerald Necklace is a chain of parks, rivers, and ponds beginning in Back Bay and ending at Franklin Park. It's a popular place to run, and it's actually the location of the BAA Half Marathon course (click for a map).
The paths are mostly paved and shaded, though there may be some parts where there are flat dirt/gravel paths.
Best for Steady State Runs
3. Chestnut Hill Reservoir (1.5 miles)
Accessible from: Allston, Brighton, Brookline, Newton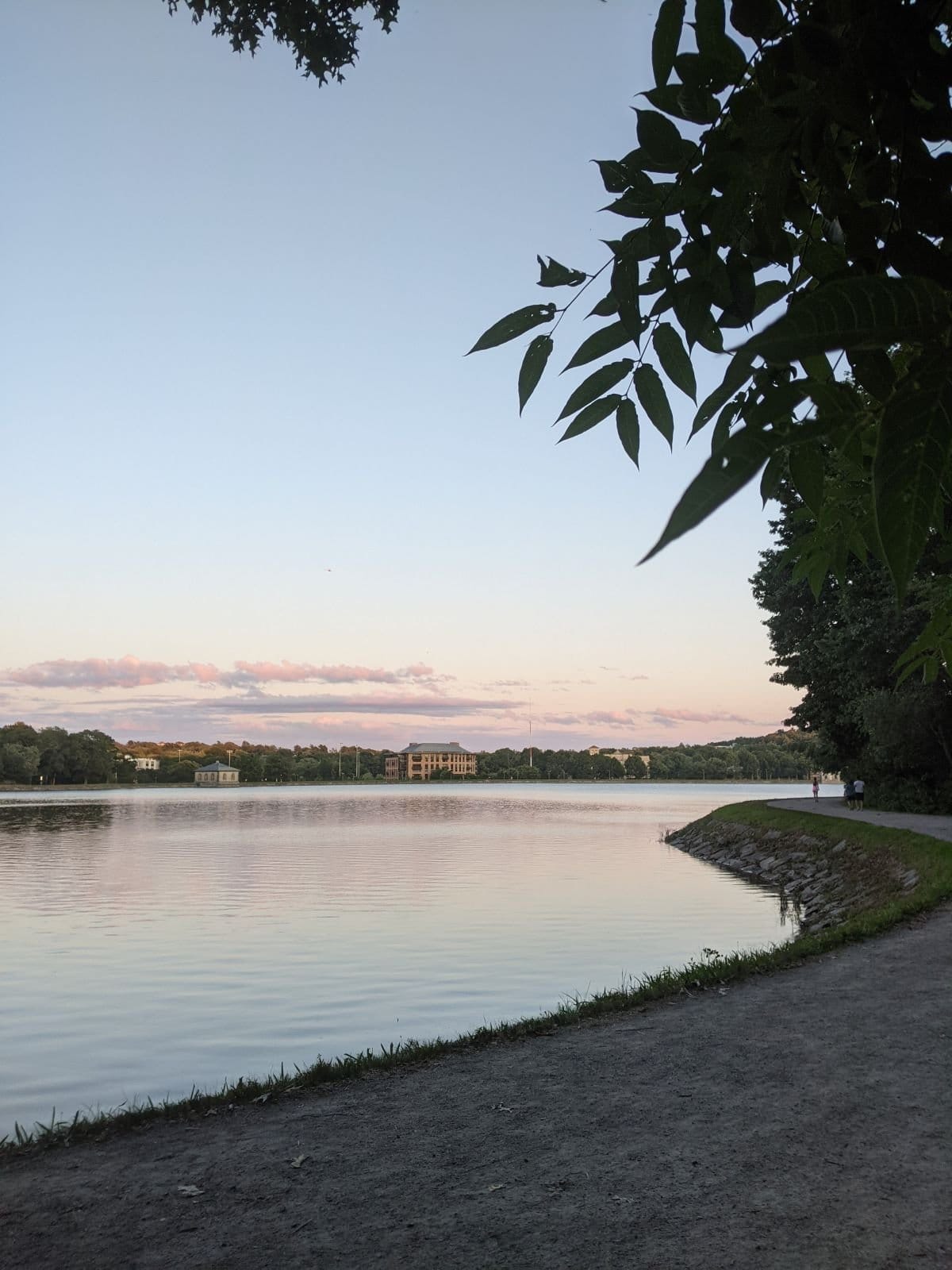 Right next to Boston College, Chestnut Hill Reservoir has a 1.5-mile loop around the water. The path is gravel, but it's flat and easy to run on.
About half of the path is lined with trees and gets good shade, while the other half is more exposed. You can extend your run by going down Beacon Street, running around the Boston College campus, or tackling Heartbreak Hill of the Boston Marathon course.
4. Jamaica Pond (1.5 miles)
Accessible from: Jamaica Plain, Brookline
Jamaica Pond has a paved 1.5-mile loop that's mostly flat with a couple very small inclines. The path is shaded basically the entire way and has a water fountain at the boathouse (along with restrooms that are sometimes open, though there's otherwise a portapotty).
If you want to extend your run, Jamaica Pond is part of the Emerald Necklace, so you can continue towards Olmsted Park and Leverett Pond.
5. Mystic River State Reservation (~3 miles)
Accessible from: Somerville, Medford, Everett
The paths are the Mystic River State Reservation are flat, paved, and shaded. While most of the trails are in the main park area, the path loops around the Mystic River at the Fellsway bridge and continues on the other side, after a brief jaunt in the neighborhood. You could also go the opposite direction towards Sylvester Baxter Waterfront Park at Assembly Row.
The best part is that there are several potential routes that don't require any street crossings. And, if you get hungry after your run, you can always stop by Wegamans or Assembly Row.
6. Fresh Pond (2.5 miles)
Accessible from: Cambridge
The path around Fresh Pond is flat, mostly paved, and well-shaded. You'll also appreciate the restrooms and water fountains.
Just be careful with parking if you're driving, as some visitors have noted that certain areas are residents-only.
7. Brookline Reservoir (.75 miles)
Accessible from: Brookline, Jamaica Plain
Brookline Reservoir is small but peaceful, and you can always do multiple loops or combine it with a Jamaica Pond loop, which is about a mile away. The path is gravel but very flat and easy to run on.
Best for Track/Interval Workouts
8. Roberto Clemente Field
Accessible from: Back Bay
While the track is owned by Emmanuel College, it's open to the public year-round. This is probably one of the closest public tracks to downton Boston, as it's located in the Back Bay Fens. It is only 3 lanes, however.
The Back Bay Fens are also part of the Emerald Necklace, so you can extend your run if you want. The park is full of trails, as well as a rose garden, basketball courts, and a community garden.
9. McCurdy Outdoor Track
Accessible from: Allston, Cambridge
This track is next to the famous Harvard Stadium, and is owned by the college. As long as you don't interfere with team practices, the public is welcome to use the track.
10. Downes Field
Accessible from: Brookline, Jamaica Plain
Owned by the city of Brookline, this field has a public track, sports fields, restrooms, and a playground. It's close to Olmsted Park and Jamaica Pond, so you can extend your run easily as well.
11. Danehy Park
Accessible from: Cambridge
Another public park owned by the city, Danehy Park has a track, sports fields, and grilling areas. If you need more miles, you can jog over to the nearby Fresh Pond.
12. Charlestown High School Field
Accessible from: Charlestown, East Somerville
While this is a high school track, it was open to the public when I went there in 2018 and should still be open. There are often games on the field and other community members on the track, so keep that in mind. You may have to dodge some people during your workout.
13. Amory Playground
Accessible from: Brookline
While not a track, this public park has a short, paved path that's around 1/3 of a mile. I did interval workouts here since I didn't live that close to a track while I was based in Coolidge Corner. The path isn't wide, so you may have to run around walkers by cutting through the grass.
Beyond the path, there's also a baseball field, tennis courts (you have to reserve and pay to use them), and a small wildlife sanctuary.
If you need more miles, go towards Boston University Bridge and get on the Charles River Bike Path, or go down Beacon Street.
Best for Trail Runs
14. Middlesex Fells Reservation
Accessible from: Medford, Malden, Winchester, Melrose
About 20 minutes outside of Boston, Middlesex Fells offers forest trails and lakes. While you won't find any mountains, there are some challenging hills.
The most popular trail is the Skyline Trail, which is 8 miles and has around 1000ft of gain. Towards the end of the loop (if you go clockwise), you'll get a lovely view of the Boston skyline near Wright's Tower.
15. Blue Hills Reservation
Accessible from: Milton, Dedham, Quincy
The Blue Hills are also around 20 minutes outside the city and are another popular trail running spot with decent hills—in fact, I'd say the trails are steeper and rockier here.
The most popular trail here is also called the Skyline Trail, which also offers views of the city, but it's gnarlier at 15 miles with 3500ft of gain. There is a shorter 5.4-mile Skyline Loop with just under 700ft of gain as well.
Best for Hill Workouts
16. Summit Ave
Elevation gain: 200ft over .4 miles
Accessible from: Brookline, Allston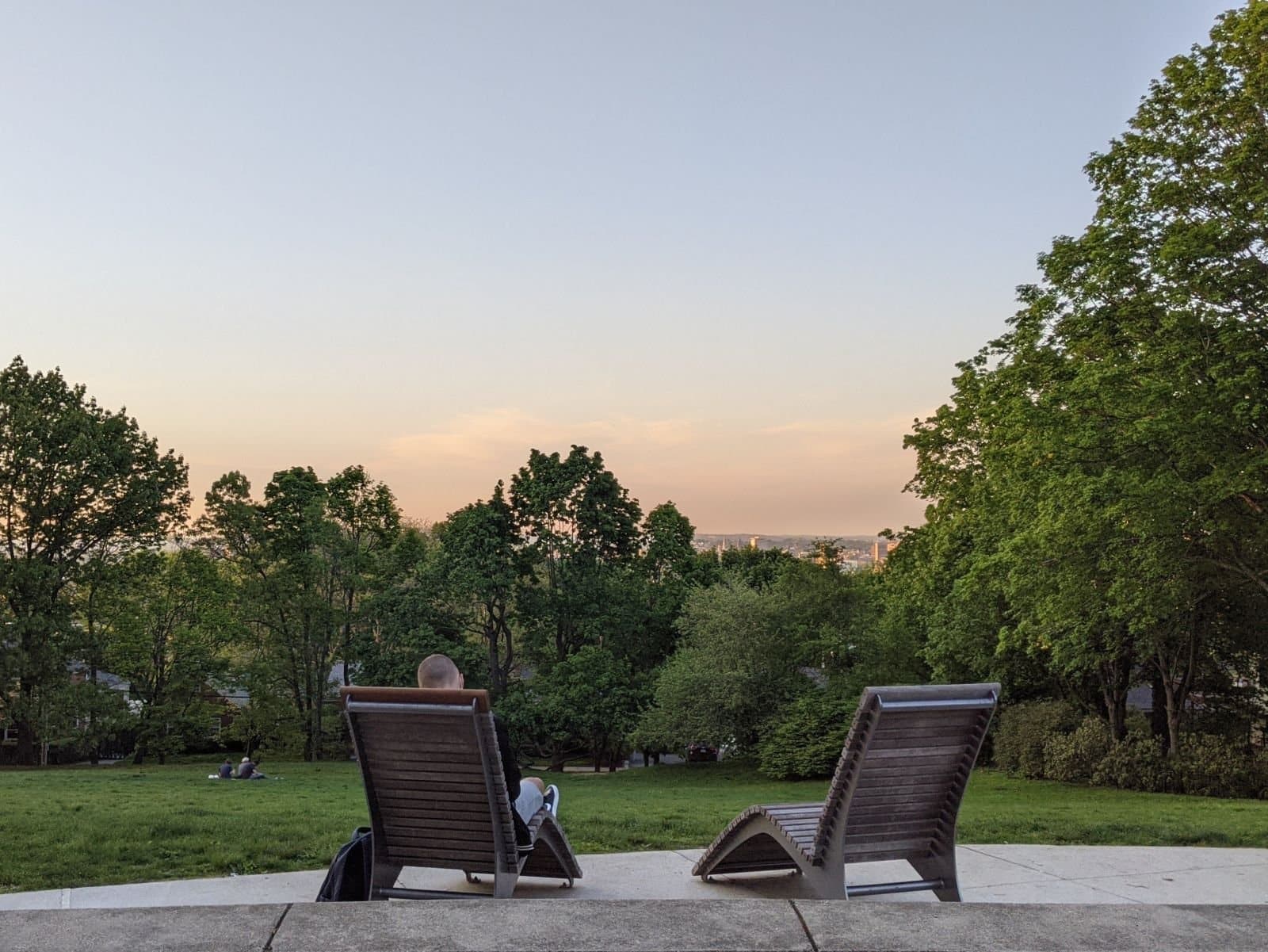 I actually lived on this hill and often saw workout groups tackle it first thing in the morning. Summit Ave is steep and the street is fairly quiet with sidewalks on both sides, making it an ideal hill workout spot.
At the top, there's the lovely Corey Hill Park with hammocks, drinking fountains, and lounge chairs.
17. Heartbreak Hill
Elevation gain:100 ft over .75 miles (see the Strava segment)
Accessible from: Newton, Brookline
Heartbreak Hill is perhaps the most notorious part of the Boston Marathon course, especially since it's near mile 20, one of the most challenging segments of a marathon. If you train here, you'll also be close to Chestnut Hill Reservoir, where you can get in more miles.
18. Peters Hill
Elevation gain: 100 ft over .5 miles from the Walter Street gate
Accessible from: Jamaica Plain, Roslindale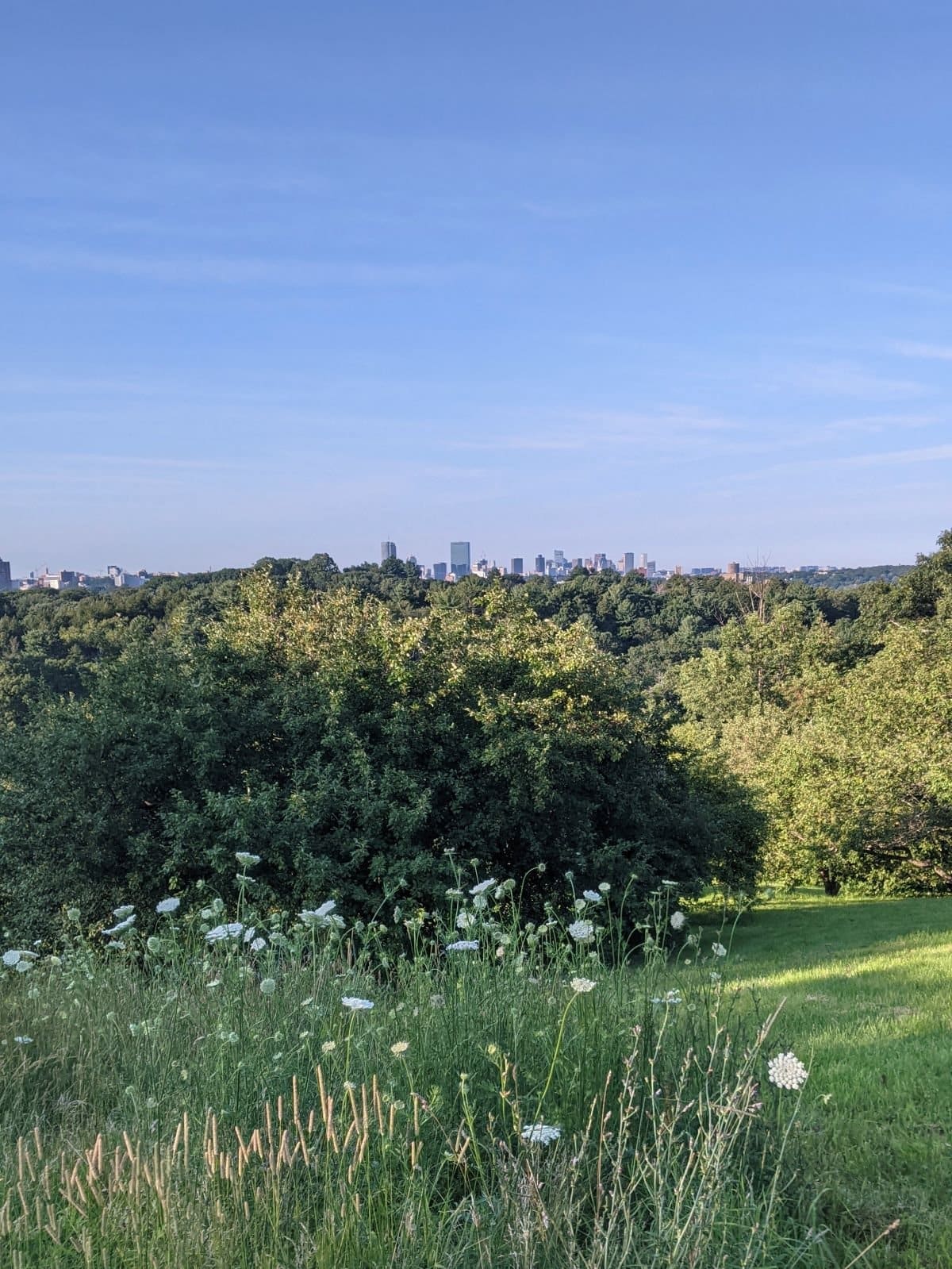 Peters Hill is a scenic viewpoint in the Arnold Arboretum, which has many paved trails. The arboretum itself is pretty hilly, so you can simply run around the park to get your training in, making sure to tackle Peters Hill at least once.
Map of the Best Places to Run in Boston
Here's a map of all these places to run in Boston! Click the top-left corner to break it down by type of run. For longer routes like the Charles River Bike Path and Emerald Necklace, check out the maps linked at the beginning of the post.
Let us know if you have any other favorite running spots you'd add to this list! If you're looking for more running content, especially GPS watch reviews, check out my personal blog. You may also like this post on outdoor things to do in Boston.