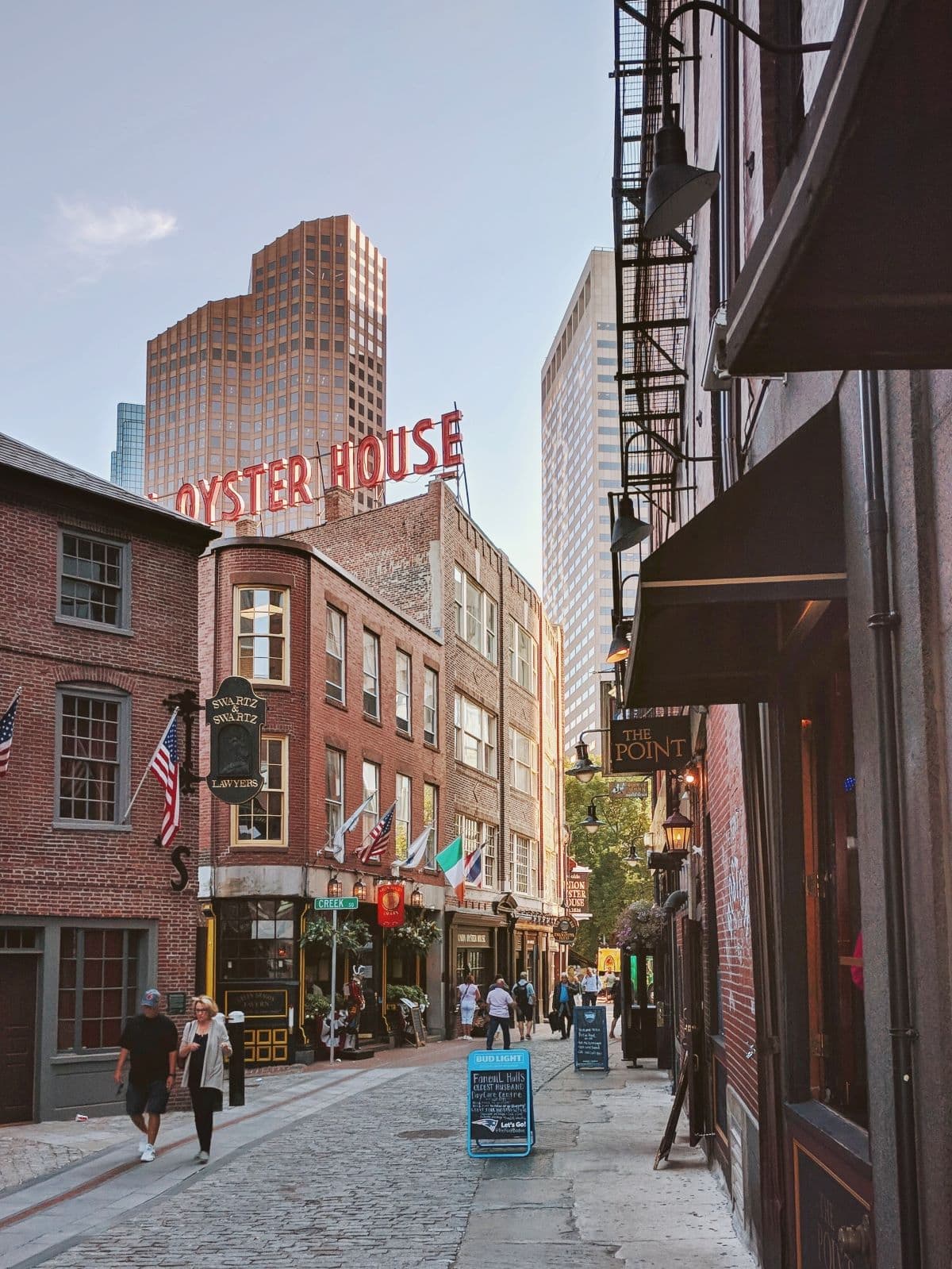 Boston's neighborhoods have distinct personalities, and each one may suit different kinds of travelers. In this post, I'll go over some of the best places to stay in Boston, whether you're on a budget, traveling with family, or looking for the best city views.
This post contains affiliate links, meaning that I may earn commission for any bookings completed. This doesn't cost you any extra!
Tips for Deciding Where to Stay in Boston
Avoid staying outside the city when possible, unless you have extra time to take transportion, or are planning to stay long-term. Areas like Watertown, Medford, Roxbury, Everett, Jamaica Plain, and Chelsea do offer lower prices, but getting into the city will take over half an hour. Your time is money! There are some surrounding areas that are still viable though, and I'll be going over those in this post.
There's no need to stay near the airport, unless you're staying only for a layover. The area near the airport is largely residential and not very interesting, and it's also not the most accessible via public transport. I'd recommend instead staying in Back Bay, which has a $3 shuttle to the airport in non-Covid times, and gets you in the priority security line at Boston Logan. You could also consider staying near Sullivan Square in Somerville, as it's not so far from Logan (an Uber will be around $20), but also has easy access to downtown Boston.
Try to stay near a T stop (the T is Boston's subway/train system). This will make your life a lot easier.
Here's an overview of the best places to stay in Boston:
I will indicate how expensive each option is with dollar signs ($-$$$$). $ means $100 or less, $$ is $100-150, $$$ is $150-200, and $$$$ is $200+. Keep in mind that prices fluctuate quite often, so this is only a loose guide.

Best All-Around: Back Bay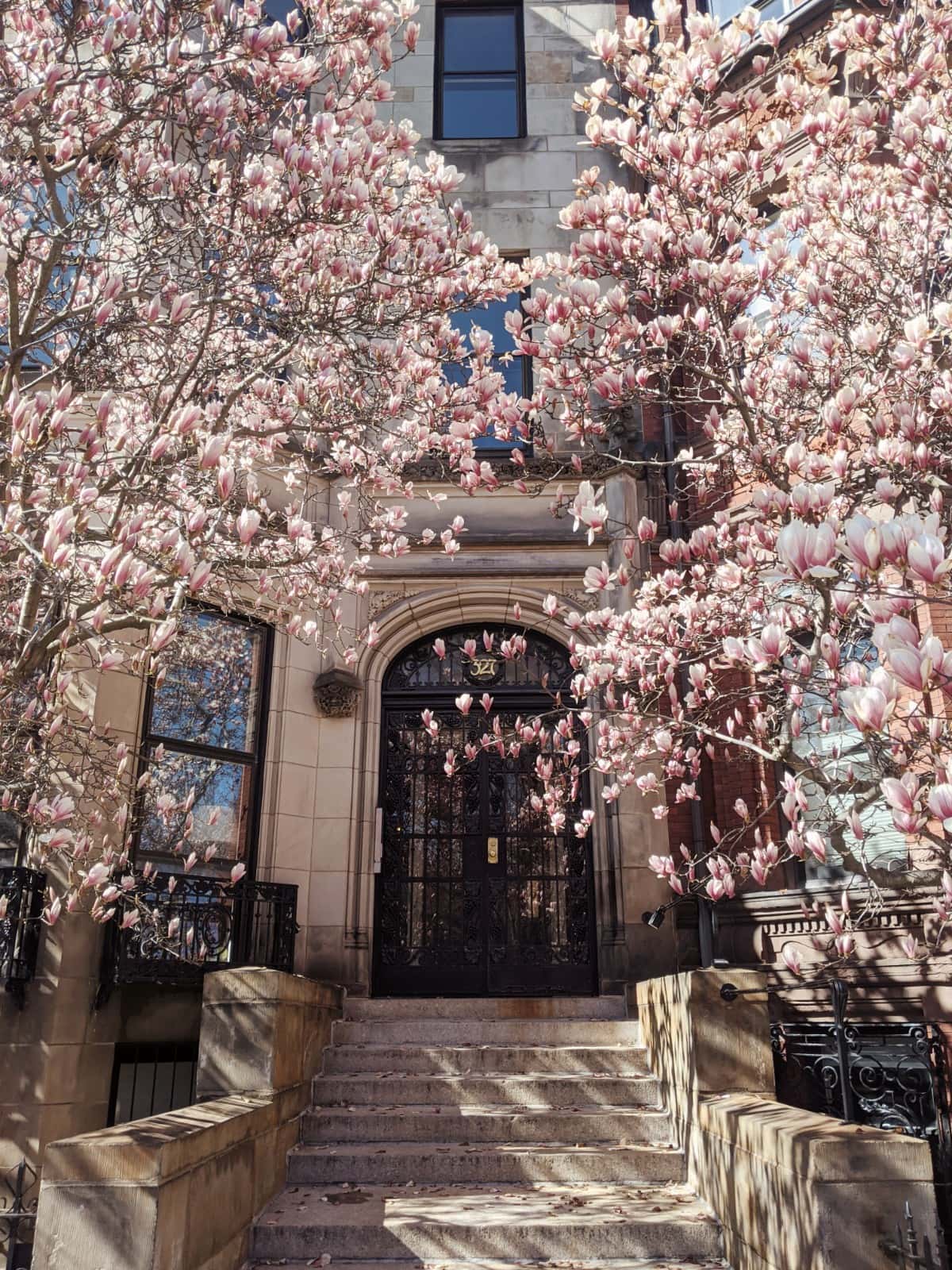 Back Bay offers just the right balance of residential charm and the bustling city atmosphere. You'll be a short walk away from downtown Boston all while having countless restaurants and shops at your feet.
Popular attractions include the Boston Public Library, Newbury Street (a historic street with shopping and dining), and Prudential Center (a mall). The Boston Public Garden and the Charles River Esplanade are nearby, offering the perfect setting for a picnic in the warmer months. In the spring, the Back Bay magnolia trees blossom and frame the classic brownstones, offering countless photo ops.
Even better, the area is highly accessible via many forms of transport, including the T, buses, regional trains (like Amtrak and the Commuter Rail), and the Logan Express (airport shuttle).
Here are some popular hotels:
Newbury Guest House ($$) is in a bustling location, as Newbury Street is full of popular shops and restaurants. Rooms are clean and modern, and the price is great value for the amenities and convenient location.
No. 284 ($$$) is located right along the Commonwealth Ave Mall. Rooms have a "fancy vintage office" and "private collection" feel, especially as the hotel features a selection of original American art. There is a courtyard, and some rooms even have retractable sunroofs.
The Lenox ($$$) is one of the top-recommended hotels in Boston. It's right next to the Boston Public Library, and features palace-like architecture in the common spaces, and elegant rooms with panoramic views of Back Bay.
The Eliot Suite Hotel ($$$) is also along Commonwealth Avenue. Rooms are a synthesis of both "old world" and modern decor, and light sleepers will appreciate the soundproof windows. Guests also have access to the Boston Sports Club.

Budget: Somerville, Cambridge, and Allston
Of course, one of the cheapest options is to stay at a hostel, and there is a hostel right downtown called HI Boston Hostel. You can get a bed in a shared room for as low as $50. The cheapest option, however, is to go in a group and rent out an entire room of 4 or 6 beds. You can also get a private room for up to 2 people (with a private bathroom) for as low as $100.
If hostels aren't your thing though, here are some other options.
Somerville
Somerville isn't anything fancy, but it's one of the best-value places to stay in Boston. If you stay near Sullivan Square or Assembly Row, you can reach downtown Boston in 10-15 minutes without paying the sky-high prices to actually stay downtown.
Assembly Row, a recently-developed outdoor mall, is also a fun attraction for all kinds of travelers. You'll find restaurants, a movie theater, paint bar, waterfront park, and many retail stores.
Here are some places to stay:
La Quinta ($) is your typical hotel chain, so don't expect anything too fancy, but you will get good value for the price. Even better, it's located right next to Assembly Row and offers free shuttles to the airport, as well as a free continental breakfast.
The Row Hotel ($$) is right in the center of action at Assembly Row. The accommodations are modern and upscale, but for a fraction of the price of similar offerings in downtown Boston. After a long day of exploring, you'll love the relaxation pool and sun terrace.
Cambridge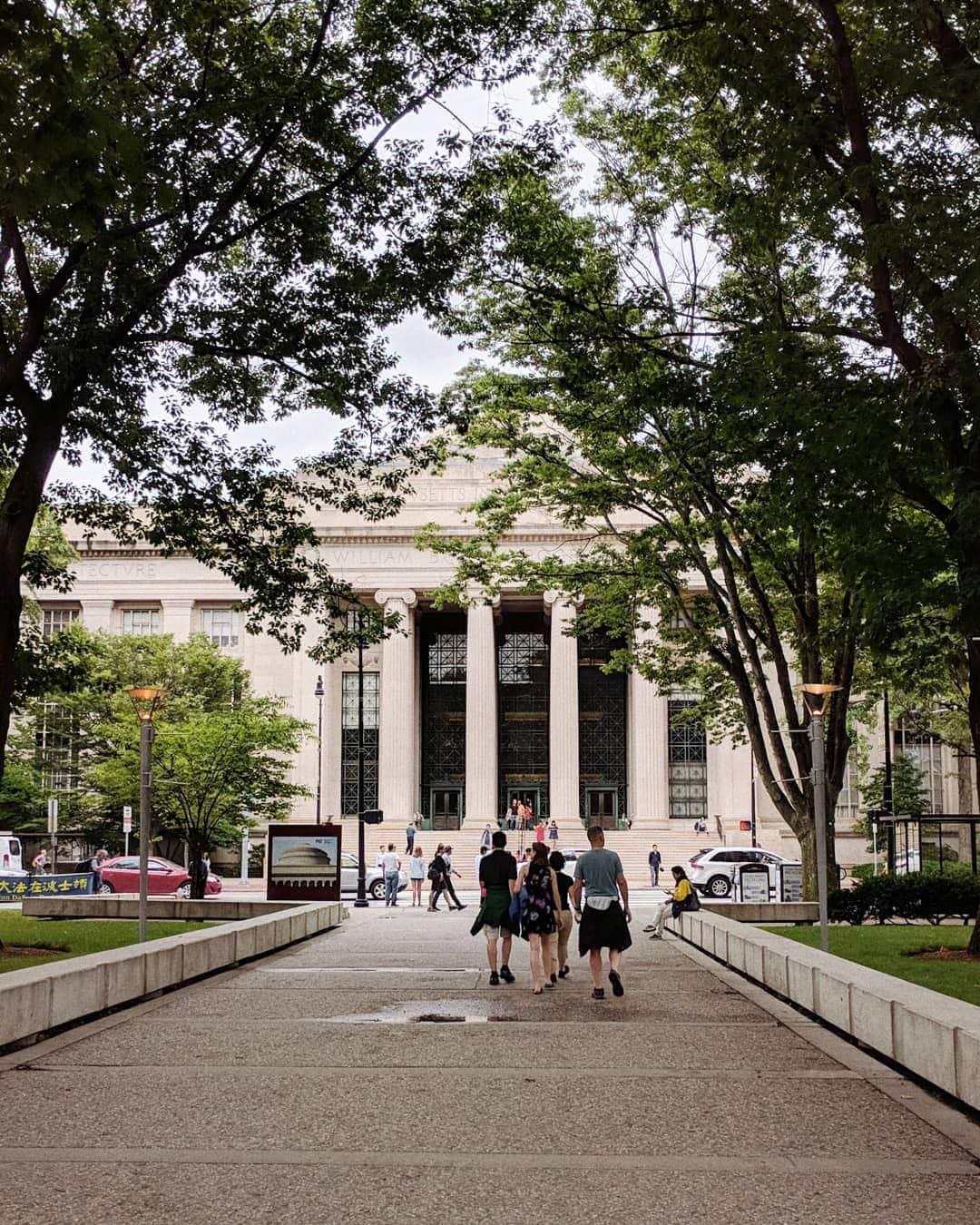 Technically its own city, Cambridge is home to two of the most prestigious universities in the country: Harvard and MIT. The area is largely residential and student-focused, but you'll find plenty to do in its different squares (Kendall, Central, Porter, Harvard, and Davis).
Here are some apartment rentals that you may like:
This studio offers is in a residential area near MIT, and it has free parking.
This private room is a 10-min walk from Central Square.
Allston
Allston is Boston's edgy sister. The area is home to many students, and as a result, you'll find tons of restaurants and easy access to nightlife. Allston does feel more "grunge," so I wouldn't recomend it to those looking for a quaint neighborhood. But if you like ethnic food and street art, this is your place. It's easy to access downtown via the Green line, though it will take around 20 minutes to get there.
The Farrington Inn ($) has very mixed reviews, but it's one of the most budget-friendly options. You can get a double room with a shared bathroom for as low as $50 per night. You'll be near public transport and many restaurants.
Best Views of the City Skyline: Cambridge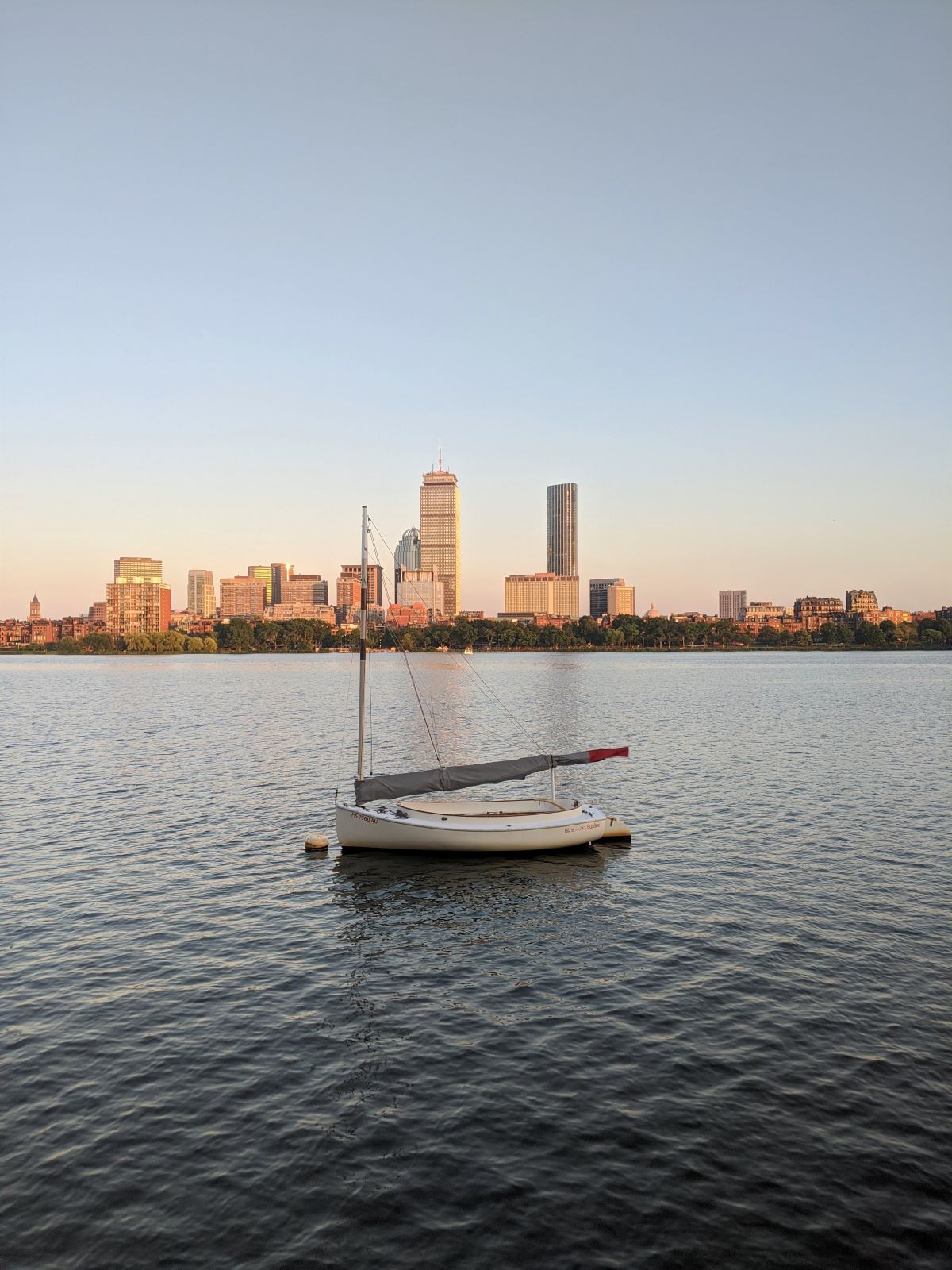 To get the prettiest views of downtown Boston, you'll have to step right outside of it. On the other side of the Charles River, you'll be able to see the city skyline, which is especially lovely at sunset. Here are two hotels with these fantastic views.
Royal Sonesta ($$) has an outdoor patio and gorgeous indoor pool. There are also accessible rooms for those with disabilities. You're a short walk away from Kendall Square, MIT, and the Red Line.
Hyatt Regency ($$) has gorgeous rooms with upscale meeting spaces, making it great for events. Pets are also allowed for an additional fee. The downside is that it's not near any T stops.

Quietest/Safest: Brookline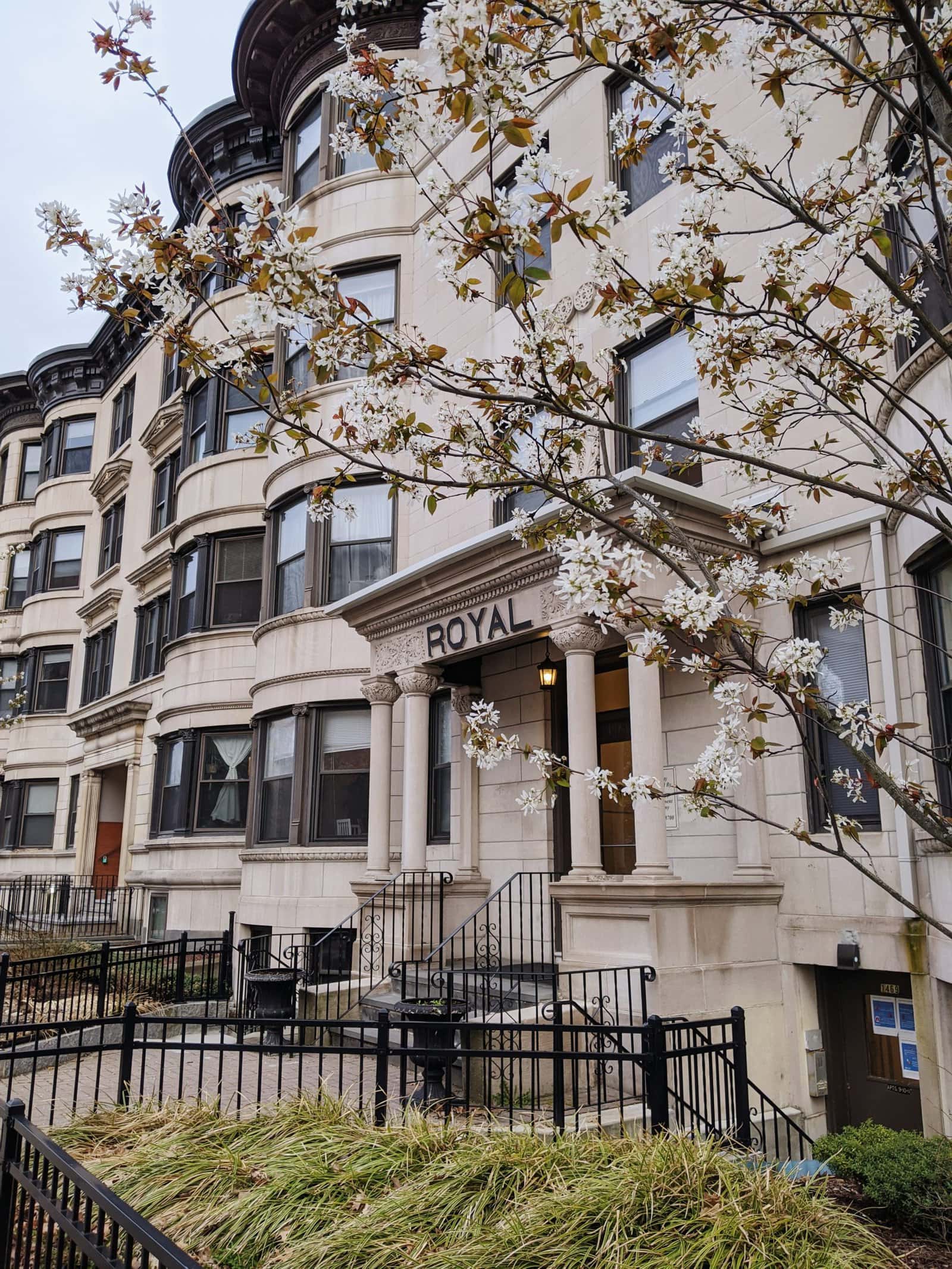 Brookline is technically its own city, and it definitely feels different from the rest of Boston. The area is largely residential and is pretty posh (it's one of the richest cities in Massachusetts). It's extremely family-friendly, offering many parks, restaurants, and a calmer atmosphere. You can easily reach the city via the Green Line in around 20 minutes.
Coolidge Corner Guesthouse ($$) is a bed and breakfast in a cozy Victorian home.
Courtyard by Mariott ($$) is right next to Coolidge Corner, a hub of shops and restaurants in Brookline.
Samuel Sewall Inn ($$) is another Victorian bed and breakfast.
You can also search for apartment rentals in Brookline, but try to stay near the C or D line, and don't go beyond Washington Street, as you'll be pretty far from downton Boston at that point.

Prettiest: Beacon Hill and the North End
Beacon Hill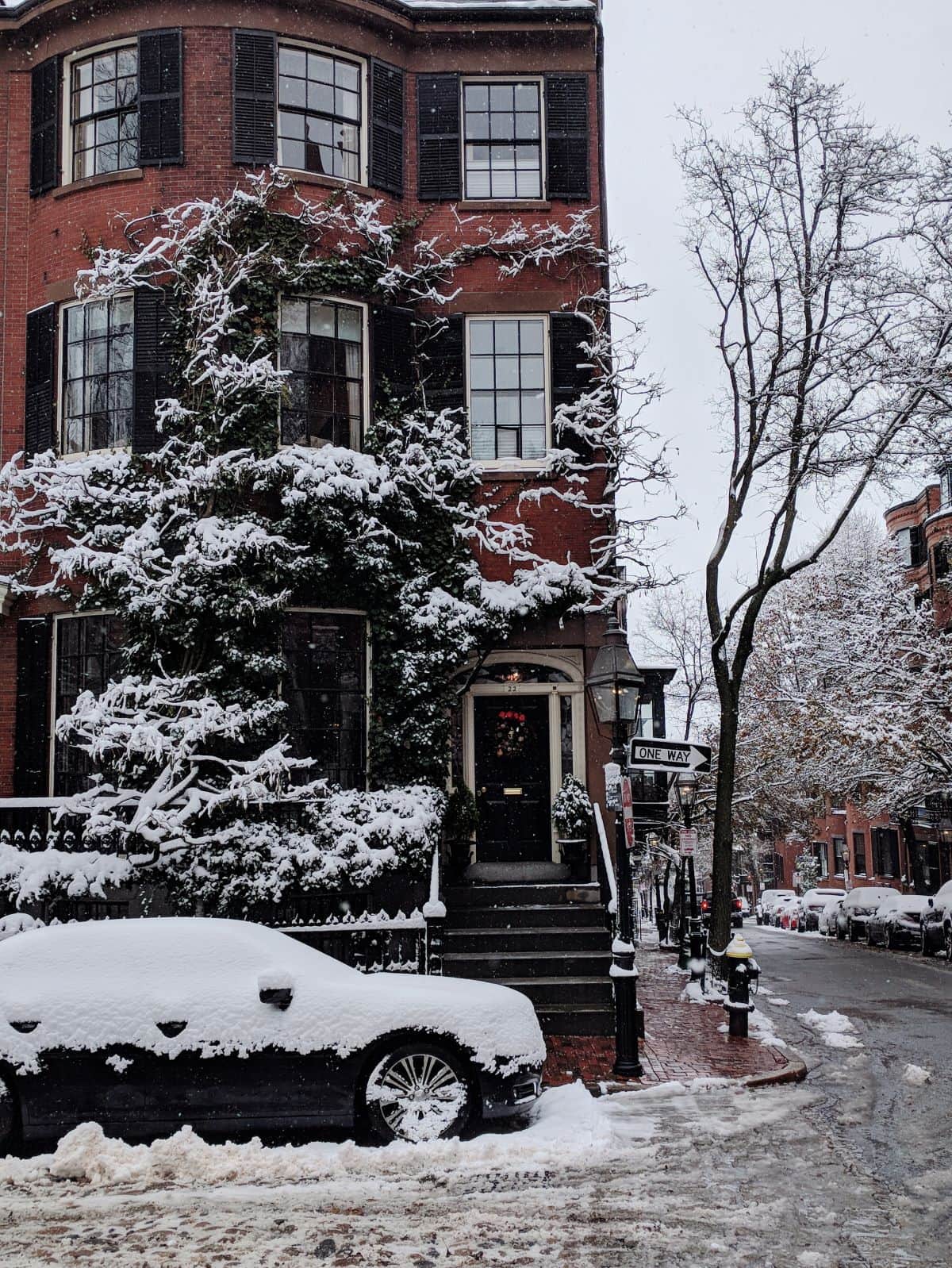 Beacon Hill is one of the most instagrammable places in Boston, featuring cobblestone streets and historic brick homes. It is very residential, but there are also several independent shops and galleries. You'll get easy access to the rest of the city, as the neighborhood is right above the Boston Common. If you want to explore Boston's historic sites, Beacon Hill is just a short walk away from many of the stops along the Freedom Trail.
Wyndham Hotel ($$) is right across from Beacon Hill. They offer modern rooms, a 24-hour fitness center, and ample event space.
The Whitney Hotel ($$$$) offers posh rooms with large windows overlooking the city. Active explorers will appreciate the free bike rentals and fitness studio. You also receive a "neighborhood passkey" with discounts at local shops and boutiques. The hotel is pet-friendly, offering treats, toys, and beds for your furry companion.
You can also search for apartment rentals in Beacon Hill.
The North End
The North End has a similar old-time charm to Beacon Hill, but offers more to do. It's home to Boston's Little Italy, so there's no shortage of restaurants and dessert shops.
Just a short walk away, you'll find the Boston harbor and many historic sites, such as Faneuil Hall.
The Bostonian Boston ($$) is a four-star hotel right next to Faneuil Hall and popular historic sites in the city. Many rooms have balconies and functioning fireplaces, and there's also an on-site spa.
Battery Wharf Hotel ($$) offers modern amenities and a huge fitness center right by the ocean.
Boston Yacht Haven($$$$) is a luxury, nautical-themed hotel along the water.

Most Modern/Upscale: Seaport
Seaport feels like a different world from the rest of the city. The area is recently-developed and features trendy shops (think Outdoor Voices, Mejuri, Everlane) and fancy dining. You can get some lovely views of the city from the waterfront as well.
The area is home to the Institute of Contemporary Art, and is also family friendly with its parks and the Boston Children's Museum.
There are no T stops in the neighborhood, so you'll need to take a bus or walk over from downtown Boston (it's not too far, and is a pleasant walk).
YOTEL Boston ($$) has a rooftop terrace with stunning views of the city skyline. Rooms are clean and high-tech with adjustable smartbeds.
Westin Boston Waterfront ($$$$) is the epitome of luxury. It offers large rooms and suites, lovely views of the city, a fitness center with Pelotons, and even private water taxis to popular attractions.

Best for Red Sox Fans: Fenway
Fenway/Kenmore is especially popular for its sports and bars. If you're coming to see a game, you may want to stay in the area. You don't have to be a sports fan to like the Fenway area, however. There are plenty of restaurants, shops, and parks.
Residence Inn Mariott ($$) offers suites with kitchenettes and a rooftop bar overlooking Fenway Park.
Boston Hotel Commonwealth ($$$) is a luxury hotel overlooking Fenway Park. There's tons of event space and a couple on-site dining options with outdoor patios.
You can also search for apartment rentals in Fenway/Kenmore.