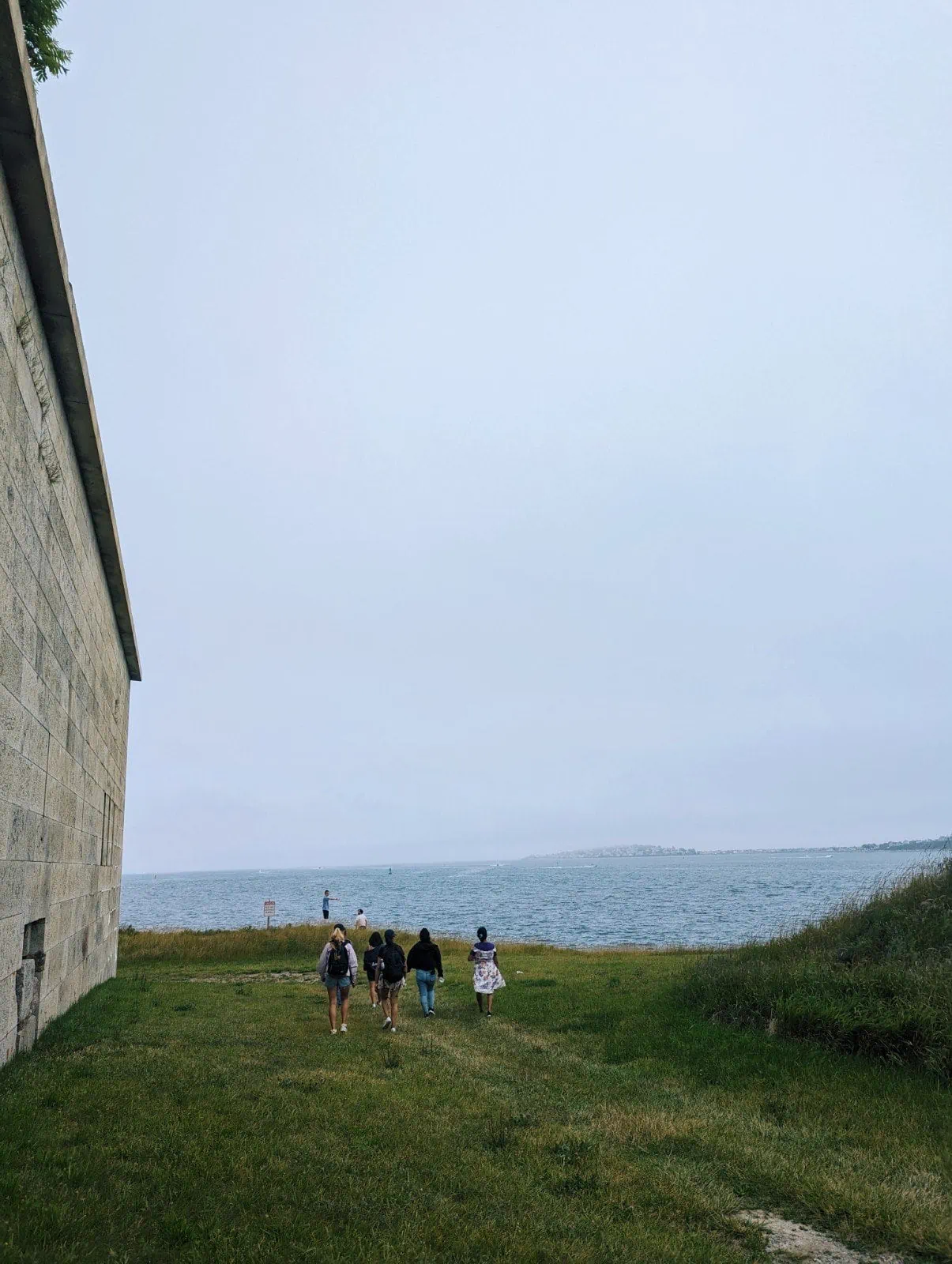 George's Island, home to a Civil War era fort, is one of the most-visited Boston Harbor Islands. This guide will share everything you need to know about visiting the island, including how to get there, things to do, and what to bring.
FAQs About George's Island
What's the history of George's Island?
The island was used for agriculture until 1825, when the US Government acquired it for coastal defense. Fort Warren was built on the island between 1833-1861, and it takes up most of the island today. The fort housed Confederate prisoners, Union deserters, and Northern political prisoners/Southern sympathizers.
While this sounds like a dark history, the prisoners were said to have been treated fairly. The commander of the fort, Colonel Dimick, was known for being compassionate and humane, and the mortality rate at the prison was low. The fort was active through several other wars until 1947, when it was decommissioned. It was turned into a National Historic Landmark in 1970.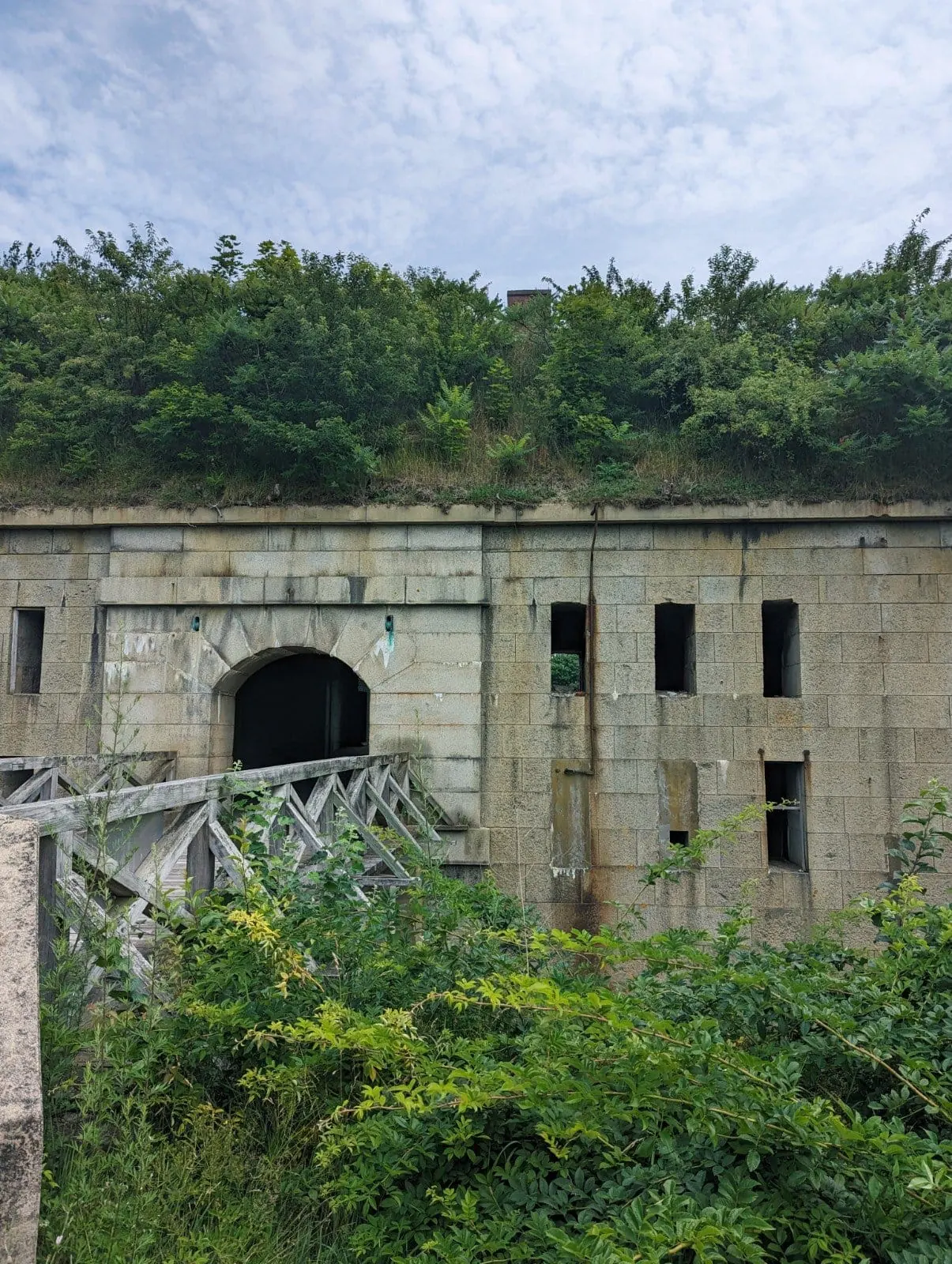 Is George's Island worth visiting?
I'd say so! I wasn't expecting much since the Boston Harbor Islands are small, but George's Island was interesting and felt almost otherworldly with its unique plants and coastline. I'm not much of a war history buff, but I still enjoyed learning about the fort and walking around the island. It makes for a cool day trip from Boston.
Are there bathrooms and drinking fountains on George's Island? Yes, there are bathrooms in the visitor's center and drinking fountains around the island. There are bathrooms on the ferry and drinks for purchase as well.
Can you swim on George's Island? No. There is a small beach, but swimming isn't permitted. If you want to swim, I recommend visiting Spectacle Island instead.
How to Get to George's Island
You can take a ferry for $25 round-trip. The ferry runs from late May to early September and the trip takes around 45 minutes one-way. In the summer season (June 15 – September 4 in 2023), there are daily ferries at 10am, 12pm, and 2pm. You can take the ferry back from the island at 1pm, 3pm, and 5pm.
You'll leave from Long Wharf in Boston, usually at Gate 5—just put "Long Wharf (North)" into Google Maps. The ferry service asks that visitors arrive 15 minutes early, but if you want to be among the first to board, try to show up 25-30 minutes early. It wasn't crowded when I went on a cloudy Sunday afternoon (the noon ferry), so I was still able to get a good seat when I arrived 20 minutes early.
Part of the fun is the ferry ride, and you can get some amazing Boston skyline views. On the way to George's Island, try to get a seat in the back of the boat for the best views. On the way back to Boston, grab a seat at the front.
Things to Do on George's Island
1. Take a free tour of Fort Warren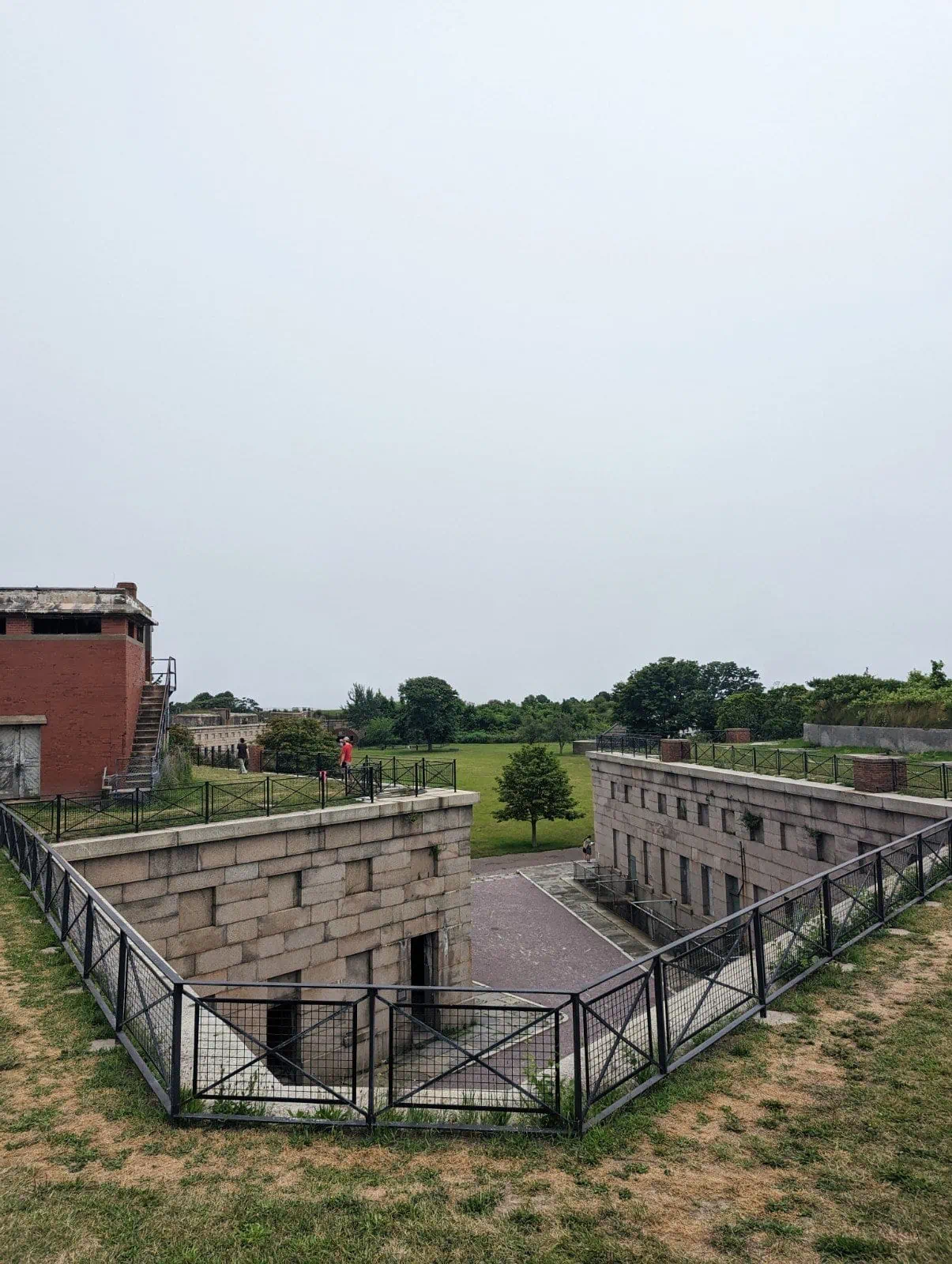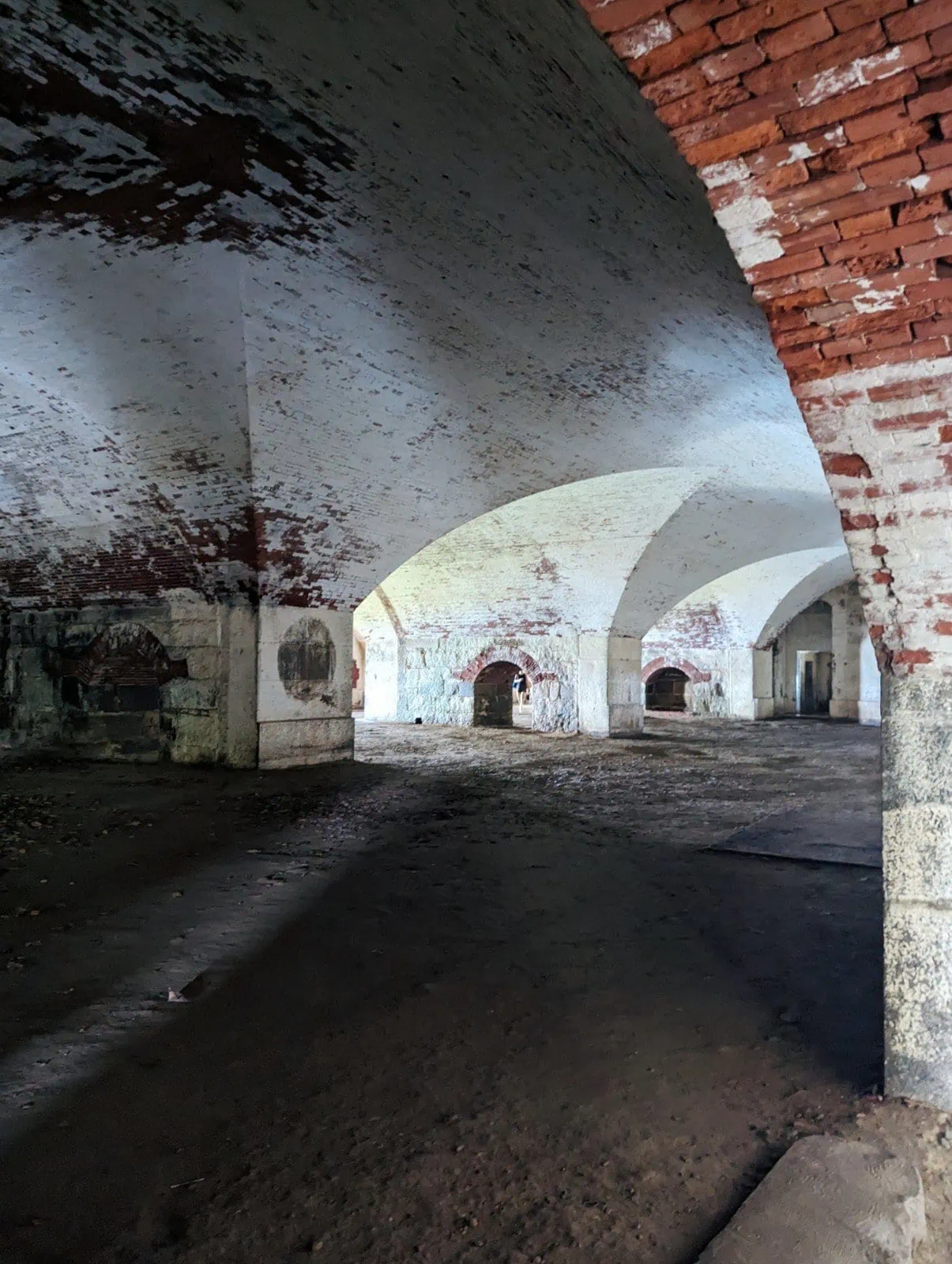 You can take a free hour-long tour of the fort at 11:15 am or 1:15 pm daily. I took the tour and found it interesting. I learned about the different parts of the fort, the history of the fort and its people, the plants on the island, and more.
The guide even told us a ghost story at the end in a part of the fort called the Dark Arch (if you're in there and hear ghost sounds, it's likely because the guide likes to make those sounds as he passes by the chimney on the ramparts of the fort).
The fort is incredibly old, and it's literally falling apart. Parts of it are blocked off for safety purposes (the floor could fall in), but if any area isn't roped off, you're free to explore it.
2. Check out the visitor's center
The visitor's center has some wall panels and artifacts that tell the story of Fort Warren and George's Island. My favorite exhibit displayed the kinds of meals offered at the fort depending on your rank and status. There's also a short documentary video with benches in the viewing area. If you need to use the bathroom, you can do so at the visitor's center as well.
3. Have a picnic (and even grill!)
George's Island is the perfect place for a summer picnic. There are picnic tables to the left and right of the island when you get off the ferry. The left area is more popular idyllic, with flowering trees in early July (they're Southern Catalpas).
There are even grills you can use—just bring your own charcoal and be sure to take trash bags since you must carry in and carry out on the island. The picnic area on the right is past the visitor's center in a more open area. There are pavilions, which can be good protection from the sun or rain, as well as grills.
4. Admire the flowers and plants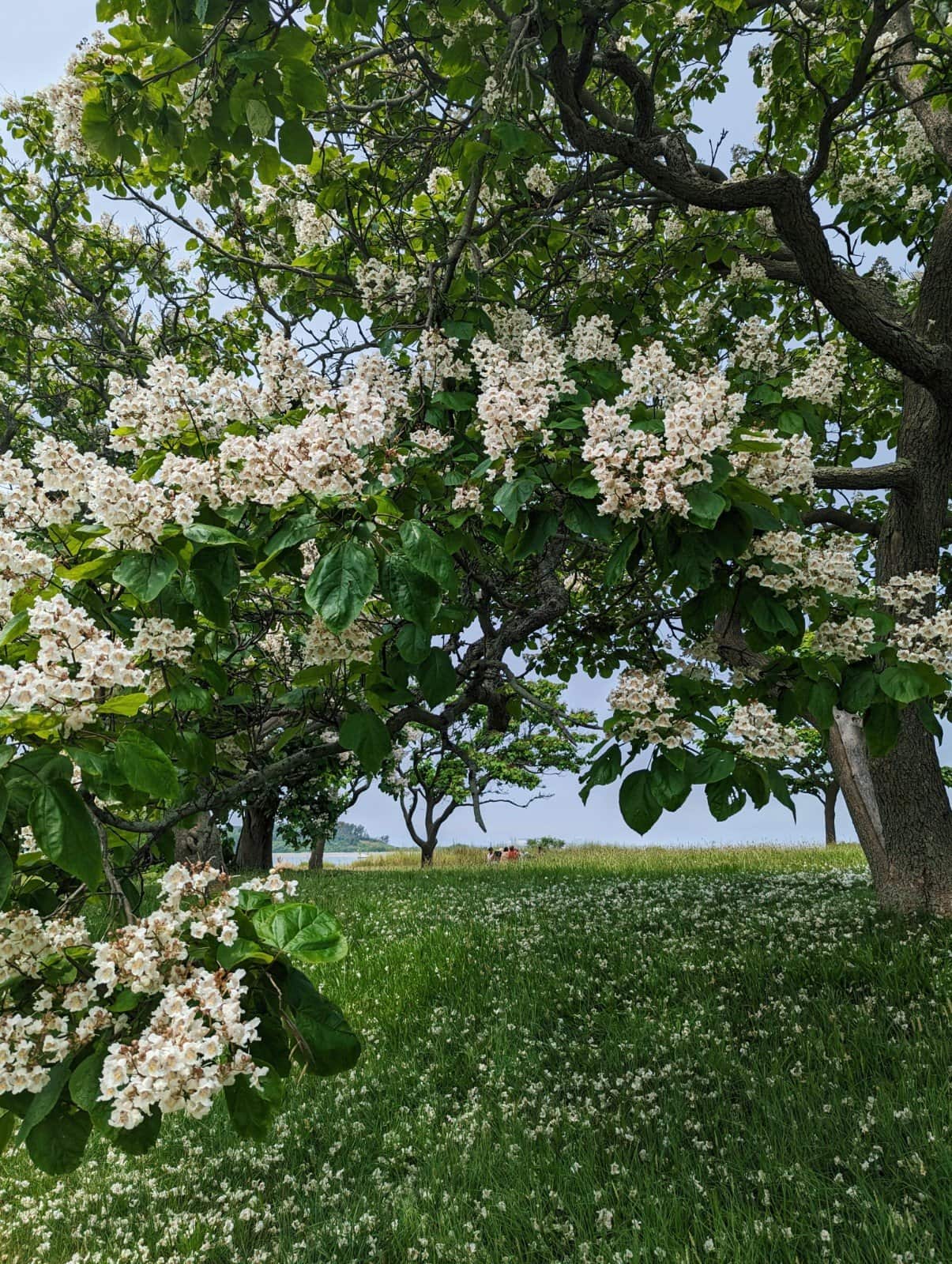 George's Island is home to many interesting plants on the island that you don't see in mainland Boston. Our guide pointed out the Horse-chestnut trees, which you don't see much in the Northeast because of blight, but the disease didn't make its way to the island.
There's also plenty of Staghorn Sumac (not to be confused with Poison Sumac), which can be used to make tea. My favorite flowers were the Southern Cataplas on the left side of the island though, near the picnic area. I particularly liked the Tufted Vetch and Bladder Campion flowers as well.
5. Walk along the coastline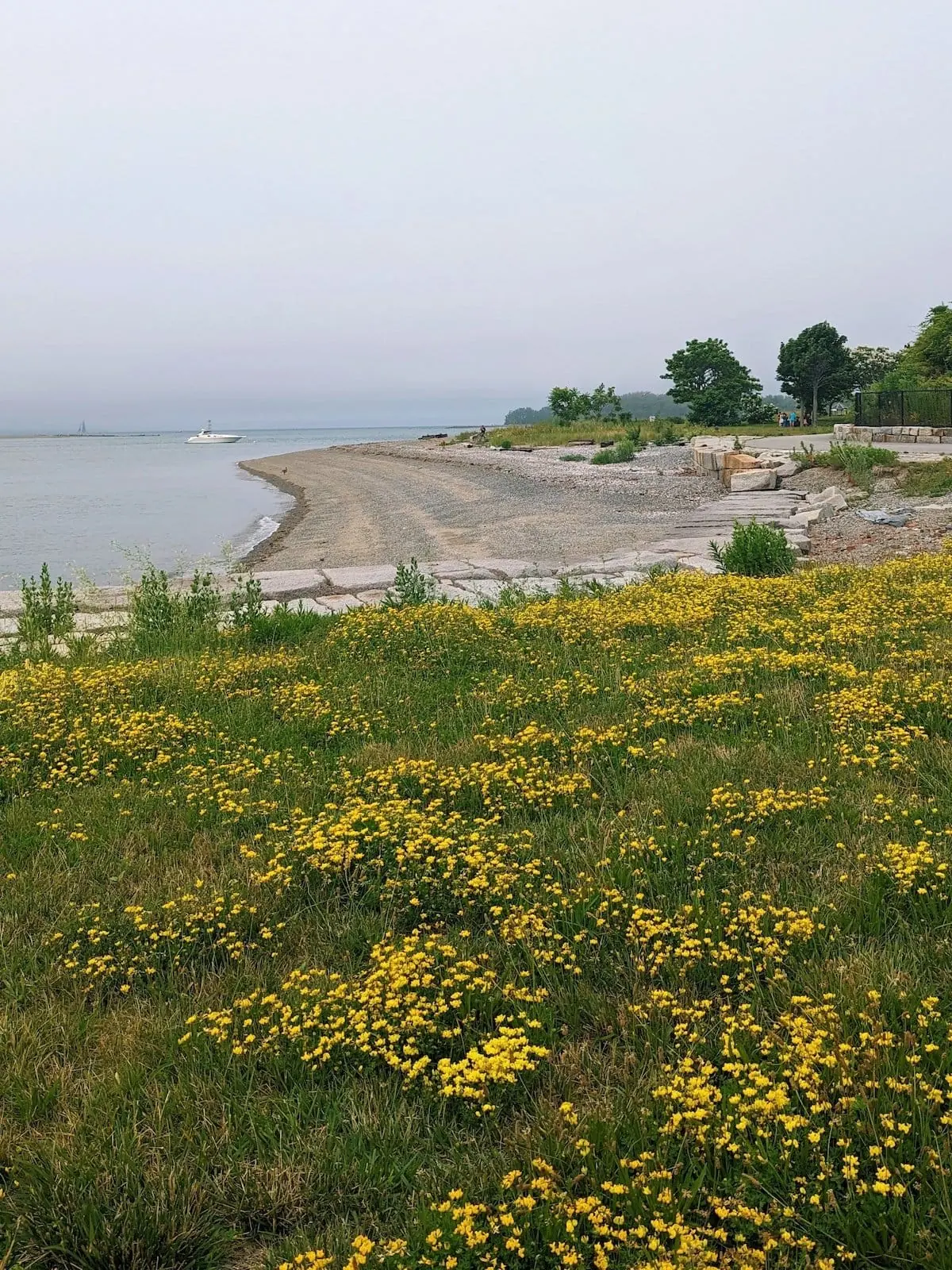 There is a small, pebbly beach right by the wharf of the island, but you can't swim there. You can walk along the beach, however, and other parts of the coastline. Just be sure to watch for signs that tell you to keep out due to erosion.
6. Have a bite at the snack bar
If you get hungry, there's a small concession stand with reasonable enough prices; everything is actually under $5. They sell Italian ice, hot dogs (including a veggie dog), and other small snacks.
What to Bring on Your George's Island Trip
While George's Island is only a short trip away, there are a handful of things you may want to bring to make your time there are fun and comfortable as possible.
This section contains affiliate links, meaning that I may earn a small commission on any purchases, at no extra cost to you.
Sunscreen (REI/Amazon)—Keep your skin healthy on the ferry ride over and during your time on the island.
Walking shoes—Parts of the fort are damp and slippery, and some areas are rocky. You don't need hiking boots, but at least bring good walking shoes.
Flashlight (REI/Amazon)—Parts of the fort are incredibly dim and dark. Your phone flashlight will work, but you may want a more powerful light if you plan to do extensive exploring. It'll save your battery life too!
Trash bag—There are no trash cans on George's Island. Make sure to bring your own trash bag to carry in and carry out.
Water bottle—There are drinking fountains, but they're pretty spread out on the island, so make sure you bring your own water as well.
Extra clothes—It can get really chilly in sections of the fort, and the weather can also change rapidly on the island. If you plan to spend a lot of time exploring, bring a sweatshirt.
I hope you have a great trip to George's Island! Check out my guide to Spectacle Island if you're considering a trip there too, as well as my comparison between George's and Spectacle Island.