Spring is one of the best times to be in Boston. The streets are lined with beautiful flowering trees, which makes a walk or run outside feel so much more cheerful than in the dreary winter. As a former local, spring is my favorite season in the city.
This post will share some unique and fun things to do in Boston in the springtime. There's something for tourists and locals alike!
This post contains affiliate links, meaning that I may earn a small commission on any purchases through those links, at no extra cost to you. This income helps keep this site running and is much appreciated!
Best Time to Visit Boston in the Spring
Boston can still be pretty cold and gloomy in March, so I'd recommend visiting April or later. One of my favorite parts of spring in Boston are the magnolias, which tend to peak in mid-April, along with the cherry blossoms. So, I'd say mid-April is one of the best times to visit in spring.
If you're especially enamored by flowers like I am, here's a rough timeline of when certain types of flowers peak in the city:
Magnolias and cherry blossoms: mid-April
Kwanzan cherry: late April to early May
Dogwood: mid-May
Wisteria: late May
Mid to late May is also a solid time period since there are still some flowering trees, temperatures are warmer, and some summer attractions start opening up.
Average temperatures in Boston in spring range from 31-46°F in March (-.6-7.8°C), 41-57°F in April (5-13.9°C), and 50-67°F in May (10-19.4°C). You'll still want to pack a light jacket and dress in layers though since Boston weather is temperamental.
15 Things to Do in Boston in Spring
1. Enjoy the magnolias.
These pink and white blooms take over entire neighborhoods of Boston in mid-April. Go down Commonwealth Avenue Mall in Back Bay for the most beautiful rows of magnolia trees lining the streets.
You can also see some gorgeous blossoms on Beacon Street past Washington Square in Brookline.
Fun fact: magnolia petals are actually edible and taste like ginger!
See my guide on where to find the magnolias for more info.
2. Go on a sunset cruise.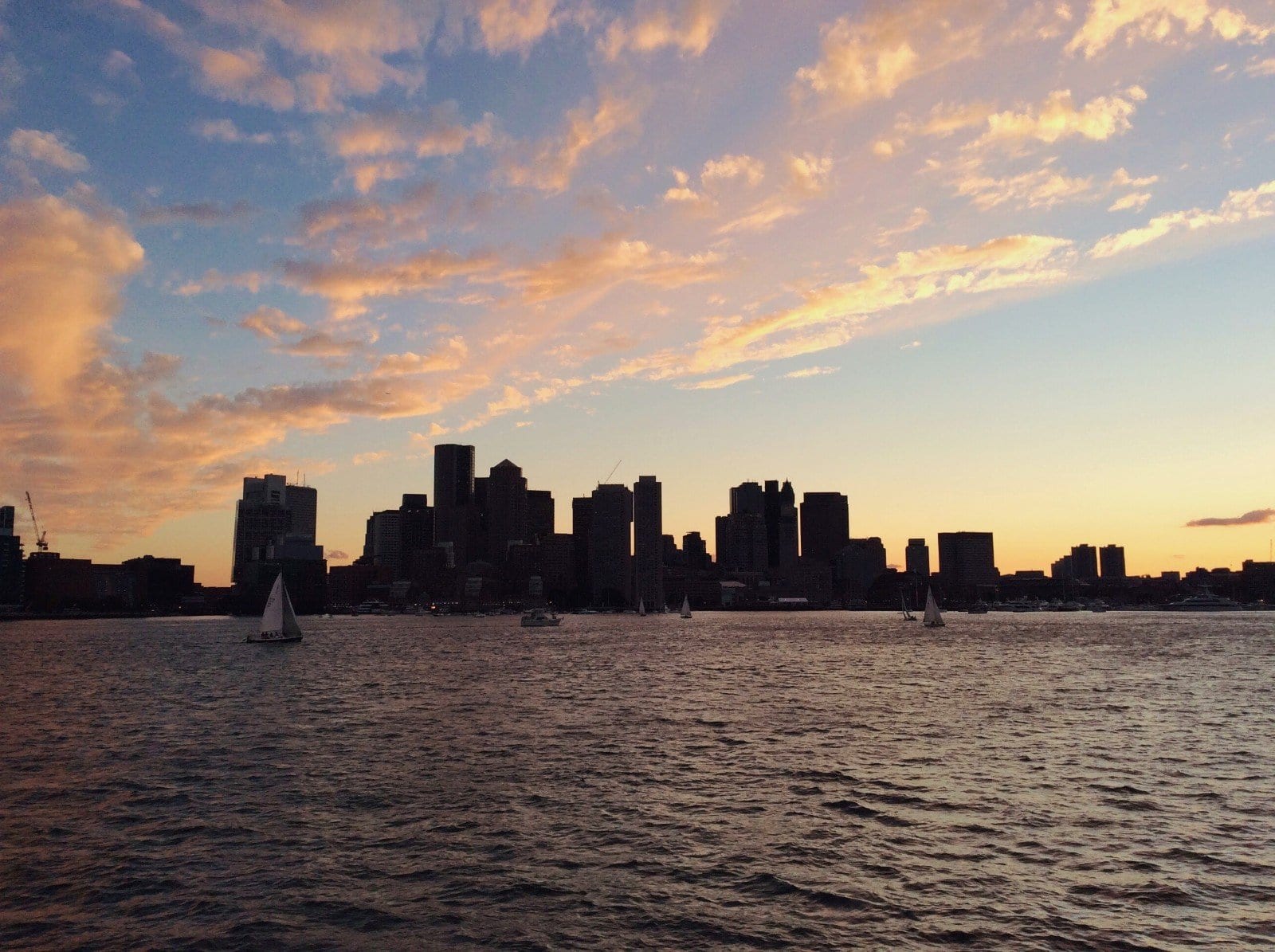 I plug sunset cruises in several of my posts—I went on one years ago and still remember being touched by the views. There's nothing like seeing the city skyline at the golden hour from the water.
These cruises tend to start up in the later spring, and you can usually buy food and drink on board.
3. Wander around Beacon Hill.
Beacon Hill makes you feel like you're stepping back in time with its cobblestone streets and gas lamps. The neighborhood is beautiful in all seasons, but it really comes alive in the spring with the white cherry blossom trees, which bloom around mid-April.
Stop by Sunflower Castle and Louisburg Square for the best photo ops.
4. Take a day trip.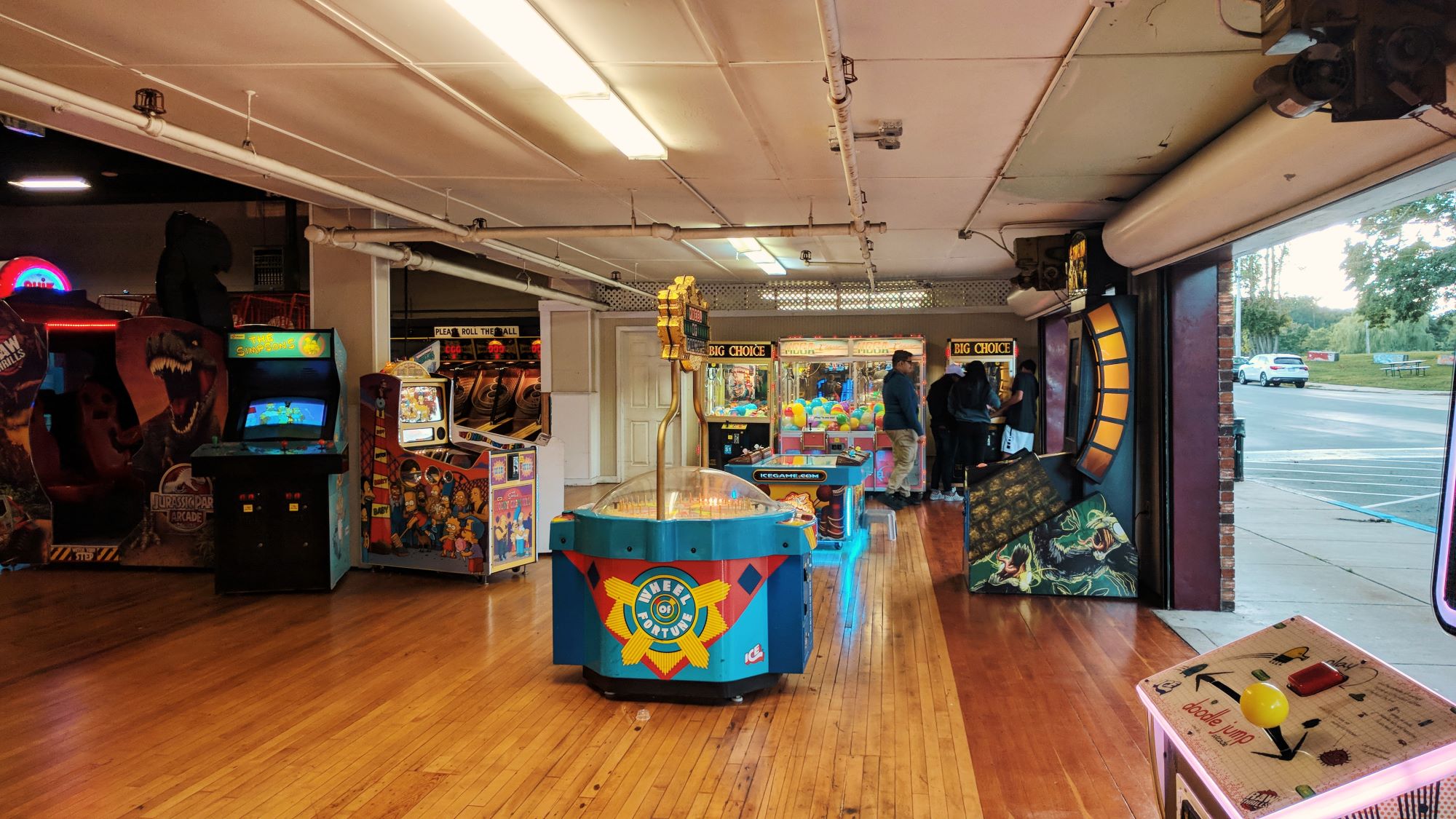 the arcade at Salem Willows Park
Boston is close to some pretty little coastal towns that are easily accessible via the Commuter Rail, car, or even boat. Consider a trip out to these spots:
Salem—home of the famous witch trials, but also a beautiful waterfront park with an open-air arcade (called Salem Willows Park). The flowers in Salem are also beautiful in the spring. You can take the Commuter Rail and get here within one hour from Boston
Newport, Rhode Island—Newport has something for almost all travelers: a historic town center, colorful residential houses, local shops, coastal walks, and impressive mansions you can even visit. You can drive here in around 2 hours.
Provincetown—while this town on the very tip of Cape Cod is more popular in the summer, the late spring is also a lovely time to visit. Come here to walk along the beaches, kayak, or get great seafood (there are some pretty good veggie options as well). You can get here in 1.5 hours via the ferry.
If you don't have a car, check out my guide to day trips from Boston by train for more details and destinations.
5. Explore Arnold Arboretum.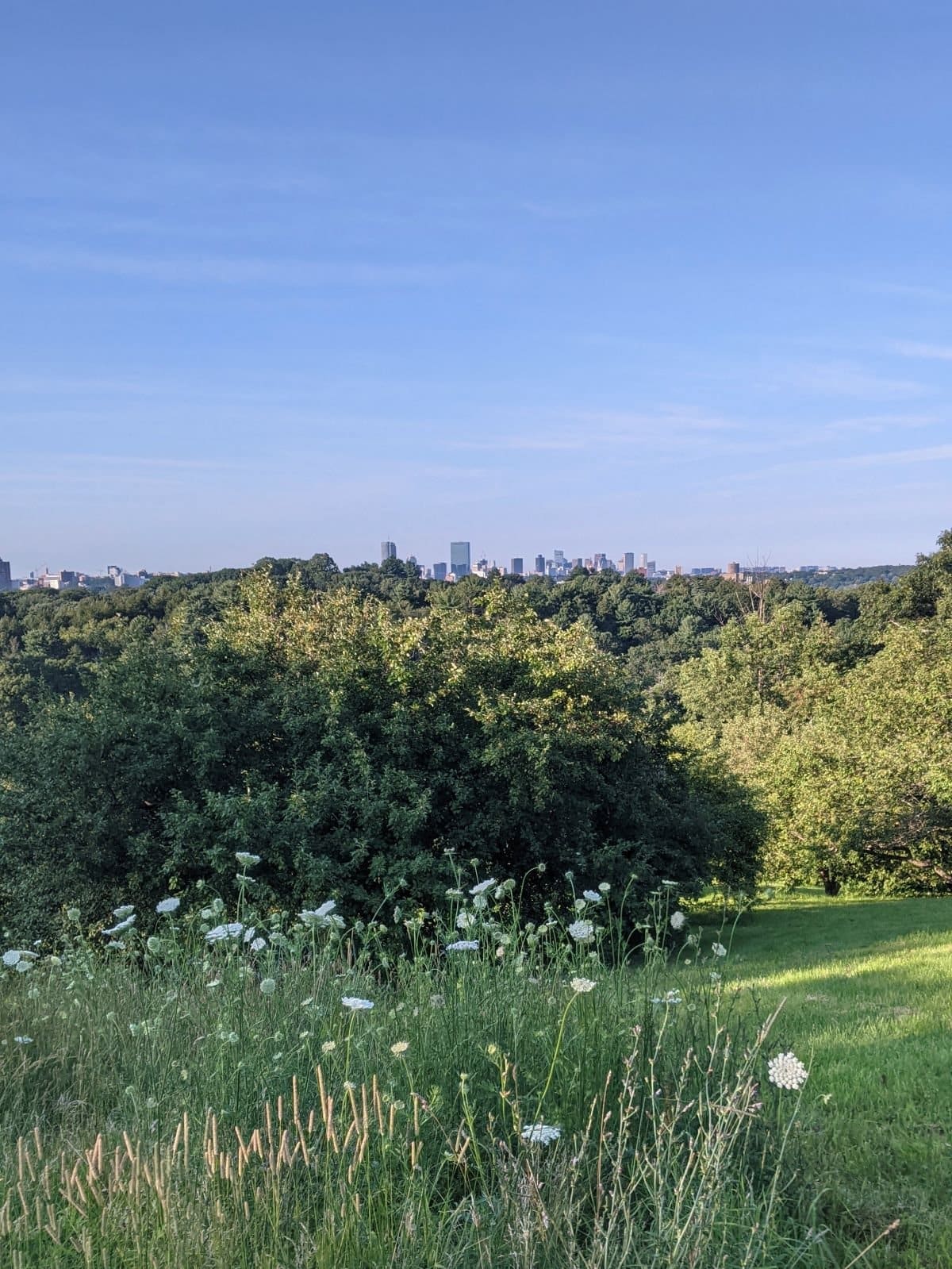 The Arnold Arboretum is an expansive park on the outskirts of Boston in Jamaica Plain (it's the last stop—Forest Hills—on the orange line).
The arboretum is about 1.5 miles from the long side to the other, so be prepared to walk a bit. The time should pass by quickly when you're surrounded by all the interesting flowers, plants, and trees, which are even labeled.
For the best view, go up to Peters Hill on the far side of the park. Stay until sunset if you can!
6. Admire the wisteria.
The wisteria in Boston isn't as dramatic as the magnolias, but there are still some beautiful spots with this purple vine flower. These bloom about a month later than the magnolias in mid-May.
The Christopher Columbus Park archway is covered in this beautiful plant, and you'll also find a wisteria-covered house in Louisburg Square in Beacon Hill. These are both some of the most instagrammable places in Boston.
7. Go shopping in Assembly Row.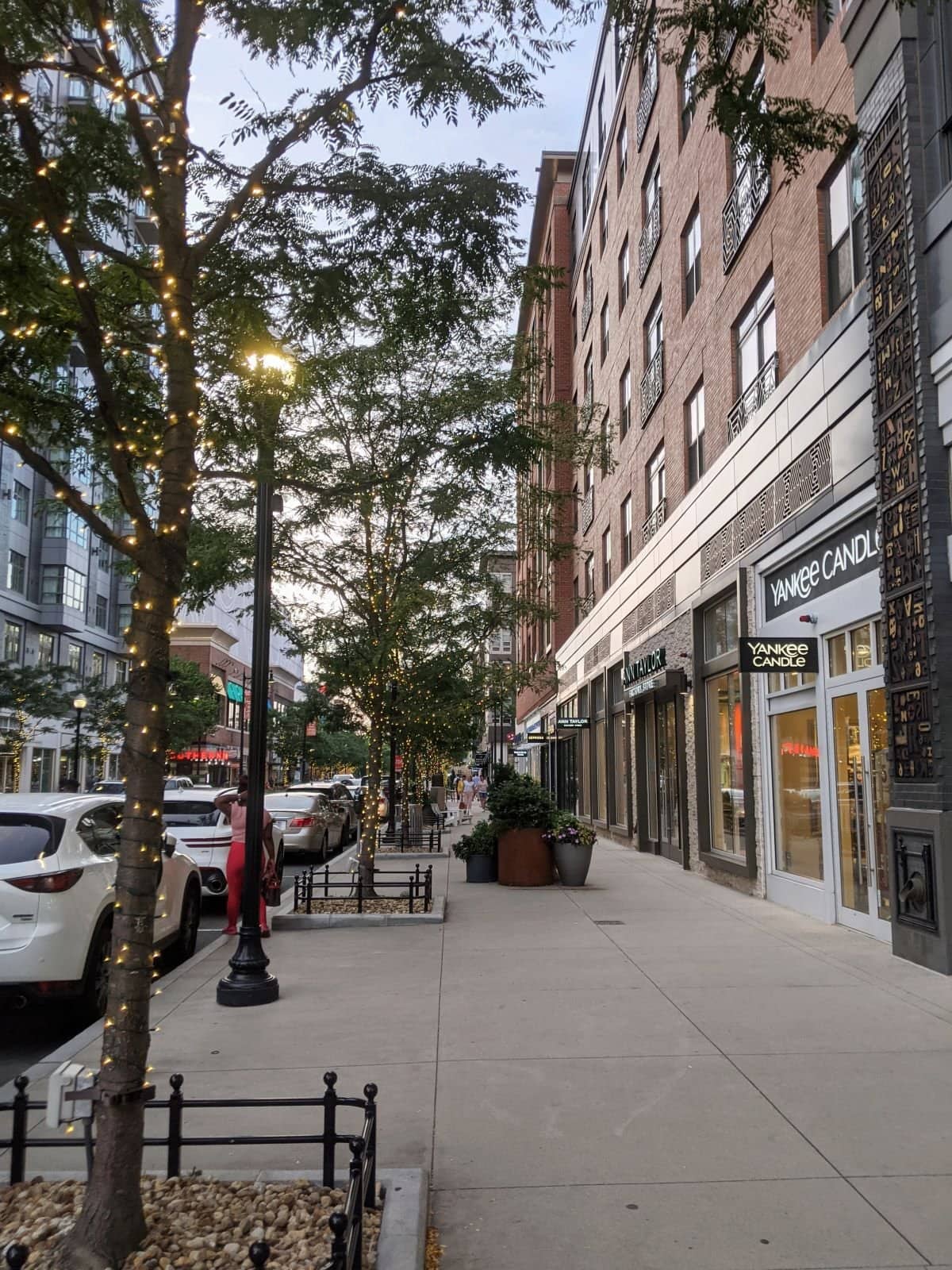 Assembly Row is an outdoor shopping center in Somerville that is easily accessed on the Orange Line. There, you'll find several trendy shops, diverse restaurants, and a movie theater. Some highlights include the LEGO store and Trader Joe's.
There's also riverfront park where many families and couples like to walk, relax, or fish, which is perfect in the spring.
8. Have a picnic at Corey Hill Park.
One of the hidden gems in Boston, this hilltop park in Brookline offers lounge chairs, hammocks, picnic tables, and sprawling grassy fields. If you have kids, they'll love the playground.
Corey Hill Park is charming at all times, but it's especially pretty at the golden hour, when the sky starts to turn pink right before sunset. You can also see some stars on a clear night.
9. Walk along the Esplanade.
The Charles River Esplanade is a park along the Boston side of the Charles River. There's a bike path that takes you along both sides of the river and into the nearby cities.
Many locals and tourists alike come here to walk, bike, or run. In the evening, people often gather along the docks to dance or hang out.
10. Go on a food tour.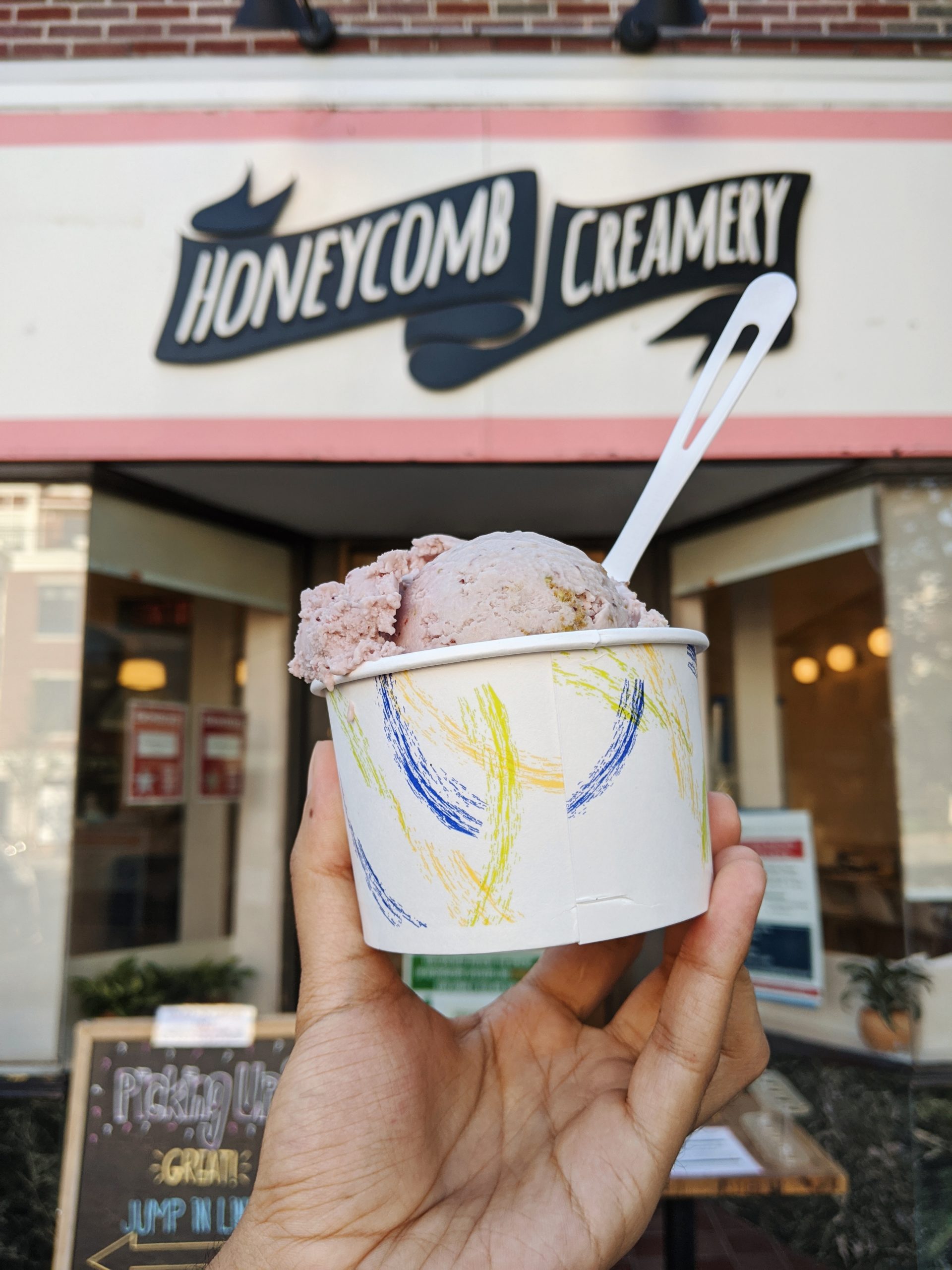 Since the spring weather is more pleasant, a food tour is a great way to explore the city and satisfy your cravings.
If you have a sweet tooth, you'll like this underground donut tour. Or, if you want a more comprehensive experience with pizza, pasta, and craft beer, check out this secret North End food tour.
You can also go on your own informal food tour. If you're vegan, you'll want to take a look at my favorite Boston vegan ice cream spots and vegan restaurants in Boston.
11. Visit Hall's Pond Wildlife Sanctuary.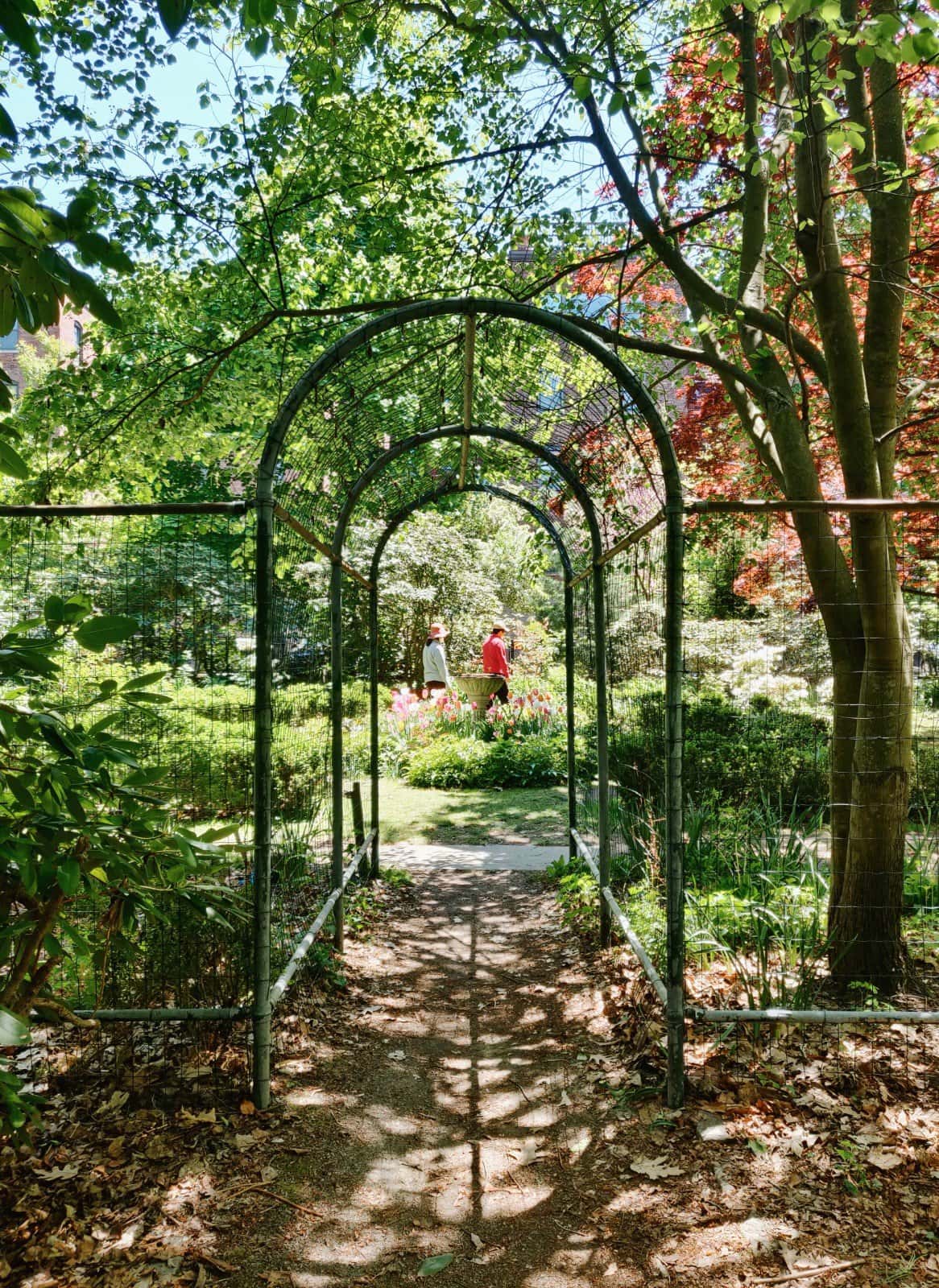 Hall's Pond is a quaint and serene spot in residential Brookline. Families, friends, and couples often come to walk their dogs, play tennis, or sit on the lawn. The gardens are especially pretty in the spring, and you can spend some time exploring Coolidge Corner after visiting the small park.
To find the spot pictured, enter the park and then find the gate towards the Beacon Street side. The garden area will be to your right.
12. Take a swan boat ride at the Public Garden.
The Public Garden has gorgeous tulips and cherry blossoms in the spring. Go on a walk through the grounds or have a picnic on the grass.
Starting in mid-April, the iconic swan boats begin operating seasonally. Rides cost $4.50 for adults, $3 for kids, and $4 for senior;s you can pay by cash or card.
The ride is a short 15 minutes and takes you through the small pond and under the footbridge. You'll get a lovely view of the willow and cherry blossom trees from the water!
13. Go hiking at Middlesex Fells or the Blue Hills.
Middlesex Fells and the Blue Hills are two parks with views of the Boston skyline.
At Middlesex Fells, the best viewpoint is at Wright's Tower, which is a short .3-mile hike from the South Border Parking lot. Bring good athletic shoes and be ready for a bit of a climb. You can also hike the full Skyline Trail, which is 8 miles with 1000ft of elevation gain.
The Blue Hills are also a short 20-minute drive from Boston, and you can get a distant skyline view by walking the Skyline Loop, which is 5.4 miles with 700ft of gain.
14. Watch the Boston Marathon.
The Boston Marathon is the world's oldest annual marathon and one of the most prestigious events among runners due to its competitive qualification standards.
Around 30,000 runners from near and far participate in this World Major Marathon. It's a huge, exciting event to witness.
Some popular spectating spots include Wellesley with the local students, Heartbreak Hill in Newton, and the finish line in Back Bay.
15. Smell the flowers at the Kelleher Rose Garden.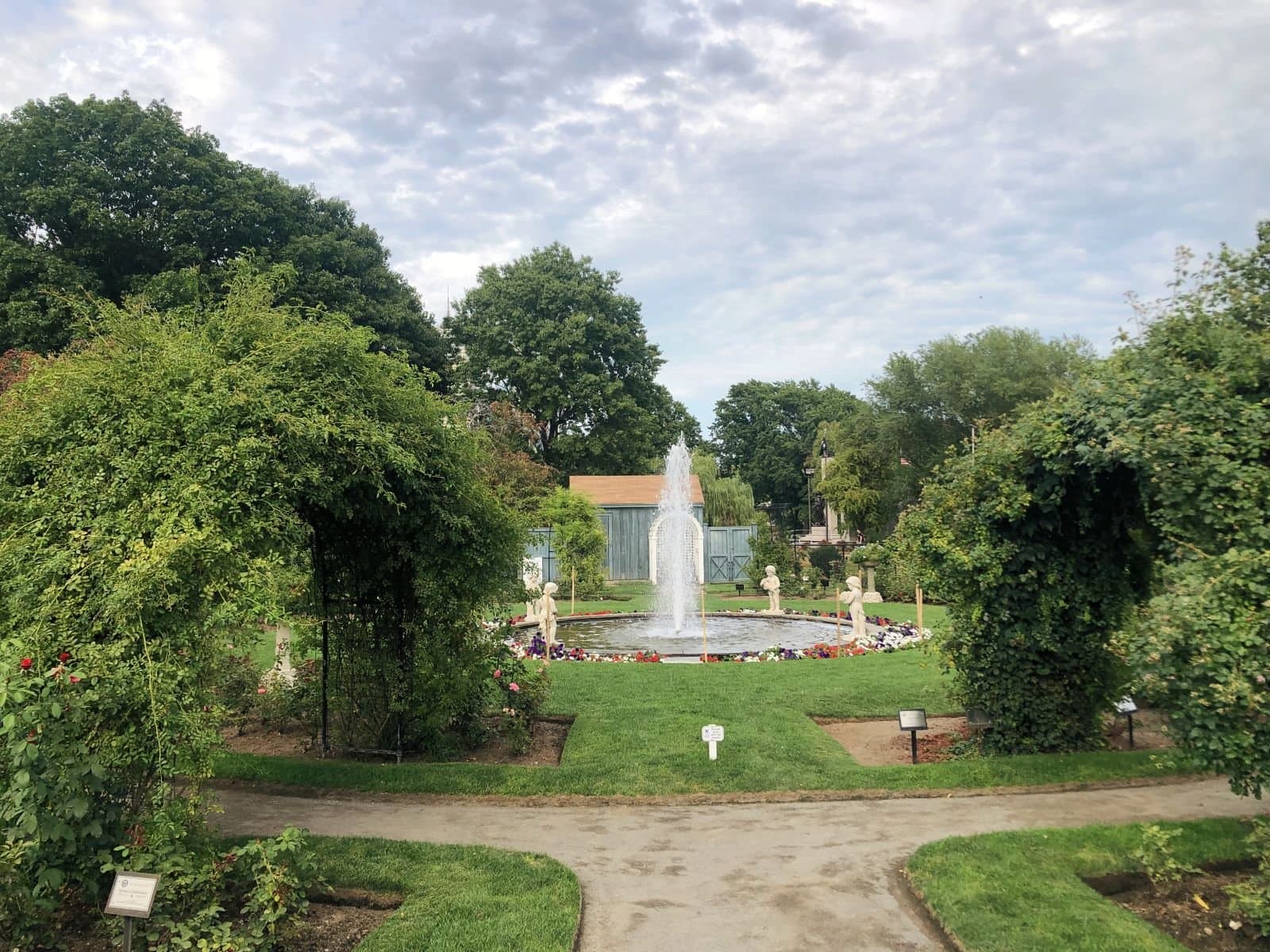 The Kelleher Rose Garden is best-known for its beautiful archway of roses. The garden is in the Back Bay Fens and is open from 7am-5pm on weekdays and 10am-5pm on weekends. Some reviews have mentioned them closing closer to 4pm though, so go earlier to be safe.
16. Visit Spectacle Island.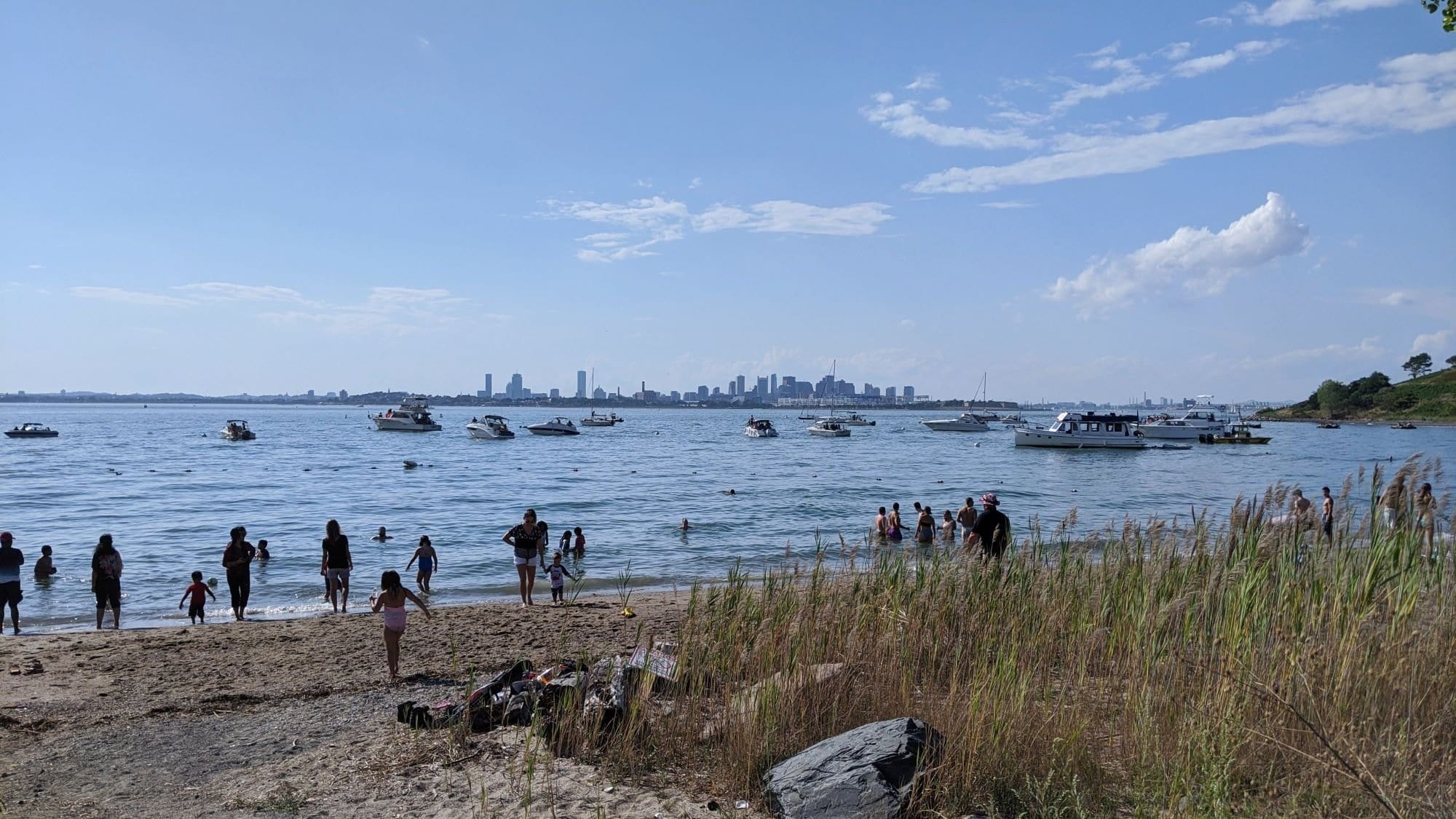 Spectacle Island is the closest and most popular Boston Harbor Island. Starting in late May, you can take a ferry to spend the day hiking, picnicking, wading (still too cold to swim in the spring!), and admiring the Boston skyline.
Spectacle Island is pretty small and there isn't a ton to do there, but it's still a fun outing in the warmer months.
See my guide on things to do on Spectacle Island for more info.
17. Go fishing at Jamaica Pond.
Every spring, Jamaica Pond is stocked with hundreds of trout. You can also find bluegill, bass, and perch. If you plan to fish, make sure you have a valid license (they do check here!).
If you're not into fishing, you can still stroll or run around the perimeter of the pond (about 1.5 miles). The boathouse also opens in mid-May, and you can rent kayaks, paddleboards, rowboats, or sailboats.
18. Go kayaking on the Charles River.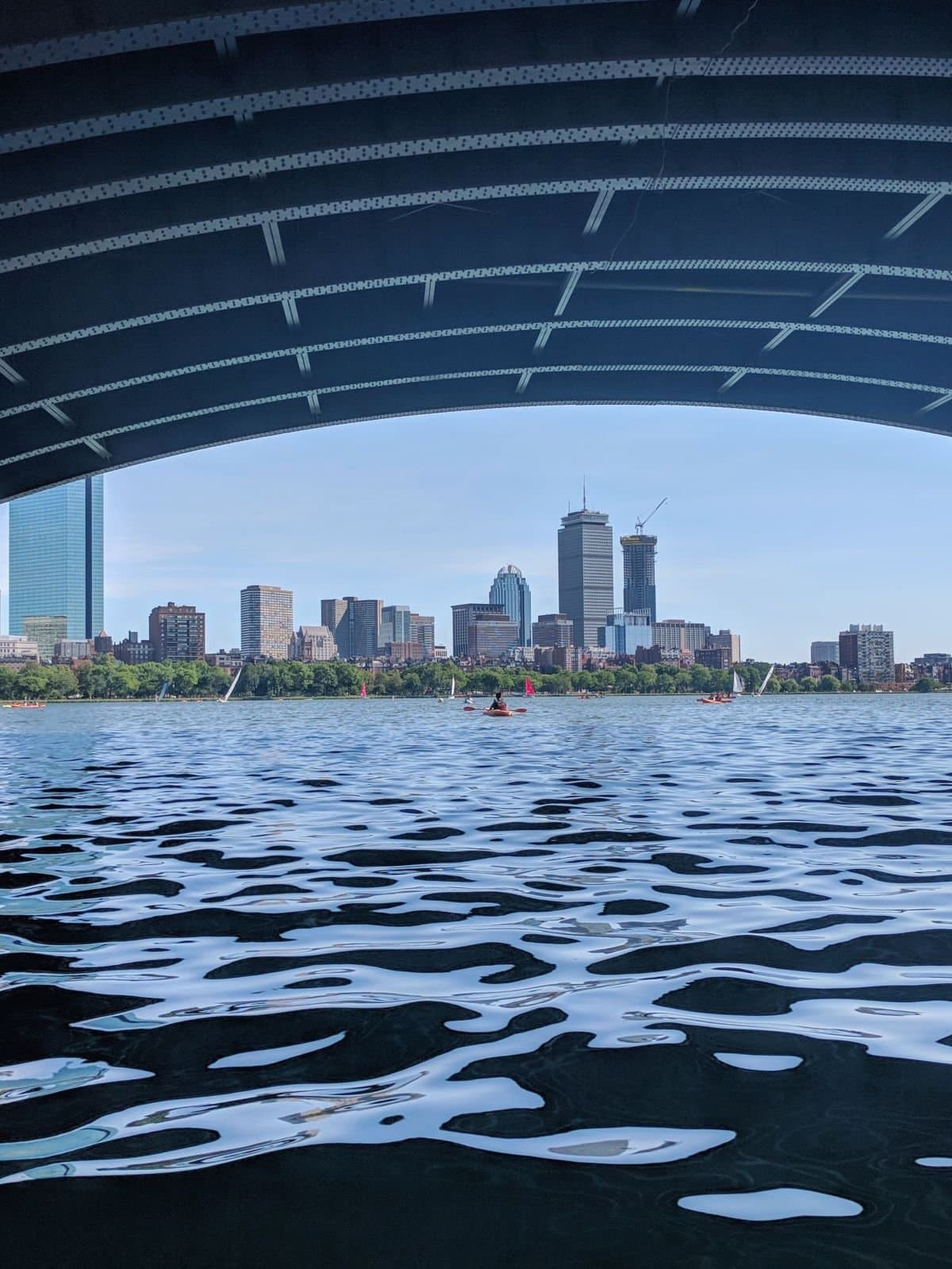 The Charles River kayaking season starts during the weekend in May. You can not only rent kayaks, but also paddleboards and canoes. There are a few locations across the city, but the Kendall Square location is the most popular since you get views of the city skyline up close.
Check rental prices and reserve your spot online. You can also show up in-person without a reservation, but there may be a longer wait.
---
Let us know if there's anything else you'd add to the list! Happy Spring!