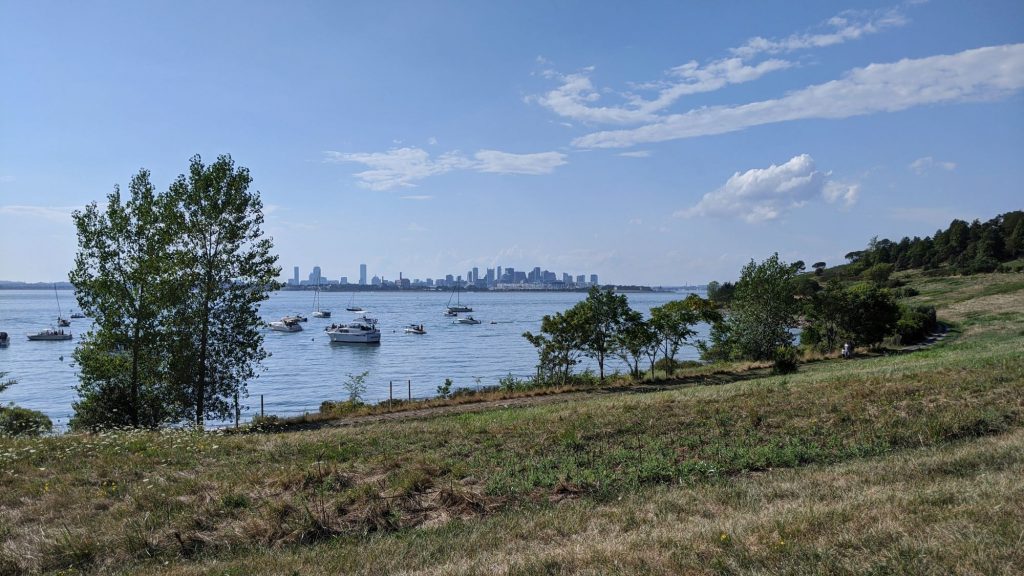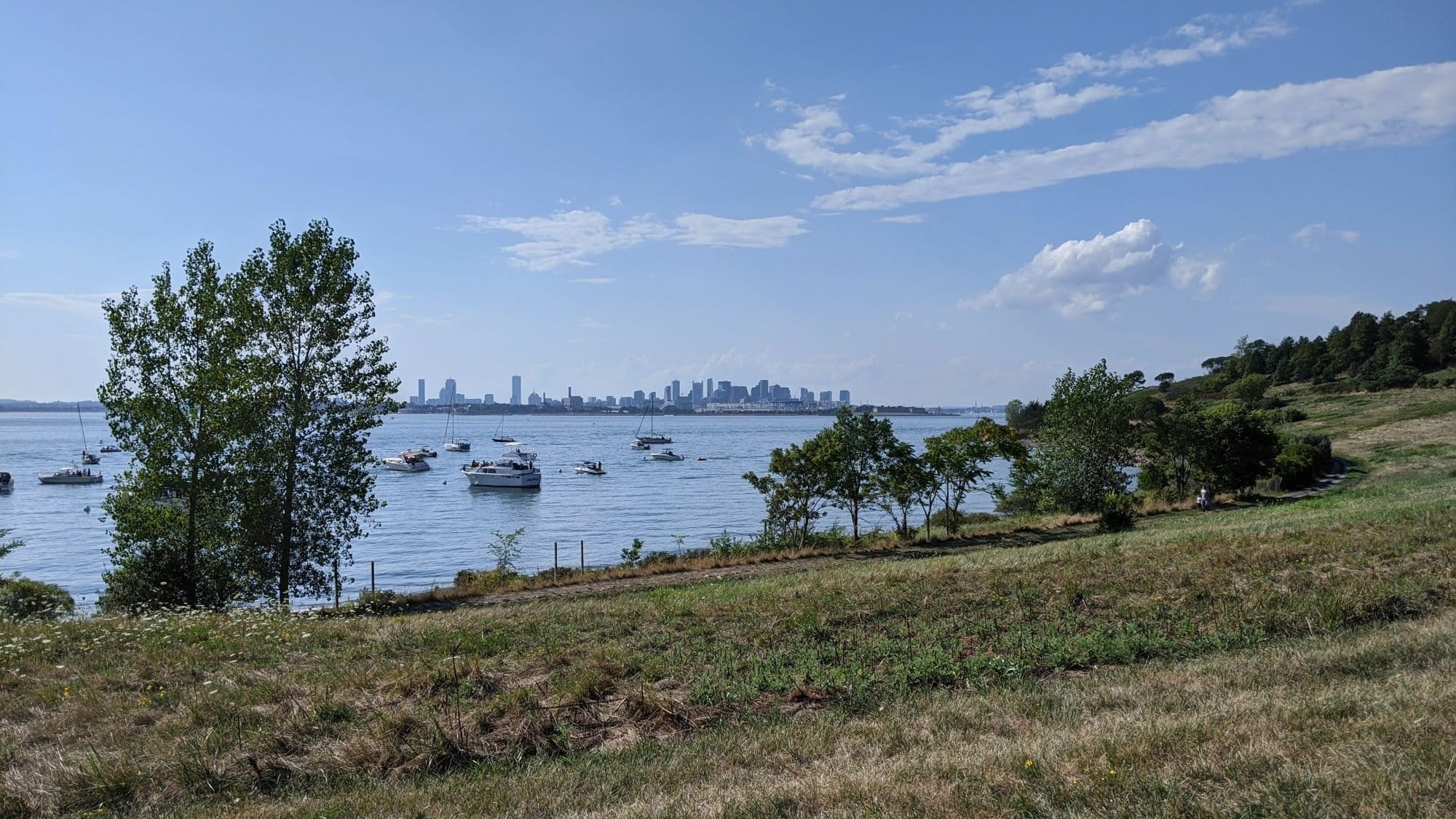 Spectacle Island and George's Island are two of the Boston Harbor Islands that can be easily accessed by ferry. If you only have time to visit one, you may be wondering which island is better.
I've visited both, and here's my take on Spectacle vs. George's Island.
Reasons to Pick Spectacle Island
Spectacle Island is an easy trip from Boston and is perfect for classic summer activities with its beach and grassy fields.
1. It's closer to Boston (20 min vs. 45 min)
Spectacle Island is a short, 20-minute ride from Long Wharf, while George's Island is 45 minutes away. If you want more time on the island and less on the ferry, you'll prefer Spectacle Island.
2. There are views of the Boston skyline.
Because Spectacle Island is closer to Boston, you're able to see the skyline from the island. It's quite far in the distance, but it's still a beautiful backdrop.
You can't see Boston at all from George's Island, though you'll still get great views on the ferry ride.
3. There's a beach for swimming.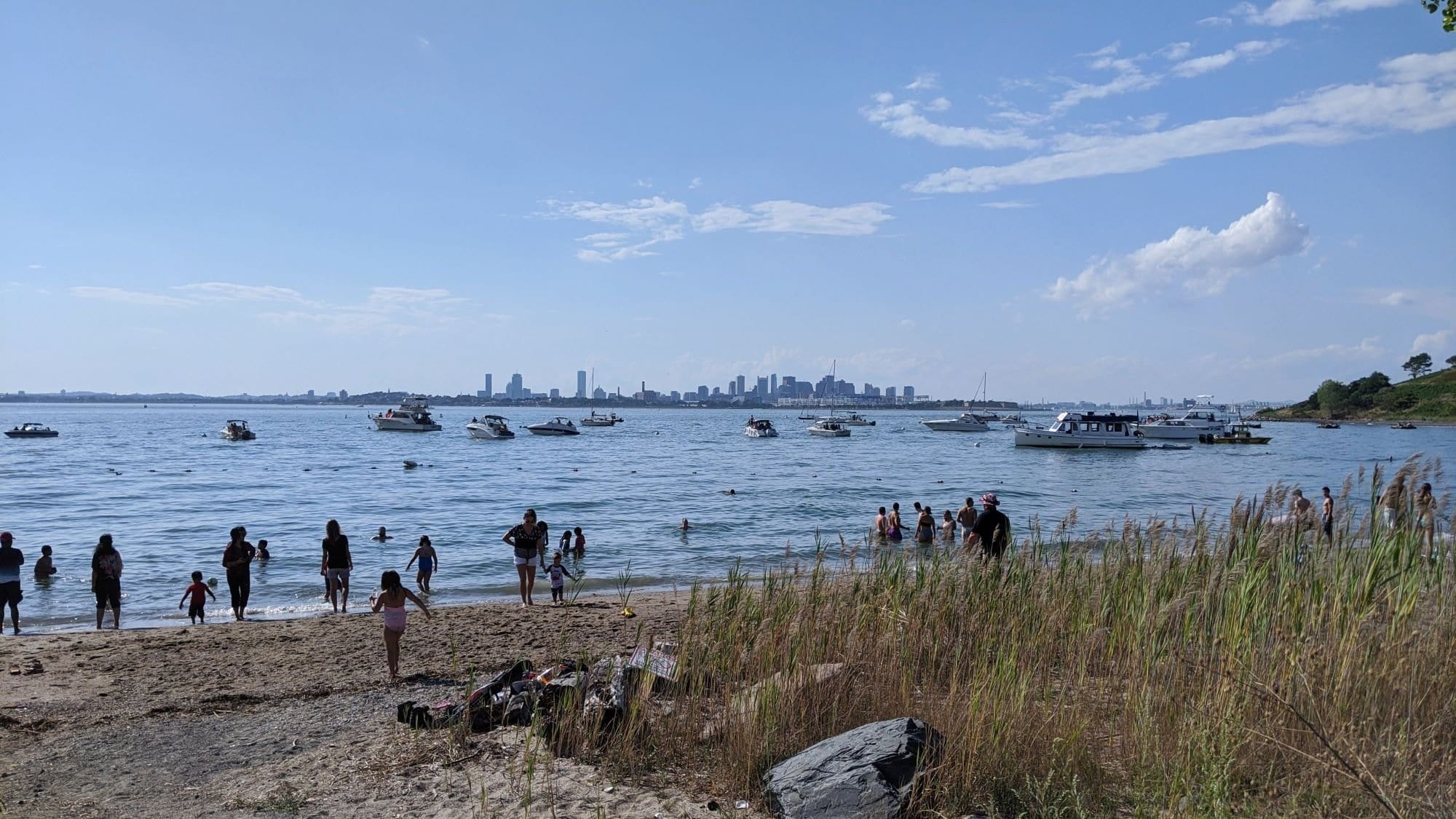 Spectacle Island has a small beach where you can have a dip in the (cold!) water or lay out. The sand is mixed with a lot of seashells, so I'd recommend bringing a thicker towel and good sandals.
The beach is also known for its sea glass, though park guidelines ask that you only admire it and not collect it.
On George's Island, there's also a small beach, but you can't swim there.
4. You can go foraging for wild blackberries.
There are tons of wild blackberry bushes around the island. I walked mostly around the left side of the island (if approaching from the dock), which is also known as the North Drumlin, and I stumbled upon berries almost immediately after getting on the walking path.
As always, make sure not to eat anything you can't properly identify.
Reasons to Pick George's Island
George's Island feels more like a getaway with its unique plants and old fort.
1. You can visit Fort Warren and learn about war history.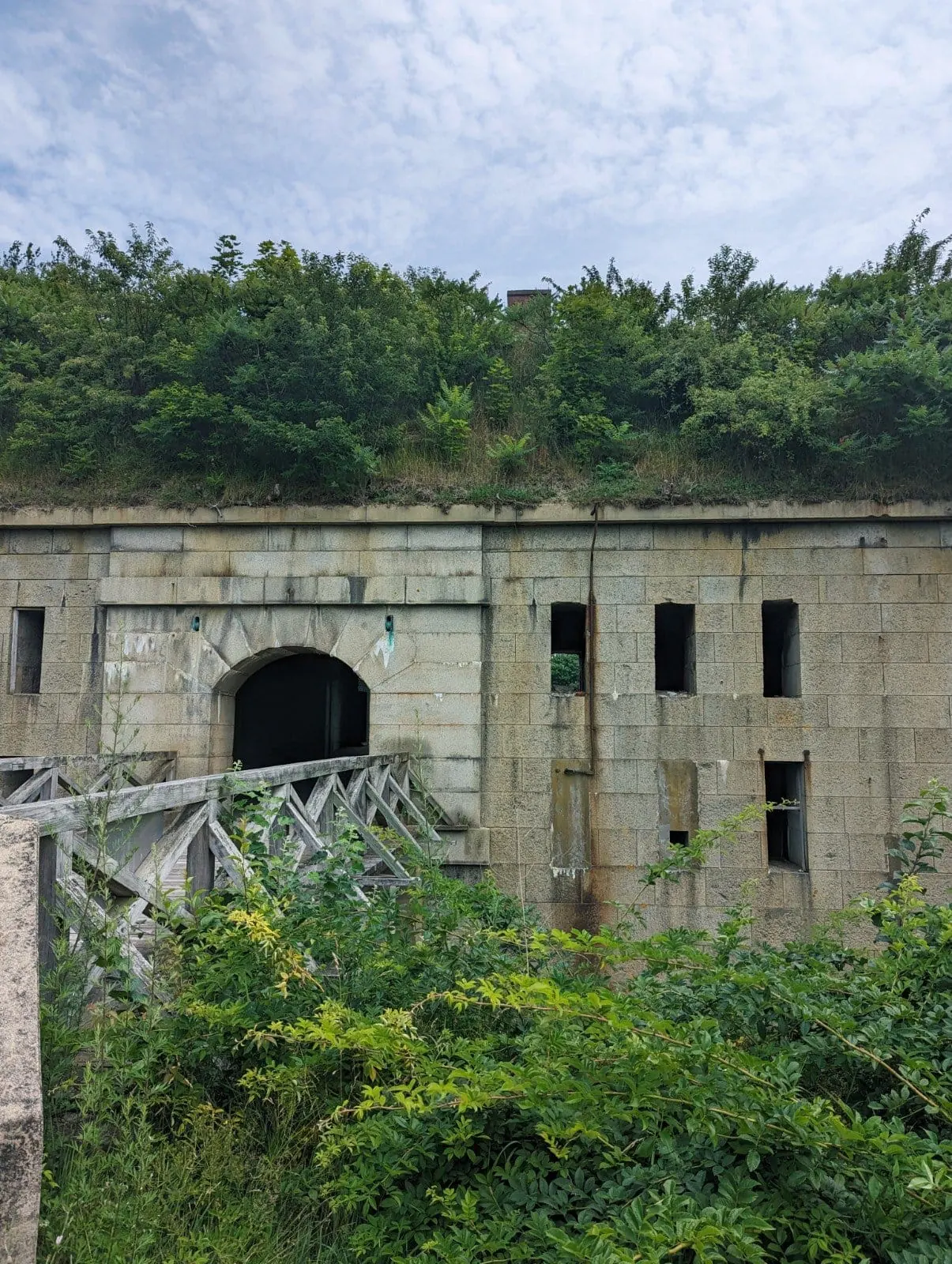 Fort Warren is the main attraction on George's Island, taking up most of the land. It was built from 1833-1861, and was active through the Civil War and other wars until 1947, when it was decommissioned. It was turned into a National Historic Landmark in 1970.
You can take a free hour-long tour of the fort; I took it and found it interesting. I learned about the different parts of the fort, the history of the fort and its people, the plants on the island, and more. The guide even told us a ghost story in a part of the fort called the Dark Arch.
The fort is incredibly old, and it's literally falling apart. Parts of it are blocked off for safety purposes (the floor could fall in), but if any area isn't roped off, you're free to explore it.
2. Temperatures are cooler and there's more tree cover.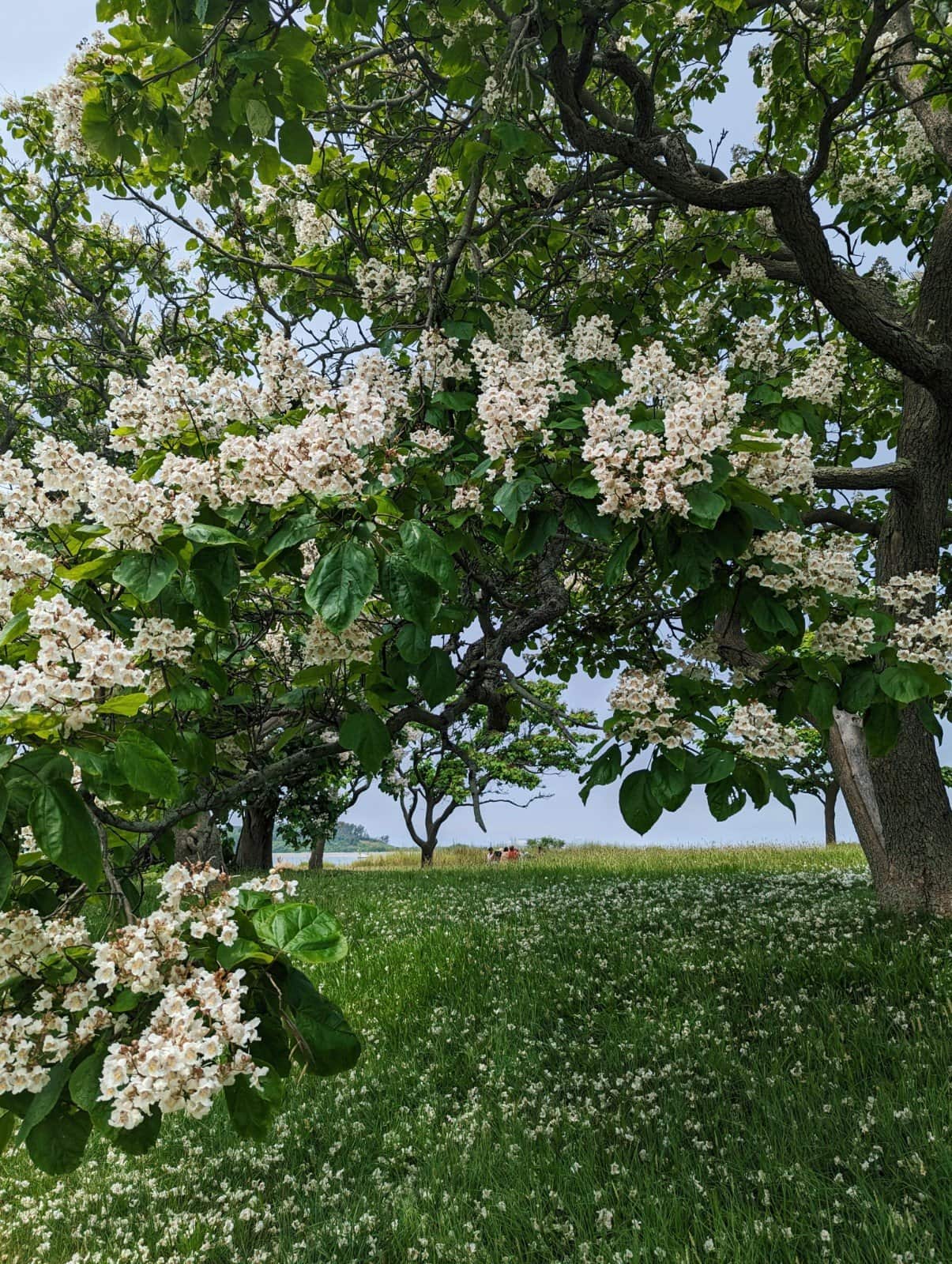 If you want natural AC, the nooks and crannies of Fort Warren are extremely cool. You may even want to bring a sweatshirt if you're planning to spend a lot of time exploring the fort.
Outside of the fort, there are also more trees providing good cover. The trees on Spectacle Island feel more "bushy" and there's often not seating near them.
3. There are more picnic areas, and you can even grill.
There's nothing better than an island picnic. While both destinations have picnic tables, George's Island has more picnic pavilions, offering you protection from the sun. The picnic areas are usually more scenic and have more plants and flowers to look at, whereas Spectacle Island is more exposed and grassier.
George's Island also has park grills that you can use, while there aren't any grills on Spectacle Island.
4. The island feels more otherworldly.
Because Spectacle Island is so close to Boston, it doesn't feel like that much of a trip, and the island itself doesn't feel that different from a city park.
George's Island feels otherworldly with its beautiful flowers, fort ruins, and no city skyline in sight. If you truly want an escape from the city, I'd recommend George's Island.
The Bottom Line
While both Spectacle Island and George's Island are worth a visit, I personally prefer George's Island—and I wasn't expecting to! I thought it might be kind of boring since I'm not that interested in war history, but the tour of the fort was engaging, and the island itself was beautiful with all the different flowering plants.
I still would recommend visiting Spectacle Island, especially if you want more of a lazy day in the sun or on the beach.
Be sure to check out my guides to Spectacle Island and George's Island for more info, and let us know in the comments what you thought if you visit!