Valentine's Day can be done in so many different ways, whether it's a more relaxed night at home, an all-out luxury evening, or something in-between. This post will cover date ideas, proposal spots, and romantic hotels, so there's something here for every couple. I've tried many of these date ideas myself, having lived in Boston for almost three years.
This post contains affiliate links, meaning that I may earn a small commission on any purchases through those links, at no extra cost to you. This income keeps this site running, and your support is much appreciated!
Valentine's Day Date Ideas
If you're planning to get a present for your partner on Valentine's Day, why not gift them an experience you can enjoy together? These Boston date ideas and experience gifts will allow you to spend quality time together on this special day.
1. Have a couple's photoshoot
If you don't yet have any professional photos of you two, consider booking a photoshoot. A photoshoot is a fun way to explore the city and document those good memories.
You can hire a local photographer or even find more budget options on Airbnb experiences. For a free option, consider pairing up with another couple and taking photos of each other. Portrait mode on your phone does a pretty good job these days, and one of you may even own a nicer standalone camera.
2. Go ice skating
Valentine's Day is in the middle of winter, so you can take advantage of those cold-weather activities. Ice skating outdoors is particularly romantic since you can hold hands with the city as your backdrop.
Frog Pond in the Boston Common is perhaps the best-known ice skating option in the city, but did you know that you can go skating indoors for FREE in the city's public rinks? If you don't own skates, many public rinks let you rent them for a low price. Just call ahead to ask, and double-check their online schedules for public skating hours.
The outdoor ice skating rinks in Boston include:
Frog Pond is the most classic option, and for good reason. You get to skate right in the Boston Common with the city as your backdrop. That said, it's also the most crowded. The ice gets scratched up easily, and it can be hard to get around if you need to hold onto the edge of the rink.
Skate @ Canal District Kendall is right near the Kendal Square T stop, giving you access to lots of great restaurants where you can grab a bit after your skate session. They also offer private and group lessons.
The Rink at 401 Park is hosted by REI and is located between Time Out Market Boston, home to several food vendors, and Trillium Fenway, a brewery. There are also several popular restaurants and bars in the area, and Fenway probably has the most active nightlife of these non-public outdoor rinks.
Kelly Outdoor Rink is close to the Stony Brook T stop, and admission is free, with rental skates costing just a few bucks. There's not as much nearby, but if you take a 15-minute walk to Hyde Square, you'll find some great local restaurants.
Boston also has public indoor ice skating rinks. They're not as romantic, but they have free admission with low-cost skate rentals. They're located across the city and beyond, so you may even have one in your neighborhood! Here are the indoor public rinks:
3. Visit the New Hampshire Ice Castles on a day trip
If you're willing to get a bit outside the city, the New Hampshire Ice Castles make for a magical day trip. These awe-inspiring Ice Castles are just a 2-hour drive away in the White Mountains. Made entirely of thousands of hand-placed icicles, the Ice Castles are a work of art that you can physically explore through its caverns, tunnels, archways, and slides.
Beyond the Ice Castles, there's also an enchanted forest walk and small tubing area that's included in admission, which costs $27 per person.
If you can make it out for an entire day and also do a winter hike in the White Mountains, the Ice Castles are worth the trip. See my full review of the New Hampshire Ice Castles for more photos and info.
4. Go on a food tour
Food is the way to many people's hearts. Whether you're visiting town or live in the area, you can sample several local spots by going on a food tour.
If you and your loved one have a sweet tooth, you'll like this underground donut tour. Or, if you want a more comprehensive experience with pizza, pasta, and craft beer, check out this secret North End food tour.
5. Paint and sip at Muse Paintbar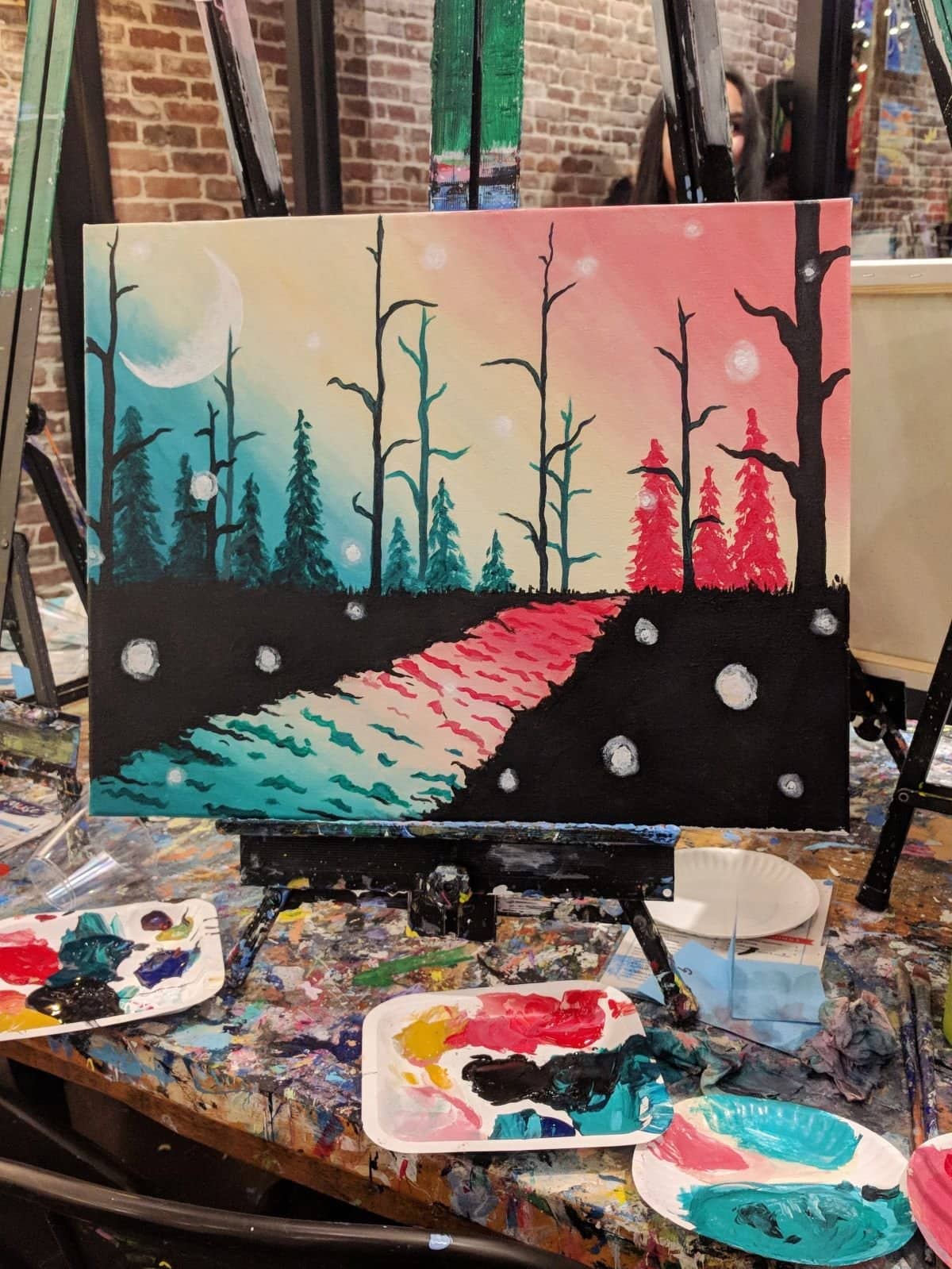 Going to a paintbar on Valentine's Day allows you to get creative, and gives you a physical memory of the evening. At these paint nights, an instructor guides everyone step-by-step through a preselected painting that you can then take home with you. There is food and drink available for purchase.
Muse Paintbar is convenient location for an evening out as it's in Assembly Row, an outdoor mall. Grab a bite to eat at the many restaurants, or go shopping once you're done painting.
6. Work up a sweat while rock climbing or bouldering
There's no better way to bond than to tackle an adrenaline-inducing challenge together. Rock climbing is an exhilarating full-body workout that will certainly keep the night interesting.
Here are some gyms in Boston to consider:
Many of these places offer day passes with gear rentals for around $30, and there are climbing routes of all difficulty levels, even those for beginners.
7. Challenge each other to axe throwing
Work those arm muscles and your aim by throwing some axes with your loved one. It may sound like a strange activity for a date, but axe throwing has become trendy in recent years, and some friendly competition can keep things exciting.
In Boston, there are two axe throwing locations: Urban Axes in Somerville and Revolution Axe in Everett. You can also buy drinks on-site, and at Urban Axes, you can buy food or bring your own.
8. Wander through the Isabella Stewart Gardner Museum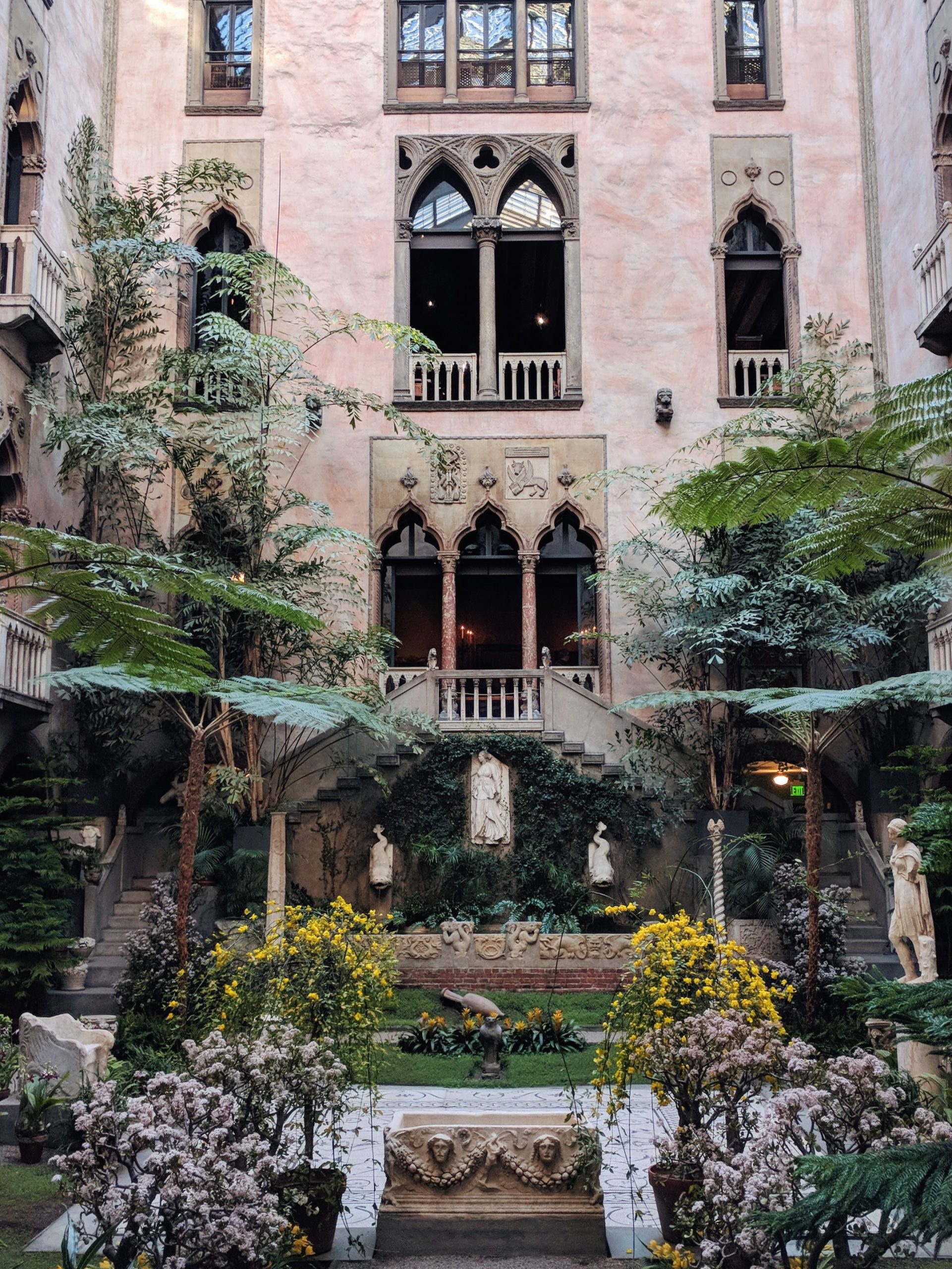 The Isabella Stewart Gardner Museum isn't open on Tuesdays, but you can go the day before or after Valentine's Day. The lush, green courtyard is the perfect location for a date; sit on a bench and admire the beautiful plants and architecture. The architecture of the building was inspired by 15th-century Venetian palaces, featuring open balconies and archways overlooking the courtyard on each floor.
The museum was founded in 1903 by Isabella Gardner, who had collected more than 7,500 paintings, sculptures, pieces of furniture, and other objects. The museum has a homey feel, with the art being displayed in furnished rooms.
9. Try a new or old restaurant
Going out to eat is a classic Valentine's Day date, and there's nothing wrong with doing something tried and true. Visit one of your favorite restaurants or try a new one. If you're looking for some plant-based recs, here are my favorite vegan restaurants in Boston.
Of if you want a more casual night in, order heart-shaped pizza for the holiday. Chains like Papa John's and California Pizza Kitchen make these specialty pizzas around Valentine's Day.
10. Go on a sunset cruise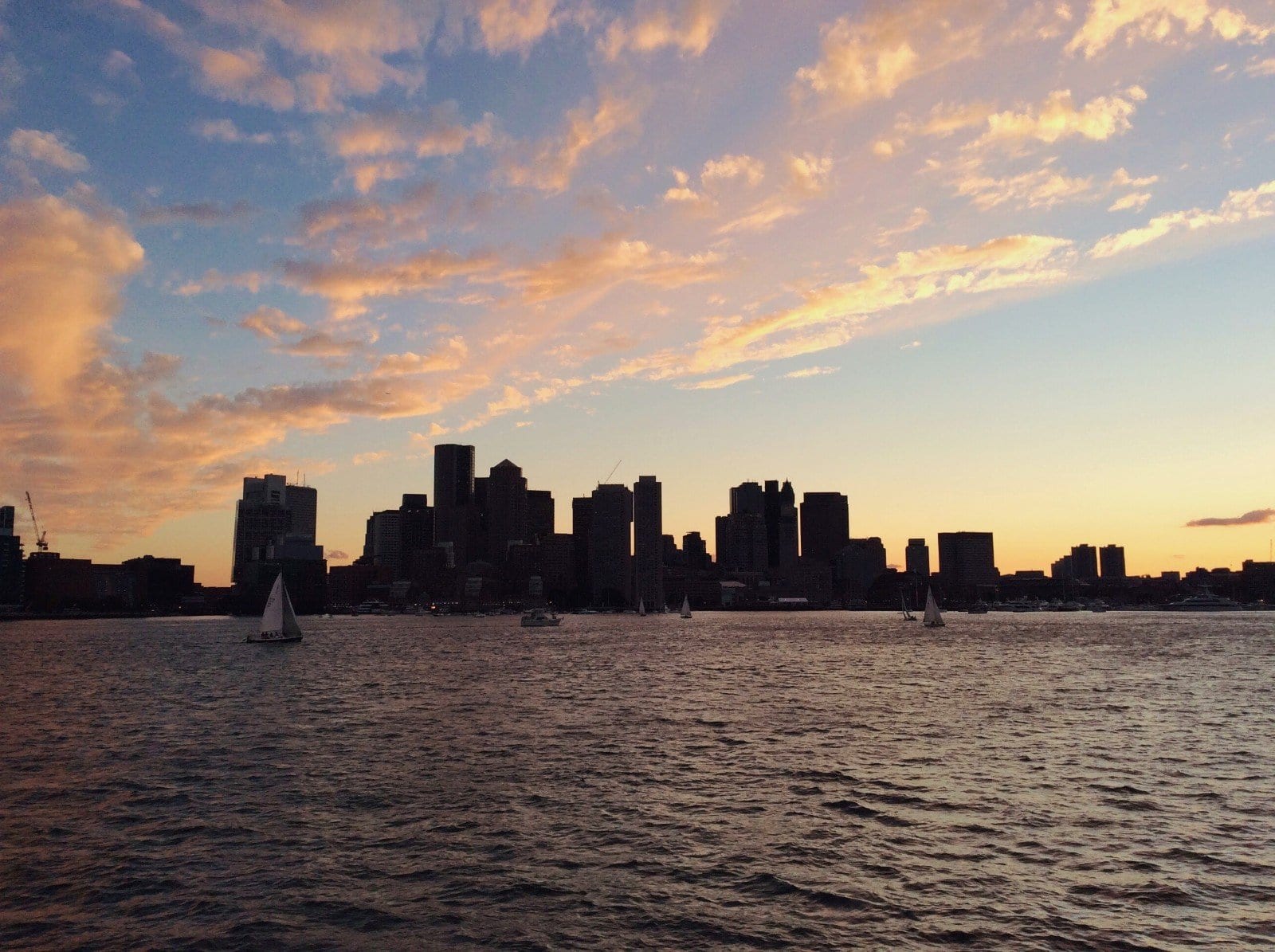 While there aren't many sunset cruise options on Valentine's Day itself, there are some options later in the week. Gift your partner a romantic evening on the water in the Boston Harbor.
Prices range from $22-70+ per person, and you can usually buy drinks on board (or bring your own water).
11. Escape from the city and stay in a tiny cabin
Valentine's Day should be all about spending time with your partner, and what better way to do that than going off-grid? Getaway House has cozy cabins 1-2 hours outside of Boston, with the closest outpost at Bear Brook State Park in New Hampshire. Each cabin has 1-2 beds, a lockbox for your phones, running water, and a small kitchen.
The cabins have a large window next to the bed, where you can awaken to a stunning winter view.
If you prefer to do a staycation in the city, keep reading for a list of romantic hotels later in this post!
12. Go skiing
Another way to take advantage of the winter weather is to go skiing. Luckily, you don't have to go far from Boston to hit the slopes. The Blue Hills are only a 20-minute drive, while Wachusett Mountain is accessible by the Commuter Rail in about 2 hours (there's a free shuttle from the Fitchburg station during ski season).
Where to Propose on Valentine's Day
Valentine's Day is a popular time to propose, so if that's in your plans, you might consider these scenic spots. Of course, remember that the best place to propose is one that's special to you as a couple, so consider that before the spots in this list.
For even more spots, check out my full guide to beautiful places to propose in Boston.
Fan Pier Park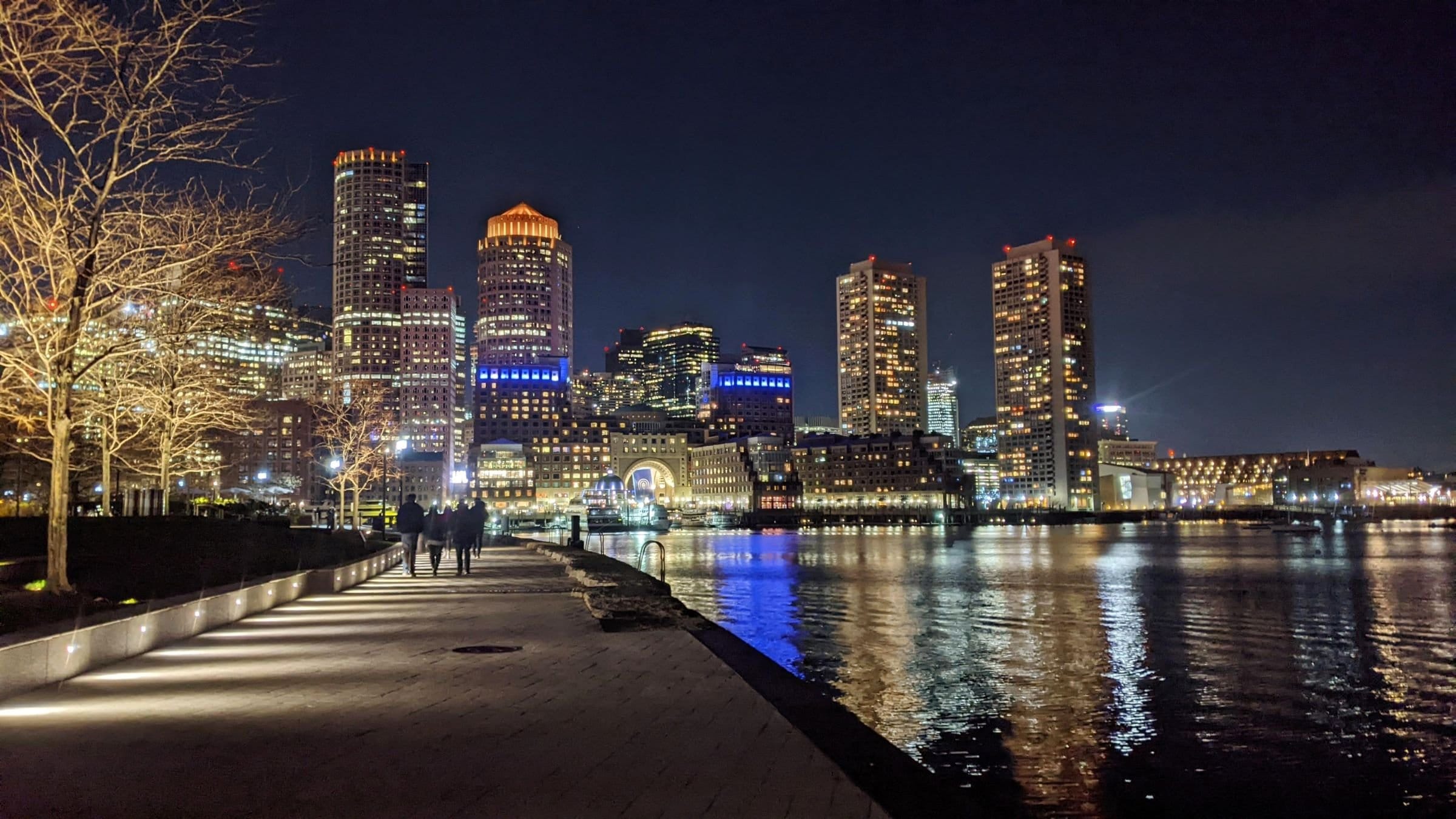 The Boston skyline makes for a beautiful proposal backdrop. At Fan Pier Park, you'll find both the skyline and its reflection on the water. Even better, the park is in the trendy Seaport district, which is full of upscale restaurants. You can make it a whole outing and have a meal before taking a walk in Fan Pier Park.
One thing to consider is whether you want a nighttime or daytime proposal. Fan Pier Park is especially romantic at night, but the lighting is trickier for proposal photos. Make sure to discuss with your photographer beforehand if you plan to have one!
Charles River Esplanade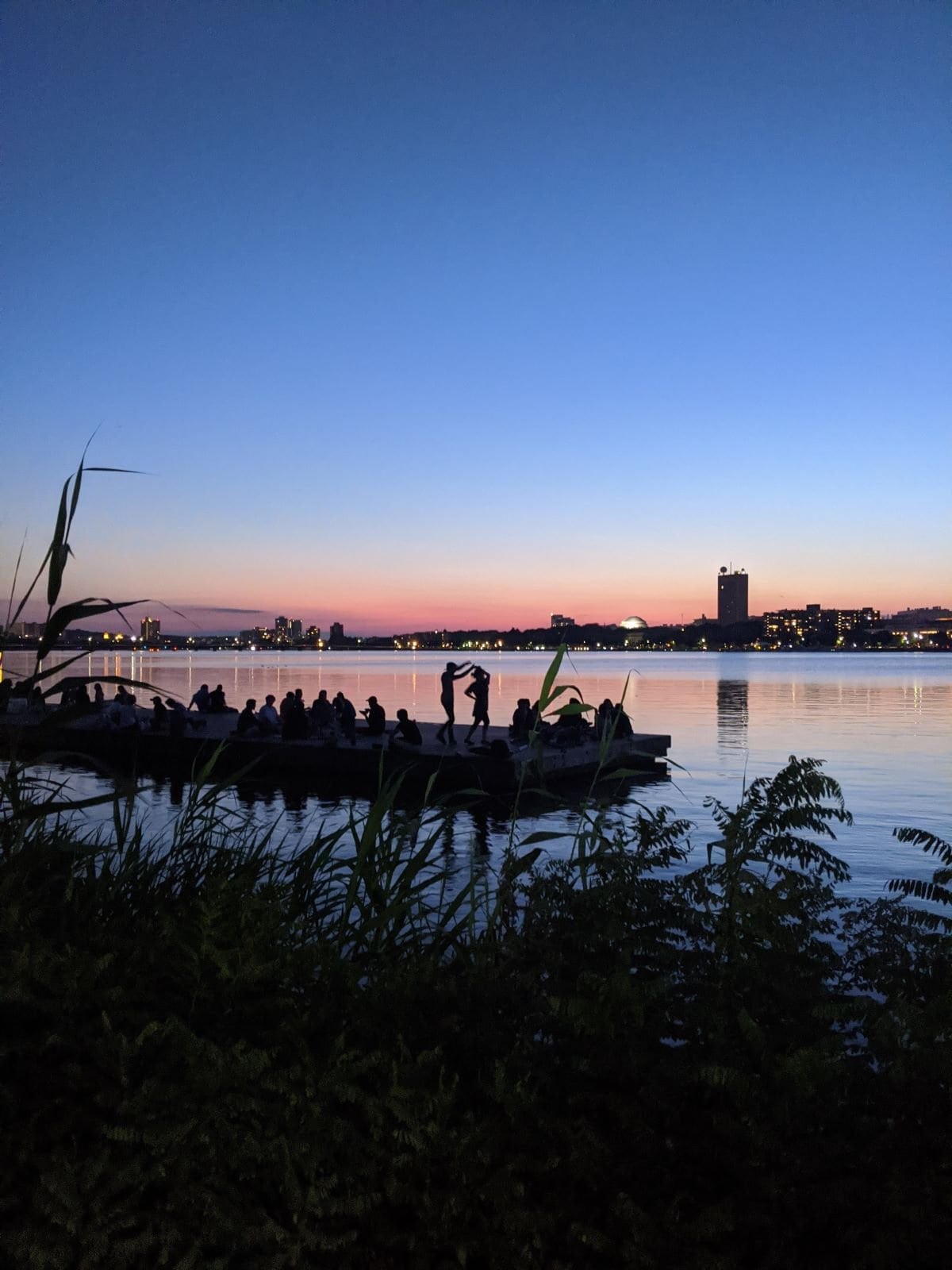 This park along the riverfront offers a wide stretch of grassy banks and scenic docks. While many people are often walking or biking along the bike path, the Esplanade is spacious and doesn't often draw crowds, so you can have a more intimate proposal.
Louisburg Square in Beacon Hill
Wandering around Beacon Hill almost takes you back in time with its cobblestone streets, brick buildings, and gas lamps. There are several picturesque spots that are proposal-worthy, including the famous Acorn Street (but you'll need a permit for a professional photoshoot there).
I personally think that Louisburg Square is a more charming setting, with its vine-covered houses. It's also close to Rouvalis Flowers, where you can pick up a bouquet.
Boston Athenaeum
The Boston Athenaeum is the oldest library in Boston. Its colorful, historic reads pop against the rows of white bookshelves and grand, arched ceilings. Since the Boston Athenaeum is close to the Boston Common, you'll also get a close-up view of the city skyline on the balcony.
Since the library is private, you need to pay $40 for a day pass if you're not a member. While it is pricey, it could be worth it if you spend the day browsing the shelves and relaxing on the balcony. You can also gain access to the first floor with a $10 ticket, but it's not nearly as pretty as the rest of the library.
Boston Public Garden
The weeping willows and charming footbridge of the Public Garden make for a lovely proposal setting, even in the winter. While the footbridge is high-traffic, you can find quieter spots near the pond that are still quaint.
Boston Public Library
Consider asking your important question on the main marble stairwell and the cloister-inspired courtyard of the BPL. Just keep in mind that the BPL is a popular tourist spot, so you'll more than likely have some passersby.
Romantic Valentine's Day Hotels
Whether you're visiting the city or planning a staycation, these hotels offer beautiful views and a romantic ambiance.
Revere Hotel is right in the heart of the city, and some rooms have panoramic views of the Boston skyline and Charles River. You can also catch these views on the rooftop patio. They offer a special Romance Package that comes with a bottle of prosecco and homemade macarons in your room.
Located in Fenway, The Verb Hotel has an upbeat, retro vibe with its colorful windows and quirky decorations. For the more adventurous, you can even book a stay in their "backstage trailers," which were inspired by "the rock legends traveling cross country creating music that defined generations along the way".
For Valentine's Day, consider booking the L-O-V-E Package, which includes chilled champagne, artisanal chocolates, and LOVE vinyl records to listen to during your stay.
While a former historic jail may not be the top of your list for romantic places to stay, The Liberty Hotel exudes luxury and romance. The lobby features an open four stories with elegant decor and a bar (it's seriously Instagram-worthy). The hotel is also near the Charles River and the historic Beacon Hill neighborhood.
The Bostonian Boston overlooks the historic Faneuil Hall and Quincy Market, making it the perfect location for visiting the city, or catching some beautiful skyline views. It's also right next to the North End, the historic Italian neighborhood which is full of romantic restaurants, delicious desserts, and quaint cobblestone streets.
Boat on the Boston Harbor ($$$)
For a novelty experience, consider staying in a cozy boat on the water. There are several options on VRBO, ranging from traditional houseboats to boats to yachts. You'll find all the amenities you need, all while being a short walk away from the North End and downtown Boston.
---
Let us know if you have other suggestions you think should be added to this post! I wish you a wonderful Valentine's Day with your loved one.