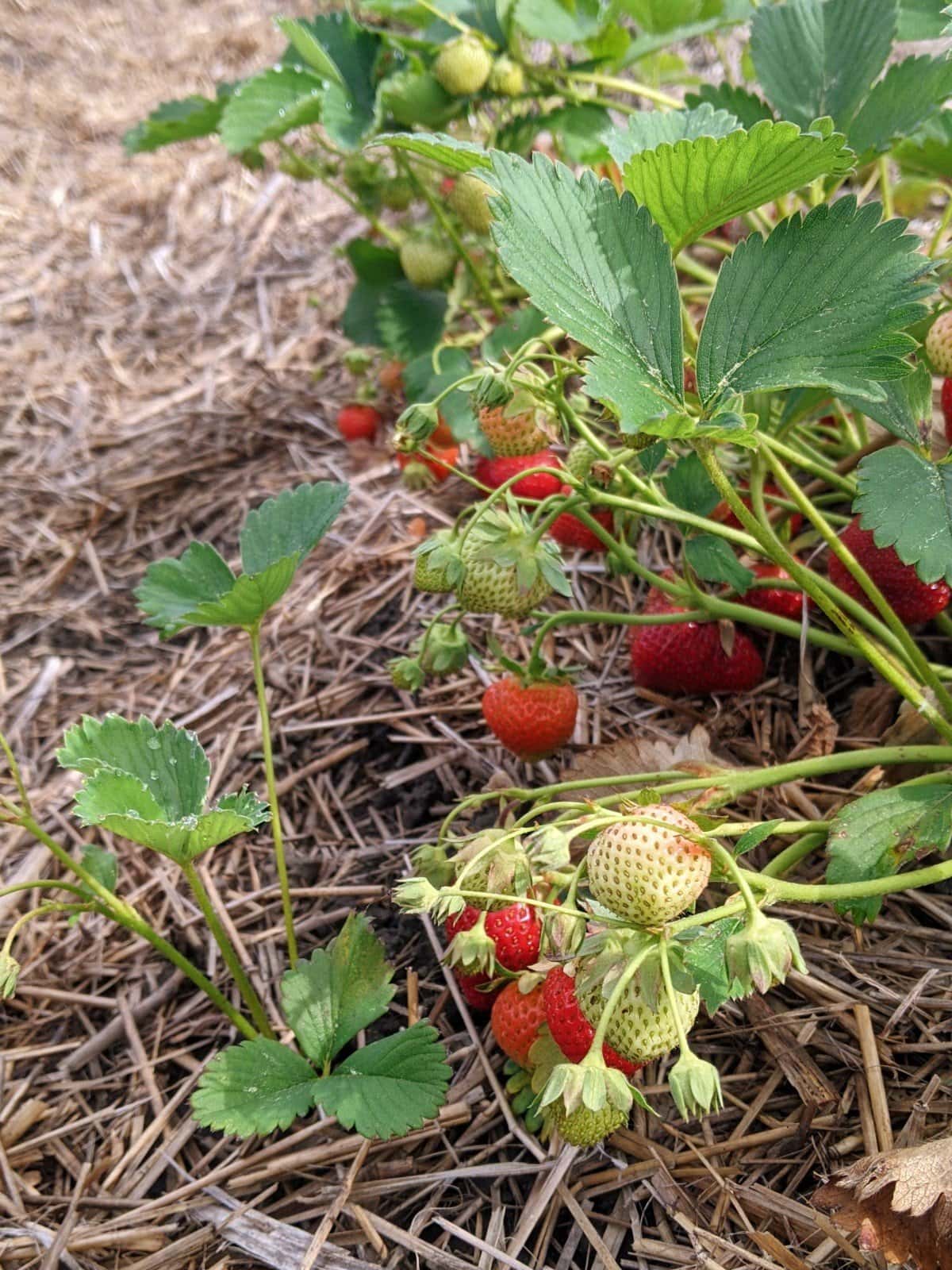 Strawberry picking is one of the best ways to spend a summer day, and it's a great excuse to get out of the city and into some nature. There are plenty of places to pick your own strawberries near Boston, and a few farms also have blueberries and cherries at the same time if you visit in early July.
This post shares the top-rated pick-your-own strawberry farms within an hour of Boston, as well as any local attractions near the farm to make your trip out there more worthwhile. Stay till the end for a free, interactive map of all these pick-your-own strawberry farms.
This post contains affiliate links, meaning that I may earn a small commission on any purchases, at no extra cost to you. This help me keep this site running, and your support is much appreciated!
FAQs about Strawberry Picking Near Boston
When is strawberry picking season?
Strawberry picking season near Boston is typically from early June to mid-July, give or take about a week. I went on June 9th one year, and there were plenty of ripe and juicy berries. I would recommend going 1-2 weeks into the season when possible, as going too late will mean that all the good berries are gone (I've also gone late, and the berries were tiny and sad).
That said, if you want to pick blueberries and cherries at the same time (certain farms also offer those), you'll want to wait until early July. To ensure you have a great strawberry picking experience, I recommend checking the farm's daily status update online, or calling them to ask.
How much does strawberry picking cost?
Many farms don't yet share their 2023 prices, but you should expect to pay around $10 per person for a quart of strawberries (this is around 1.75lbs). Prices are listed in this post where available, but check the farm websites or call ahead to get specifics on pricing.
Can I go strawberry picking without a car?
All strawberry picking farms are in more rural areas outside of Boston, so it's difficult to go picking without a car. That said, you can take the Commuter Rail to Ipswich and then take the Ipswich Explorer shuttle to Russell Orchards. You can also take the Commuter Rail close to Sunshine Farm and walk the remaining 1.2 miles, or take an Uber/Lyft from the station.
What should I wear to go strawberry picking? Make sure to wear or bring sun protection, such as a hat, sunscreen, and sunglasses. Strawberry fields don't provide any shade. Closed-toed shoes are also helpful since the ground can be uneven, and you may need to walk a bit to reach the fields. You may also want to wear and bring bug spray.
U-Pick Strawberry Farms Near Boston
Distance: 30 minute drive
Location: Concord, MA
I had my first strawberry picking experience at Verrill Farm a couple years ago, and those berries were really something: large, ripe, luscious, and juicy. I would highly recommend this farm, and it's a perfect location since it's close to Walden Pond. You can make it an entire day trip and spend the afternoon there (while snacking on your berries).
Make sure to buy a field pass online before going to reserve your spot. This $9 pass is for any visitors age 5 and up, and gives you a quart container (~1.75lbs) of strawberries. Additional quarts are $8 each. Anyone under age 5 can pick for free with their adults.
Verrill Farm also has an annual Strawberry Festival in mid-June (June 17 in 2023), where you get to try the farm's famous strawberry shortcake, enjoy live music, take hayrides, and more.
Distance: 40 minute drive
Location: Sharon, MA
Ward's Berry Farm is south of Boston, past the Blue Hills Reservation. You can not only pick your own strawberries, but also currants, cherries, flowers, peas, which overlap with strawberry season. This farm is particularly great for kids as they also have a small petting zoo, playground, and hay rides.
The location is also prime, as nearby attractions include Mass Audubon's Moose Hill Wildlife Sanctuary, Memorial Park Beach on Lake Massapag, and TreeTop Adventures. You don't need to reserve in advance to pick your own, and the daily status of the pick your own crops is posted online.
Distance: 35 minute drive or 1 hour 10 minute train ride
Location: Sherborn, MA
If you don't have a car and don't want to rent one to go strawberry picking (rentals are pricey!), Sunshine Farm is one of your best bets. You can take the Framingham/Worcester Line of the Commuter Rail from South Station and arrive in West Natick. From there, walk 1.2 miles or take an Uber/Lyft to get to the farm.
Their website doesn't have much info on pick your own strawberries, so be sure to check their Facebook page for updates (linked above). If you're looking to extend your trip, consider going to Lake Cochituate State Park for a picnic or dip in the Wayland Town Beach (non-residents must purchase a day pass).
Distance: 50 minute drive
Location: Ipswich, MA
Russell Orchards is close to the coastline, slightly further North than Rockport and Gloucester. The area is particularly scenic, and may be worth the longer drive if you're open to exploring nearby attractions, such as Crane Beach and Castle Hill on the Crane Estate, an English-style mansion. You can also take a shuttle from the Commuter Rail stop to the farm as well as Crane Beach.
Entry to the strawberry picking area costs $5 and that amount is applied to the amount of strawberries you purchase. Each pound of strawberries costs $5.75/lb up to 9 pounds, then $5.25/lb afterwards. You can also pick raspberries, which overlap with strawberries in late June.
On the farm, there are also many animals wandering around, as well as local goods for purchase, such as fruit wines and ice cream. Since the farm is so close to the coast, be prepared for mosquitos.
Distance: 50 minutee drive
Location: Westborough, MA
This farm was founded in 1722 by descendants of Rebecca Nurse, one of the victims of the Salem Witch Trials. According to their website, it's the 15th oldest continuously-operating family business in the country.
The farm appears to be best-known for its pick your own raspberries (they have black and red), but you can also pick strawberries and other fruits. One cool highlight of Nourse Farm's Veg Out food truck, which has tons of vegan options. They're open Thursday through Sunday.
Distance: 45 minute drive
Location: Tygnsborough, MA
Parlee Farms was named the best pick-your-own farm in Massachusetts by Yankee Magazine. The farm is right next to the Massachusetts and New Hampshire border, and it offers pick your own strawberries, blueberries, cherries, and flowers. The blueberry and cherry seasons overlap with strawberry season in early July, but pick-your-own flowers are available after mid-July.
To get to the strawberry fields, there's a free hayride with the purchase of a container. There is also a petting zoo, where you can buy feed to give to the animals. If you want to spend more time in the area, you may like the Butterfly Palace, a botanical garden housing butterfly species from all over the world.
Distance: 50 minute drive
Location: Northborough, MA
This strawberry farm also offers cherry and blueberry picking, which over lap with strawberry season in from late June to early July. Latest pricing and conditions will be released on the farm's Facebook page. If you have kids, they'll love the petting zoo, playground, and tractor rides.
While the Tougas Family Farm is a longer drive, there is a lot to do nearby, or on the way to the farm. Consider stopping at the New England Botanic Garden at Tower Hill, Boundless Adventures Zip Line and Aerial Park, Cochituate State Park, or Hopkinton State Park.
Distance: 40 minute drive
Location: Ipswich, MA
Note: there is no pick-your-own for the 2023 season.
Located North of Boston close to the coastline, Marini Farm offers strawberry picking and local goodies in their farm stand. They sell their own baked goods and produce, as well as local produce, meat, and dairy. They accept SNAP/HIP benefits at the farm stand.
Similar to Russell Orchards, Marini Farm is near Crane Beach and Castle Hill on the Crane Estate (15-min drive), so you can also enjoy a picturesque trip to the coastline.
Distance: 35 minute drive
Location: North Andover, MA
Boston Hill Farm is best-known for their fall festivities (apple and pumpkin picking), but they also have pick your own strawberries. If you have kids, they may also enjoy feeding the farm animals. If you want to extend your outing, consider going on a walk in the nearby Harold Parker State Forest.
Distance: 40 minute drive
Location: North Andover, MA
Note: strawberries are currently not listed in the farm's website menu, so please verify before going that they're still offering PYO strawberries this year.
Smolak Farms has pick your own strawberries, cherries (tart and sweet), blueberries, and more. The price per quart is $10, which covers the entrance fee for 2 people. Additional people over age 2 cost $2. This pricing definitely falls on the more affordable side for PYO strawberry pricing. The farm also offers hayrides, a playground, and a petting zoo (including alpacas).
For nearby attractions, visit the Stevens-Coolidge House & Gardens, a former farm that became a 20th-century estate.
Map of PYO Strawberry Farms Near Boston
Depending on where you live in Boston, some strawberry farms may be a closer drive, as driving times were calculated from Boston Common. Take a look and see what's nearest you!
---
If you have any questions, feel free to leave them in the comments. Happy picking!
You may also like these posts:
Outdoor Things to Do in Boston