I lived in Boston for three years as a recent college grad, and I have fond memories of my time there. It remains one of my favorite cities to this day—as a frequent traveler, I've seen a lot of cities all over the world, so Boston is really special.
If you're looking to move to Boston, here's an overview of what life is like in the city, including costs, housing, weather, and more. Keep in mind that this is based on my personal experience, so I also encourage you to hear more perspectives and to do more research on the aspects that matter most to you.
Cost of Living
Boston is known to be an expensive city, and according to Payscale, the cost of living is 50% higher than the national average. According to a recent study, you need to make at least $79,000 after taxes to live comfortably in the Boston metro, assuming that you're setting aside 50% for wants and savings/debt.
You can definitely find ways to save though and live decently on less money than that. During most of my time in Boston, I was making less than $50k per year working part-time.
As a single person in my early twenties, I estimate that I spent around $1,500 per month in Boston, not including travel outside the city. Here's a breakdown of my major monthly expenses, though keep in mind that this is pre-2022, so prices have definitely gone up due to inflation:
Rent + utilities: $850-1,000 (2-5 roommates)
Groceries: $250
Eating out: $100-$120
Activities: $100
Incidentals: $100 (health, personal care, clothing, etc.)
Gym: $50 (YMCA)
Transport: $50
Housing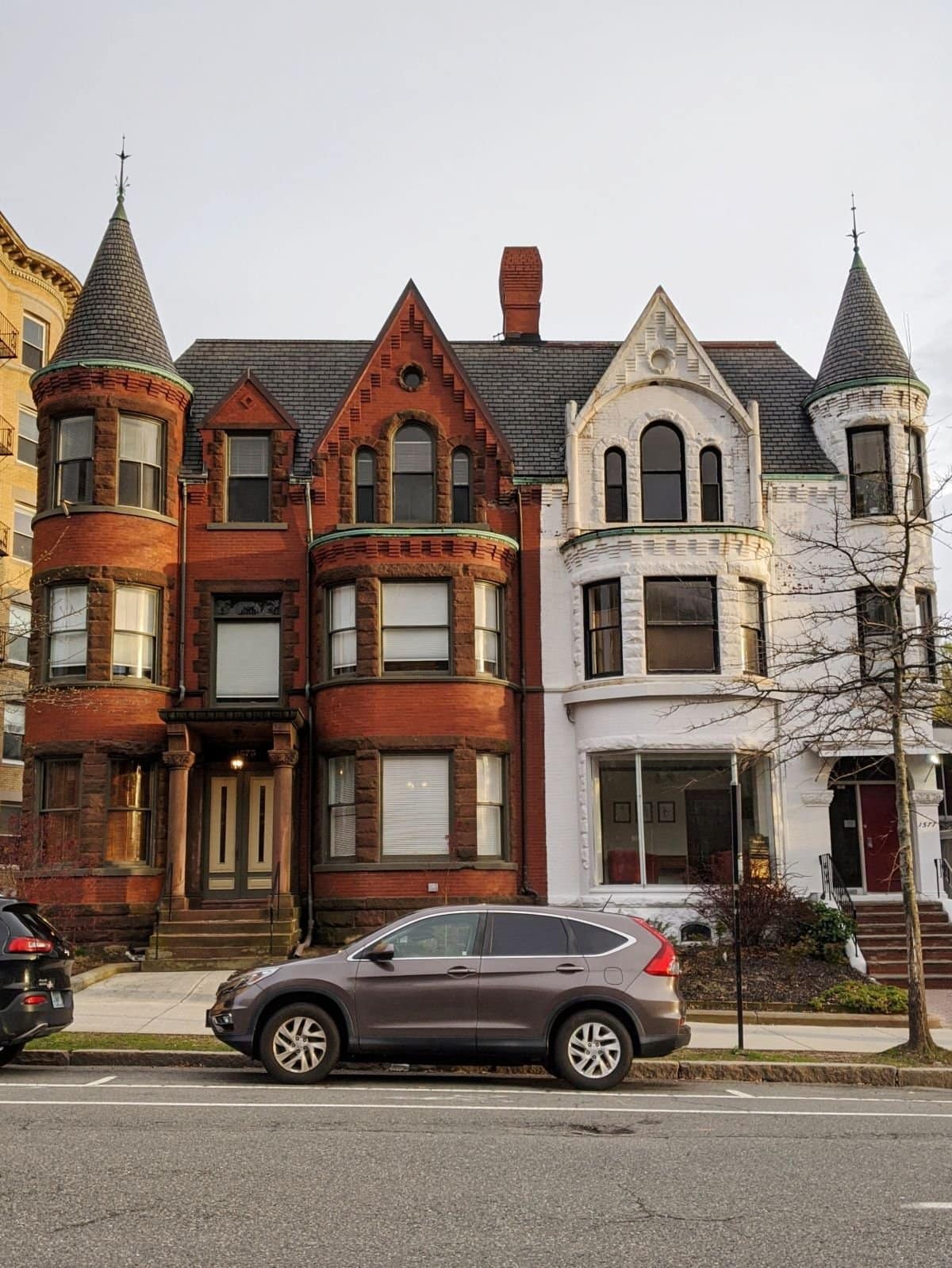 Beautiful homes in Brookline
Finding housing in Boston can be a nightmare. Since around 70% of the leases start and end of September 1, there's a ton of competition for each listing. You may reach out to several people on Facebook or Craigslist only to get a couple responses, if any. That's why I recommend searching in the off-season if you can be flexible (around January 1 is a good time), or starting your search 2 months early.
Housing in Boston is also pretty expensive. The average cost of a studio is $2,100 and 1-bed is $2,750. Of course, you can save money by living with roommates, or living outside of downtown Boston. I paid less than $1,000 per month to live with anywhere from 2-5 roommates. Some popular nearby cities are Brookline, Cambridge, and Somerville. I loved living in Brookline, which is full of parks and beautiful homes. It also has plenty of grocery stores and has easy access into the city. For more tips on finding housing, including the best cities/neighborhoods, check out my guide to finding affordable housing in Boston.
As for the housing itself, keep in mind that Boston is a historic city with many historic homes. Many of the housing options are older buildings that desperately need renovation. You may not have central air and need to install and uninstall a window unit each year. It's not uncommon for apartments to have mice.
All of this is not to scare you, but to set your expectations. Unless you live in a brand new development, you'll likely need to deal with the "charms" of old housing in Boston.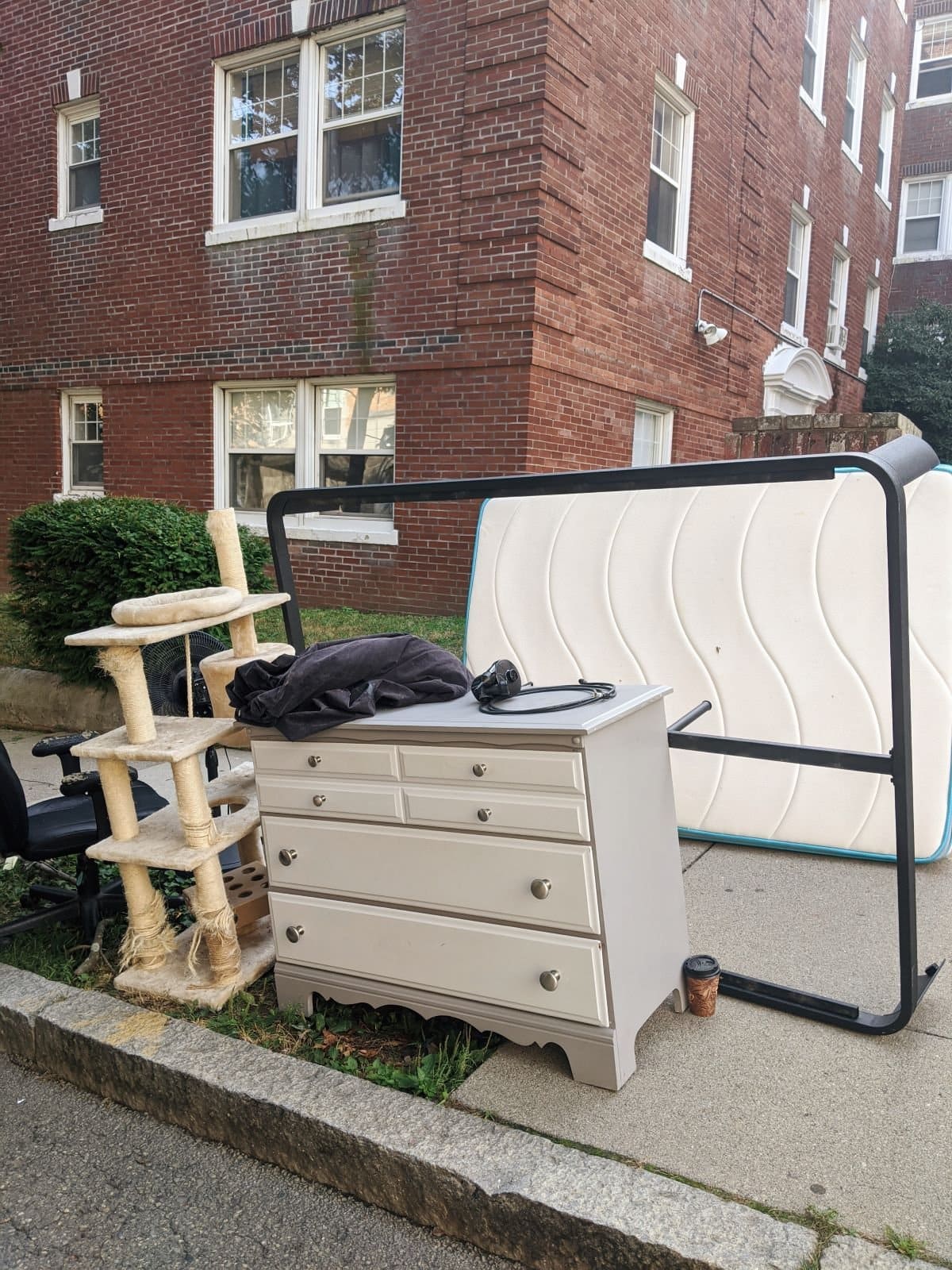 Some free furniture during Allston Christmas
One area where you may be able to save a lot of money in Boston is furniture. Because people are moving in and out all the time, there's a lot of secondhand furniture available on Facebook Marketplace, Buy Nothing groups (where you can give and get things for free!), or even just left on the streets. During moving season in late August/early September, there's even a time known as "Allston Christmas," where you can find tons of free stuff on the streets (Allston is a popular student city near Boston University).
Transportation
Boston has a pretty solid public transportation system with its subway (known as the "T"), buses, and Commuter Rail. You can easily get to different parts of Boston and neighboring cities like Somerville, Cambridge, Brookline, Allston, Brighton, Jamaica Plain, Malden, and Dorchester.
A single subway ride costs $2.40 and a bus ride costs $1.70. A monthly transport pass is $90. Commuter Rail passes are more expensive, but they have $10 unlimited weekend passes if you want to go to nearby cities for fun, like Salem and Providence. I wouldn't recommend living in the cities along the Commuter Rail if you have to come into Boston for work; while you may save money on rent, you'll spend a decent among of time on transit.
The T runs pretty frequently and is relatively consistent, though there's definitely always some construction going on. You'll want to map your route beforehand, especially on the weekends, just in case a line or station is closed.
Buses are a little less reliable, but they still work well enough. I would recommend living near a T stop over a bus stop if you have to make that decision. For example, East Boston and South Boston don't have as many T stops, which can make getting anywhere more complicated.
Weather
Being in New England, Boston gets pretty cold. January is the coldest month, with an average high of 36 °F (2.2 °C), and an average low temperature of 22 °F (-5.6 °C). Winters can also get brutally snowy, making it extremely difficult to get around. I have many memories of blizzards and knee-deep snow, which happened at least a few times each year.
If you have a car and park on the street, you'll need to shovel out your car only for someone else to potentially take the spot. In fact, some people become so defensive of their shoveled parking spots that they'll set out chairs, cones, and booby traps to "reserve" the space.
If you don't have a car, you should still be prepared to shovel your sidewalks, unless your landlord covers snow removal in your lease. You can get fined if you don't (it's for safety and accessibility purposes).
Once you survive November through February, the weather starts to warm up, and the city is really quite stunning in the spring. I always looked forward to magnolia season and loved walking down Commonwealth Avenue, which is lined with these pretty pink blooms.
The summers can get pretty hot and fairly humid. The warmest month is July, with an average high of 82°F (27.8°C) and low of 66°F (18.9°C). Many old houses in Boston don't have central air, so you'll likely need to install a window AC unit (and uninstall it in the fall). There are plenty of ways to cool off in the summer though, with the ocean and swimming holes right nearby.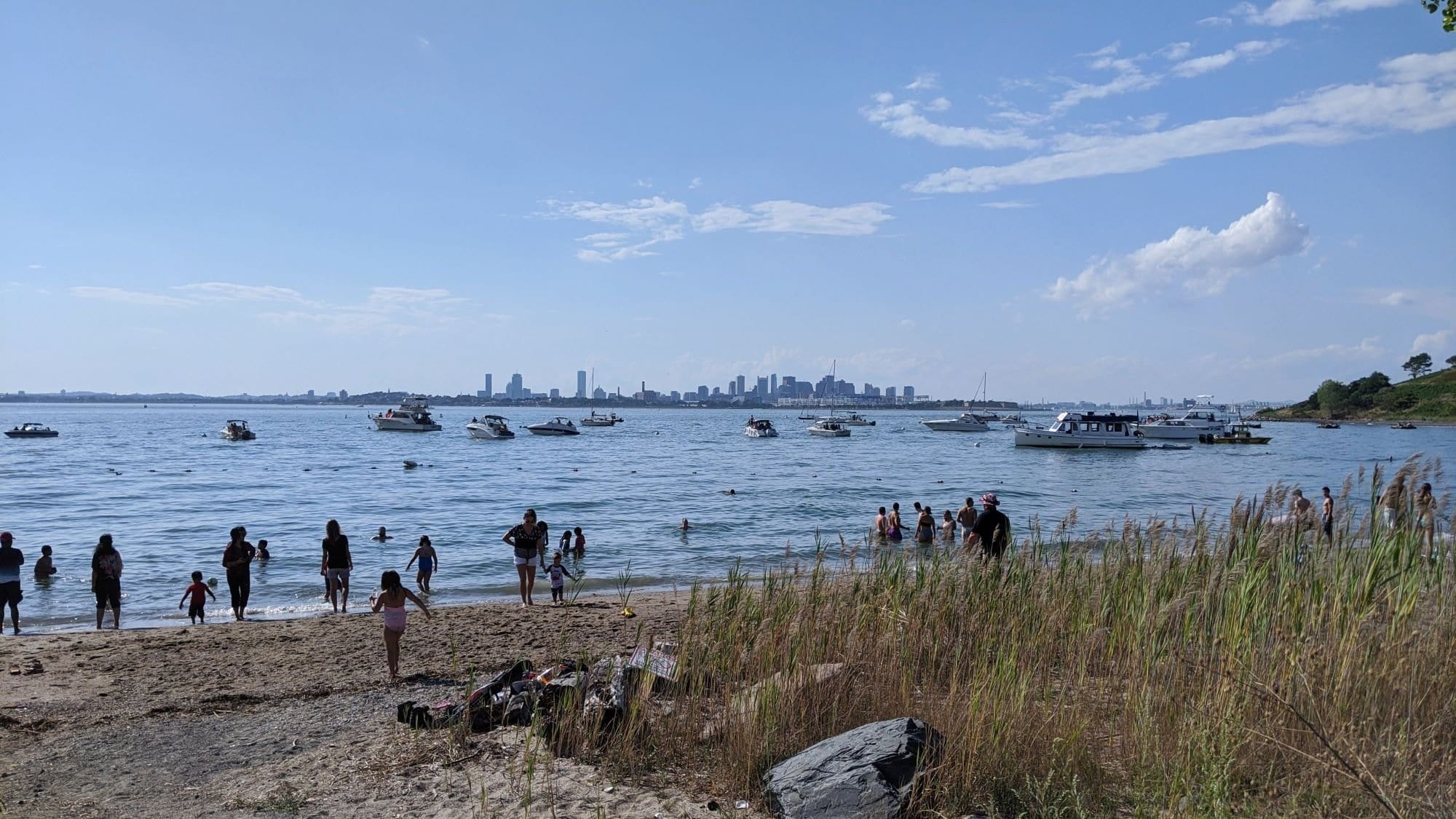 The beach on Spectacle Island
Fall is absolutely gorgeous in Boston, with the colorful foliage all over the city. Temperatures are also mild and pleasant. If you're planning to live in Boston short-term, I definitely recommend coming in the fall, particularly in October during peak foliage. You can also go on a trip the Berkshires or White Mountains to get even more impressive views of the changing leaves.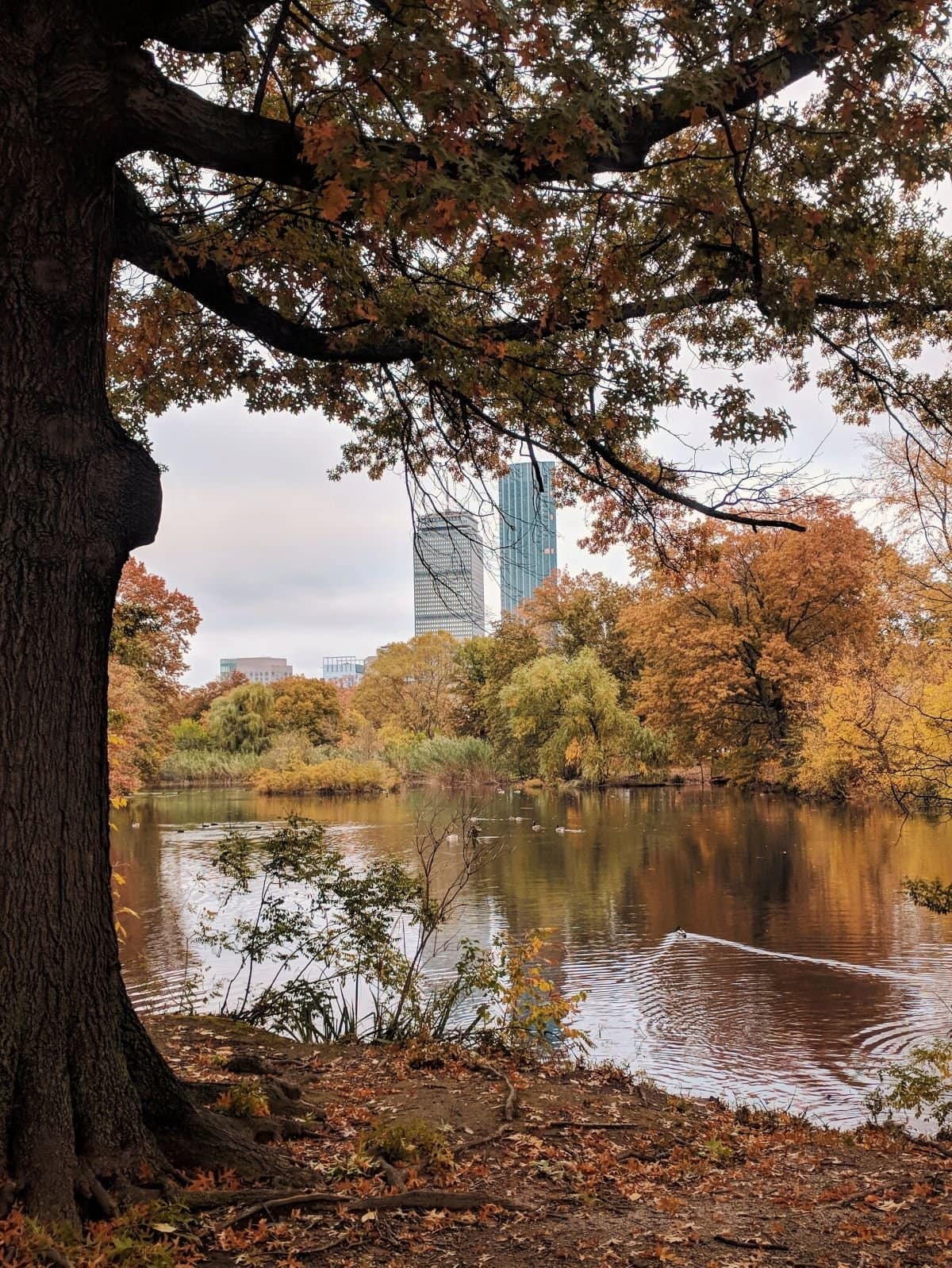 Education
If you're thinking of raising a family in Boston, the area's public schools generally have a good reputation. In fact, the public schools in Brookline are ranked #7 in the state, and those in Cambridge are ranked #22, according to Niche.
There are also plenty of nationally-renowned colleges in the Boston metro, including Harvard, MIT, Boston University, Boston College, Tufts, Brandeis, Berklee College of Music, and UMass.
I didn't attend school in Boston, but I'd be perfectly happy to raise a family in the area, particularly Brookline.
Food
The food in Boston is pretty solid. The local specialties include lobster rolls, clam chowder, baked beans (Boston is also known as "Beantown"), cannolis, and Boston cream pie. If you like seafood, you'll like the food scene.
If you're vegetarian or vegan, the city also has tons of options. I'm mostly plant-based and had several favorite vegan spots; in particular, I miss My Thai Vegan Cafe, an unassuming spot in Chinatown with the most flavorful, savory pad kee mao. I've been there countless times and still look forward to eating there.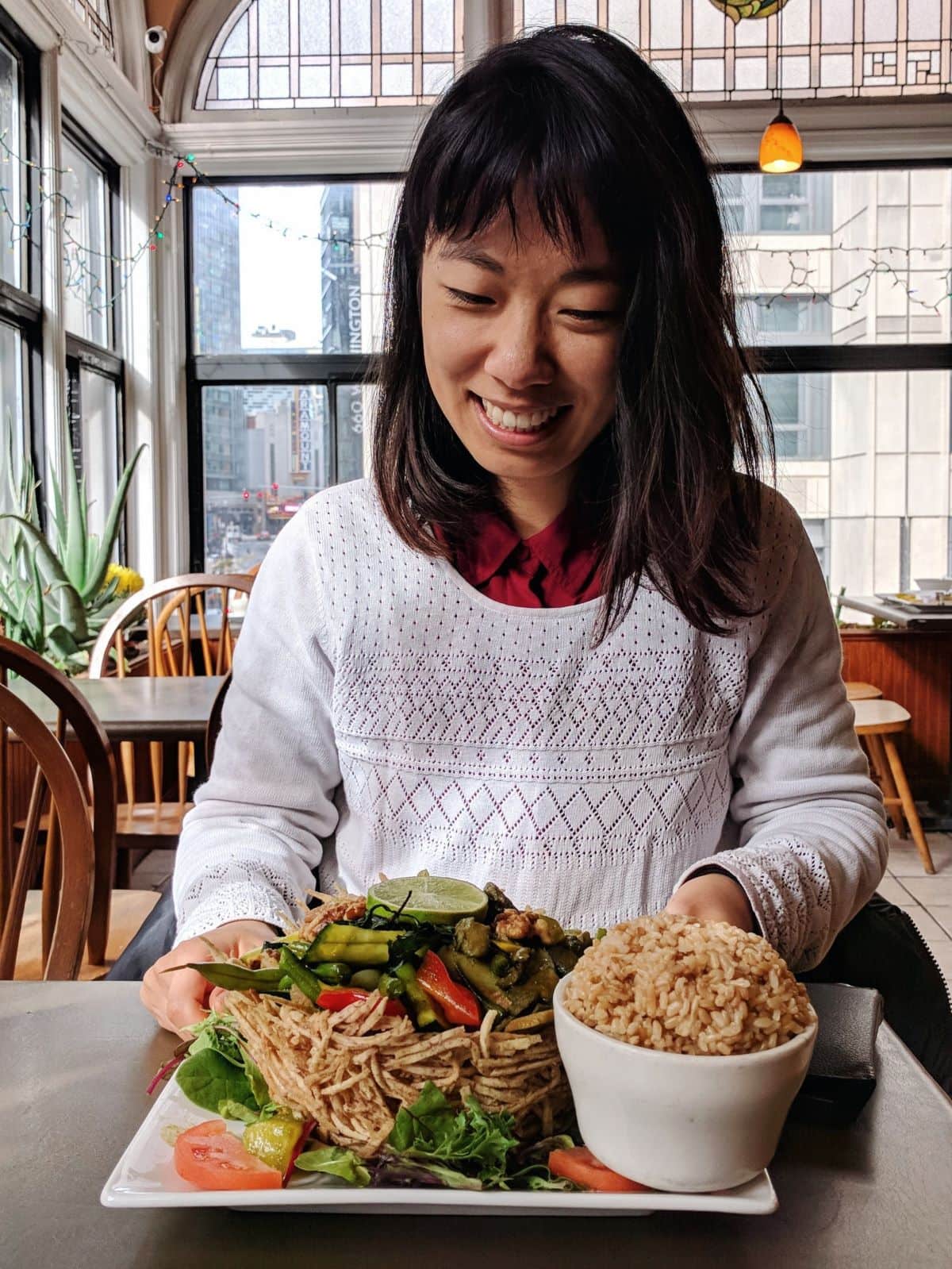 There's a good mix of ethnic food as well, from Chinese to Indian to Ethiopian. Chances are, regardless of where you're from, there's food you'll like in Boston.
In terms of groceries, costs can be high, but you can get decent prices at Market Basket, Trader Joe's, and Stop & Shop. For produce, there's an open-air market at Haymarket on Fridays and Saturdays, where you can get fruits and veggies at a steep discount—think $1 for a pint of blueberries. The produce is surplus bought from suppliers, so keep in mind it's not always the freshest; try to eat it as soon as possible or freeze it.
Things to Do
The city is big enough to always have something going on, whether it's concerts, markets, shows, conferences, or anything in-between. You won't run out of things to do. It just really depends on your motivation for going into the city to do these things, if you decide to live in a neighboring area.
When I lived in Brookline, I was about a 20-30 minute train ride from downtown Boston, and I probably only went downtown once per week. Anything outside of the downtown area is usually pretty residential, and there's much less to do, though there are still often cute cafes, boutiques, art studios, parks, and independent theatres in the area.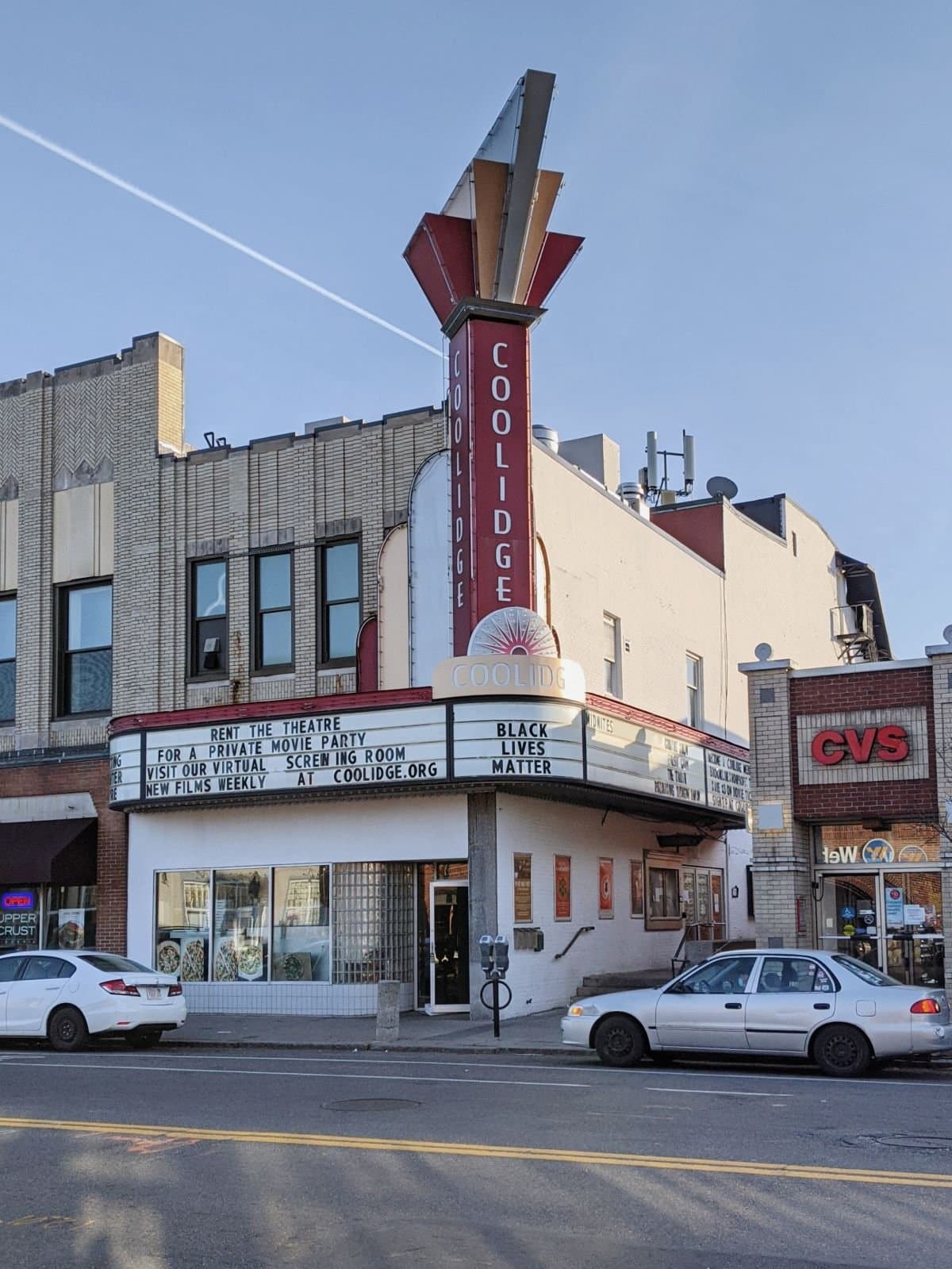 Coolidge Corner, a hub for shops and restaurants in Brookline
Keep in mind that Boston doesn't have much nightlife compared to other major cities. In NYC, after 9pm, there's still plenty of people walking around on the streets, going to bars, or just hanging out outside. In Boston, the streets are pretty quiet in the evenings, outside of areas like the North End and Government Center with a lot of restaurants and bars. There are still things to do at night in Boston, like trivia nights, art studios, and shows, but you'll have to be more purposeful in seeking them out.
Fitness/Gyms
Boston is a great city for active people, and I say that as a marathoner. There are lots of parks and trails around the city; a favorite for both locals and tourists alike is the 25-mile bike path along the Charles River. I have a whole post about the best places to run in Boston if you're looking for more recommendations, or want to scope out the best neighborhoods for runners.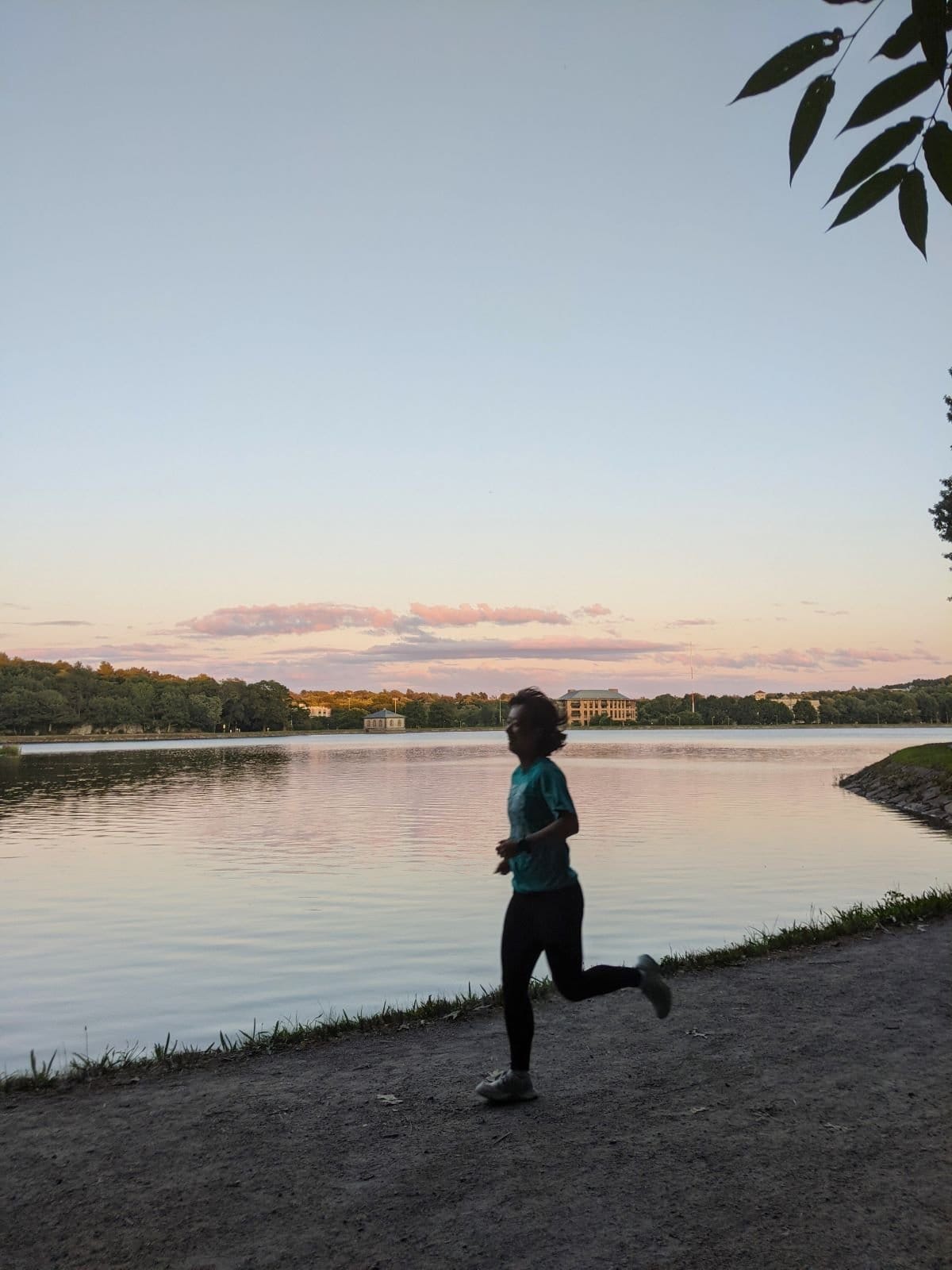 One of my favorite places to run—Chestnut Hill Reservoir
If you prefer the gym scene, there are plenty of options, though they can be pricey. Memberships can be a couple hundred bucks per month at boutique gyms, but you can save a lot money by going to one of the Planet Fitness locations ($10/month) or YMCAs (~$50/month).
One thing that I love about Boston is that there are free, public outdoor pools in the summer, all over the city. I've never seen this in anywhere else. The pools are no-frills, and you can't really swim laps there since it's all open space, but they're clean and a great place to hang out. If you want to swim laps, you can get a YMCA membership, or you can go during public hours at some local high schools (for a small fee).
Healthcare
Boston has several nationally-renowned hospitals, such as Massachusetts General Hospital and the Dana-Farber Cancer Institute. Many people in other parts of Massachusetts travel to Boston to get care.
There are also several community health centers that provide screenings, healthcare, and dental services to Bostonians, regardless of their ability to pay. (For full transparency, these centers don't have the best reviews on Google, so they seem to be hit or miss).
I didn't seek much healthcare in Boston since I kept my primary and dental care in my hometown, but the times that I did get care, I had few complaints.
Safety
As a woman in my twenties, I never felt unsafe in downtown Boston, nor the surrounding cities like Brookline, Cambridge, Somerville, and Medford. I frequently ran at night when I lived in Brookline, especially in the hot summers.
The stats back up Boston's relative safeness: its crime rate is lower than the national average. There are some areas that are known for having more crime than others, such as Roxbury and Mattapan. These areas are pretty easy to avoid though; I never had any reason to ever go there during my time in Boston since they're largely residential.
---
All in all, I had a positive experience living in Boston and would love to go back one day (I'm currently traveling around).
Have more questions about life in Boston? Feel free to leave them in the comments!