While there are plenty of magical winter things to do in Boston, sometimes you just want a weekend away from the city. Luckily, Boston is surrounded by quaint small towns, breathtaking mountain views, and cozy cabins.
Here are some of the prettiest winter getaways you make from Boston, split into two sections for skiing-focused destinations and those for non-skiiers. Stay till the end for a free, interactive map of all these spots!
This post contains affiliate links, meaning I may earn a small commission on any purchases through those links, at no extra cost to you. This income keeps this site running and your support is much appreciated!
Winter Weekend Getaways in Boston (Non-Skiing)
New Hampshire Ice Castles
Driving time: 2 hours
The New Hampshire Ice Castles are made entirely of thousands of hand-placed icicles. You'll find this Instagram sensation in Woodstock, New Hampshire, which is a small town right in the White Mountains.
The Ice Castles aren't the only attraction during your visit; there's also a small tubing area and enchanted forest walk, which are free with your ticket, and sleigh rides for an extra fee.
While I wouldn't recommend going out of your way just to see the Ice Castles, there's plenty more to explore in the area, from hikes to skiing.
Where to stay: This dog-friendly riverfront condo sleeps up to 8 and has access to a pool, sauna, weight room, and game room. It's in North Woodstock, which is extremely close to the Ice Castles. The Notch Hostel is also a good budget option, with private and shared rooms in a classic New England home. There are two full kitchens that guests can share. The hostel is just down the road from the Ice Castles.
White Mountains, New Hampshire
Driving time: 2-3 hours
While the White Mountains are most popular for their fall foliage, they're beautiful in the winter as well. If you're not into hiking or skiing, you can still go on off-road tours, take the scenic Mt. Washington Cog Railway (that goes up the highest peak in the Northeast!), or wander the quaint small towns.
If you are into hiking, some popular trails in the winter include:
Just be sure to layer up and consider trekking poles or Yaktrax if the trails are icy.
Where to stay: The Inn at Jackson is the former summer home of the Baldwin piano family and is near Mt. Washington, the tallest mountain in the Northeastern US. For a more traditional option, try Comfort Inn & Suites North Conway, a charming town that's a popular starting point for visits to the White Mountains.
Getaway House
Driving time: 1 hour 10 minutes
If you want to disconnect for the weekend, Getaway House has cozy cabins 1-2 hours outside of Boston, with the closest outpost at Bear Brook State Park in New Hampshire. Each cabin has 1-2 beds, a lockbox for your phones, running water, and a small kitchen.
The cabins have a large window next to the bed, where you can awaken to a stunning winter view.
Newport, Rhode Island
Driving time: 1 hour 20 minutes
Newport is a bustling seaside town with restaurants, local shops, and historic colorful houses. The shopfronts are especially quaint with the holiday decorations and a dusting of snow.
Just a short drive outside the town, you'll find impressive late 1800s and early 1900s mansions along the coastline. One of the most popular to visit is The Breakers, the Vanderbilt family's former summer residence. The interior feels like a European palace with columns, chandeliers, sculptures, and decorative ceilings.
If you're a more active traveler, you'll enjoy the Cliff Walk, a 3.5-mile path along the ocean that passes by famous attractions like The Breakers, Salve Regina University, and Ochre Court (another mansion). Keep in mind that while the trail is partly paved, there are rocky sections and places where you may need to scramble.
Where to stay: This private suite is conveniently-located in the city center, or if you want a traditional hotel experience, try the top-rated Serenity Inn Newport in a Victorian home, also in the city center.
Kennebunkport, Maine
Driving time: 1 hour 30 minutes
Kennebunkport is a historic fishing village that's now known for its beaches, lighthouses, seafood, and artist community. In the winter, stroll through the quaint town and browse through the local shops and artist studios.
In the winter, Kennebunkport puts on an event called the Christmas Prelude during the first two weeks of December. There are tree lighting ceremonies, caroling, and parades. With the Christmas decorations, the town looks like it's straight from a New England storybook. In fact, Kennebunkport may be one of the best options if you're looking for festive photo ops (it's actually an Instagram favorite).
Where to stay: There's nothing that oozes those New England vibes more than this historic home with white siding and black shutters. The home is just a short walk from Dock Square, the center of Kennebunkport. For a more modern interior, stay at King's Port Inn, also close to the town center.
The Berkshires, Massachusetts
Driving time: 3 hours
The Berkshires is a region in Western Massachusetts best known for its mountains, farmland, and quaint towns. In the wintertime, the mountains are perfect for snowy hikes or skiing, but you can also visit the many historic towns and their museums.
For hiking, consider Mt. Greylock, the tallest point in Massachusetts. Some of the trails on Mt. Greylock are actually part of the Appalachian Trail! If you don't like hiking, you can also drive to the peak.
For small towns to visit, stop by Stockbridge and Lenox. Stockbridge is full of cute shops and restaurants, and it's also home to the Norman Rockwell Museum. The main attraction in Lenox is Edith Wharton's home, called The Mount.
If you like contemporary art, you may also want to visit North Adams for Mass MoCA (Massachusetts Museum of Contemporary Art). It's actually the largest center for contemporary visual and performing arts in the US.
For more Berkshires recommendations, check out my outdoorsy weekend itinerary.
Where to stay: This dog-friendly riverfront condo sleeps up to 8 and has access to a pool, sauna, weight room, and game room. You might also like The Notch Hostel, which has private and shared rooms in a classic New England home.
Burlington, Vermont
Driving time: 3 hours 15 minutes
Burlington is the largest city in Vermont, which says a lot as the population is under 45,000. This small city is located right on Lake Champlain, making for breathtaking sunsets with the mountains in the distance (stop by Battery Park for a great view).
The downtown area is quite bustling, featuring restaurants, boutiques, sporting goods stores, and more. The city was the first to run entirely on renewable energy, and you'll notice an emphasis on sustainability throughout the town, especially with the many thrift stores and even used gear sections in sports stores. Besides that, you'll find the original Ben & Jerry's scoop shop, independent bookstores, breweries, and more.
Where to stay: This private suite has free parking and is walking distance from the city center, or you might like the modern Hilton Burlington Lake Champlain with a stunning view of the water and mountains.
Montreal, Canada
Driving time: 4 hours 45 minutes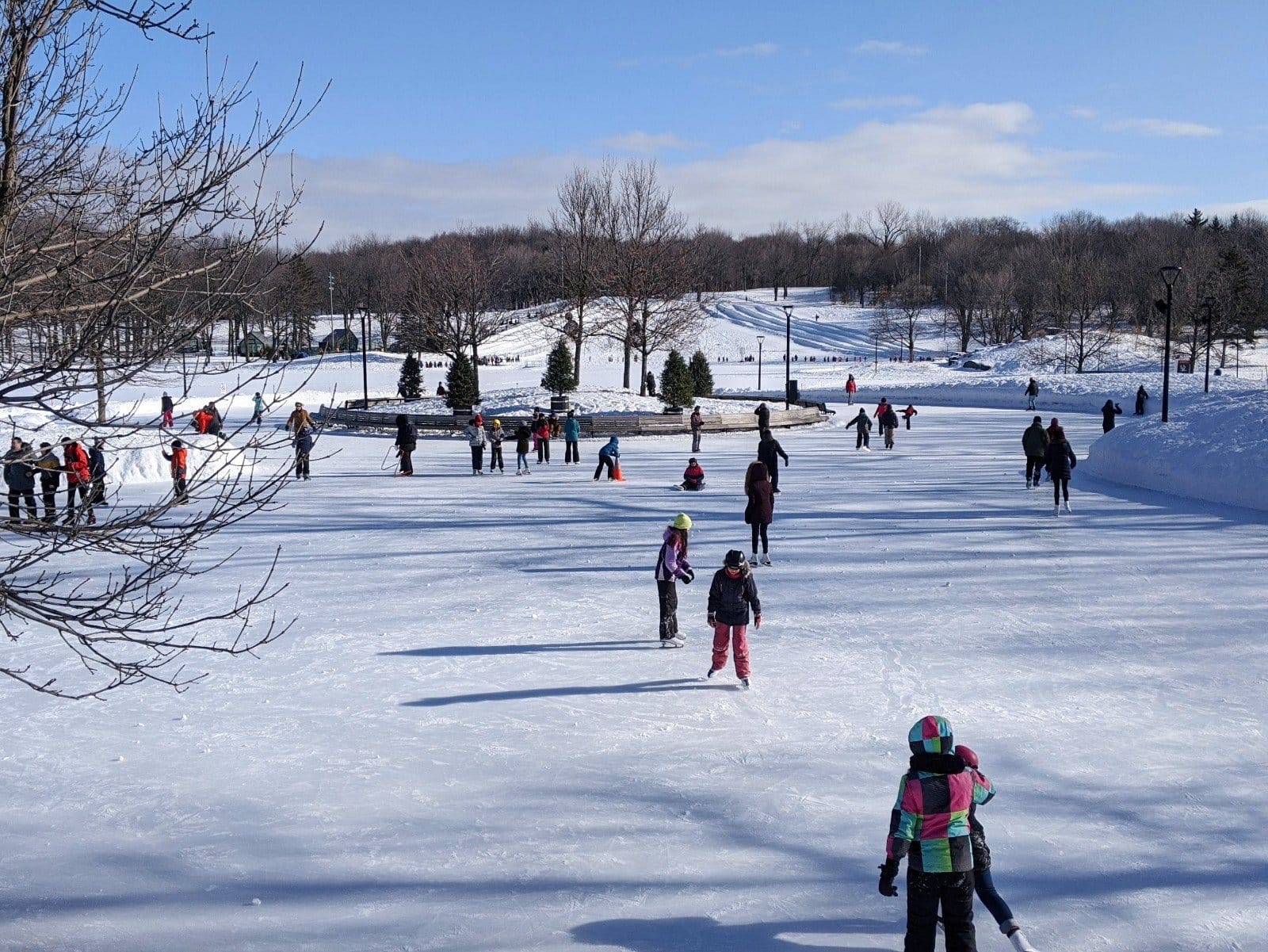 You can even leave the country for a weekend getaway! Montreal is less than a 5-hour drive away, and the Quebec province of Canada is stunning in the winter.
Enjoy winter sports like tubing, snowshoeing, ice skating, and skiing on Mont-Royal, the hill overlooking the city. To stay warm, you can explore RÉSO, the underground network that spans an impressive 20 miles and features metro stations, shops, restaurants, and more.
Foodies will appreciate poutine, a traditional dish of fries doused in gravy and sprinkled with cheese curds. Maple taffy is also a winter classic, which is frozen maple syrup wrapped on a popsicle stick. If you're plant-based, there are a large number of amazing restaurants and adorable cafes as well.
For more activities in Montreal, check out my winter guide to Montreal.
Where to stay: Hotel Bonaventure is right next to the train station and is a short walk from the Old Town and downtown Montréal. They have a heated outdoor pool open year-round, plus a hot tub and sauna. For a more budget stay, try Auberge Alternative. This hostel is right in the Old Town and just a few blocks from the Notre-Dame Basilica. You can book a shared room, or a triple room as a group (or by yourself). Prices are pretty reasonable even if you book a triple room for one person.
Providence, Rhode Island
Driving time: 1 hour, or 30 minute to 1 hour train ride
Providence is a small city home to Brown University, a member of the Ivy League, and the Rhode Island College of Design. Brown's campus is lovely and worth a stroll around, and you may also want to stop by the nearby Providence Athenaeum. This library basically screams "insta-worthy" and is full of cozy reading corners and study spaces. Afterwards, take a stroll along Benefit Street (right in front of the Athenaeum), which is known for its picturesque historic houses.
One of the most famous Providence attractions is WaterFire, which runs until early December each year. There are many braziers along the river, which are basically metal containers used to burn firewood. WaterFire is an evening event where all these braziers are lit up. It's a bit of a strange experience, and feels kind of creepy at times (almost like a satanic ritual haha). The music was spooky, and the people lighting the fires are often dressed in all black. Regardless, the riverfront is especially beautiful with the light of the fire.
Where to stay: You might like this historic apartment near Brown and RISD, or if you're feeling extra adventurous, this yacht in a private marina.
Popular Skiing Destinations (non-skiiers, don't skip these!)
The Northeast has plenty of ski resorts where you can go skiing, snowboarding, tubing, and more. Here are some local favorites.
Driving time: 1 hour, or 2 hour train ride
While the Blue Hills are the closet ski area to Boston, they're not much of a getaway at a 20-minute drive from the city. Mt. Wachusett strikes the balance of being just far enough away to feel like a change of scenery, but close enough that you can actually still access it from the Commuter Rail (there's a weekend shuttle that runs between Wachusett Station and Wachusett Mountain Ski Area in the winter).
Where to stay: Even if you don't like skiing, you might enjoy renting a cozy cabin a more rural part of Massachusetts, such as this lake house. Check out other apartment rentals near Wachsett Mountain.
Stowe, Vermont
Driving time: 3 hours
Stowe is one of the most picturesque towns in New England in the winter, making you feel as if you've stepped into an alpine town. While Stowe is perhaps best-known for its ski resort, you'll have plenty to do even if you don't want to go skiing.
Wander downtown Stowe and admire the holiday decorations, shop small, and sample craft beer at brewery. If you're an ice cream fan, you also can't miss the Ben & Jerry's factory only a 15-minute drive away.
Where to stay: If you loved The Sound of Music, don't miss the chance to stay in the Trapp Family Lodge, owned by the actual von Trapp family. Featuring Austrian-style architecture, the lodge is nestled in the mountains and is a short drive away from Stowe Mountain Resort and the town of Stowe. Otherwise, enjoy this luxury studio with easy access to the ski slopes—in fact, the Over Easy Gondola is right at the property. There are many other amenities, including a heated pool, outdoor skating rink, and adventure center with climbing walls.
Driving time: 2.5 hours
Also in the White Mountains, the Bretton Woods ski area is the largest in New Hampshire, and it offers a more all-inclusive experience with lodging on-site at the Omni Mt. Washington Resort (though you can always stay elsewhere). You can go skiing, snowboarding, Nordic skiing, and snowshoeing. There's even a ski terrain park for you to practice some stunts.
If you're not into skiing or snowboarding, or the trail conditions aren't great, take a ride on a fat bike, which has thick enough tires to glide across the snow. Or, take a scenic gondola ride through the mountains.
Where to stay: The Omni Mt. Washington Resort has a Renaissance-style hotel whose white and red architecture looks regal against the impressive mountains. Amenities include a spa, multiple restaurants and bars on-site, indoor pool and hot tub, and more.
Loon Mountain Resort, New Hampshire
Driving time: 2 hours
Loon Mountain is in Lincoln, New Hampshire, a popular starting point for exploring Franconia Notch State Park and the White Mountains. Loon Mountain offers skiing, snowboarding, tubing, cross-country skiing, snowshoeing, sno-go (like bike-skiing), and gondola skyrides.
The nearby town is full of restaurants, breweries, sports stores, and more.
Where to stay: InnSeason Resorts Pollard Brook. This resort in Lincoln is near Loon Mountain and has a gym, indoor pool, and arcade room. You might also like this riverfront condo with mountain view. This condo sleeps up to 4 and is homey and comfortable. Located in Lincoln, you'll get a view of the Loon Mountain ski slopes. The complex also has an indoor and outdoor swimming pool, hot tub, and arcade room.
Driving time: 1.75 hours
Located in central New Hampshire, Gunstock Mountain offers trails of all difficulties with a view of Lake Winnipesauke in the distance. You can go skiing, snowboarding, tubing, or cross country skiing.
Where to stay: This condo with a view sleeps four and has a fully-equipped kitchen and access to a gym and game room. It's a 20-minute drive to Gunstock mountain.
Driving time: 1.5 hour drive
Pats Peak offers skiing, snowboarding, tubing, and snowshoeing in southern New Hampshire. The local town, Henniker, is small but charming.
Where to stay: This lakeside home sleeps four and has everything you need for a relaxing weekend, including a kitchen, books to read by the fire, fishing poles, kayaks, and more. You'll be just over 6 miles from Pats Peak.
Driving time: 45 minute drive
Nashoba Valley Ski Area has a smaller mountain than what you'd find in New Hampshire, but it's one of the closest to the Boston area. Go skiing, snowboarding, or tubing. This ski area is known as being great for families and beginners.
Where to stay: Residence Inn in Westford is a 2-minute drive from the Nashoba Valley Ski Area. Each room has a kitchen, but there are also restaurants and diners within a few minutes walk of the inn.
Map of Winter Getaways from Boston
Let us know if there are any others you'd add to this list. Stay warm this winter season!